Rival sides begin official EU campaigns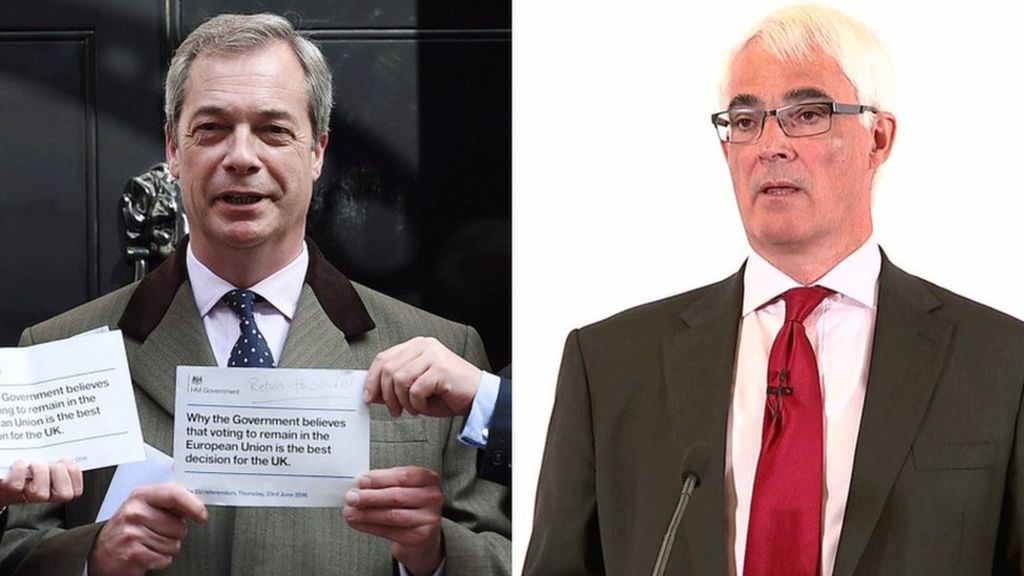 The starting gun has been fired on Britain's EU referendum campaign with 10 weeks to go before polling day.
The Leave and Remain campaigns are out in force at events around the UK as they set out their core message to voters in 23 June's vote.
Ex-chancellor Alistair Darling accused Leave campaigners of "playing with fire" and peddling a "fantasy future".
Vote Leave is calling on the money spent on EU membership to be pumped into the NHS instead.
The campaigns have been making their case for months – but the gloves are off now that the official campaign period is under way.
The polls suggest the referendum will be too close to call, although both sides know that much can change before the country makes its historic decision to leave or remain in the EU.
In the main developments so far:
Britain Stronger in Europe said claims by Vote Leave that the UK could spend millions on the NHS if it leaves the EU were "unedifying speculation"
UKIP leader Nigel Farage has challenged David Cameron to a head-to-head debate
The head of the Catholic Church in England and Wales said the UK would face "more complex problems" outside the EU
A survey commissioned by ITV's Good Morning Britain suggested 40% of those asked wanted to stay in the EU while 39% wanted to leave.
---
EU referendum: In depth
Reality Check: Would Brexit mean an extra £350m a week for NHS?
The UK's EU vote: All you need to know
UK and the EU: Better off out or in?
Who's who: The Vote Leave team
Who's who: The Remain campaign
---
Lord Darling, who was Labour chancellor from 2007 to 2010, said a vote to leave the EU would be final and would signal the UK was "in retreat" and choosing "isolation rather than influence".
In a speech in London, Lord Darling – who led the successful Better Together campaign in the Scottish independence referendum – argued the referendum was "not about sovereignty" because the UK "is a sovereign nation and will remain so".
The economic benefits of EU membership could not be ignored, he said.
"It would be a colossal surrender of power to walk away from our largest trading partner, increase uncertainty, erect trade barriers and diminish our influence."
The Labour peer rejected claims that the Remain campaign was using the same tactics as Better Together did in 2014 – dubbed "Project Fear" by its opponents – saying he made "no apology" for exposing his opponents' "fear of the spotlight of legitimate scrutiny".
"It is not Project Fear. In truth, it is a reality check. The kind anyone would rightly take before making an enormous decision affecting their lives."
'Project Fantasy'
Out campaigners, he claimed, were offering a "fantasy future where we keep all of the benefits of Europe without being part of the single market. It is Project Fantasy."
Vote Leave campaigners are holding events and rallies in cities across England – including one headed by Labour MP Gisela Stuart and others featuring prominent Conservatives including Mayor of London Boris Johnson and Cabinet ministers Chris Grayling and Michael Gove.
Ms Stuart, co-chair of Vote Leave, told BBC Breakfast while her party leader Jeremy Corbyn wants to "change the EU from within", she long ago realised it was "simply incapable of change".
She believed Britain outside the EU would "probably be freer" to trade with other nations and would have a "greater say" at decision-making bodies such as the World Trade Organisation.
Vote Leave accused the government of "cynically" failing to highlight its own report into Britain's obligations to the EU, claiming it was because ministers were too embarrassed by the contents.
"It makes clear that EU law and EU judges trump British law," Vote Leave's chief executive, Matthew Elliott said. "The Charter of Fundamental Rights has been used by the EU to undermine our security and put up every day costs like insurance bills.
'Pray for guidance'
Delivering a letter to Downing Street protesting at the government's pro-EU £9m leaflet campaign, Nigel Farage urged David Cameron to debate him to "see if your claims will stand up to public scrutiny".
Mr Farage, who debated former Lib Dem leader Nick Clegg during the 2014 European elections, said the government's arguments were "jammed full of lies and inaccuracies".
"Name your place and time and let's have a live, televised, head-to-head debate where we can debate one of the greatest political questions of our time," he said.
Meanwhile, Cardinal Vincent Nichols – the head of the Catholic Church in England and Wales – urged parishioners to "pray for guidance" and look beyond narrow economic concerns.
However he said he believed if the UK left the EU it would face "more complex problems than we would if we were playing an active part with Europe".
"In the EU, trade is harnessed to peace. An essential feature of the EU is the peace that has been sustained in Europe since the end of the second world war."