BUSINESS IN BRIEF 4/4
Banking sector urged to improve governance
National Assembly (NA) deputies on March 30 called on the banking sector to improve governance and deal with bad debt.
Speaking at a session in Hanoi on March 30, Deputy Tran Du Lich, deputy head of the HCMC delegation of NA deputies, said the banking sector has entered a period of temporary stability after risks emerged at the start of the NA tenure.
At the time, the banking system ran the high risk of collapse and liquidity shortfall. Lending rates soared to 20% per annum with bad debt skyrocketing, raising concerns about the system, Lich said.
The sector has ridden out major woes but is still facing two issues. First, it must improve governance to prevent the system from collapsing. Second, Vietnam Asset Management Company (VAMC) must step up settlements of bad debt purchased from banks.
Deputy Tran Ngoc Vinh from Haiphong City said the banking system has undergone what is described as the most effective restructuring, followed by the public investment and State-owned enterprise sectors. The number of banks fell by 17, bad debt dipped to below 3%, lending rates declined and foreign exchange reserves rose to a record high.
Though the State budget has not been used in the restructuring process, the central bank has been able to keep the banking system in place, Vinh said.
Tran Hoang Ngan, a member of the NA Economic Committee, said the improved performance of the banking sector has helped stabilize the macro economy, curb inflation, contribute to economic and bank restructuring, and reduce bad debt.
In the coming time, the banking system should increase transparency, lower interest rates and keep interest rates stable to support business and production activities, Ngan said.
According to a Government report sent to the NA, interest rates dipped 50% in 2015 compared to 2011. The exchange rate and foreign exchange market were stable, and dollar and gold hoarding was put under control. Public confidence in the domestic currency improved. By the end of last year, the entire banking system's bad debt ratio had been slashed to 2.55%.
The NA Economic Committee said in a report that the restructuring of the financial market, especially commercial banks, has led to an improvement in solvency and safety. Banks have reported a fall in bad debt and some small and weak banks have been merged.
Despite a recovery of the economy, local enterprises are still struggling with difficulties, which has in turn affected the settlement of bad debt and the stabilization of interest rates, the report said.
Ministry wants sea freight charges under control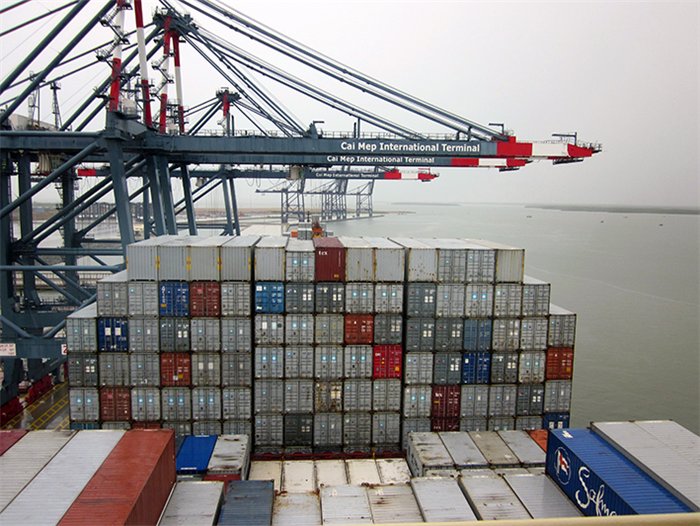 The Ministry of Transport has proposed issuing regulations that require shipping firms to register sea freight charges with competent agencies in a move to better control these fees.
Under the prevailing regulations, port service charges are subject to registration while sea freight charges are not. Therefore, a number of shipping lines have taken advantage of this rule to collect many surcharges to offset sharp reductions in freight charges in recent years.
Experts said fierce competition has forced shipping firms to cut freight charges but they have managed to collect more surcharges from import and export firms. Besides, shipping firms have reportedly imposed surcharges without prior notice.
Therefore, the ministries of transport, industry-trade and finance have set up teams to launch investigations to ensure reasonable charges for import and export enterprises.
The Government is expected to issue a decree that makes registration for service fees at ports and freight charges compulsory to prevent shipping firms from imposing unreasonable fees on local export companies.
The Ministry of Transport is compiling a list of fees and surcharges that shipping firms will have to announce on their websites and register with the Vietnam Maritime Administration.
Dozens of sea freight and service charges and surcharges entitled to registration include surcharges for fuel, container clearance and maintenance, foreign exchange volatility, and sealing service.
Binh Dinh calls for investment in 45 tourism projects
The South-Central province of Binh Dinh's People's Committee and Bank for Investment & Development of Vietnam yesterday jointly launched the 2016 Binh Dinh investment promotion & tourism development conference.
The conference is scheduled to take place in Quy Nhon city of Binh Dinh on April 3.
Accordingly, the province calls for investment in 45 tourism development projects with total investment capital of VND 36,5trillion. Of these, for the 2015 to 2020 period, the capital demand will be VND 15trillion and the 2021-2030 period it will be VND 21,5trillion.
The province is offering many preferential policies to attract investors and set its target to receive 5.5 million visitors in 2020 with 800,000 international visitors.
The provincial's total revenue for tourism industry is expected to reach VND 10trillion, sustaining an average annual growth of 25 percent per year.
Vietnam HR Awards launched
The second holding of The Vietnam HR Awards 2016 has been launched by Talentnet Corporation and the Labor and Society newspaper.
Deputy Minister of Labor, Invalids and Social Affairs Doan Mau Diep spoke highly of Talentnet and the Labor and Society newspaper at the launch for their initiative in conducting an awards program that provides enterprises with the opportunity to learn good HR policies and practices and boost their own to a professional standard.
A special point of this year's awards is a special category for local small and medium-sized enterprises (SMEs), giving them more confidence in the global playing field, especially in the context of the AEC and the TPP coming into being, said Mr. Do Manh Hung, Vice Chairman of National Assembly's Committee for Social Affairs.
Ms. Tieu Yen Trinh, CEO of Talentnet, said that "investing in people is always a key solution for enterprises in using their internal resources to be ready for global integration."
During the "Integrated Mindset" panel discussion, questions were asked of speakers from Talentnet, TTT, Cornerstone and Treino Consulting on their business strategies given the arrival of the AEC and the TPP, the challenges in business expansion into regional markets, especially in the thinking of both CEOs and leaders, and lessons for Vietnamese businesses.
The result of this year's Vietnam HR Awards will be announced in September. Last year's award went to Intel Products Vietnam.
The program has been conducted under joint sponsorship from the Ministry of Labor, Invalids and Social Affairs and the Singapore Human Resources Institute (SHRI), Singapore's largest HR research organization.
HBC picks up two projects worth $48.82 million
The Hoa Binh Construction and Real Estate Corporation (HBC) was selected on March 29 as the general design and build contractor for the CT2 condominium project in Hanoi's Hoang Mai district, with a contract value of VND730 billion ($32.72 million).
Gamuda Land Vietnam is the project investor. Construction is in an L-shape, with a basement, a 30-floor block and a 27-floor-block with 550 apartments, and a shopping center. The project features many hanging gardens as green space.
The project is expected to be completed by February 2018 and is the third cooperative project between HBC and Gamuda Land Vietnam.
On the same day the Hoa Lam – Shangri-la 2 LLC announced that HBC had been selected to build its hospital in Binh Tan district, Ho Chi Minh City, with a contract value of over VND360 billion ($16.13 million). The hospital has an area of 1.5 ha with ten floors and 351 beds for cardiology, orthopedic, neurological, and endocrine treatment. It will be completed within 13 months.
HBC was also recently appointed as design and build contractor for a project to build a residential area for employees of the Formosa Ha Tinh Steel Corporation in northern Ha Tinh province, worth VND310 billion ($13.89 million).
Issues remain from end of housing support package
Bao Viet Securities Company (BVS) has said it is necessary to retain the preferential interest rate from the housing credit support package until the total VND30 trillion ($1.34 billion) has been disbursed.
The comments were made in a report BVS penned after the State Bank of Vietnam, in a March 28 document, directed banks to cease granting new credit from the package because all capital has been exhausted.
In a report, BVS said that social housing was not going to cause a real estate bubble so the preferential interest rates should continue.
The report noted that the SBV's document failed to mention whether the preferential interest rate is to be applied for credit already signed and set for disbursement after June 1. This is also a major matter of concern for commercial banks.
BVS also said that management units were too passive in applying the package, resulting in unnecessary confusion among borrowers.
Vietnam's aquatic exports up 1.7 percent in Q1
Vietnam's aquatic export value in the first quarter of this year hit 1.36 billion USD, up 1.7 percent year-on-year, according to statistics from the Ministry of Agriculture and Rural Development.
However, many aquatic enterprises have forecast that Vietnam is facing numerous difficulties and challenges ahead due to the negative effects caused by saline intrusion in main farming areas and increased competitiveness in key export markets.
The Directorate of Fisheries under the ministry said ongoing saltwater encroachment in the Mekong Delta region seriously impacts on aquaculture, especially freshwater prawn breeding. Around 2,000 ha of intensive shrimp farming has been damaged by saltwater.
In the first two months of this year, the area of shrimp breeding in the region totalled only 386,000 ha, including 358,000 ha of giant tiger prawn and 9,700 ha of white leg prawn, equivalent to 86.6 percent and 72.5 percent against the same period last year.
Many aquatic firms said they have had to decline supply contracts due to shortages of prawns for processing.
According to Secretary-General of the Vietnam Association of Seafood Exporters and Producers (VASEP) Truong Dinh Hoe, farmers narrowed cultivation because of their concern about diseases and water shortages, but he also noted that increasing export prices at present will motivate them to expand cultivation again.
He said that Vietnamese aquatic producers and processors are hoping for stronger growth in the next few months when international seafood products fairs are organised, offering Vietnamese firms opportunities to study market demand, seek partners and expand the market for their products.
The demand for prawns in the world market in 2016 is forecast to increase between 3.5-5 percent compared to 2015, and this is likely to bring an opportunity to Vietnam to raise exports.
Vietnam aims for 4 billion USD in shrimp exports this year, Hoe said.
Vietnam urged to promote part suppliers
The localisation rate in Vietnam – the percentage of a product locally made – is too low as the number of Vietnamese part supplying businesses accounted for only three percent of the country's total, Phan Dang Tuat, former Director of the Institute for Industrial Policy and Strategy said.
"We cannot build a part supplying industry with the limited firms," Tuat said.
He told a forum on developing the industry, titled 'Opportunities from Free Trade Agreements (FTAs) to attract investment into industries' held in Hanoi on March 31 that Vietnam has 1,383 businesses operating as part suppliers out of a total 500,000 firms, divided into three groups of mechanic, electronics, rubber and plastic.
"Vietnam should promote the building of a start-up model for companies in the sector. Ministries and agencies should study how to establish more firms in the industry," he added.
Deputy Minister of Industry and Trade Hoang Quoc Vuong said that under the tariff cut, Vietnam would have opportunities to improve competitiveness and exports to both traditional and new import markets, on the road map in bilateral and multilateral FTAs with important partners.
Vuong said this would be an opportunity for Vietnam to participate in global production and the supply chain while making Vietnamese industrial products more diversified.
Sharing ideas, Atsusuke Kawada, Chief Representative of Japan External Trade Organisation (JETRO), said the localisation rate in Vietnam was much lower than in Thailand, Indonesia and Malaysia.
A report from JETRO showed that the purchase of spare parts of Japanese firms in Vietnam last year was 32.1 percent while the rate of 2014 was 22.4 percent.
However, the rate was lower than those of Japanese enterprises operating in China with 64.7 percent, Thailand 55.5 percent, Indonesia 40.5 percent, and Malaysia 36 percent.
He also said that the development of the part supplying industry has not seen clear improvement though the country has priorities in this sector and that of the small- and-medium-sized enterprises as well as a policy on human resource training.
He said that the priorities for part supply of household appliances, office machines and automobile industry have been extremely important.
The chief suggested expanding the production scale of automobile spare parts. In addition, the Government should have clear policies in supporting Vietnamese enterprises which produce office equipment such as printers, and household appliances such as refrigerators and washing machines.
Several big producers from Japan have relied on imported spare parts from China. Vietnam could nurture businesses producing spare parts to reduce imports from China.
Tightening rice production, export over drought, saltwater intrusion
Deputy Prime Minister Nguyen Xuan Phuc has assigned the Ministry of Agriculture and Rural Development to closely monitor rice production and exports.
This will help ensure domestic food security and effectively manage export activities, given that prolonged and serious drought and saline intrusion are hitting major granaries in the country, particularly in the Mekong Delta.
This year, the delta expected to plant over 4.3 million hectares of rice fields, which would yield approximately 25.7 million tonnes of rice.
According to preliminary estimations, drought and saltwater have reduced the expected output by 700,000 tonnes, which are equivalent to 350,000 tonnes of rice.
In the first three months of this year, the country exported 1.59 million tonnes of rice.
For the whole year, the export volume is expected to remain at last year's 6.5 million tonnes.
Mekong Delta encouraged to maximise opportunities from international trade deals
Economists have urged authorities in the Cửu Long (Mekong) Delta to create a start-up environment and encourage business incubations to take full advantage of the ASEAN Economic Community (AEC) and Trans-Pacific Partnership (TPP).
At a conference held Wednesday in Cần Thơ, organised by the Cần Thơ branch of the Việt Nam Chamber of Commerce and Industry (VCCI), local authorities, economists and members of the business community discussed the economic impact of the new agreements on the region.  
Participants suggested changes to macro-economic policy that would be more in line with the AEC and free trade agreements.
They noted that although enterprises would have more opportunities to expand their markets and enhance competitiveness, they would also face tougher competition.
Speaking at the conference, Võ Hùng Dũng, director of VCCI Cần Thơ, said the region should transform its economic and labour structure.
Võ Thành Thống, chairman of the Cần Thơ People's Committee, urged the local business community to improve linkages to take advantage of opportunities.
Việt Nam has concluded a number of free trade agreements, including TPP, ASEAN Regional Comprehensive Economic Partnership (RCEP)+6, EU, South Korea, Russia-Belarus-Kazakhstan and EFTA (4 Central and Northern European countries).
Most speakers agreed that without the correct strategy in a more liberalised international trade environment, Vietnamese businesses may face defeat on their "home field".
Võ Hùng Dũng, director of VCCI Cần Thơ, noted that Mekong Delta was a major economic region making up 19.5 per cent of Việt Nam's population, and a dynamic hub for exporting rice, aqua-products, fruits and vegetables.
The Delta has 51,000 businesses with annual export value of some US$11.5 billion.
Võ Trí Thành, deputy director of Central Institute of Economic Management, said the FTAs would open up huge opportunities, especially for agricultural and aqua production.
The trade agreements would cut tax rates to zero per cent, thereby reducing production costs and increasing competitiveness.
However, Thành warned that the agricultural sector must change production methods, restructure and shift to large-scale and chain production, promote green growth and safe food, and better market their brands.
Economist Lê Đăng Doanh said businesses must grasp opportunities to expand export markets as tax rates would be lower and imports would have more favourable access.
He said such sectors as garment, footwear, bags, electronics, wood-based products, which are based on low-cost production and skills, could expand exports to the EU and under the TPP. But there will be competition among AEC members.
Local businesses must develop linkages and value chains to meet standards and demands of specific markets like Japan, South Korea, the US and Europe, he added.
They should also improve key human resources and invest in e-commerce.
Experts also called on businesses in the region to increase added value of their products, develop new products and markets, and diversify brands.
Local authorities in the Delta were urged to improve the business environment, and continue to keep abreast of information on macro-economic policy and trade agreements. They were also told to be transparent in providing information.
The Mekong Delta is home to over 53,000 enterprises, with 40 per cent operating in trade, 20 per cent in industry, nearly 14 per cent in construction, and 7 per cent in the agricultural and seafood sectors.
Independent agency needed to monitor food safety in HCM City
A deputy chief of the HCM City Food Safety and Hygiene Division has called for setting up an independent food safety agency under the city administration with authority to investigate and heavily penalise violators.
Nguyễn Thị Huỳnh Mai, speaking on the sidelines of a forum titled "consumers and their health fears" in HCM City yesterday (March 31), told the media that food safety and hygiene is currently managed by three different departments — health, agriculture and rural development, and industry and trade.
"There are shortcomings in the co-ordination between the three."
Each agency has its own regulations, and they often overlap, but not the authority to punish offenders, she said.
"An independent agency will resolve these shortcomings. It is very important to have the authority to punish violators."
The experience of countries like the US, Korea and Thailand should be studied to set up the independent agency, which in these countries manages the issue effectively, she said.
Mai called for setting up laboratories with modern equipment in the city for quick testing of food.
She also said the city's wholesale markets need storage facilities to keep unhygienic foods that have been sent for testing
Under existing regulations, authorities cannot seize foods until tests are complete, but by the time the results are available the dubious products are already sold, she explained.
"It is very difficult to seize foods."
Authorities are also unable to regulate food sold at illegal markets to workers at industrial and export processing zones, she said.
Mai said the city saw the number of cases of food poisoning decrease from eight in 2011 to six last year, and the number of people affected from 850 to 268.
Nguyễn Hoàng Dũng, director of research and development at the city Institute for Economics and Management, said though relevant agencies have set up hotlines to receive public complaints, such complaints are not acted on.
This causes people to lose trust, and they would stop complaining about problems related to food safety and hygiene including fake products, he warned.
"The Government should treat [food-safety] violations as a crime because they can destroy health. Severe punishment should be imposed."
A representative of the city Consumer Association said though a law on protecting consumers' rights has been enacted, there is no dedicated agency to enforce it.
Nguyễn Thành Danh, deputy head of the Bình Dương Province Market Management Department, said violators are mostly small producers like household-based establishments.
They do not know that the additives they put in food are banned, and they just continue with their parents' practices, he said.
Educating them is very important, he added.
Vinamilk provides dairy farmers with low-cost bran
Viet Nam's largest dairy product company, Vinamilk, has reported positive feedback from dairy farmers in HCM City's Cu Chi District and the two Mekong Delta provinces of Long An and Tien Giang who have been provided with stable-quality, low-cost bran.
Vinamilk provided the bran at the price of VNĐ600-800 per kg lower than the market price. The bran's quality is tightly controlled as well.
The fresh milk productivity of many dairy farms has now increased from 1 to 3 kilo per cattle per day.
Nguyen Van Hien in Long An Province, who is breeding eight cattle to sell around 140kg milk for Vinamilk a day, said: "After using bran offered by Vinamilk, the average milk productivity has increased by 3.3 kilos to 17.1 kilos per cow per day."
"The milk quality has also improved," he added.
The programme, begun in February, aims to help farmers reduce breeding costs, as well as milk material costs, and increase farmers' competitiveness.
This year, Vinamilk will continue to improve the quality of the cow breeds and the healthcare provided for cows. It will also provide veterinary teams to support farmers.
BIDV signs co-operation agreement with VNPT
The Bank for Investment and Development of Viet Nam (BIDV) and the Viet Nam Post and Telecommunications Group (VNPT) signed a co-operation agreement for the 2016-20 period on March 30.
Under the agreement, BIDV committed to finance VNPT's and its member companies' projects with total funds of VNĐ25 trillion (US$1.1 billion). It will also provide VNPT with the modern banking and financial services at competitive prices.
The bank pledged to prioritise the use of technology and telecommunications services provided by VNPT in its operations and for its banking administration and sustainable development initiatives.
For its part, VNPT with its member units and subsidiaries will increase the use of BIDV's credit products and non-credit products as well as other services, such as insurance, bond distribution consultancy, cash flow management and brand development, at each other's transaction points to promote and enhance the business performance of both bodies.
BIDV earned more than VND7 trillion in pre-tax profit ($315.2 million) and had total assets worth VND857 trillion in 2015. Meanwhile, VNPT, one of the country's leading telecom operators, had 33.7 million telephone subscribers at the end of last year, of which, mobile subscribers reached 29.7 million, an increase of 3.3 million subscribers compared to the end of 2014.
Hoa Phat earns $1.24bn in revenue in 2015
Hoa Phat Group earned VND27.86 trillion (US$1.24 billion) in revenue and VND3.5 trillion in after-tax profit in 2015, 24 per cent and eight per cent, higher than the target, respectively.
General Director of the steel firm Tran Tuan Duong said this at the company's annual shareholders' meeting on March 31.
The group produced 1.38 million tonnes of construction steel in 2015, a year-on-year increase of 38 per cent, claiming 21.3 per cent of the market share as well as the lead in the market.
Dương said the warming of the real estate market boosted the production and consumption of construction steel last year, which rose 30 per cent and  24 per cent over that of 2014, respectively.
However, the group's livestock and livestock production business reported a loss, after tax, of VND46.2 billion.
Duong said the group's investment in this field was for the long term, so its efficiency would be seen in the next five or six years.
Hoa Phat entered the business of livestock and livestock production last year.
The group aims to earn VND28 trillion in revenue and VND3.2 trillion in after-tax profit in 2016.
Kaspersky Lab, WISeKey launch mobile app to secure users' data
Kaspersky Lab and Swiss cyber security company WISeKey have launched a special edition of the cyber-resilience app WISeID Kaspersky Lab Security that integrates the best technologies from both companies to offer safety for mobile users' data.
The new app locks personal data such as account usernames and passwords, credit card numbers and access PINs into a secure personal data organiser, creating accountable identities for online activity while the data itself remains protected in a secure cloud vault.
It includes Kaspersky Mobile Security SDK, a robust and proven solution for protecting mobile phones against security threats. Its inclusion delivers advanced security features like web and network protection, device protection and risk detection.
WISeID keeps passwords in an encrypted vault, generates hard-to-crack passwords, and safely synchronises data between computers and devices on multiple platforms using secure cloud storage.
Mobile security threats are increasing in number and sophistication. Though mobile operating systems provide app developers with significant security features, hackers are still able to use many different infection vectors to place malware.
WISeID is available for iPhone, iPad, Android, Mac OSX, Windows, and Kindle.
Partnering with marketing intermediaries to grow your business
Most leading market analysts will tell you that intermediaries, also known as distribution intermediaries, marketing intermediaries, or middlemen, are an extremely crucial element of a company's product distribution channel.
Without intermediaries, it would be virtually impossible for a local Vietnamese company to sell its products in major markets around the globe such as the US, EU, Eurasia, the Republic of Korea or Japan.
Intermediaries serve as external groups of individuals or businesses that make it possible for the Vietnamese company to deliver its products to the end user, without having to own the entire distribution channel.
It would be hard to imagine, these experts say, a Vietnamese local manufacturer or retailer that did not recognize the value of Google or Amazon as intermediaries in building its customer base and sales.
There are four generally recognized broad groups of intermediaries – agents, wholesalers, distributors, and retailers.
Agents or brokers are individuals or companies that act as an extension of the local manufacturing company. Their main role is to represent the local producer to the final user in selling a product.
Thus, while they do not own the manufactured product directly, they take physical possession of it in the distribution process. They make their profits through fees or commissions charged in connection with the sale.
In order for many local producers to avail themselves of tariff reductions tendered by free trade agreements, it may be necessary for local producers to hire agents to sell their goods in foreign markets.
Using this model, the local manufacturer would pay insurance and freight to deliver the product to the customer in the foreign market and receive the offsetting benefit of tariff reductions.
Otherwise, if title transfers in Vietnam, as is the common practice today, there are no tariff reductions on the sale, either to the Vietnamese company or the customer, as neither qualify for tariff reduction on the import by the customer.
Unlike agents, wholesalers take title to the goods and services that they are intermediaries for. They are independently owned, and they own the products that they sell.
The benefit of wholesalers to the local company in the distribution channel cannot be overstated.  Wholesalers give the local company untold access to customers, most of whom could only be reached via this distribution channel.
Wholesalers also provide customers credit to finance the purchase, a benefit that most if not practically all local companies could not offer, thus giving access to sales across a much wider array of retail markets.
Wholesalers do not work with small numbers of product: they buy in bulk, and store the products in their own warehouses. Wholesalers rarely sell to the final user; but rather, they sell to other intermediaries such as retailers.
Thus, they do not operate on a commission system, as agents do, but must survive by charging their customers a higher price than they paid and earn a profit.
Distributors function similarly to wholesalers in that they take ownership of the product, store it, and sell it off at a profit to retailers or other intermediaries. However, the key difference is that distributors ally themselves to products.
For example, distributors of Coca Cola will not distribute Pepsi products, and vice versa. In this way, they can maintain a closer relationship with their suppliers than wholesalers do.
Retailers come in a variety of shapes and sizes: from the corner grocery store, to large chains like Wal-Mart, Lotte and Big C. Whatever their size, retailers purchase products from market intermediaries and sell them directly to the end user for a profit.
Intermediaries already have the resources and relationships Vietnamese local companies need to quickly bring their products to global markets. It's important for them to sell through these groups instead of wasting time and money trying to sell direct.
Understand intermediaries needs and delivering strong marketing programs— will maximize revenue and profits for local companies in the process.
Binh Duong: FDI attraction picks up 19 percent
An additional 481 million USD in foreign direct investment (FDI) landed in the southern province of Binh Duong in Quarter I, representing a year-on-year increase of 19 percent.
Of the total capital, 356 million USD came from newly-registered projects and 125 million USD from adjusted-capital projects. Eighty-eight percent of the investment was poured into local industrial zones.
To achieve the result, the locality paid a lot of attention to building and developing relations and promoting international investment. This included the establishment of cooperative ties with Eindhoven city of the Netherlands, the province of East Flanders (Belgium) and Deagu city (the Republic of Korea).
Last year, Binh Duong province welcomed 106 foreign delegations who came to study the province's business climate. At the outset of 2016, the province also signed cooperative agreements with the Netherlands' Emmen and Hoovegeen cities and their enterprises.
In addition to addressing any difficulties and enhancing enterprises' production, through dialogues with businesses and sectors, the province also provides prompt external services for businesses investing in the locality.
Binh Duong is now home to 26 industrial parks, covering a total area of 8,800 hectares. The average occupancy rate is 65 percent. Some 2,625 FDI enterprises are operating in the locality with a total registered capital of more than 24.1 billion USD.
The locality plans to lure 1.4 billion USD in FDI in 2016. It vowed to continue to improve the local business climate and provincial Competitiveness Index by giving further support to investors, stepping up administrative reforms and ensuring social welfare.
Hai Phong attracts more multi-million USD FDI projects
The northern port city of Hai Phong lured two new foreign direct investment (FDI) projects worth 62.25 million USD in the first three months of this year.
SL Electronics Co. Ltd from the Republic of Korea (RoK) invested 42.25 million USD into a project producing spare parts for electronic household appliances and motors, while the RoK investor HSColor injected 20 million USD into a project serving the printing and producing components for mobile phones.
The two projects are scheduled to start operation in this September.
Also in the first quarter of this year, 88 million USD was invested in three ongoing projects in Hai Phong.
So far, the city has 460 valid FDI projects with a total registered capital of 11.113 billion USD.
Currently, Hai Phong is accelerating the implementation of its key infrastructure projects, including Cat Bi International Airport, Tan Vu-Lach Huyen Highway and Bridge project, Hai Phong International Gateway Port, and Bach Dang bridge.
Vietnamese insurance firms target niche market
Vietnamese life insurance companies are seeing good growth in a niche market, holding a majority market share in the north central provinces of Nghe An, Ha Tinh and Quang Binh as well as in south western localities.
The information was released by Phung Ngoc Khanh, Director of the Agency for Insurance Supervisory and Management under the Ministry of Finance (MoF), at a recent press briefing.
Pham Thu Phuong, Deputy Director of the agency said while foreign players are dominating the life insurance market, the only Vietnamese company in this field has gained good development in technology, marketing and IT application.
In non-life insurance, domestic companies are actively seeking big foreign insurance firms as strategic partners, aiming to improve their financial ability and competitiveness, she said in response to the Vietnam Economics Times' question about the competitive capacity of Vietnamese insurance companies.
Phuong added that local insurers are also undertaking restructuring their business governance, products and distribution channels.
Regarding supervision and inspection of insurance companies, Deputy Director of the Agency Nguyen Quang Huyen said a total of 19 insurance companies were inspected in 2015.
He noted that the ministry's inspections revealed several violations, mostly related to regulations on investment and debt management, compensation payment and sharing of profits.
The inspection plan in 2016 approved by the Finance Minister will target seven firms, including Liberty, Bao Long, Prudential, Daiichi, Kathay, Sai Gon and Military Insurance.
The MoF said it will continue to intensify supervisory and management activities, thus timely giving recommendations to insurance firms.
It is working hard to improve management and supervision ability of State management agencies and update regulations to match reality.
International cooperation and integration in the insurance field will be fostered, focusing on expanding connection with countries having a developed insurance sector to learn from their experience.
The agency will work closely with partners and sponsors to map out technical assistance programmes, strategic targets and market development measures.
Vietnam's insurance market saw total insured value reach 11.7 quadrillion VND (524 billion USD) from 2011-15. The country is currently home to 61 insurance providers, including 29 non-life insurance firms, 17 life insurance enterprises and two re-insurance and 12 insurance broker companies.
Conditions set out for power tariff change
Electricity prices would be adjusted depending on changes in fuel prices, the exchange rate and power supply.
This adjustment method is specified in the revised master zoning plan for national power development in the 2011-2020 period, which was approved by the Prime Minister on March 18.
Under the plan, electricity tariffs would be revised in a way that ensures that investors can recover production cost and that power stations can attain reasonable profits and become financially-independent firms.
Relevant ministries and agencies will set electricity tariffs based on seasonal and regional factors. Different power prices applied for groups of customers and localities will be gradually abolished.
Ministries and agencies will consider characteristics of regions and residents in border, rural and mountainous areas and islands to calculate power prices and set proper reasonable subsidies for them and help boost socio-economic development in these regions.
This year, 24 hydro, thermal and renewable power projects with a combined capacity of nearly 3,800 MW will be put into operation. Tens of power projects will be commissioned in the following years.    
According to the revised master zoning plan, coal resources in the country should be prioritized for thermal power plants, especially those with a designed capacity of 26,000 MW in the north in 2020.
Due to limited coal resources in Vietnam, the plan also mentions using imported coal to fuel thermal power plants in major power centers like Duyen Hai, Long Phu, Song Hau and Long An in the Mekong Delta.     
In addition, Vietnam will develop nuclear power plants to ensure stable electricity supply in the future when primary energy sources have been used up. Vietnam's first nuclear power plant is expected to come online in 2028 and reach a capacity of 4,600 MW in 2030, accounting for 5.7% of the country's power output.
Total capital for new power projects, excluding those under the build-operate-transfer (BOT) format, and the national power grid is estimated at US$148 billion in the 2016-2030 period. Around US$40 billion of it will be needed in 2016-2020 and US$108 billion in 2021-2030.
Falling prices of key products slow export growth in Q1
Despite a robust rise in March, Vietnam's export growth in the first quarter of this year is still lower than in the same period last year due to lower prices of major export products, according to the Ministry of Industry and Trade.
Vu Ba Phu, head of the ministry's Planning Department, is quoted by the Vietnam News Agency as saying at a meeting in Hanoi on Monday that Vietnam has exported US$14.2 billion worth of products this month, up a staggering 40.6% against the previous month.
However, outbound sales in quarter one have risen by only 4.1% year-on-year to US$37.8 billion, well below 6.9% in the first three months of last year.
Of the total, exports of foreign direct investment (FDI) enterprises make up US$27 billion (inclusive of crude oil), up 5.8% from a year earlier, and shipments of domestic firms have gone up by a mere 0.3% to US$10.8 billion.
The first quarter sees exports of the agro-aqua-forestry and processing sectors inching up 5.8% and 6.5% year-on-year to US$4.7 billion and US$30.4 billion respectively.
According to the department, prices of many products have continued ebbing in the period, with ores and minerals recording the sharpest fall of up to 44.6%, crude oil 41%, rubber 21.5%, coffee 18.7% and fertilizers 20%.
The mild export growth in quarter one is also attributed to a lower export revenue increase, at only 6.5%, for the processing industry compared to the growth rate of 8.5% in the same period a year ago.
The U.S. is Vietnam's biggest importer in the January-March period with US$7.9 billion, up 11.1% year-on-year, followed by the European Union (EU), China and South Korea.
Meanwhile, imports in the January-March period have totaled US$37.1 billion, down 4.8% against the year-earlier period. The figure includes imports of US$14.1 billion this month, jumping 37% month-on-month
Imports of both FDI and domestic enterprises have slid in the three-month period, with respective declines of 5.7% to US$22.2 billion and 3.5% to US$14.9 billion.
The turnover of products needed for import in quarter one has dropped by 5.5% year-on-year to almost US$32.5 billion while products whose imports are subject to control and restriction have edged up 6.2% to US$1.5 billion and 8.1% to US$1.4 billion respectively.
In all, Vietnam has run a trade surplus of around US$776 million in the first quarter, equivalent to 2% of the total export revenue. While FDI enterprises have posted a trade surplus of over US$4.87 billion (crude oil included), domestic enterprises have registered a trade deficit of US$4.1 billion.
To achieve annual export growth of 10% for this year, the ministry said the average export turnover must reach US$14.7-14.8 billion a month. Agencies under the ministry are told to adopt solutions to aid enterprises in boosting exports in the coming months.
Deputy Minister of Industry and Trade Tran Tuan Anh called on departments and agencies to step up trade promotions and help enterprises make full use of free trade agreements to boost exports to traditional markets and sell products to new markets besides enhancing.
Low oil price makes PVN's revenue fall short of target
With the average oil price of US$39.5 per barrel in March and US$34.6 per barrel in quarter one, revenue of Vietnam National Oil and Gas Group (PVN) in the three-month period is equivalent to only 74% of the quarterly target and its contribution to the State budget is VND18.6 trillion, meeting 18% of the full-year year.
PVN reported at a meeting of the Ministry of Industry and Trade in Hanoi on Monday that the group has extracted 2.53 million tons of oil equivalent this month and 7.34 million tons in the first quarter, 8% and 8.8% higher than the monthly and quarterly targets respectively.
As for gas, PVN has exploited 0.98 billion cubic meters in March and 2.77 billion cubic meters in the year to March, both higher than targeted.
As the world oil price still fluctuates and remains low, PVN said it will increase production of fuels, gas, nitrogenous fertilizer and electricity to offset the revenue contraction in quarter one and realize the year's target.
Deputy Minister of Industry and Trade Tran Tuan Anh said the ministry has told PVN to draw up scenarios to cope with the world oil price fall and avoid negative impact on its operation in the coming time.
VEF/VNA/VNS/VOV/SGT/SGGP/Dantri/VET/VIR