BUSINESS IN BRIEF 26/8
Runway upgrade sought for major airports
The Ministry of Transport has requested Airports Corporation of Vietnam (ACV) to draw up plans to better manage and upgrade runways at Noi Bai and Tan Son Nhat international airports to ensure safety and more operation efficiency at the country's busiest airports.
The ministry made the request following a suggestion by the Civil Aviation Authority of Vietnam (CAAV) to upgrade runways at Noi Bai in Hanoi and Tan Son Nhat in HCMC, the Vietnam News Agency reported.
In its proposal, CAAV said the runways at the two airports have been used since 1960s, so it is not good for them to accommodate the world's most modern aircraft such as Airbus A350-900s and Boeing B787-9s.
CAAV said as there are signs of deterioration on Runway 11L/29R at Noi Bai and Runway 25R/07L at Tan Son Nhat, they should be facelifted soon to help increase the efficiency of the two airports.
Since 2015, the aviation watchdog has several times urged ACV to map out plans to revamp the runways to facilitate aircraft take-offs and landings at Noi Bai and Tan Son Nhat airports. However, the corporation said it had no such plans in the offing.
Railway firm's revenue plunges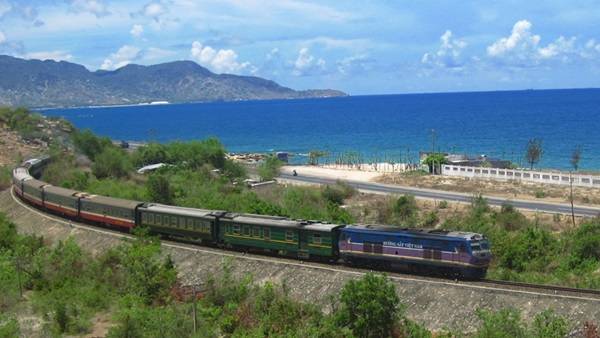 Vietnam Railway Corporation (VRC) remained profitable last year but its revenue fell by half compared to 2014, according to the corporation's financial report released recently.
VRC's financial report audited by AFC Vietnam Auditing Co Ltd showed the railway firm earned over VND2.6 trillion (US$119.1 million) in revenue last year, equivalent to 48% of the 2014 figure. Though the report does not explain the decline, it is widely known that the transport capacity of the railway sector stays low. 
According to data of the Ministry of Finance, the railway sector accounts for a mere 4.5% of total passenger transport and 1.8% of cargo transport.
VRC general director Vu Ta Tung said the railway sector holds less than 1% of the transport market but this market share is dropping now.
In contrast, airlines, especially low-cost carriers, have expanded with an annual growth rate of 15-20%.  
Despite tumbling revenue, VRC remained profitable thanks to other business operations such as maintenance of railway infrastructure facilities, warehouses and real estate.  
In 2015, VRC posted VND111 billion in profit, up 2-fold from the previous year, and its after-tax profit amounted to VND39.7 billion, up slightly from VND39.6 in 2014.
By end-2015, VRC had had total assets of some VND7.4 trillion and its debt had surpassed VND2.25 trillion with half of it short-term loans. The firm's equity had exceeded VND5.16 trillion.  
Meanwhile, VRC had had deposits of VND3.32 trillion at banks, up from VND1.02 trillion at the beginning of last year. 
Notably, the enterprise cut its management costs to VND359 billion in 2015 from VND917 billion in 2014.
VALC earns big profit from aircraft leasing
Vietnam Aircraft Leasing Company (VALC) posted revenue of US$76.6 million and after-tax profit of US$19.5 million in fiscal 2015, with most of the revenue contributed by its leasing of commercial aircraft.
In fiscal 2014, the company obtained US$76.8 million in revenue and US$19.7 million in after-tax profit, according to the local news site VnExpress.
Leasing ATR and Airbus airplanes, helicopters and aircraft simulators accounted for a lion's share of VALC's revenue last year, including US$64.3 million from Airbus aircraft.
VALC also earned US$3.15 million in interest from its deposits at banks and spent US$1.5 million on interest payments for loans. Thanks to its good business results, the company pays an annual dividend at more than 20%.
For 2016, the firm targets revenue of US$68.5 million and after-tax profit of US$15 million, down 10.1% and 22.3% against the previous year, respectively.
To realize its goal, VALC will lease one or two wide-body Airbus A350s to Vietnam Airlines between 2016 and 2018, reduce the leasing costs for ten A321-200 aircraft, and end the leasing contract of five ATR72-500 aircraft with the national flag carrier before maturity.
VALC expects to ink agreements with Vietjet on leasing one Airbus A320 and two Airbus A321 aircraft in 2017-2018 and A320-321 cockpit simulators for pilot training.
The company also seeks to lease business aircraft, helicopters, engines and aeronautical items.
As of the end of 2015, VALC's assets had totaled US$723 million and debts make up 87% of its assets, of which a majority were long-term loans from the Bank for Investment and Development of Vietnam (BIDV).
VALC was founded in late 2007 to lease aircraft to local airlines. Vietnam Airlines owns 32.05% of the company, BIDV 32.8% and other investors the remainder.
After its debut, VALC has taken delivery of 18 Boeing and Airbus aircraft for leasing to Vietnam Airlines in 12 years.
Taxman to step up tax checks on foreign guest workers
Vietnamese tax agencies will increase checks, especially on foreign guest workers, said Thomas McClelland, deputy general director for tax consulting at Deloitte Vietnam.
He told a conference on tax services and manpower in Southeast Asia in HCMC on August 23 that due to the current budget deficit, the Government would find ways to raise tax revenues in the coming time. Tax agencies will speed up tax auditing and inspections to reduce lost revenue.
According to the prevailing regulations, fines of up to VND200 million (US$8,900) are imposed on individuals and enterprises if they are found to falsify tax documents and evade taxes. Notably, businesses may have to stop operation if they commit such violations.
McClelland said these sanctions are to make people more careful when preparing and filing for taxes. 
He said many more foreigners have come to Vietnam to work in sectors like petroleum and construction. Therefore, local tax agencies will thoroughly check tax papers of foreign guest workers. 
Currently, workers in multiple sectors including information technology can move freely among countries. Tax agencies did not pay much attention to them in the past but they will keep a close eye on them in the coming time, he said.
In addition, the local taxman will carefully examine some details that they used to ignore with a review period expected at up to 10 years. 
He advised laborers, including foreigners, to keep tax files carefully for possible future checks by tax agencies.
Tax agencies will not ignore wrong calculations by taxpayers. If they do not declare extra incomes, they would have to pay taxes on these incomes later, he said. 
According to Deloitte Vietnam, the ASEAN Economic Community (AEC) facilitates free movements of capital and skilled labor in the region, which will generate both opportunities and challenges for Vietnamese employers.
SSC halts Vien Dong Securities JSC operations
The State Securities Commission (SSC) has stopped the business operations of Vien Dong Securities JSC (VDSE) in the local market, according to Decision No 884/QD-SSC, dated August 23.
Based in HCM City, VDSE was registered with a charter capital of VND135 billion (US$6 million) in 2008. The firm had been facing losses since 2010. In 2012, it closed its branch in Ha Noi due to losses. At the same time, it shut down some businesses at the head office.
On January 12 this year, the SSC chairman issued Decision No 17/QD-SSC that suspended work at VDSE for six months as the firm's financial status failed to meet the financial safety condition for operations.
But VDSE could not rectify its financial problems even after the deadline expired.
The SSC had fined the firm VND60 million last August for failing to submit its financial report on time.
VN, Austrian firms seek co-operation opportunities
Vietnamese and Austrian enterprises attended at a business-to-business platform in Austria on Tuesday to seek partners in the fields of clean energy, banking, telecommunications and garments, besides food.
Representative of the Việt Nam Chamber of Commerce and Industry (VCCI) Nguyễn Hoàng Thắng described this event as a good opportunity for Vietnamese enterprises to get updated information about the European Union market and then draw up their business strategy to access the market more effectively.
Participants at the event said Austria would be a good gateway for Vietnamese businesses to penetrate the lucrative European Union market. Meanwhile, Việt Nam will help Austrian firms to enter potential markets in Southeast Asia.
In his speech, Georg Brunauer, CEO of Novapecc Co, which specialises in hi-tech industries, said his company planned to enter the Vietnamese market as soon as possible.
Currently, Austria ranks seventh among the 10 largest importers in the European Union of Vietnamese goods such as footwear, smart phones, electronics and garments, with a turnover of US$2.2 billion in 2015.
Việt Nam, meanwhile, is the largest trade partner of Austria in Southeast Asia. Austria's total turnover from exports, including machinery, electronics, steel products and medicines, to Viet Nam hit $412 million in 2015.
The business exchange in Austria was organised as part of a Vietnamese business delegation's trip led by the VCCI to the European Union from August 18 to 28.
VN firms should focus more on ASEAN market
Vietnamese businesses should focus more on ASEAN markets to make use of the advantages created by the establishment of the ASEAN Community, Vietnamese Ambassador to Thailand Nguyễn Tất Thành said. 
Speaking to Vietnam News Agency reporters on the sidelines of the 29th Diplomatic Conference now underway in Hà Nội, the ambassador said Vietnamese businesses had not paid proper attention to ASEAN markets in general and the Thai market in particular. 
On the contrary, Thai firms, from large to small- and medium-sized enterprises, are very interested in the ASEAN markets, especially Việt Nam. 
He said while several Vietnamese localities had established twinning arrangements or affiliations with their Thai counterparts, their relationships have focused on co-operation or investment while neglecting trading of goods. 
Several trade promotion events that the embassy helped to organise recently in Thailand have proved that there are many ways for Vietnamese goods to enter this market, which is a major one with 70 million people. 
Ambassador to Indonesia Hoàng Anh Tuấn said following the conclusion of the Trans Pacific Partnership (TPP) negotiations, Indonesian investors were very interested in the Vietnamese market, as through Việt Nam they could enter other markets of the TPP agreement. 
At the same time, the AEC framework facilitated trade and investment ties not only from Indonesia to Việt Nam, but also from Việt Nam to Indonesia, the ambassador said. 
According to head of the Vietnamese delegation to ASEAN Ambassador Nguyễn Hoành Năm, the formation of the ASEAN Community has brought about a new change for the ASEAN member countries. 
In order to make full use of the advantages created by the community, member countries should create better linkages in production and services, he said. 
The ambassador said the member countries must improve their investment environment to make ASEAN more attractive to outside investors. 
Ambassador to Malaysia Phạm Cao Phong said the ASEAN Economic Community (AEC) held great potential, but it was formed at a time when the region's economy was suffering from many negative impacts and faced numerous challenges. Therefore, the ASEAN countries should work together for development. 
Việt Nam and Malaysia should enhance economic ties on the basis of supplementing each other, in order to bring into play each country's comparative advantages, he said.
RoK's exports to Vietnam surge
Export turnover of t he Republic of Korea (RoK) in the first seven months of this year rose 10.1 percent on-year to 18.02 billion USD, according to the Korea International Trade Association (KITA).
The amount made it become the world's third largest importer of the RoK after China with 68.52 billion US and the US with 39.63 billion USD.
During the January-July period, the RoK's shipments to Vietnam accounted for 6.4 percent of the Northeast Asian country's total export value, up three fold from 2 percent in 2009.
The sharp increase was attributed to the bilateral free trade agreement which became effective late last year, promoting trade exchanges between the two countries that were seen a strong rise following the FTA between the RoK and ASEAN, to which including Vietnam is a member in 2007.
The increasing trend was recorded amidst the continuous falling in RoK's exports since early 2015.
In the reviewed period, the RoK's export value to China and the US decreased by 5.4 and 13.5 percent, respectively.
German experts help Tien Giang develop cooperatives
German experts shared their experience in auditing cooperatives at a workshop in the Mekong Delta province of Tien Giang on August 25 to help develop the local cooperative network. 
This is an activity under a collaboration agreement between the German Cooperative and Raiffeisen Confederation (DGRV) and the Vietnam Cooperative Confederation. 
Participants underlined audit as one of the key factors in effective operation of cooperatives. 
They also discussed ways to apply DGRV's audit experience in a number of cooperatives in the province. 
According to Ulrich Werner from DGRV, auditing helps enhance transparency of cooperatives' activities, thus building trust among their members, partners and clients. 
Meanwhile, Tran Dinh Tuan from Vietnam Cooperative Federation said the work creates impetus for the effective development of cooperatives through producing reliable information on the cooperatives' situation, thus facilitating management work. 
President of Tien Giang provincial Cooperative Alliance Nguyen Van Hong said since 2014 audit has been annually conducted in 10 local cooperatives in agriculture and small-industry. 
The DGRV has helped the province organise training courses in auditing. 
Tien Giang is one of 20 provinces in Vietnam that have benefited from a DGRV consulting and assistance programme since 2004. 
From 2004 to 2013, the province's collective economy posted a growth of 250.6 percent in revenue and 296.4 percent in profit. The sector's per capita income also shot up 232.5 percent during this period. 
Tien Giang is also gaining from a programme to improve the economic efficiency of cooperatives in the 2013-2017 period run by Canadian non-profit international development organisation SOCODEVI.
Vietnam imports from ROK surge in first 7 months
Vietnam imports from the Republic of Korea (ROK) for the seven-month period leading up to August of 2016 surged 10.1% on-year to US$18.02 billion, lifted by a new free trade agreement between the two nations.
Vietnam is now the third largest market of the ROK, said the Korea International Trade Association on August 25 in announcing the trade statistics. China is the top trading partner followed by the US.
The top imports for the seven-month period consisted primarily of manufacturing raw materials and intermediary goods.
Implementation of the Vietnam-ROK free trade agreement on December 20, 2015 immediately removed import duties on many commercial goods, helping to keep Vietnam on a level playing field with the ROKs other foreign trading partners.
The balance of import tariffs is scheduled to phase in over a fifteen-year period.
German experts help Tien Giang develop cooperatives
German experts shared their experience in auditing cooperatives at a workshop in the Mekong Delta province of Tien Giang on August 25 to help develop the local cooperative network.
This is an activity under a collaboration agreement between the German Cooperative and Raiffeisen Confederation (DGRV) and the Vietnam Cooperative Confederation. 
Participants underlined audit as one of the key factors in effective operation of cooperatives. 
They also discussed ways to apply DGRV's audit experience in a number of cooperatives in the province. 
According to Ulrich Werner from DGRV, auditing helps enhance transparency of cooperatives' activities, thus building trust among their members, partners and clients. 
Meanwhile, Tran Dinh Tuan from Vietnam Cooperative Federation said the work creates impetus for the effective development of cooperatives through producing reliable information on the cooperatives' situation, thus facilitating management work. 
President of Tien Giang provincial Cooperative Alliance Nguyen Van Hong said since 2014 audit has been annually conducted in 10 local cooperatives in agriculture and small-industry. 
The DGRV has helped the province organise training courses in auditing. 
Tien Giang is one of 20 provinces in Vietnam that have benefited from a DGRV consulting and assistance programme since 2004. 
From 2004 to 2013, the province's collective economy posted a growth of 250.6% in revenue and 296.4% in profit. The sector's per capita income also shot up 232.5% during this period. 
Tien Giang is also gaining from a programme to improve the economic efficiency of cooperatives in the 2013-2017 period run by Canadian non-profit international development organisation SOCODEVI.
 More localities pledge to create favourable business climate
Another 32 cities and provinces nationwide have committed to creating optimal conditions for businesses, raising the total number of localities to more than 40.
The commitments were reached by representatives from the municipal and provincial People's Committees and leaders of the Vietnam Chamber of Commerce and Industry (VCCI) in Ho Chi Minh City on August 24, in accordance with the Government's Resolution No. 35 on supporting and developing enterprises by 2020.
Addressing the event, Deputy Prime Minister Vuong Dinh Hue said the resolution spells out five major tasks – streamlining administrative procedures, creating optimal conditions for start-ups, ensuring business opportunities for enterprises, cutting business costs, and protecting legitimate rights and interests of firms.
Deputy PM Hue, who is also head of the Steering Committee for Business Innovation and Development, urged the municipal and provincial People's Committees to work harder to lure more foreign direct investments in the context of international integration, and untangle "bottleneck" in markets, services, capital, science-technology and real estate.
VCCI Chairman Vu Tien Loc said the commitments reflect the localities' long-term vision for business development while affirming the important role played by private firms in national industrialisation and modernisation, contributing to raising the national economy's competitiveness.
Hanoi, Ho Chi Minh City, Da Nang city, Quang Binh and Quang Tri provinces in the central region, and the southern provinces of Dong Nai, Dong Thap and Kien Giang are among the localities committing to improving their business climate.-
Food safety issues continue to haunt produce exports
How to supply large volumes of produce in compliance with strict Global GAP safety standards is problematic for the nation's growers and exporters, says the Vietnam Fruit & Vegetables Association.
Though the industry has shipped produce to many promising markets, the overarching goal is to produce large quantities profitably – while meeting importers' food safety and plant quarantine standards, said Dr Nguyen Huu Dat.
Speaking at a recent business forum, Dr Dat, who sets on the executive committee of the Association, said the importance of growers getting control of chemical abuse is of paramount importance.
It is particularly relevant to the proposed Trans Pacific Partnership (TPP) that involves the 12 countries of the US, Japan, Malaysia, Singapore, Brunei, Australia, New Zealand, Canada, Mexico, Chile, Peru and Vietnam.
Currently, Dr Dat said, the produce industry has made some promising inroads abroad shipping dragon fruit, mango, lychee and longan to the TPP member states of Japan, Australia and the US.
But they, as of yet, haven't done so profitably, and in actuality, recent shipments to Australia were sold at a loss.
Though the TPP is bogged down in the ratification process and may never materialize, Dr Dat noted that even if it were to pass, the benefits of tariff reductions to these markets would not be all that crucial.
The import tariffs levied by Japan over recent years on produce have averaged 4.8%, while Australia doesn't impose an import tax and the US rate has averaged right at 8%.
The other TPP member states of Singapore, Malaysia, Brunei, New Zealand and Chile also do not impose any tariffs on produce imports while Peru's tax has averaged 6% and Canada's 20%. 
In the overall scheme of things, the tariffs are simply not as important as food safety, as the future of the industry doesn't hinge on lower tariffs but on higher food safety, Dr Dat underscored. 
The industry, as a whole, has been caught up in a vicious cycle for which it has continued to lower its quality standards and then has reduced its sales prices in hopes of increasing the volume of exports.
This unprofitable cycle of chasing volume needs to be broken and growers need to adopt a motto of selling quality produce at a fair price (in lieu of low quality at a cheap price).
In order to produce large volumes of quality product profitably the industry must tighten control over the use of pesticides and other chemicals, upscale the size of farms and modernize it practices with the use of advanced technology.
He said eliminating the use of pesticides and other chemicals will help minimize production expenses, in addition to bosting food safety and— in the final analysis set the stage for Vietnam grown produce to develop a positive global image and profitably increase its global market share.
Food safety and hygiene issues have been and will continue to haunt Vietnam produce in all major markets around the globe, said Dr Dat, until it is produced consistently on a large scale in compliance with VIETGAP and Global GAP standards.
6th installment of power sector technology exhibition promises to be larger than ever
Electric and Power Vietnam 2016 – the 6th international power engineering (generation, transmission and distribution) technology exhibition – will return to Saigon Exhibition and Convention Centre (SECC) in Ho Chi Minh City from September 14 to 16.
The 6th edition exhibits a wide range of power engineering solutions and technologies, including electrical control and distribution systems, backup power generation, manufacturing and process automation, transmission and distribution, wireless security, instrumentation and control, power station hardware and equipment, renewable energy, and other related equipment to name only a few.
To date, close to 200 companies from Germany, South Korea, India, Singapore, Taiwan, and Vietnam have confirmed their participation. Notable exhibitors at the show include ABB, AKSAPower Generation, Anh Thy, Honeywell International India, Lim Kim Hai Electric, Rittal, and Thai Son Nam Trading, and the list goes on.
This year's show also expects large international presence from key technology associations and group pavilions, namely the Korea Electrical Manufacturers' Cooperative (KEMC), the Taiwan Electrical and Electronic Manufacturers' Association (TEEMA), and many more. The event is expected to attract 4,500 visitors from major power companies as well as industrial production and manufacturing facilities across the nation.
Industrial Automation Vietnam 2016, the international factory, plant automation, and process control technology exhibition, will take place alongside Electric and Power Vietnam 2016. The event aims to be a sourcing centre for factory and process automation equipment, as well as software needed to effectively run modern factories and processing plants.
AIA Group bullish on Vietnam operations
AIA Group CEO Mark Edward Tucker on August 24 said he sees the AIA Vietnam Life Insurance Company Limited based out of Ho Chi Minh City among its top subsidiaries over the next few years.
aia group bullish on vietnam operations hinh 0 Speaking at a meeting in Hanoi with Phung Quoc Hien, vice chairman of the National Assembly, Mr Tucker said AIA is committed to supporting the Vietnam growth momentum by continuously providing innovative products and quality services to the market.
In the near term, Vietnam Life has outlined its growth targets, which include offering a complete suite of financial solutions ranging from retirement, health, protection, savings, investments, and education.
Another short to medium term target, is to provide the nation's customers with an easier way of doing business through multiple payment facilities, e-billing, and other innovations.
That would mean investing in new technology platforms.
Mr Tucker said the AIA Group and Vietnam Life are looking at a wide range of financial technologies, digital, genetics genomics and other leading edge technologies— an area of expertise AIA excels at.
Medicine, healthcare services see strongest price hike in August
Medicine and healthcare services prices this August post the sharpest monthly hike, 6.18%, compared to five other goods and services categories that share the same upward trend, said the General Statistics Office (GSO) on August 24.
The five other categories with rising price are education (up 0.47%); garment, hats and footwear (0.14%); beverage and cigarette (0.05%); household appliances and goods (0.05%); and other goods and services (0.11%). 
Meanwhile, consumers spent lesser money on traffic (down 1.97%); food and catering services (0.14%); culture, entertainment and tourism (0.12%); postal services and communications (0.03%); and housing and construction materials (0.02%). 
As a result, consumer price index (CPI) in August rose by 0.1% from July, 2.57% from the same period last year and 2.58% from last December. The eight-month CPI climbed 1.91% year on year. 
Do Thi Ngoc, Deputy Director of the GSO's Price Statistics Department, said costlier healthcare services prices are the biggest contributor, 0.28%, to the CPI growth. Their 8.12-percent increase in 16 provinces was scheduled in a joint circular between the health and finance ministries. 
Nine provinces and cities also augmented tuition fees as stipulated in a Government decree last year. Higher demand for educational tools like textbooks, notebooks and pens to prepare for the new school year also boosted education prices, she added. 
While food supply abundance made food prices fall slightly, lower construction demand and global steel prices dragged prices of construction materials down 0.47% from the previous month. 
The traffic category experienced the biggest price decrease, 1.97%, mostly due to two petrol price cuts which in turn led to cheaper coach and ship tickets. Additionally, August's coincidence with the seventh lunar month, traditionally called the Ghost Month, resulted in less demand for automobile and motorbike purchases, making vehicle prices drop 0.12%. 
In August, gold prices rose by 1.72% from last month while the VND/USD exchange rate was relatively stable, with one US dollar exchanged for 22,330 VND. 
The GSO said the core inflation (the CPI excluding food items; energy products and commodities under the State management including medical and educational services ) this month inched up 0.09% from July and 1.83% from a year before. The eight-month core inflation climbed 1.81% from the same period of 2015. 
The almost similar eight-month inflation (1.91%) and core inflation (1.81%) compared to the same period last year proved that the current monetary policy is effective, helping to stabilise the macro-economy, the office noted. 
The GSO forecasts September will register a faster CPI growth rate than that of August because of higher educational services and petrol prices.
Vietjet offers promotional tickets on domestic routes
Low-cost airline Vietjet Air has officially launched a promotional programme from August 24-26 offering 300,000 tickets, starting at zero dong, on some domestic routes.
The promotional tickets will be available for routes linking Hanoi and Hue with Ho Chi Minh City, Da Nang, Nha Trang, Phu Quoc, Da Lat, Pleiku, Tuy Hoa, Can Tho, Buon Ma Thuot, Quy Nhon and Chu Lai.
The programme applies to passengers travelling from September 1 to December 31, excluding holidays.
Tickets can be booked between noon and 2pm at www.vietjetair.com (also compatible with smartphones at https://m.vietjetair.com) or at www.facebook.com/vietjetvietnam (just click the 'Booking' tab).
Payment can be easily made with debit and credit cards (Visa, MasterCard, JCB, and American Express) and ATM cards issued by selected Vietnamese banks which have Internet banking services.
The promotional programme aims to celebrate the upcoming launch of the new Hanoi – Hue route on November 1. The route will have a total flight duration of one hour and ten minutes. Flights are to depart Hanoi at 12.35pm and reach the destination at 13.45am, while the return flights depart at 2.20pm and arrive in Hanoi at 3.30pm.
Currently, Vietjet possesses a fleet of 40 A320 and A321 aircrafts conducting around 300 flights per day. With nearly 53 domestic and international routes, the airline has carried approximately 25 million passengers to date.
Egyptian chicken eggs disguised as home-raised eggs
Many Vietnamese chicken eggs sold on the market here are in fact Egyptian, which are similar to Vietnamese chicken eggs in appearance but different in nutritional content.
Recently, a type of chicken egg with very similar size and color to Vietnamese chicken eggs have been offered for sale at markets in Hanoi at the discount  price of VND3,500 (15 cents) each.
Meanwhile, Vietnamese chicken eggs sold in rural markets are usually priced from VND4,500 (20 cents) to VND6,000 (27 cents) per egg.
According to Nguyen Duc Trong, vice director of the Hanoi department of livestock production, the chicken eggs sold in the city's markets are in fact eggs from Egyptian chickens or crossbred chickens.
The foreign hens can produce 180 to 220 eggs a year, compared to an output of 120 eggs per year for carefully selected Vietnamese hens and 80 eggs per year for normal Vietnamese hens.
Many farmers in the Southeast region said that there are not usually enough eggs from free-range Vietnamese chickens to sell, since chickens raised in this way often grow very slowly, give birth to very few offspring, and have an extended period of hatching.
Furthermore, most farmers who raise Vietnamese chickens for eggs are doing so on a very small scale, so eggs from domestic chickens are often very expensive.
Even in areas where Vietnamese chickens are raised, the number of eggs hatched are normally only enough to provide for one's own family and neighbors, with prices ranging from VND4,000 (20 cents) to VND5,000 (23 cents) per egg.
It's therefore not unreasonable for Vietnamese chicken eggs to be sold at between VND3,000 (13 cents) and VND3500 (16 cents) in supermarkets.
"Vietnamese chicken eggs sold in supermarkets are actually from industrially-raised Egyptian chickens in many cases. Due to their similarities in size and color, many are able to trick consumers," Nguyen Van Khoa, a farmer from Dong Nai Province said.
According to Kim, a farmer and a wholesale egg supplier at Cho Gao market in Tien Giang Province, Vietnamese chicken eggs sold at supermarkets in the north are actually from industrially-raised Vietnamese chickens from the south, often bought at a price of VND1500 (7 cents) to VND2,000 (9 cents) per egg.
Meanwhile, a large quantity of Egyptian chicken eggs from the north are being sold in the south under the name "Vietnamese chicken eggs."
Trong said that even though the two types of eggs are similar in appearance and even in taste, Vietnamese chickens are nutritionally better.
RoK group eyes larger involvement in HCM City's infrastructure
The Republic of Korea's GS Engineering & Construction (GS E&C) is eyeing bigger role in infrastructure development in Ho Chi Minh City.
The announcement came after a meeting between city officials and Vice Chairman of GS E&C Huh Myung Soo in the locality on August 23. 
Speaking at the meeting, Soo praised the city's administrative reforms, creating favourable conditions for investors, adding that the group expects to take greater part in projects to develop the locality's infrastructure, including transportation projects, such as building metro routes. 
He said besides the Tan Son Nhat- Binh Loi Ring Road project which is expected to be handed over to the city by end of August, the group is carrying out several projects in Thu Thiem and Nha Be.
The GS E&C representative revealed the group is studying investing in the No 2 metro route (Ben Thanh –Tham Luong) and No 5 metro route (new Can Giuoc bus station – Sai Gon bridge).
Chairman of the municipal People's Committee Nguyen Thanh Phong lauded the contribution from the foreign company to the city's infrastructure, and pledged to create the best possible conditions for investments in the city's transport infrastructure.
KDC to complete sale of snack business
Food and flavour producer KIDO Group (KDC) earlier this week said it had finalised the sale of its snack business for VND2 trillion (US$91 million).
The sale took place one year after the company sold 80 per cent of its snack business to Mondelez International Company, the US-based maker of snacks, Oreo cookies and Ritz crackers.
KDC has received more than VND1.55 trillion ($70 million) from the investors and the remainder of the money will be sent after procedures are completed.
With the money, the company said that it had fulfilled the 2016 annual profit target of  VND1.5 trillion before tax.
KDC said that in the coming time, they would continue merger and acquisition activities in order to expand their new businesses, including instant noodles and cooking oil.
The company also plans to focus on developing trademarks for its new products.
Last year, KDC, a giant confectionery producer in Viet Nam, sold 80 per cent of its snack business at a price of $370 million.
Frozen products, cooking oil and instant noodles are the core business of the company. 
Japanese firms to seek partners in VN
Thirty Japanese firms involved in seafood and food industries will gather at two business matching conferences, in the capital on August 30 and in HCM City on September 1.
Viet Nam has become a promising market for Japanese food products and the Japanese firms come to the forthcoming events to seek new trade partners, the Japan External Trade Organisation (JETRO) in Viet Nam, the events' organiser, said in its statement.
The number of Japanese restaurants in Ha Noi and HCM City would increase in the time to come, and this could lead to rising consumption demand for food products, according to JETRO.
In 2015, Việt Nam ranked seventh among leading importers of Japanese agricultural, seafood and food products in term of turnover.
Global brand Regent Hotels and Resorts eyes expansion to VN
Global luxury hospitality brand Regent Hotels and Resorts is looking for partners to develop world-class resorts in Viet Nam and turn them into lifestyle destinations.
As a member of Taiwan-listed multi-sector FIH Regent Group, with its foothold in Beijing, Berlin, Porto Montenegro, Taipei and Singapore, the brand has been eyeing ways to expand in Asia, especially Viet Nam.
"With its pleasant climate, rich culture, wonderful food, fascinating natural sights and improved transport infrastructure, Southeast Asia is considered a popular tourist destination," Ralf Ohletz, the group's president of design and concepts, said in a speech at Vietnamese property developer BIM's media briefing on August 17 in Ha Noi.
Ohletz said rapid economic growth was transforming the region from a budget travelers' must-visit hotspot to one of the top choices for luxury travelers, where Viet Nam is a hidden gem waiting to be discovered.
Ohletz said there was a shortage in hospitality products that were exclusive and classy in Phu Quoc and Ha Long, the country's popular tourist destinations, however.
 "We are now looking for partners sharing the same vision and capable of providing top-notch equipment and devices to work closely with us and bring unique luxury accommodation experiences for all the guest traveling to Viet Nam," Ohletz said.
The participation of global brands in Viet Nam's hospitality market will boost competition and set new market benchmarks, according to Ohletz, who added that quality would become the decisive factor for the success.
Founded in the 70s by legendary hotelier Robert H. Burns, Regent became the first truly Asian-based global hospitality group. Besides five existing Regents in Bejing, Berlin, Porto Montenegro, Singapore and Taipei, the brand will open new hotels in Chongqing, Harbin and Jakarta. "Our concept embraces the harmony of opposites: global yet local, simple yet elegant and modern yet timeless," Ohletz said.
Le Minh Dung, executive director of BIM Group's property business, said at the briefing that BIM Group was working with Regent Hotels and Resorts on the development of a luxury resort in Ha Long and in Phu Quoc.
BIM Group has partnered with many leading global hospitality brands, such as the InterContinental and Fusion Suites, on many of its developments.
Quang Ninh Province–based BIM Group's flagship projects include 155ha mixed-use Phu Quoc Marina on Phu Quoc Island and the 248ha Ha Long Marina Urban in the northern province, which consists of a line-up of high-profile component projects. 
Trade pact with RoK to bring economic benefits for Vietnam
The free trade agreement between Vietnam and the Republic of Korea (RoK) will bring enormous economic benefits for the Southeast Asian country, Vietnamese Ambassador to the RoK Pham Huu Chi said in an interview with the Vietnam News Agency on the sidelines of the 29th Diplomatic Conference in Hanoi on August 22-26.
He said the pact will help Vietnam improve its business environment and accelerate economic restructuring towards increasing added value and competitiveness in the global value chain.
It is also expected to attract investment from the RoK into Vietnam , he said, adding that the RoK is one of the leading nations in technology, especially energy, mechanics and electronics.
The efforts to draw RoK investment will help Vietnam develop technological skills and production capacity, he said.
Tax reductions under the deal will create new opportunities for Vietnamese farm produce and seafood as well as garment-textile, timber and mechanical products to enter the RoK.
Vietnam is the RoK's first trade partner that can export high-tax-rate products like garlic, ginger, honey, and sweet potatos to the RoK, he noted.
The free trade agreement between ASEAN and the RoK will generate more opportunities for Vietnamese export commodities than that of other rivals like China , Indonesia , Malaysia , and Thailand .
The RoK agreed to an annual import quota of 10,000 tonnes of Vietnamese shrimp at zẻo tariff, which will be raised to 15,000 tonnes by 2020.
As an ASEAN member, Vietnam also benefits from the ASEAN-RoK free trade agreement which has enabled the bloc to export 5,000 tonnes of untaxed shrimp to the RoK. But currently, Vietnam only ships 2,500 tonnes of without tax shrimp to the market.
The Ambassador, however, also pointed to challenges that Vietnam is facing, including the RoK's tariff reductions – which will create more pressure for domestic businesses. The difference between import-export structure of the two countries is likely to make Vietnam run a trade deficit with the RoK.
Vietnam and the RoK set up diplomatic ties in 1992 and since then bilateral relations have grown rapidly. The establishment of the strategic cooperative partnership in 2009 has helped deepen the bilateral rapport.
The RoK is now the biggest investor in Vietnam with nearly 5,000 projects worth about 50 billion USD and the third largest trade partner, after China and the US, with two-way trade reaching 37 billion USD in 2015 and likely to hit 70 billion USD by 2020.
VEF/VNA/VNS/VOV/SGT/SGGP/Dantri/VET/VIR