BUSINESS IN BRIEF 22/7
VN scientists, firms invited to Thai laboratory technology expo
Vietnamese scientists and companies working in a range of analytical laboratories will have the opportunity to learn about the latest equipment and technologies at the 2016 Thailand Lab International to be held in Bangkok in September.
The sixth International Trade Exhibition and Conference on Analytical Laboratory Equipment and Technology, Biotechnology and Life Sciences, and Chemical and Safety would provide applications and solutions for all types of laboratories, Anucha Parnpichate, the project manager of VNU Exhibitions Asia Pacific, the organizer, said.
More than 1,300 brands belonging to 350 exhibitors from 35 countries, including China, France, Germany, India, Italy, Japan, South Korea, the US and the UK, would present their latest laboratory technologies, he said.
Several seminars will be held on the sidelines to brief professionals in the industry on the latest information and technologies and enhance co-operation.
Last year the exhibition received over 8,240 visitors, Parnpichate said, adding that Viet Nam ranked second in terms of international visitors after Malaysia.
The figure is expected to be higher this year, he added.
Construction sector grows 8.8 percent
The construction sector grew 8.8 percent in the first half of this year, the highest growth since 2010, reported the Ministry of Construction during a conference in Hanoi on July 21 to launch tasks for the remaining months of this year.
The ministry's enterprises booked revenues worth more than 76.1 trillion VND (3.45 billion USD) despite the stalled growth of gross domestic product which hit 5.52 percent during the period.
The rate of urban and rural construction, and urbanisation hit 100 percent and nearly 35.7 percent, respectively, of what was planned for the period.
The average floor area per person reached 22.3 sq.m, a rise of 0.3 sq.m from the late 2015.
Currently, 72 out of 144 projects have their economic and technical accomplished with values of nearly 500 billion VND.
Construction Minister Pham Hong Ha said the ministry will refine legal regulations, review the Law on Construction and issue decrees on construction, housing and real estate business.
The issuance of construction licenses will be reduced to 22-25 days from 30 days, as part of efforts to realise the government's resolution on improving the business climate and national competitiveness as well as the resolution on business development support.-
Vietbeauty to open in HCM City
More than 150 leading suppliers and brand names in the global beauty industry will participate in a business-to-business beauty exhibition in HCM City next month.
Vietbeauty 2016 is one of UBM Asia's five ASEAN beauty exhibitions in Malaysia, Thailand, Indonesia, Philippines and Viet Nam aimed at creating a one-stop regional platform for beauty industry professionals.
At the Viet Nam event, trade visitors will meet suppliers of cosmetic, skin care, hair care, nail care, spa and wellness products as well as onwers of beauty salon and aesthetic equipment from Vietnam, Japan, Korea, Thailand, Taiwan, China, Philippines, Malaysia, India and Singapore as well as representatives from famous brands from the US and some EU countries.
Leading brands providing full packaging and labeling service for beauty products will take part in the exhibition.
There will be live demonstrations focused on beauty salons, hair, nail and make-up applications and techniques for hair salon owners to upgrade their skills.
There will be conferences with opportunities for visitors to network and enhance industry education.
The exhibition will be held at the Sài Gin Exhibition and Convention Centre from August 18 to 20. 
VCCI and HOSE agree to more co-operation in financial market
The Viet Nam Chamber of Commerce and Industry (VCCI) and the HCM Stock Exchange (HOSE) yesterday committed to support the Vietnamese business community in developing sustainability that would help the economy's international integration.
Under the Memorandum of Understanding signed between the two sides yesterday, VCCI and HOSE would co-operate in research, discussing and sharing experiences and good practices of sustainable development; improving companies' awareness of sustainable development; and developing green financial products for the Vietnamese financial market.
VCCI General Secretary Pham Thi Thu Hang said the chamber would help encourage companies to list on the HOSE through communication campaigns.
Chairman of the HOSE's Board of Directors, Tran Dac Sinh, expressed his appreciation of the co-operation agreement, saying it marked progress of the Vietnamese stock market, in general, and HOSE in particular on the path of development.
Sinh said the Ministry of Finance had assigned the exchange to be a pioneer in developing new concepts of sustainability in the stock sector and promoting a green capital market. The exchange will therefore build a sustainable development index of listed companies, scheduled to be launched at the beginning of 2017. HOSE was also conducting research and developing green corporate bonds, aimed at supporting enterprises in calling for investments in sustainable development projects, Sinh added.
Shrimp export to US sees growth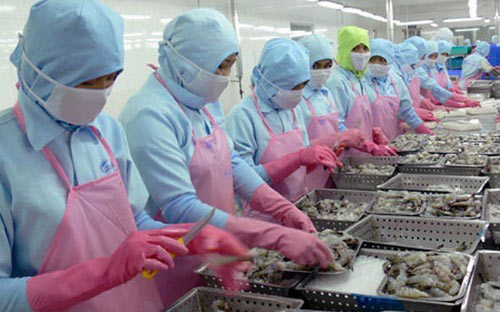 Vietnamese shrimp exports to the US expanded 17.4 percent to reach 249.3 million USD in the first five months of the year, according to the Vietnam Association of Seafood Exporters and Producers (VASEP).
The figure allowed Vietnam to surpass Ecuador to rank 4th among the five largest shrimp exporters to the US, providing 12.4 percent of the country's shrimp imports.
Indonesia topped the list of the US's biggest shrimp exporters with 22.3 percent of the market share, followed by India with 20.9 percent and Thailand 13 percent.
Of the total Vietnamese shipments, white-leg shrimps accounted for 70 percent while giant tiger prawns made up of 27 percent.
Vietnam and the US signed an agreement related to antidumping duty over shrimp imported from Vietnam on July 19.
Accordingly, the two sides reached bilateral solutions to settle the two long-lasting World Trade Organisation (WTO) disputes over imports of Vietnamese shrimp to the US, in which Vietnam sues the US for violating WTO regulations when imposing antidumping duty on Vietnamese shrimp.
Earlier on May 20, at Vietnam's request, the US Department of Commerce began administrative procedures to carry out the WTO dispute findings.
As a result, a Vietnamese exporter of frozen warm water shrimp – Minh Phu Group – will no longer be subject to the antidumping duty order.
In addition, duty deposits will be refunded to the Minh Phu Group.
The antidumping duty order will, however, remain in place for all other exporters of warm water shrimp from Vietnam.
In 2015, Vietnamese shrimp exports to the American market stood at 657 million USD, dropping 38.3 percent from 2014 due to decreasing export prices, weak demand and fierce competition from foreign rivals.
In 2015, Vietnamese shrimp was sold in 92 markets, down from 150 markets the previous year. Key markets included the US, Japan, the EU, China, the Republic of Korea, Canada, Australia, ASEAN and Switzerland.
Hai Phong aims to become maritime economic hub
The northern city of Hai Phong strives to lead other localities in the development of the sea-based economy.
The target was made during a conference held on July 18-19 by the municipal Party Committee to study the resolution adopted by the 12 th Party Congress.
The city will also focus on developing and expanding industrial parks (IPs) that were approved by the Prime Minister as well as accelerating the building of infrastructure, especially in the project of Dinh Vu-Cat Hai Economic Zone.
Hai Phong will continue developing agriculture and fishery in line with new-style rural building and strengthening connectivity between the city and other economic centres in the region.
In the first half of this year, the city's gross regional domestic (GRDP) growth hit 10.63 percent, the highest rate since 2010.
Hai Phong holds its position among the country's top performers in foreign direct investment (FDI) attraction with 31 newly-registered and capital adjusted projects valued at more than 1.74 billion USD in the first five months of the year.
The city is housing more than 450 valid FDI projects with a total registered capital of over 12 billion USD.
Malaysia's Waz Lian Group eyes Binh Dinh investment
Malaysian realty group Waz Lian Corporation looked for potential investment opportunities in the central coastal Binh Dinh Province on July 19.
Waz Lian Corporation's Vice-Chairman Hui Ta Hean met provincial Chairman Ho Quoc Dung, who briefed him about the social and economic development of Binh Dinh and gave him an overview of the local plan and industries that were calling for investment.
Dung said Binh Dinh had recently become attractive to local and international tourists with its beautiful beaches and diverse culture. He said to meet the growing demands of tourists, the province and local and foreign investors had been implementing major tourism and hospitality projects with large investments.
Dung said the Waz Lian Group should invest in realty in the province, saying that the province would create favourable conditions to support investors.
Ta Hui Hean said the corporation was one of the 10 largest conglomerates in Malaysia, which specialises in real estate, tourism and electrical energy, adding that they would study the province more for investment potential in the future.
VIB records positive growth in H1
Vietnam International Bank (VIB) earned before-tax profit of VND303 billion (US$13.5 million) in the first half of this year.
This is a seven per cent year-on-year increase and comprises 45 per cent of the before-tax profit target for 2016.
According to the bank's H1 unaudited financial result, the lending balance reached more than VND51.319 billion, equivalent to a 7.4 per cent growth rate
During the reviewed period, the bank's deposit saw a yearly rise of 7.4 per cent to reach VND57.248 billion, while fee and commission incomes increased by 41 per cent year-on-year. Its total assets topped VND86.755 billion, up nearly three per cent in comparison with the end of 2015.
As of 30 June, VIB's non-performing loan rate was 1.84 per cent, lower than 2.05 per cent and 2.07 per cent seen at the end of the first quarter and at the end of 2015, respectively. Meanwhile, the bank's capital adequacy ratio continued to be higher than 16 per cent, helping the bank to rank among the top banks in the market.
With the profits earned and safety indicators well complying with SBV regulations, VIB recently paid an 8.5 per cent dividend rate in cash to its shareholders.
"It is estimated that we will pay an additional 16.5 per cent dividend rate in bonus shares in the coming time, creating an annual dividend payout rate of 24-25 per cent for two consecutive years," the bank said in its statement.
Gift show to open in the capital in October
A four-day Hanoi Gift Show will be held from October 16 to 19 at the National Planning Exhibition Center in the capital.
With over 600 booths, the upcoming event will include  exhibitors from Viet Nam and other countries in the region. This event will showcase products like home decor and handicraft products, indoor and outdoor furniture, home textiles and embroidery, gifts and ethnic items, personal accessories, toys and more.
The event's organisers described the event as a good opportunity for handicraft producers and traders from across the country to advertise and promote their products, seek new customers, expand their export markets, and take advantage of the free trade agreements that Viet Nam has signed.
A total of 1,285 memoranda of understanding (MoU) and contracts were signed at the previous show. Of that figure, 865 contracts worth US$150 million were reached with foreign importers. Total retail sales of goods at the show exceeded VND10 billion ($450,000).
US eyes opportunity in Vietnam's rising demand for clean water: official
Given Vietnam's huge demand for clean water, and the government's need to develop water infrastructure, U.S. companies are looking at opportunities to enter and expand their operations in Vietnam, a top U.S. Department of Commerce official said on July 18.
While the need for sustainable, fresh water supply is common throughout Southeast Asia, one of the main concerns in Vietnam is untreated wastewater being released into waterways, rivers and lakes. Other issues include a lack of clean water generally, and the high loss ratio of water supplying projects.
"These all create opportunities for U.S. companies to bring cutting-edge technology to the country," Arun Kumar, U.S. Assistant Secretary of Commerce for Global Markets and Director General of the U.S. Foreign Commercial Service, told reporters in Ho Chi Minh City.
The assistant secretary is leading nine U.S. water infrastructure companies on a trade mission to three Southeast Asian countries, during which they hope to gain insights into the region's expanding water infrastructure market and meet with government leaders, potential partners, distributors, and end-users.
The delegation arrived in the southern Vietnamese metropolis on Monday, after first stopping in Singapore. Their final destination is the Philippines.
During remarks at a press conference later the same day, Assistant Secretary Kumar reviewed the rapidly developing trade ties between Vietnam and the U.S. over the last 20 years, and reaffirmed the potential for American companies to tap into the water infrastructure development sector.
The U.S. official, who is on his second visit to Vietnam, is upbeat about more cooperation between Vietnam and the U.S. in this field, with both parties members of the Trans-Pacific Partnership agreement.
He also recalled the historic visit of President Barack Obama in May this year to underline his strong belief in a bright future for the two countries.
Following Kumar's speech, the nine U.S. companies, represented by their presidents and CEOs, took turns to brief reporters on the technology in water treatment and clean water supply that they are hoping to introduce to Vietnam.
In a post-meeting interview with Tuoi Tre News, Kumar elaborated on the potential for U.S. water infrastructure development companies in Vietnam, and the rising need for clean water technology and appropriate solutions across the country.
On Monday morning, the mission visited Sawaco, the city's leading water supplier, where they learned of the company's plans to expand their supply capacity and increase the number of projects, Kumar said.
"A number of these are projects the U.S. companies can contribute their technology and solutions to," he said.
Kumar said Sawaco is a good example of how U.S. companies can invest here, especially when "in other parts of the country, there are a number of similar needs."
The assistant secretary told Tuoi Tre News that once they began investing in Vietnam, U.S. companies with new technology that provide high-quality products and services will help the Vietnamese people have better water and greater access to it.
"This is such an important project, and we are very proud that U.S. companies can be part of the mission of delivering water to more parts of the population," he told Tuoi Tre News.
As U.S. companies get more engaged in the country, they will also contribute to the local economy, he added.
Kumar reiterated that U.S. companies will bring the most modern technologies to Vietnam. "In fact some of the technologies are new in the U.S. as well," he underlined.
"Some of the companies have been here for many years, so they know the market, but for others, they've come here for the first time.
"The commonality of them all is that they are very innovative."
Streamlining procedures for new life insurance products
Life insurance companies in Vietnam will benefit from simpler administration procedures when they register for the launch of any new product due to the easing of previous overly complicated governmental procedures.
According to the government's newly-issued Decree No.73/2016/ND-CP dated  July 1, 2016, the Ministry of Finance (MoF) will be the only authority that life insurance firms need to work with to receive approval for launching their new products.
"Now with the Decree 73, life insurers only need to submit product dossiers to the MoF. The ministry will then be responsible for working with other governing authorities before providing firms with a final response," said Phung Dac Loc, general secretary of the Association of Vietnam Insurers (AVI).
Article 40, Clause 3 of the decree requires that within three days of the issuance of  approval, the MoF has to send documents to the Ministry of Industry and Trade (MoIT) to go through other required procedures, meeting the Vietnamese law on consumer protection.
Previously, life insurance firms had to seek approval for the launch of new products from both the MoF and the MoIT. Under Decree No.35/2015/QD-TTg issued on October 15, 2015, life insurance businesses were subjected to "the list of essential goods and services for which contract forms and general transaction conditions must be registered," which meant all life insurance contracts, terms and conditions, must be registered with the MoIT.
With the former regulations, products were expected to be approved by both ministries. Life insurance firms spoke out against the regulations because it duplicated the approval process and increased the turn-around time for life insurance products to be approved.
"Life insurance contracts and materials contain a good deal of technical information that is much more complicated when compared with other commodities, this can take the MoIT much longer to consider," stated a representative from Prudential Assurance Vietnam during the European Chamber of Commerce's White Book launch earlier this year.
According to Loc, the association actively called for the procedure to be simplified with "great co-operation from foreign enterprise associations, such as the American Chamber of Commerce and the European Chamber of Commerce."
Notably, Loc revealed the important role of BIDV-MetLife, the joint-venture between Bank of Investment and Development of Vietnam and the global insurer MetLife, "Although the firm is a new player in the market, (BIDV-MetLife went into operation in 2014), the powerful financial capacity of the mother group MetLife let its voice be heard," he said.
Additionally, the effective participation of the National Administrative Procedure Reform Council was also praised by the association.
Vietnam's key export industries unlikely to meet 2016 targets
Some key export industries including agro-aqua-fishery group, wooden items, rice, fuel and minerals are unlikely to meet higher than 2015 export targets this year because of many difficulties and challenges, stated business associations at a meeting on July 19.
The meeting was chaired by Minister of Industry and Trade Tran Tuan Anh to debate measures to boost export in the second half this year.
According to data from the General Customs Department, the first half export turnover increased 5.7 percent over the same period last year to US$82.13 billion.
Of these, agro-aqua-forestry group increased 4.1 percent to reach US$13.63 billion. Processing and manufacturing hiked 8.7 percent to US$63.59 billion.
Fuel and mineral reduced up to 39.4 percent to US$1.65 billion.
Chairman of the Vietnam Textile and Apparel Association Vu Duc Giang reported difficulties in local consumption and exports and said it was the most difficult time then of the industry in many recent years.
For the last six months, textile and garment exports brought US$12 billion, down 1 percent over a year back and much lower than the expectation of US$16 billion.
Besides the economy's difficulties, businesses have been tied with many both old and new circulars and decrees which have not facilitated production and trading development.
Sharing the same view, deputy chairman of the HCMC Handicraft and Wood Industry Association Huynh Van Hanh said that the new tax law has increased export duty from 0 percent up to 20 percent on some commodity codes of the wood industry. In the meantime, businesses have been meeting with difficulties in accessing capital for production and exports.
Minister Tran Tuan Anh said that the ministry will accompany businesses to solve their difficulties and take advantage of export opportunities from the Trans-Pacific Partnership (TPP) and the EU-Vietnam Free Trade Agreement.
Problems outside the ministry's jurisdiction will be gathered and forwarded to authorized ministries and agencies to solve, he added.
Rice exports plunge 40 percent in June
Vietnam exported only 380,000 tons of rice in June, down nearly 40 percent over the same period last year, reported the Vietnam Food Association (VFA).
The export volume reached 2.66 million tons worth US$1.20 billion in the first six months of 2016, a year on year reduction of 11 percent in volume and 6.9 percent in value.
China which is the largest rice export market of Vietnam posted a significant reduction to 912,076 tons worth US$420 million, falling 13.1 percent in volume and 11 percent in value. Similarly, the export volume to the Philippines dropped 45 percent to 193,435 tons.
 Rice export has been reduced in recent months because of drought and salt intrusion and severer competition in the world market.
The down trend is forecast to continue in the upcoming time as the Thai Ministry of Commerce will open for sale 3.7 million tons of rice in stock on July 25  while Vietnam's large markets such as Indonesia and the Philippines have announced no hurry to import rice.
The above difficulties have forced VFA to lower the rice export target of 2016 to 5.65 million tons from 6.5 million tons.
Housing market imbalance emerges
There has appeared an imbalance in the housing market in HCMC this year with high-end apartments increasingly abundant while homes for low-income people falling short, according to a recent report of the HCMC Real Estate Association.
The January-June report released last week was compiled from data of 1,058 members of the association, including 582 enterprises and 476 individual traders based in HCMC.
There were 34 apartment projects eligible for capital mobilization in the first half of the year, supplying a combined 14,901 units to the city market. Of the total, the number of mid- and high-end apartments picked up 16% while low-end apartments dropped by 18.9% against the same period a year earlier.
The figures did not include the fully done projects, land lot projects and those which were not approved for capital mobilization.
The report said high-end apartment projects are booming in the eastern part of HCMC, from the western bank of the Saigon River in Binh Thanh District to districts 1, 4, 2, Thu Duc and 9, with massive house sales of Vincom, Novaland and Sacomreal.
In the six-month period, the property market of HCMC also witnessed a surge in secondary investors who mainly bought and sold mid and high-end apartments in inner-city and southern areas in the period.
There were reportedly disputes relating to project developers like at Harmona, Bay Hien, Rubyland and Petrolandmark in the year to June. These projects were products of a property bubble in the years 2006-2007.
The investors of the projects were said to be unprofessional, financially incapable and use bank loans for wrong purposes. Besides, problems at the projects resulted from the lax management of credit institutions and the investors not strictly complying with regulations on investment, construction, mortgage and sale.
According to the association, such incidents hurt market confidence and affected the property market in the first half of this year.
Regarding the resettlement housing segment, the HCMC government resolved problems with the implementation of 17 resettlement projects comprising a total of 6,525 apartments and land lots in the first six months.
The city has completed 7,220 out of 8,550 resettlement apartments while the remainder are under construction.
According to the association, the State Bank of Vietnam was more cautious about its credit policy when issuing Circular 06/2016/TT-NHNN on May 27 to raise the risk weight of loans for the real estate sector to 200% and set a target to reduce credit supply for the sector within two years. This move has forced property developers to look for other sources of capital.
Liberal laws send startups up strongly
Nearly 106,000 enterprises have been established with total registered capital of nearly VND768 trillion (around US$34.2 billion) since the revised enterprise and investment laws went into force on July 1 last year, rising by 27.8% and 42.4% year-on-year, respectively.
According to the Business Registration Agency under the Ministry of Planning and Investment, there have been 1,660 new foreign direct investment (FDI) enterprises set up with combined capital of VND62.2 trillion (US$2.8 billion) in the period.
The strong rise in startups and registered capital has resulted mainly from the liberal enterprise and investment laws. Especially, the number of startups shot up and their registered capital grew strongly in the final months of last year.
The Government has shown a strong determination to do away with as many business conditions as possible and further improve the investment environment to prop up firms and enhance the nation's competitiveness.
A number of problems with the implementation of the two laws have arisen, especially in the fields of land, natural resources, environment, construction, housing, real estate, and services for foreign-invested firms.
The Ministry of Planning and Investment and the team responsible for the execution of the two laws have identified the problems and proposed coping solutions to the Government. In addition, the Minister of Planning and Investment has requested relevant agencies to improve the legal framework and create favorable conditions for businesses in line with the Government's resolutions 19 and 35.
The ministry is reviewing problems arising in the process of implementing the two laws to timely solve them.
The national business registration portal has been upgraded to meet legal requirements in the field. Since the Enterprise Law took effect, the basic information about enterprises has been publicized on the portal, including enterprise name, code, date of establishment, address, legal representative, and business sector.
The portal contributes to creating a transparent business environment and enhancing community supervision towards enterprises.
The exchange information between the national business registration portal and the tax information system has also helped reduce the time for completing business registration procedures from five to three working days.
Caravelle Saigon has new DOSM
Caravelle Saigon has picked Alexandra Hepworth as new director of sales and marketing for the five-star hotel in downtown HCMC.
Hepworth boasts considerable experience in the travel and hospitality industries, promoting tourism in Australia before moving on to roles with Fusion Resorts in Vietnam. She was also responsible for sales and marketing for six Victoria Hotels and Resorts properties in Vietnam and Cambodia.
With hospitality sales experience throughout the region, Hepworth has a proven track record ranging from building new partnerships to overseeing trade shows, media initiatives and hosting international VIPs.
Hepworth was business development manager for the SLC Representation, with clients throughout Australia and Indochina; partnership executive for Tourism Australia; international sales manager for Travel Indochina; and director of sales and marketing for Serenity Holding, which handles hospitality brands throughout Vietnam.
HCMC posts VAT revenue growth of 15% in H1
Value added tax (VAT) revenue rose almost 15% in HCMC in the first half thanks to stronger sales in the beer and real estate sectors, according to the city's tax department.
A HCMC Tax Department report showed that VAT payments by enterprises in sectors such as beverages, tobacco and property increased sharply in the first six months compared to the year-earlier period.  
For instance, Vietnam Brewery Limited (VBL) contributed VND881 billion (US$39.5 million) in VAT, up 34.5% year-on-year. Meanwhile, Saigon Beer-Alcohol-Beverage Corporation (Sabeco) paid VND325 billion, soaring 94.3%, and Saigon Tobacco Company VND181 billion, a 34% pickup.
VAT payments by Nova Home JSC and Tan Lien Phat Construction Investment Corporation also stayed high.
Overall, VAT revenue edged up 14.8% year-on-year in the six-month period.
The HCMC Tax Department said VAT revenue from non-State businesses posted the strongest growth among the sectors with a 33.7% pickup, followed by the foreign-invested sector with a 12% rise.
In contrast, VAT collections from centrally- and municipal-governed State-owned enterprises (SOEs) dipped by 10.6% and 17.3% from a year earlier, respectively.
The mobile phone information center under MobiFone Telecommunications Corporation (MobiFone) paid VND214 billion, down 16.36%, PetroVietnam Oil Corporation VND31 billion, down 88.8%, and PetroVietnam Drilling and Well Services VND15 billion, tumbling 68.53%.
According to the department, VAT revenue from SOEs in the petroleum supporting sector fell significantly in the first half.
Apart from the VAT revenue hike, corporate income tax collections climbed 16% in the first six months of 2016 against the same period last year.
Notably, there were collections from stake transfers of New Life Real Estate, KIDO Corporation, Saigon VRG Investment Holding Corporation and Saigon Boulevard Complex.
Revenues from special consumption tax, personal income tax and environmental protection and registration fees all edged up. They contributed a combined VND96.6 trillion to the total, up 9.5% year-on-year.
The production sector alone made up over VND57.9 billion, a 17.57% increase against the same period last year.
This year, the HCMC Tax Department is assigned by the Ministry of Finance to collect VND195.8 trillion in tax revenue with domestic sources accounting for VND177.6 trillion and crude oil for VND18.2 trillion.
Fruit, veggie imports surge in first half
Vietnam imported US$351 million worth of fruits and vegetables in the first half of the year, an increase of at least twofold from the same period last year, data of the General Department of Customs showed.
Fruit and vegetable imports from a number of markets soared in the period. For example, shipments from Australia rose fourfold to almost US$20 million and those from New Zealand nearly doubled to US$11.3 million. Last month alone saw imports from the two markets tripling year-on-year.
Thailand has remained Vietnam's biggest exporter of the products since 2015 when it overtook China. Its fruit and vegetable shipments to Vietnam in the January-June period leapt from US$78 million to US$144 million. Vietnam spent US$200 million importing fruits and vegetables from the ASEAN country last year.
The U.S. was also among Vietnam's top three fruit and vegetable exporters with shipments totaling US$32 million. There were significant increases in imports from South Korea, India, South Africa and Brazil. Meanwhile, imports from China in the first half stood at US$80 million, a year-on-year rise of 30%.
On the local market, fresh fruits and vegetables imported from the U.S., Australia and New Zealand are sold at higher prices than Vietnamese products and those imported from China.
Besides exports, a number of foreign countries are considering imports of Vietnamese fruits and Australia is one of them. Australia has started assessing the production of dragon fruit before making a decision for the Vietnamese fruit, Tuoi Tre newspaper reported, citing a source from the Ministry of Industry and Trade.
According to the Vietnam Trade Office in Australia, late last month a group of officials from Australia's Department of Agriculture and Water Resources toured HCMC and Long An, Tien Giang and Binh Thuan provinces to inspect dragon fruit farms.
They visited farms and processing and packaging factories to get data on farming, harvesting and pre-export procedures of the fruit.
Dragon fruit will be allowed for import into Australia if it passes requirements of the potential country for Vietnamese farm produce.
Australia started importing litchis from Vietnam in 2015 and has recently opened up the market for Vietnamese mangoes.
Foreign firm to produce solar cells in Vietnam
JA Solar Hong Kong Investment, a major manufacturer of high-performance solar power products, will develop a solar cell production project worth over US$1 billion in the northern province of Bac Giang.
According to Saigon-Bac Giang Industrial Park Corporation (SBG), the investor of Quang Chau Industrial Park (IP), the Hong Kong firm has inked an in-principal deal with SBG to lease 88 hectares of land at the IP to build a solar cell plant. With the land lease, the Vietnamese firm can earn over VND1 trillion.
JA Solar, which currently has eight production plants worldwide, regards its investment in Vietnam as a breakthrough in the low-cost supply chain and a typical investment in the field of solar cell production, said SBG, a subsidiary of Kinh Bac City Development Holding Corporation.
Nguyen Van Linh, chairman of Bac Giang Province, said at the signing ceremony last week that the province would facilitate JA Solar in terms of legal and customs procedures, human resources and infrastructure so that it could put into operation its project soon.
Once licensed, the project of JA Solar will become the 16th investment at 600-hectare Quang Chau IP. It is also expected to generate jobs for more than 3,000 people.
Wood chip exports tumble on weak demand
Local wood chip processing and exporting firms have been struggling this year as exports have plummeted due to weaker demand yet stronger supply on global markets.  
The Vietnam Timber and Forest Product Association (Vifores) said at a conference held in Hanoi last week that outbound sales of wood chips have fallen sharply in the year to date, making life tough for firms in the sector.
Wood chips fetched export revenue of only US$248 million in the January-May period, far below the US$430 million in the same period last year.
Vifores said if the situation continues, wood chip shipments will reach around US$600 million, half of the figure of last year.
To Xuan Phuc, policy analysis expert of international organization Forest Trends, said wood chip inventories are now really high. "The plunge in wood chip exports has left negative impact on not only exporters but also hundreds of thousands of households that supply input material and hundreds of thousands of laborers in the sector."
The sharp slide in wood chip exports is attributable to weak global demand as the world's demand for pulp has tumbled.
The declining demand of China, Vietnam's biggest importer of wood chips, has driven down wood chip exports and prices this year. Meanwhile, wood chip supply from Thailand has increased strongly.
Vietnam adjusted up the export tariff on wood chips from 0% to 2% at the start of the year to limit export of the material, sending the price of a ton of wood chip up by US$2.5-2.8. Businesses said the tax revision has caused difficulties for the industry.
Agriculture ministry determined to restructure cooperatives
The Ministry of Agriculture and Rural Development has shown a strong determination to restructure agricultural cooperatives in the Mekong Delta and adopt a new model to help them cut losses.
The new model aims to enable agricultural cooperatives in the delta to boost production and sales by joining the farm produce value chain in line with the Prime Minister's Decision No. 445/QD-TTg dated March 21, 2016, the ministry told a conference in Hau Giang Province last week.
The ministry looks to develop around 300 agricultural cooperatives and build strong links between cooperatives and enterprises to help improve the operation of cooperatives to benefit their members.
The Mekong Delta had had 1,928 agricultural cooperatives as of end-2014, but only 8% of them can consume products of their members and 18% can supply materials like seedlings, fertilizer, and plant protection and veterinary drugs for members.
Tran Huu Hiep from the Southwest Steering Committee said successful implementation of the new cooperative model requires cooperation of farmers, technical infrastructure in the provinces selected for the new model, and support of banks.
Talking to the Daily on the sidelines of the conference, Pham Trung Kien, vice general director of the Saigon Union of Trading Cooperatives (Saigon Co.op), said cooperatives must attend to product quality and certification in the production process.
Modern technologies should be used to preserve products and ensure food quality, safety and hygiene as consumers now care more about these matters, Kien said.
The Government should have mechanisms to help agricultural cooperatives improve competitiveness in the country's international integration process.
Vietjet Air to offer one million 'zero fare' tickets
The low-cost carrier Vietjet has launched a three-day promotion from July 20 to 22, which offers passenger around one million tickets from just zero dong for all domestic flights.
The promotion is open from 12:00 to 14:00 every day and may end earlier than schedule if all promotional tickets are sold.
Passengers can purchase tickets at www.vietjetair.com (also compatible with smartphones at www.m.vietjetair.com) or via www.facebook.com/vietjetvietnam.
Payment can be made with Visa, MasterCard, JCB, American Express, and ATM cards issued by the 24 Vietnamese banks that have been registered for internet banking.
The tickets are valid for passengers traveling between August 13 and December 31, excluding public holidays.
Vietjet continues to increase its modern fleet, and expand its domestic and international network in order to meet the increasing travel demand of tourists, individuals and businesspeople.
With its high-quality services, special low-fare tickets and diverse ticket classes, Vietjet offers its passengers enjoyable flights with dynamic and friendly flight crew, comfortable seats, hot meals and special surprises from the airline's inflight activities.
Vietjet is the first airline in Vietnam to operate as a new-age airline with low-cost and diversified services to meet customers' demands. It provides not only transport services but also uses the latest e-commerce technologies to offer various products and services for consumers.
The airline recently won IOSA Certification from the International Air Transport Association after three years of operation.
Vietjet was also declared "Best Asian Low Cost Carrier" at the TTG Travel Awards 2015 and rated one of the top three fastest growing airline brands on Facebook in the world by Socialbakers and the favorite airline in Vietnam in 2015.
SOE management committee in the offing
The Ministry of Planning and Investment has unveiled the Government's draft decree on setting up a committee in charge of managing State-owned enterprises (SOEs), local media reported.
Under the draft decree, the committee will manage 30 major SOEs such as Vietnam National Oil and Gas Group, Vietnam Electricity Group, Vietnam National Chemical Group, Vietnam National Coal and Mineral Industries Group, Vietnam Post and Telecommunications Group, Vietnam Railway Corporation, Vietnam Northern Food Corporation, Vietnam Southern Food Corporation, Song Da Corporation, Hanoi Alcohol Beer and Beverage Company, and Saigon Beer-Alcohol-Beverage Corporation.
The ministries of defense and public security will continue managing SOEs under their umbrellas.
According to the draft decree, ministries and agencies have ownership rights at SOEs but are not responsible for how the SOEs under their manage perform, leading to losses of State assets, the draft decree says.
Pham Duc Trung of the Central Institute for Economic Management (CIEM), which is assigned to prepare the draft decree, told local media that a number of ministries and agencies have been weak in managing SOEs over the years.
Trung said the committee would help tell State governance and business governance apart, and increase the transparency of policy making to raise the efficiency of State investments and capital use at SOEs.  
The committee under the management of the Government will monitor State assets and capital at SOEs and report relevant results to the Government and the Prime Minister. It also will help the Government implement policies on restructuring and capital divestment, and improve the efficiency of SOEs.
The draft decree also stipulates that the committee has the rights to appoint, dismiss and decide salaries and bonuses of corporate leaders, and manage all assets and State investments in SOEs. 
Notably, State Capital Investment Corporation (SCIC) would become an arm of the committee and operate in the finance investment sector.  By end-2015, SCIC's stakes in enterprises had amounted to VND98 trillion (US$4.4 billion).
The committee will consider standards set by the State to work out criteria to evaluate SOEs' performance. SOEs would be categorized into two groups, with one with State ownership of over 50% and the other with State holding of 50% or below.
In case SOEs' financial reports are inadequate and inaccurate, the committee can hire auditing firms to check them.
If the committee detects potential risks at SOEs, it could issue warnings and advise them to find coping solutions. It would report violation cases to the Prime Minister.
The Ministry of Planning and Investment will send the draft decree to residents, enterprises, ministries and agencies in 30 days for comment and submit it to the Government for approval in the third quarter of this year.
Trung of CIEM said at first the committee would manage 30 SOEs where the State holds around 80% of shares, equivalent to VND1,000 trillion.
In a document sent to the Government, the ministry said State capital and assets at SOEs have not been used efficiently. Trung said when the committee is established, it would help clarify responsibilities of relevant parties in SOEs' operations.
Trung noted that there would be policies for attracting and retaining talent to work for the committee. Besides, officials at ministries and agencies that are managing SOEs will be recruited.
Trung said the draft decree is in line with the Government and the Party's stance to remove ministries and provincial governments from being representatives of State capital and assets at SOEs.
According to the draft decree, instead of serving as representatives of State stakes in SOEs, ministries and agencies would monitor and exercise the rights of State governance at SOEs and only manage firms that supply public products and services.
Local, int'l real estate firms exhibit products in Hanoi expo
The Vietnam International Real Estate Exhibition, VNREA EXPO 2016, kicked off in Hanoi on July 20, featuring nearly 100 booths from nearly 360 domestic and foreign businesses.
On show are new products, services, construction materials and decor in the construction industry. The five-day event also presents real estate and housing projects, and technologies for the sector.
Former Minister of Construction and Chairman of the Vietnam National Real Estate Association (VNREA) Nguyen Tran Nam said the exhibition will be organised annually at the National Architecture, Planning and Construction Exhibition Centre in Ha Noi. A similar event will be held in HCM City in September this year.
This year's event sees the participation of well-known companies such as Phuc Khang Construction and Investment JSC, Thang Long Air Services Corporation, Capitaland-Hoang Thanh Investment Limited, the Thu Do Investment and Trading JSC, the Housing and Urban Development Corporation (HUD), Viglacera Real-estate Trading Company and Duckshin Housing Co., Ltd. The products displayed at the exhibition come from 36 real estate firms, 126 electrical equipment and smart home technology firms, 83 interior decoration companies and 53 building material firms, and 62 enterprises displaying products from sectors ranging from solar energy to machinery.
VNREA EXPO 2016 is being organised by VNREA in collaboration with the Vietbuild Construction International Exhibition Organisation Corporation (VIETBUILD).
KINDEX Vietnam attracts Korean investors
KINDEX Vietnam VN30 ETF attracted much attention from Korean investors two weeks after being listed on the Korean Stock Exchange (KRX), according to the HCM City Securities Exchange (HoSE).
KINDEX (245710KS) was among the certificates with most trading volume on KRX. On July 14, it rose 4.87 per cent to reach KRW10,450.
KINDEX Vietnam ETF simulates VN30, and is managed by HoSE through an investment swap mechanism. VN30 was calculated from the price index of 30 leading capitalisations and liquidity on HoSE.
The southern bourse said it was the first time a local fund certificate was listed on a foreign bourse, adding that the attention of Korean investors has confirmed the position of the VN30 in the international market.
HoSE expected to list more ETFs certificates in the overseas markets in the future.
VEF/VNA/VNS/VOV/SGT/SGGP/Dantri/VET/VIR