A Mature Partnership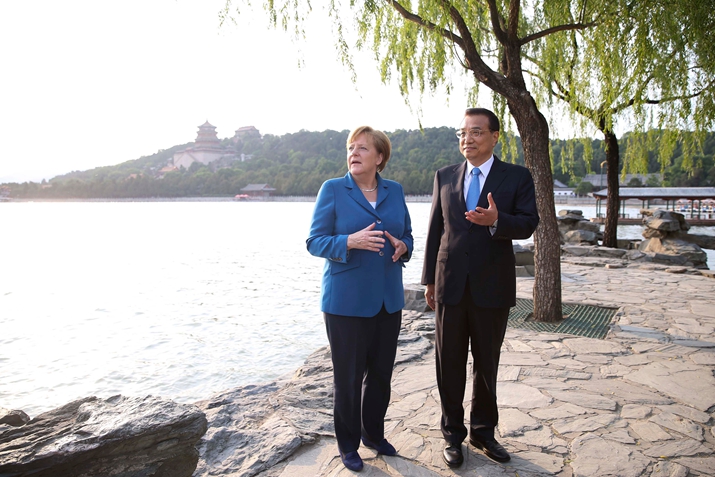 German Chancellor Angela Merkel admires the Summer Palace in Beijing on June 12 along with Chinese Premier Li Keqiang during her visit to China (CNSPHOTO)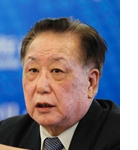 On June 12-14, Angela Merkel paid her ninth visit to China since becoming German chancellor in 2005. During the trip, Merkel, together with Chinese Premier Li Keqiang, co-chaired the fourth China-Germany inter-governmental consultation, which focused on advancing the two nations' bilateral relations primarily through economic cooperation. A meeting of the China-Germany Economic Advisory Committee and a China-Germany economic and technological cooperation forum also took place during the chancellor's visit.
On each previous China trip, Merkel visited at least one other city besides Beijing. Adhering to custom, Merkel this time also landed in Shenyang, capital of Liaoning Province, with the intention of scoping out the potential for bilateral cooperation in the transformation and upgrading of China's former industrial heartland, the nation's northeastern provinces.
The China-Germany inter-governmental consultation, inaugurated in October 2010, is the first such mechanism established at the prime-ministerial-level between China and a developed country. It has become an important symbol of the breadth and depth of cooperation between the two nations. The four rounds of consultation to date have played an outstanding role in planning and advancing China-Germany pragmatic cooperation.
A total of 96 contracts worth $15 billion were signed between Chinese and German companies during the consultation's latest round.
The two sides agreed to create a fair and open environment for two-way investment and work more closely in intelligent manufacturing, finance, automobile manufacturing, information technology and aviation in addition to increasing efforts to explore cooperation in third countries.
Collaboration
These outcomes, plus many more in politics, innovation, environment, climate change, education and cultural exchanges, add to the already long list of achievements made in the previous sessions.
During the first round of consultation in 2011, the two countries reached 11 agreements and signed five commercial contracts with a combined value of $15 billion. They also reached a consensus on a series of strategic and pioneering collaborative projects involving electric automobile manufacturing, financing for small and medium-sized enterprises, life science research, vocational education and the staging of a financial stability forum.
The second round of consultation in 2012 saw the conclusion of 13 agreements and five commercial contracts totaling nearly $7 billion in value. Both governments also agreed to upgrade China-Germany relations to a level of "future-oriented strategic partnership" and to establish the China-Germany Economic Advisory Committee. The committee, consisting of business leaders from both countries, has been tasked with making recommendations for advancing bilateral economic and trade cooperation. Other outcomes of the consultation included setting up a strategic partnership on developing renewable energy sources, conducting dialogues on modern production technologies, fostering new growth points for cooperation, and strengthening cooperation in the fields of green economy, sustainable urbanization, smart power grids as well as marine and geological polar research. Both sides also reached a consensus on settling bilateral trade disputes over photovoltaic and wireless communication products through cooperation and dialogue and on supporting financial institutions and enterprises of the two countries in using the renminbi and the euro in bilateral trade and investment.
The third round of consultation took place in 2014. It ended with an action plan aimed at enriching the bilateral all-round strategic partnership, establishing a mutually beneficial innovation partnership, setting up mechanisms for high-level economic, financial, diplomatic, and strategic security dialogues, and cooperating on advanced manufacturing programs. Some 10 agreements and nine commercial contracts were signed with a combined value of $11.5 billion.
Overall, China-Germany relations are developing smoothly. Affected by the weak global economy, the volume of China-Germany bilateral trade declined 11.8 percent year on year in 2015. In Europe, however, Germany remains China's largest trading partner and largest source of foreign direct investment. The country has also transferred more technologies to China than any other European country. Germany has played a leading role in China-EU cooperation. Concurrently, investment by Chinese enterprises in Germany has grown rapidly, overtaking German investment in China.
Exchanges and cooperation in the fields of culture, science and education have also been very fruitful. In the past several years, the two countries have jointly or respectively held a series of activities and initiatives. For example, the Germany and China—Moving Ahead Together event series in China, held from 2007 to 2010, was the largest presentation of Germany abroad at that time. The series took place in several Chinese cities and drew a total of 1.8 million visitors. In addition, the Year of Chinese Culture in Germany and the China-Germany Year of Language programs were held in 2012 and 2013, respectively. In 2015, the Year of China-Germany Innovation Cooperation was launched to create new growth points in investment, financial cooperation and technology. The two states have also designated 2016 as the Year of China-Germany Youth Exchange.
Challenges
Besides cooperation, however, some challenges exist that require close attention from the two sides if they are to be handled properly.
Recently, trade protectionism has once again emerged in Germany. Not long ago, some German steelmakers accused Chinese enterprises of dumping iron and steel products and appealed to the German Government to launch anti-dumping and countervailing investigations into Chinese products and impose trade sanctions on China. In fact, excess steel capacity worldwide has come about as a result of the sluggish world economy. The German steel industry's difficulties are not caused by China.
Furthermore, the European Parliament recently passed a resolution denying China market economy status in an attempt to prevent the European Commission from fulfilling a pledge made 15 years ago when China joined the World Trade Organization. As the most influential power on EU decision-making, Germany is well-positioned to play an active role in properly solving such an issue. Germany's attitude, therefore, is under close scrutiny, and China looks forward to Germany taking a constructive stance.
In the recent past, China and Germany have reached consensus and formally concluded a large number of agreements. The key challenge, though, lies in how to implement them. Notably, Germany's attitude toward transferring technologies to China has become slightly negative. Bilateral cooperation on intelligent manufacturing has been slow, and some German media outlets have vociferously claimed that once China masters advanced technologies, it would become Germany's competitor, taking away German jobs. This is actually a sort of zero-sum game mentality that ignores the mutually beneficial outcomes to be derived from bilateral cooperation.
It is natural that China and Germany have different views on some issues, as the two nations vary in terms of their historical and cultural backgrounds, political systems and levels of socio-economic development. China, therefore, has always stressed that both countries should respect each other and seek common ground while shelving differences. Some German politicians, however, still cannot give up their arrogance and like to point fingers at others and boss them around. Such attitudes not only damage the mutual political trust between China and Germany and undermine the basis of their bilateral cooperation, but also tarnish Germany's image.
The author is a former Chinese ambassador to Germany 
Consultation Outcomes
The fourth round of the China-Germany inter-governmental consultation was held in Beijing on June 13. At the event, officials from 26 government departments of both countries reported the latest cooperative progress in their fields, and 96 contracts worth $15 billion were signed between Chinese and German companies.
According to a joint statement, the two sides also agreed to:
– Work on a political settlement in Syria and strengthen dialogue on the Afghanistan issue;
– Maintain maritime order on the basis of international law, including the UN Convention on the Law of the Sea (UNCLOS), and freedom of navigation and overflight as stipulated in the UNCLOS; support peaceful settlement of territorial disputes and maritime interest issues in accordance with international law, regional consensus and bilateral agreements, and welcome trust-building measures conducive to easing a tense situation;
– Work under the G20 framework on sustainable and balanced growth of the world economy, and continue to promote China-EU relations;
– Strengthen cooperation in cyber security and anti-terrorism issues;
– Create a fair and open environment for two-way investment, and work more closely in intelligent manufacturing, finance, automobile manufacturing, information technology and aviation;
– Increase efforts to explore cooperation in third countries;
– Extend cooperation in education, tourism and the media, with more youth exchanges focused on soccer.
(Compiled by Beijing Review)
Copyedited by Chris Surtees
Comments to liuyunyun@bjreview.com