Your crash course in… How a showdown in the skies could trigger a transatlantic trade war
Image: AP/Press Association Images
ARE WE ON the brink of a US-EU trade war? Some pundits with an eye on the sky seem to think so.
A 12-year dog fight between the world's two leading aircraft manufacturers came to a head last week when the World Trade Organisation (WTO) accused European plane maker Airbus of failing to comply with a 2011 ruling to stop accepting illegal state aid from the European Union.
Even more significantly, the WTO ruled in its 574-page report that some EU member states had given Airbus so-called 'launch-aid loans' to fast track the building of wide-body aircraft, which it said created "genuine and substantial" loss of sales for its US rival, Boeing.
The WTO said Airbus couldn't have developed its A350XWB aircraft, a direct competitor to Boeing's successful 787 Dreamliner jet, without unlawful EU subsidies estimated to be worth around $5 billion.
This was a fresh accusation as the trade body had already ruled that Airbus received unlawful funding to develop its A380 aircraft.
Unsurprisingly, Airbus has said it will appeal the WTO's accusations, while the EU has suggested it will do the same, dubbing the findings in the report as "unsatisfactory".
On the other side of the pond, US trade representative Michael Froman said the WTO's findings signaled "a sweeping victory for the US and its aerospace workers".
"We have long maintained that EU aircraft subsidies have cost American companies tens of billions of dollars in lost revenue, which this report clearly proves," he said.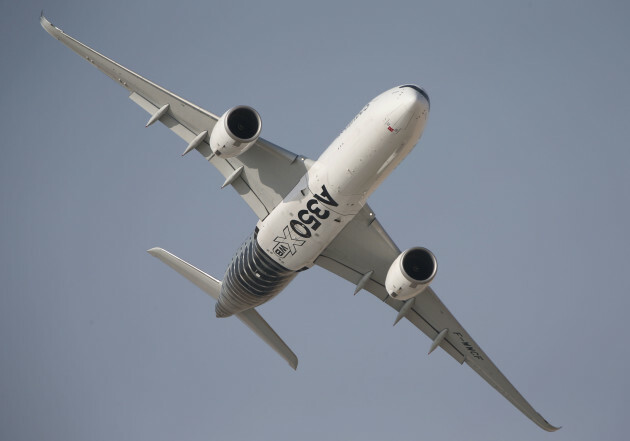 An Airbus A350XWB Source: Kamran Jebreili/AP/Press Association Images
Boeing's chief executive and president Dennis Muilenburg echoed Froman's claims and said the "historic ruling finally holds the EU and Airbus to account for their flouting of global trade rules".
The "winning" side may want to can the celebrations though – the WTO is in turn investigating whether Boeing has complied with rules on accepting a leg-up from the US.
Tariffs
With increased political turbulence on both sides of the Atlantic, it is not that difficult to imagine how the ongoing battle between Airbus and Boeing could set the stage for a full-blown trade war.
If the EU loses its appeal, the US could impose import duties on goods coming from the region as punishment for breaching civil aviation rules.
Boeing fueled this potential outcome by suggesting that Washington could receive up to $10 billion in annual tariffs if it decides to sanction the EU, a figure based on previous statements made by US authorities.
Boeing's CEO Dennis Muilenburg Source: Ted S. Warren/AP/Press Association Images
Meanwhile the WTO is to deliver a separate ruling on how Boeing handled a $5.3 billion leg-up it received in state funding, about half of what Airbus received. The Toulouse-based manufacturer could use that ruling as ammunition against its American competitor.
The EU has also filed a complaint against an $8.7 billion payment Boeing received from the state of Washington in exchange for manufacturing new 777X jets at its Seattle facilities.
Dominance
The Boeing-Airbus duopoly has dominated the global aircraft making industry since the late 1990s when both firms absorbed several smaller manufacturers.
The current battle dates back to 2005 when the US and EU both filed lawsuits over how they both funded their respected aircraft manufacturers.
Since then, the two sides have repeatedly accused each other of accepting unlawful payments: Boeing through military contracts and tax breaks, Airbus through launch-aid loans.
The WTO ruled in 2010 and 2011 that both sides had been unfairly financed and ruled that they should eliminate illegal payments.
The two manufacturers have claimed victory several times and accused their enemy of non-compliance.
This is a seemingly never-ending slagging match between two corporate giants that dominate in a fiercely competitive industry.
Global air passenger traffic roughly doubles every 15 years. That means there will be around 7 billion air passengers per year by 2034, according to predictions from the International Air Transport Association, so both companies will be looking to meet deadlines for aircraft deliveries.
Source: Boeing
Click here to view a larger version.
China, the US, India, Indonesia and Brazil are predicted to be the fastest growing markets, so both plane makers will be elbowing each other to win orders from airlines that operate in those regions.
It is an expensive gamble for companies to invest in new aircraft. They cost millions and take years to build, yet by the time an aircraft is delivered a proposed route may not be economically viable any more.
Indigenous manufacturers in some of those emerging markets are keen to get their own slice of the pie in the sky, but right now they don't have the muscle of the big two to meet growing demands and adhere to strict regulations.
China's competitor, the C919 Source: AP/Press Association Images
The tit-for-tat mudslinging between Airbus and Boeing has been typical carry on in a dispute that has lasted more than a decade. Pundits have for years warned that it could lead to an imminent trade dispute on the back of this rivalry – only to later dismiss the petty bickering as a phoney war.
But the latest warning comes at a time when protectionist policies are gaining significant ground in Europe and the US, which gives it a bit more edge.
Written by Conor McMahon and posted on Fora.ie