Uganda thrives on China ties
Ambassador of Uganda to China says more tourism infrastructure will fuel sustainable economic growth
Having lived in China for eight years, Charles Madibo Wagidoso, ambassador of Uganda to China, is already very familiar with the culture.
"But inside Uganda we are also familiar with Chinese tea. You can see it in all major supermarkets - the quality is as good as here."
Tea is only one of the thousands of kinds of goods being exchanged between the two countries every day. For the past 14 years, trade volume has grown from a few million dollars to more than $520 million in 2013.
"The economic relationship between China and Uganda has never been so close as today," Wagidoso says. "And they benefit both sides rather than one."
It is the complementary economic structures of the two countries that enable them to help each other, Wagidoso notes.
"Uganda mainly exports agricultural products such as tobacco and coffee," he says, adding that China has favorable policies for the products, giving them advantages in entering the Chinese market.
For example, Uganda exports more than 400 kinds of products to China free of duty and tax, which helps promote its domestic development.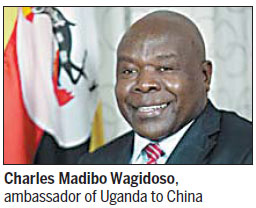 With 80 percent of the jobs in Uganda in the agricultural sector and 74 percent of the population living in rural areas, exports to China help promote local employment and ensure stable income for farmers in tobacco and related professions.
The close mutual economic relationship also stabilizes the two nations' growth. For more than a decade, the Ugandan government had adopted policies favorable to growth. The nation has enjoyed annual GDP growth of over 6 percent.
But that was somewhat fragile with trade within the region accounting for a high percentage of growth. Sudan was a large importer, and when political instability curbed imports from Uganda, there was short-term pressures as GDP growth slowed to 5.7 percent in 2013. But exports to China and investment in infrastructure brought the number to 6.25 percent in 2014.
With flourishing mutual trade, Chinese investment in Uganda exceeded $91 million in 2013, making it the second largest investor in the country. Beside agriculture, investments mainly concentrate on energy.
After rich oil reserves were discovered in Uganda in 2006, both Western and Chinese capital flowed in. China National Offshore Oil Corp is one of the giant enterprises cooperating with local counterparts.
But by "energy" Wagidoso means far more than oil. Many Chinese mistakenly link African countries with drought, but they forget Uganda is called "The Pearl of Africa". With about two-thirds of Victoria Lake in its territory, Uganda is one of the few countries on the African continent that has plentiful water and hydropower.
In the Kayunga region by the Nile River, 90 kilometers northeast of Uganda's capital Kampala, a hydropower station is under construction by China International Water & Electric Corp. The work is expected to be finished in 2017, when the station will have an installed capacity of 183,000 kilowatts, enough to meet over 10 percent of the nation's needs.
Lake Victoria is a good place for tourism, too, Wagidoso adds. The Ugandan people welcome foreign investments in tourism more than in oil because it does less damage to the ecology and is more sustainable in the long run.
That's why Chinese investors are welcome - because they mainly invest in basic infrastructure that not only helps promote local living standards, but also cultivates their abilities to develop.
Wagidoso says he hopes that infrastructure along Lake Victoria will develop enough to attract more tourists.
Cooperation between China and Uganda ranges from business to politics, says Wagidoso. Uganda is an essential contributor to peacekeeping missions in Africa. During the southern Sudan crisis and Somalia turmoil, Chinese soldiers and their Ugandan peers, wearing the same blue helmets, worked together in the two countries.
"If we continue along the path of cooperation, we will work together for mutual benefit. We wish the China-Uganda cooperation mode to continue and spread to more nations.," says Wagidoso.
zhangzhouxiang@chinadaily.com.cn
( China Daily Africa Weekly 03/27/2015 page3)