Trump kept sanctions out of Putin chat, tried to assure other leaders over NATO, immigrant ban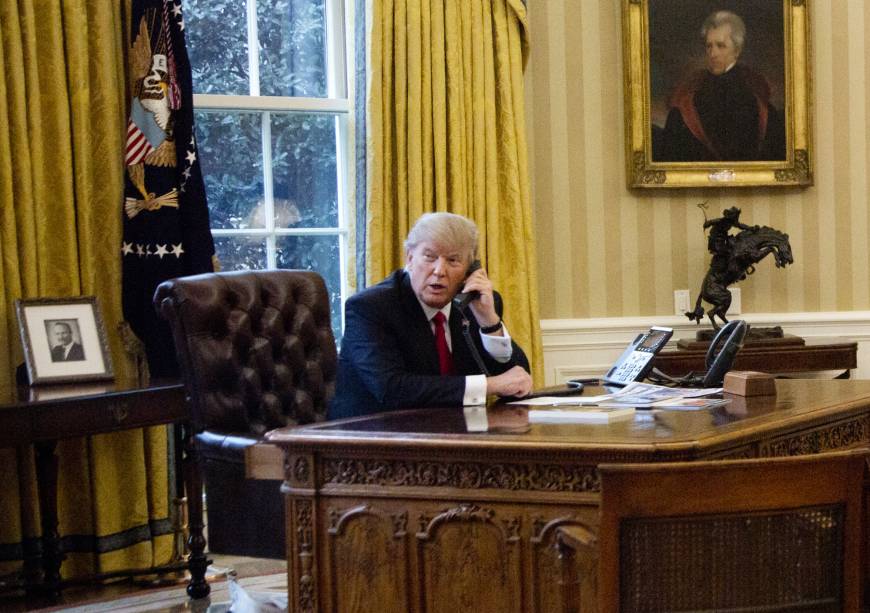 WASHINGTON – Officials say the thorny matter of U.S.-imposed sanctions on Russia didn't come up during President Donald Trump's first phone call with Russian President Vladimir Putin, which suggests that the more difficult obstacles to warmer relations between their nations can wait.
Statements from the White House and the Kremlin described the conversation Saturday in positive terms, the same tone used in White House accounts of other calls Trump made to world leaders. Only later did a White House official, responding to a question, acknowledge that sanctions were not among the topics the two leaders discussed.
In the first week of his presidency, Trump has been noncommittal on lifting sanctions imposed by his predecessor, Barack Obama, in response to U.S. findings of interference by Russia in the election. Sanctions by the U.S. and its allies were in response to Russia's annexation of Crimea and other actions in the Baltic region.
Both descriptions of the call focused on the positive aspects of a new American leader engaging with the Russian president. In a brief statement, the White House said the discussion was "a significant start to improving the relationship between the United States and Russia that is in need of repair."
The two leaders discussed "a range in topics from mutual cooperation in defeating ISIS to efforts in working together to achieve more peace throughout the world including Syria," the White House statement said, using an acronym for the militant group.
The White House official who spoke after the statement was issued said Putin brought up several times that Islamic terrorism was a "common foe" for the U.S. and Russia. The official was not authorized to disclose details of the call by name and insisted on anonymity.
Addressing topics not mentioned in the White House statement, the Kremlin said that the two leaders discussed the importance of "restoring mutually beneficial trade and economic ties between business circles of the two countries."
The Kremlin also said that Putin and Trump spoke in particular about international issues, including the fight against terrorism, the Arab-Israeli conflict, Iran's nuclear program, the situation on the Korean Peninsula and the Ukraine crisis.
Moscow has applauded Trump's promises to rebuild U.S.-Russian relations, which have been pushed to their worst level since the Cold War by the Ukraine crisis, war in Syria and allegations of Russian meddling in U.S. elections.
Trump signed a presidential memorandum on the plan to defeat the Islamic State group Saturday, including in it the possibility of teaming up with "new coalition partners," suggesting that pairing up with Russia on counterterrorism issues wasn't off the table.
When asked by reporters about sanctions on Friday, Trump responded: "We'll see what happens. As far as the sanctions, very early to be talking about that."
In 2014, Russia annexed Ukraine's Crimea region and backed separatists fighting government forces in eastern Ukraine, drawing widespread condemnation in Europe and the United States. In response, sanctions were implemented against sectors of Russia's economy, including financial services, energy, mining and defense. The Obama administration also sanctioned people in Putin's inner circle.
Shortly before leaving office, Obama also ordered sanctions on Russian spy agencies, closed two Russian compounds in the United States and expelled 35 diplomats that he said were really spies. These sanctions followed an assessment by U.S. intelligence that Moscow meddled in the 2016 election to help Trump.
Trump's tempered approach to U.S.-Russia relations has already raised concern among several European allies who believe keeping Russia in check is essential to regional security. Domestically, some Republican lawmakers have warned against easing sanctions and pledged to put them into law.
Trump also placed calls Saturday to French President Francois Hollande, Australian Prime Minister Malcolm Turnbull, German Chancellor Angela Merkel and Japanese Prime Minister Shinzo Abe.
As Trump vowed Saturday to improve floundering ties with Russia, he also reassured close U.S. allies he supports NATO.
Trump faced a first legal defeat amid growing international alarm over his halt to refugees and travelers from certain Muslim majority countries, with a federal judge blocking part of the ban.
The temporary stay orders authorities to stop deporting dozens of refugees and other travelers who had been detained at U.S. airports since Trump signed his measure Friday afternoon.
British Prime Minister Theresa May indicated she does "not agree" with the restrictions, and will intervene if they affect U.K. nationals.
French President Francois Hollande warned of the "economic and political consequences" of the American leader's protectionist stance.
Trump's sweeping executive order suspends the arrival of refugees for at least 120 days and bars visas for travelers from seven Muslim majority countries for the next three months.
The move sparked large protests at major airports across the country. At New York's John F. Kennedy International Airport, some of the 2,000 demonstrators chanted "Let them in, let them in!"
Trump's friendly stance toward Putin, whom France and Germany accuse of seeking to undermine Western unity, is being scrutinized since he won the election in November.
The White House hailed the call with Putin as a "significant start" to better U.S.-Russia ties, while the Kremlin said the pair agreed to develop relations "as equals" and to establish "real coordination" against the Islamic State group.
Trump took office last week with U.S.-Russia relations at new Cold War-level lows amid accusations by American intelligence agencies that the Kremlin hacked Democratic Party emails as part of a pro-Trump campaign to influence November's election.
The president — who has raised the prospect of easing sanctions imposed against Russia after its annexation of Ukraine's Crimean Peninsula in 2014 — has cast doubt on whether Russia meddled in the election.
In a flurry of calls that began early in the morning and rounded out an already frantically paced week, Trump spoke with Abe, Merkel, Putin, Hollande and Australian Prime Minister Malcolm Turnbull.
The conversations gave the president an early opportunity to explain new policies that have baffled and unnerved much of the rest of the world — particularly his order to temporarily halt all refugee arrivals and those of travelers from Iran, Iraq, Libya, Somalia, Sudan, Syria and Yemen.
European leaders are also concerned about Trump's virulent criticism of NATO — he has dubbed the transatlantic military alliance "obsolete" — at a time when it stands as the main defense against Putin.
But in his call with Merkel, Trump agreed on NATO's "fundamental importance," the White House said.
The United States provides significant funding to NATO, and Trump has urged other member nations to step up their contributions.
Trump's pronouncement on Muslim immigration makes good on one of his most controversial campaign promises to subject travelers from Islamic countries to "extreme vetting," which he declared would make America safe from "radical Islamic terrorists."
"It's not a Muslim ban," Trump insisted.
"It's working out very nicely. You see it at the airports, you see it all over," he told reporters.
The new protocols specifically bar Syrian refugees from the United States indefinitely, or until the president himself decides that they no longer pose a threat.
The legal challenge, which won a first battle in U.S. District Court in New York, was filed by the American Civil Liberties Union and other advocacy groups after two Iraqi men were detained late Friday at JFK.
One of the men, Hameed Khalid Darweesh, had worked for the U.S. government in Iraq for 10 years.
"America is the greatest nation, the greatest people in the world," Darweesh said after his release.
Mark Doss, a supervising attorney at the International Refugee Project at the Urban Justice Center, said Darweesh's detention and release showed the new policy was being implemented "with no guidance."
The ban has also triggered a political backlash.
"To my colleagues: don't ever again lecture me on American moral leadership if you chose to be silent today," Connecticut Sen. Chris Murphy, a Democrat, tweeted late Friday.
His tweet was accompanied by the now iconic photograph of Aylan Kurdi, a 3-year-old Syrian boy whose body washed up on a beach in Turkey in 2015 after a failed attempt to flee Syria's brutal war to join relatives in Canada.
International groups and civil liberties organizations have roundly condemned Trump's orders.
"'Extreme vetting' is just a euphemism for discriminating against Muslims," said ACLU executive director Anthony Romero.
Romero said Trump's order breached the Constitution's ban on religious discrimination by choosing countries with Muslim majorities for tougher treatment.
Iran answered in kind by saying it would ban Americans from entering the country, calling Trump's action insulting.
But the U.S. leader did get backing from Czech President Milos Zeman, who praised him for being "concerned with the safety of his citizens."