The Summit of Seven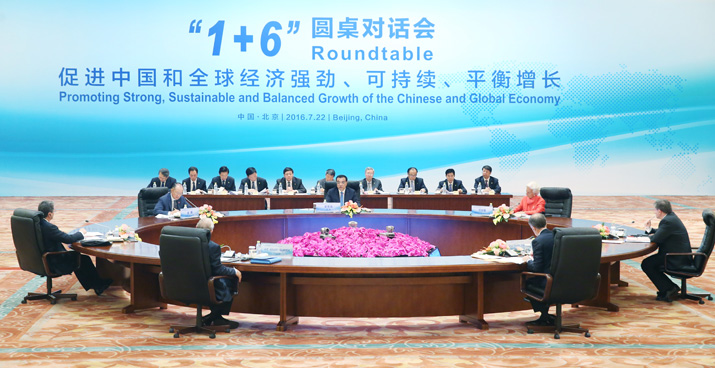 Premier Li Keqiang hosts a "1+6 Roundtable" in Beijing on July 22 to discuss Chinese and global economic issues (YAO DAWEI) 
In order to address the world's pressing economic challenges, Chinese Premier Li Keqiang hosted a "1+6 Roundtable" in Beijing on July 22 with the heads of six major international financial organizations.
The participants were World Bank Group (WB) President Jim Yong Kim, International Monetary Fund (IMF) Managing Director Christine Lagarde, World Trade Organization (WTO) Director General Roberto Azevedo, International Labor Organization (ILO) Director General Guy Ryder, Organization for Economic Cooperation and Development (OECD) Secretary General Angel Gurria and Financial Stability Board (FSB) Chairman Mark Carney.
This is the first time that a Chinese premier has met with the heads of six major international financial organizations. It is also the first time that Li has welcomed WTO, ILO and FSB leaders as premier.
According to Zhang Jun, Dean of the School of Economics of Fudan University, it used to be unimaginable that Chinese leaders would be able to meet with the leaders of various international organizations simultaneously. This roundtable seems to indicate that China's economic policies have the potential to influence the world economy more than the U.S. election or the UK's exit from the EU. Zhang told ThePaper.cn, a Chinese news website, that it is China's economic clout that makes the roundtable significant.
The roundtable discussions covered economic growth, structural reform, trade, finance, sustainable development and employment.
Multi-party efforts 
The roundtable meeting did not come as a surprise, as efforts have been made to collaborate economically across multiple borders and organizations for some time.
In his meeting with WB President Kim in February, Li said that China has maintained stable growth and made progress regarding structural reforms despite sluggish global economic growth. He also said the Chinese Government is experienced in addressing various risks and has sufficient policies and tools. China is willing to improve information-sharing and strengthen coordination and collaboration with the international community via the G20 and other platforms.
During his meeting with Li, Kim said that the WB will strengthen their communication of policies with China and is willing to deliver more rational and objective opinions about the Chinese economy to the international society.
The IMF's Managing Director Lagarde said, during her meeting with Li in January, that the IMF is willing to further strengthen communication and cooperation with China.
Wang Yuesheng, Dean of the Department of International Economy and Trade at Peking University's School of Economics, told ThePaper.cn that this roundtable should represent the will of all parties involved. According to him, these six organizations are the most important international economic institutions and China is one of the most important powerhouses for global economic growth. The world economy is now facing multiple challenges, therefore China must strengthen policy coordination with these organizations in order to move forward.
"The world is eager to know about China's economic policies, and international organizations hope to know the current state of the Chinese economy through this meeting," said Zhang. "Such expectations and demand bring success to this roundtable."
Possible regular meetings 
"China, a major global economy, has a growing impact on world economic policies, and also has its own opinions and suggestions. These international organizations have certain influence on the economic policies of other countries," said Wang, expecting more of such meetings.
This expectation was echoed by Zhang, who also believed the dialogue may become a regular way for China to communicate with the global market, creating a new channel for coordination.
High-profile meetings between a country's leader and international financial chiefs are not uncommon. In October 2012, French President Francois Hollande met in Paris with the heads of five international organizations, including OECD Secretary General Gurria, IMF Managing Director Lagarde, WB President Kim, ILO Director General Ryder and WTO Director General Pascal Lamy. At the meeting, the leaders shared their views on the global economic outlook as well as the European and French economies.
Zhang said that the Chinese Government is not yet experienced in terms of its communication mechanisms with global investment and financial markets, so China hopes to communicate more often with those entities through meetings between Chinese leaders and international financial chiefs.
Key Points of Consensus by Roundtable Participants
1. On the macro economy. We recognize that aggregate demand will remain weak in the short run, and it will take time for supply-side policies to take effect, so a comprehensive package of policies is needed to strike a good balance between short-term and long-term goals. Strong, combined and coordinated efforts are needed, including use of all policy tools–monetary, fiscal and structural–to deal with risks and uncertainties in the world economy, safeguard financial stability and support economic growth.
2. On structural reforms. We recognize the importance of structural reforms in dealing with the slowdown of global productivity growth and promoting a steady, durable and inclusive recovery of global economy, which is also essential in realizing the ambition of the G20 Blueprint on Innovative Growth introduced by the Chinese Presidency of the G20. While each country's circumstances differ, there are shared directions of reform in general terms, including deregulation, enhancing competition, encouraging innovation, promoting fiscal reform, promoting trade and investment, strengthening the financial system, advancing labor market reform, improving infrastructure, enhancing environmental sustainability and promoting inclusive growth.
3. On innovation. We need to make efforts to foster new sources of growth such as innovation, the new industrial revolution and the digital economy. We support the G20 developing action plans and guiding principles in these areas. We also encourage G20 Task Forces to continue their work in this regard to maintain continuity.
4. On trade and investment. Trade can play an enhanced role in creating jobs and sustaining economic growth and prosperity. We call upon members to keep RTAs (regional trade agreements) transparent, inclusive and open to participation by others. They should ensure that their RTAs are not only consistent with WTO rules, but also help to strengthen the overall trading system. The multilateral trading system should maintain its role as the main channel for trade liberalization and facilitation, with the WTO promoting coherence across the global system.
5. On labor and employment. The current global outlook for jobs is mixed with slower growth leading to weaker prospects for employment and wages in many countries. Rising inequality and the risk of setbacks to the global drive to reduce poverty make policy initiatives to increase opportunities for decent work a priority. Labor market developments were more positive in China and some other large economies than the rest of the world. Structural changes in employment continued and could accelerate as a result of technological innovation, increased interdependence and the need for environmental protection. Policies that promote strong, sustainable and balanced growth play a vital role in managing adjustment and will remain key drivers in mitigating adverse and maximizing the positive effects of labor market changes.
6. On financial regulatory reform. Notwithstanding the improvement in resilience brought about by post-crisis financial reforms, the global financial system faces pronounced risks, which could be amplified by the slowdown in global growth. We call for the full, consistent and timely implementation of agreed reforms, which are aimed at delivering an open and resilient system able to fund investment, trade and growth.
7. On sustainable development. The 2030 Sustainable Development Agenda is a critical component of promoting inclusive, sustainable growth. We call for countries to actively design and implement country plans based on their respective national conditions. Economic growth is the foundation to end poverty and hunger. For growth to be sustainable, all members of society must share in the benefits of growth. Ensuring rapid economic growth requires: promoting economic transformation and upgrading; implementing policies to maintain macroeconomic stability; proper and effective investments in infrastructure; and improving the business environment for private enterprise to thrive and create jobs.
8. On global economic governance. We acknowledge the need to, with the development of the world economy, continuously improve and reform the international economic governance system, and to increase the representation and voice of emerging economies and developing countries. Global challenges, global public goods and coordinated global action require global governance and effective global organizations suited to the task.
(Source: Joint Press Release on the 1+6 Roundtable)
Copyedited by Bryan Michael Galvan
Comments to wangjun@bjreview.com