The Road to 100% Brexit-Proof Whisky Runs Through Shanghai an hour ago
It's not just the pagoda roof turret that gives the Annandale Distillery in Scotland an Asian feel.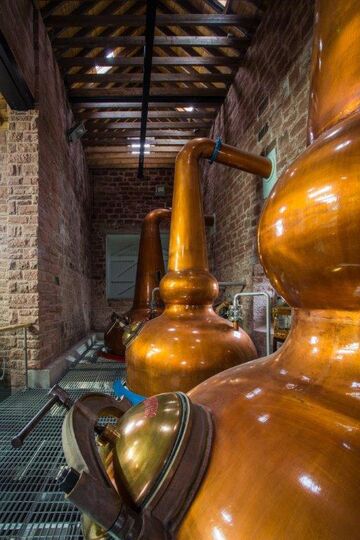 Source: Annandale Distillery
On the stone buildings, pointing the way to everything from the copper stills producing Scotch whisky to the toilets and gift store, signs are in three languages: English, Scottish Gaelic and Mandarin.
"It's got to work in Shanghai," said Annandale co-owner David Thomson, 62, reflecting on markets that have taken on new significance for exporters since Britain voted to leave the European Union.
Scotch whisky makers like Thomson opposed Brexit, though you'd think the industry would be exactly the kind that might relish the opportunities described by the U.K. government from custom-fit trade agreements. Ninety percent of the spirit gets sent abroad, worth £3.9 billion ($4.8 billion) in 2015, and tariff-free sales are already protected throughout Europe by the World Trade Organization.
But distillers — whose livelihoods depend on making sure people around the world know what to expect when they open a bottle — really hate change. They have to plan far in advance: true Scotch is required to be aged for a minimum of three years in barrels in Scotland.
"I can't think of a single member who thought we'd be better off out," said Julie Hesketh-Laird, acting chief of the Scotch Whisky Association. "We're now looking to see where the opportunities are and minimize the risks."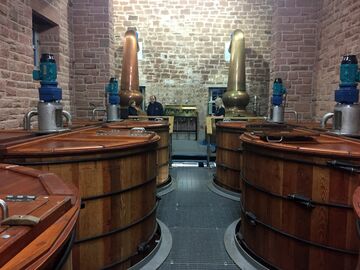 Where the action is at Annandale: mash tuns, washbacks and copper stills with whisky at different stages of production.
Photographer: Rodney Jefferson
The referendum took place during a blitz of investment and expansion in the Scotch industry in recent years. Annandale is one of at least 40 distilleries in some stage of adding their names to the whisky world, the most potential arrivals for at least half a century.
Thomson and his wife, Teresa Church, spotted the dormant Annandale way back in 2006. They spent about £12 million getting the place ready to make whisky for the first time in nearly 100 years.
Annandale started producing the result of mixing water with milled malted barley weeks after another referendum in the U.K., when Scots narrowly voted against independence in September 2014.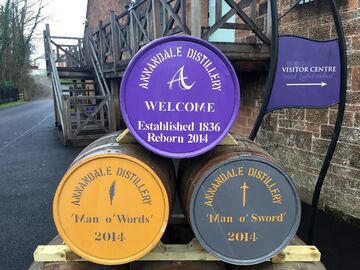 Annandale is making two whiskies, one named after poet Robert Burns and one after warrior Robert the Bruce.
Photographer: Rodney Jefferson
Now, some calculations have changed. Sterling has fallen more than 15% against the dollar, meaning that certain expenses have gone up.
Annandale brings in empty bottles and some of its yeast from France. There are bourbon casks from Kentucky and Spanish sherry barrels, or butts, imported to be reused for aging Scotch. The distillery filled up 50 bourbon barrels a week, costing $8,500.
What's for sure is that they can't make the same drink anywhere else. If it's not made in Scotland, a whisky can't be called Scotch.
That means the majority of Annandale's expenses are in sterling, including malted barley, water, power and salaries.
A major challenge will be breaking through in a crowded market and standing out to Chinese consumers. Thomson, a professor who also runs a marketing company with his wife, is gearing up to do just that. He offered the eighth cask for £888,000, playing off the lucky number in China. (It hasn't sold, the distillery said this week.)
The single-malt market, dominated by drinks companies Diageo Plc and Pernod Ricard SA, is where new distillers want to be. It's more of an artisan product, and it's lucrative, making up about a quarter of all whisky exports by value yet less than a 10th of the volume. Annandale is producing two types of whisky, a smoky one with peat and one without. Some will be ready as early as this time next year.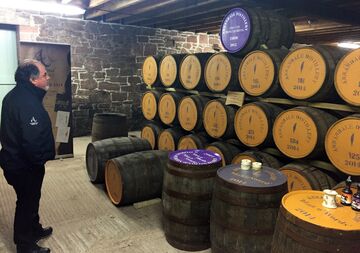 David Thomson surveys the casks of Scotch aging in Annandale's bonded warehouse.
Photographer: Rodney Jefferson
"The world is a big place and we are a tiny distillery," Thomson said. "It will all depend on finding competent and reliable distributors."
At the moment, India is the fastest growing market, even with its 150% import tariff. Sales have boomed as the swelling ranks of the urban middle classes saw Scotch as a luxury product with kudos. Chinese sales are also growing, albeit more slowly, and mainly through the distribution hub of Singapore.
One way to keep the money coming in before the bottles are ready to go out is to pre-sell whisky casks for as much as £5,900 apiece. This month, a group of Swiss enthusiasts visited the distillery to pour their own — supervised, of course, by Thomson.
"I'm not saying we're bomb-proof here," said Thomson, as the Swiss men toasted their trip and tried on purple Annandale-logoed tops. "Unless the whole economy collapses. And even then, it would make it so incredibly cheap for foreigners to come here."