Social News 5/11
Driver helps woman give birth in taxi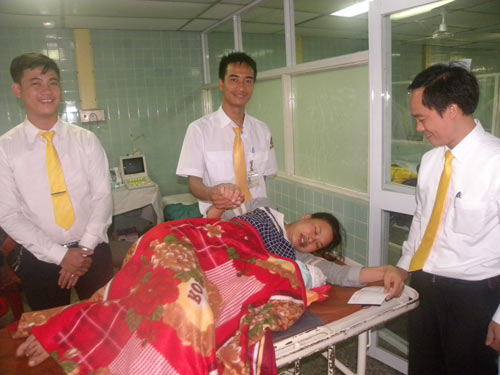 26 year old driver Nguyen Hoang Long of Tien Sa Taxi Company in the central province of Quang Binh yesterday helped pregnant Nguyen Thi Vung to successfully deliver a baby in his taxi.  
Before, Vung in village No.9 in Commune Nghia Ninh in Dong Hoi Town caught a taxi to go to the Vietnam-Cuba Hospital as she was going to give birth.
However, in the middle of the way, she cried for pain and at last she delivered a baby with the help of taxi driver Nguyen Hoang Long.
The driver continued driving her to the hospital for emergency treatment. Both mother and baby are in stable condition.
Tien Sa Taxi company gave VND1 million (US$44.79) to Ms. Vung. 
Vice director of the company Nguyen Van Hien said that the company often provides training of first aid and encourages its staff help pregnant women in giving birth. 
Supreme People's Court works on special amnesty
The Supreme People's Court has provided guidelines for the granting of amnesty to prisoners who had their sentences postponed or suspended on the occasion of National Day (September 2).
Those eligible for the special amnesty include foreigners and Vietnamese scholars, intellectuals, artists, dignitaries or those holding high positions in social and professional organisations, the court said at a teleconference in Hanoi on November 3.
For foreigners, amnesty must be proposed by foreign governments, embassies, consulates or international organisations. For Vietnamese, the release must be suggested by competent Vietnamese agencies and organisations. The reprieve should be considered necessary to aid external relations.
The list also covers people who made great achievements during their sentence postponement or suspension, invalids, sick soldiers, those who were honoured for their contributions to national defence and construction, teenagers and above 70 year olds.
The prisoners must have clear residential addresses and abide by Party policies and guidelines, State laws as well as regulations set by local authorities or their agencies during their sentence postponement or suspension.
They are requested to promise not to harm political security, social order and safety, or hinder the struggle against crimes after the clemency.
In 2015, clemency was granted to about 16,000 – 17,000 prisoners.
AO victims receive rehabilitation house
A rehabilitation house for Agent Orange (AO)/dioxin victims was presented to the Vietnam Association of Victims of Agent Orange (VAVA) on November 4 by the Vietnam People's Navy. 
At the ceremony, Senior Lieutenant General Nguyen Van Rinh, VAVA President, thanked the officers and soldiers of the Vietnam People's Navy for their sentiments towards AO victims, saying that the facility will help the victims improve their health and integrate into the society. 
Chairman Nguyen Van Rinh also called on domestic and foreign organisations and individuals to continue support for Vietnamese AO victims and their struggle for justice. 
On the occasion, VAVA presented the insignia and certificate of merit to units and individuals with outstanding contributions to activities in support of the targeted group.
From 1961 to 1971, American troops sprayed more than 80 million litres of herbicides – 44 million litres of which were AO, containing nearly 370kg of dioxin – over southern Vietnam. 
As a result, about 4.8 million Vietnamese were exposed to the toxic chemical. Many of the victims have died, while millions of their descendants are living with deformities and diseases as a direct result of the AO/dioxin effects.-
Vietnamese expats mourn Czech scholar
Vietnamese expatriates in the Czech Republic have gathered in Ceske Budejovice city to mourn Ivo Vasiljev, a local expert in Vietnamese studies who recently died. 
Delivering a eulogy for Vasiljev, Vietnamese Ambassador to the Czech Republic Truong Manh Son called him a Czech with a Vietnamese soul. 
In the 1960s and 1970s, Ivo Vasiljev initiated and ran a faculty on Vietnamese study at the Charles University in Prague. 
In his 70s, Ivo Vasiljev co-authored four out of six volumes of the Czech-Vietnamese dictionary. The dictionary won second prize of the Dictionary of the Year award by the Union of Interpreters and Translators of Czech Republic on May 13 this year. 
He also translated the Prison Diary of the late President Ho Chi Minh into Czech. 
The Vietnamese admired him for his excellent Vietnamese, with some saying he could speak the language like a newsreader from Hanoi.
OVs in Czech donate over 2 bln VND to flood victims in central region
The total donation of Vietnamese in the Czech Republic to flood victims in the central region has exceeded 2 billion VND (90,000 USD) and is increasing day by day, said Vietnamese Ambassador to the country Truong Manh Son. 
On November 3, each staff member of the Vietnam Embassy in the Czech Republic spared their salaries of up to five-day working for the needy in the home country. 
Earlier, on October 18, the embassy and the Association of Vietnamese in the European country made an appeal for donations to the flood victims. 
On October 19, the association of Nghe Tinh fellow-countrymen in the Czech Republic also launched a fund-raising campaign for flood-hit victims. More than 500,000 CZK ( 20,543 USD) had been raised as of November 3. 
On October 22, 16 Vietnamese artists in the Czech Republic organised a concert and auction in Prague to raise funds for central provinces, attracting over 200 people. 
Donations during the event amounted to more than 600,000 CZK (24,166 USD), increasing to 800,000 CZK ( 32,869 USD ) by November 3. 
On October 29, the Vietnamese association's chapter at the Sapa shopping centre also added 6,300 USD to the fund.
Consecutive floods devastate central provinces
Seven more locals went missing in the central province of Phu Yen due to floods caused by heavy rains over the past few days, raising the number of missing victims in the region to eight, according to initial reports. 
Quang Binh province reported three deaths, while two other deaths were in Quang Tri province. 
According to Quang Binh authorities, total material losses from destroyed and damaged houses, rice fields and infrastructure works in the province were estimated at 55 billion VND. 
The rains came on the heels of historic flooding just last month in the region, with Nghe An, Ha Tinh, Quang Binh, Quang Tri and Thua Thien-Hue being the hardest hit. 
Rains have also spread to the Central Highlands, pushing water levels in regional rivers up. 
More downpours are forecasted for the central region from Quang Ngai southwards to Binh Thuan, with rainfalls ranging from 50mm to 200mm. Warnings have been issued for floods and flash floods on rivers, landslides in mountainous areas and inundation in low-lying areas. 
Meanwhile, a tropical low pressure area has formed in the East Sea, and is expected to be at 8.9 degrees north latitude and 110.7 degrees east longitude, about 260km to the southeast of Phu Quy Island (Binh Thuan province). Due to its impact, strong winds and rains along with rough sea is forecasted for waters around Truong Sa (Spratly) Archipelago. 
The Central Steering Committee for Natural Disaster Prevention and Fight and the National Committee on Search and Rescue sent an official dispatch to their affiliations in coastal cities and provinces from Binh Dinh downwards to Kien Giang, and to related ministries and agencies urging close monitoring of the low pressure's movement and take preventive measures.-
Children with heart diseases receive free surgery
Children with congenital heart diseases will be offered free health checks and surgery under a programme launched by the Hospital of Ho Chi Minh City Medicine and the Pharmacy University and two US charity organisations, Gift of Life and MD1 World. 
Patients will receive free health check-ups at the hospital on November 13, followed by diagnoses by doctors. 
Necessary operations will be performed by doctors from January 16-22 next year. 
Treatment costs will be sponsored by the Vietnam Heart Foundation, Viettel Military Telecom Corporation and VinaCapital Foundation. 
To register for free checkups for congenital heart disease, people can contact Heart Operation Department, Hospital of Ho Chi Minh City Medicine and Pharmacy University at 215 Hong Bang, Ward 11, District 5 or phone number 08 3952 5161/ 08 3952 5160. 
An estimated 12,000 children are born with congenital heart diseases in Vietnam every year, with many of them unable to get treatment as their families cannot afford the high costs.-
Workshop shows how to avoid wildlife trade
More than 25 transport and logistics companies have gathered at a workshop in Hà Nội to discuss ways to avoid the risk of unwittingly becoming a party to wildlife trafficking.
More than 60 executives from such companies, who attended it, on Tuesday gained a better understanding of the wildlife trade and the effect it can have on bio-diversity, the illegality of trade in endangered species, and how corporate social responsibility (CSR) practices can elevate their reputation.
They discussed possible risk mitigation techniques that would help them run their businesses more sustainably and avoid becoming part of the illegal wildlife trade chain.
An important tool is the integration of CSR practices to protect wildlife, which would ultimately minimise the risk of transporting illegal wildlife products like rhino horn, they heard.
The Việt Nam International Arbitration Centre explained the various means to manage risks by exhibiting contracts signed by the industry to protect their business interests.
The event was organised by wildlife trade monitoring network TRAFFIC, the Việt Nam Chamber of Commerce and Industry (VCCI), and the Việt Nam Automobile Transportation Association (VATA).
Funded by the French Development Agency (AfD), it was part of efforts by TRAFFIC, together with the VCCI and VATA, to enhance the capacity of Vietnamese businesses to reduce the illegal trade in wildlife in the country.
It was an important part of efforts to bring zero tolerance towards the illegal trade in threatened species in Việt Nam.
"Việt Nam is facing more pressure to crack down on the illegal trade to and within its borders," Madelon Willemsen, head of TRAFFIC in Việt Nam, said.
"After the 17th meeting of the Conference of the Parties to the Convention on International Trade in Endangered Species, and the International Wildlife Trade Conference in Hà Nội this month, the pressure is on Việt Nam to take tangible action to combat wildlife crime.
"The logistics and trade organisations taking part today are leaders in their sector and are demonstrating their commitment to taking action to avoid threatened wildlife trafficking and consumption."
This is an important step as Việt Nam is in the process of joining the Trans Pacific Partnership (TPP).
The TPP includes stipulations on wildlife protection, with each country required to fulfil its obligations under the Convention on International Trade of Endangered Species.
Thus, countries in the TPP must combat and take measures to prevent illegal wildlife trade.   
Việt Nam will be under more pressure to ensure that local businesses have processes and policies in place to actively avoid illegal wildlife trade. These companies are taking these steps already by integrating risk management practices and are adopting a zero tolerance towards the trafficking and illegal consumption of wildlife.
Zika, dengue control upgraded
The HCM City People's Committee yesterday decided to set up a steering board for Zika and dengue-fever prevention as the number of cases has increased during the rainy season, which creates favourable conditions for the breeding of mosquitoes.
Zika and dengue fever are transmitted to people via the bite of an infected Aedes species mosquito.
More than 15,000 people have been diagnosed with dengue fever since the beginning of the year, an increase of 13 per cent over 2015.
As of yesterday, 21 people in the city had been tested positive for the Zika virus.
The total number of Zika incidents in the country has risen to 28 in HCM City and the six provinces of Khánh Hòa, Long An, Bình Dương, Trà Vinh, Đắk Lắk and Phú Yên.
At a meeting between the committee and government agencies yesterday, Nguyễn Thị Thu, the People's Committee's deputy chairwoman, told authorities at wards, communes and towns to improve environmental hygiene by clearing away waste and containers where mosquitoes and larvae can survive and breed.
"Environmental hygiene in several districts including Hóc Môn, 12 and Bình Thạnh still needs more attention. That has been one of the reasons for the increase of Zika incidences," Thu said.
Dr Nguyễn Trí Dũng, head of the city's Preventive Health Centre, said the city had carried out inspection for the implementation of preventive methods at localities.
But inspections showed that people still have a low awareness about preventive methods and have not co-operated with local authorities to clean the environment.
A city surveillance system of epidemics carried out by the city's Department of Health has tested 921 suspected samples have since February. Of these, 21 tested positive for the Zika virus.
Fifty-six more samples have been taken this week, but results have yet to be released, according to Dũng.
Phan Trọng Lân, head of the city-based Pasteur Institute, explained that the number of reported incidences was high as the city's surveillance system operated well and was able to easily identify affected areas.
HCM City has a population of more than 12 million and large number of visitors, he said.
Rapid urbanisation with many high-rises have also led to a higher density of mosquitoes.
"It is important to control the clusters of larvae and mosquitoes to reduce the risk of spread. The city's health sector is overloaded. We have had to treat 50 dengue fever and 40 Zika outbreaks," Lân said.
Each ward and commune-based steering committee should improve their control over their areas, he said.
Dũng said that if the surveillance system identified suspicious cases, the city would not wait until positive results were received from laboratories but would immediately report their findings to ward- and commune-level health centres. 
Việt Nam Buddhist Sangha's contributions celebrated at conference
Việt Nam Buddhist Sangha (VBS) has contributed to enriching and developing the country's culture, the rector of HCM City University of Social Sciences and Humanities said at conference held on Wednesday.
The conference was organised to celebrate 35 years of the VBS's development.
Assoc Prof Võ Văn Sen, head of the university's History Faculty said the VBS has made many contributions in the fields of education, healthcare and social welfare as well as culture.
Việt Nam Buddhism has contributed to building a peaceful life in harmony with the environment, Sen said, adding that it had helped unify the country nationwide and preserved the national character during global integration.
The most venerable Thích Thiện Nhơn, chairman of the VBS's Central Dharma Executive Council, said that the community had active contributions to the country's development, especially in the fields of culture and society.
The VBS has set up administrative organisations from the central to grassroots levels in all provinces and cities throughout the country.
The country has a total of 49,439 monks and nuns. More than 18,340 Buddhist pagodas, monasteries and other facilities exist, with more than 16 million Buddhist members.
Lê Thanh Hải, former Secretary of the city's Party Committee, said the country has four Buddhism institutes training more than 2,000 monks and nuns. More than 4,800 people have graduated with a bachelor's degree in Buddhism studies.
Nearly 100 monks and nuns have received master's and doctoral degrees, he said, adding that nearly 400 are now studying for similar degrees in India, China and other countries.
The Sangha has more than 1,000 social welfare establishments and 126 Tuệ Tĩnh health clinics that provide free services to patients, and 950 charity classrooms for poor children and orphans.
The VBS has received the Hồ Chí Minh Medal two times for its contributions, according to Hải.
The Government has allocated funds for VBS to translate the Tipitaka known as the Buddhist Canon from Pali, English and Chinese into Vietnamese for monks, nuns and Buddhists to study, Hải said.
VBS also helps fight against superstition and behaviour that could affect the country's benefits and violate people's right of religious freedom, he added.
The conference, which attracted 100 attendees, was organised by the University of Social Sciences and Humanities in co-operation with the Việt Nam Buddhist Studies Institute.
Flood-hit Hà Tĩnh requests funds from government
Hà Tĩnh is asking for urgent funds from the central government to assist the local economy after repeated floods occurred in October and early this week.
Đặng Ngọc Sơn, vice chairman of the central province's People's Committee, told the National Committee for Flood and Storm Prevention team in a meeting in Hà Tĩnh that the locality needed agriculture and husbandry seedlings for production after the two floods devastated almost all crops and farms.
He said both locals and their cattle are in shortage of food and the situation is becoming more critical as winter approaches.
In an attempt to provide urgent help to locals, the province's authorities supplied local farmers 3,400kg of sweet corn seeds to grow new crop.
Some 46 communes in the province were inundated by the latest flood.
In addition to emergency food, the province is in need of funds for repairing healthcare centers, schools, irrigation stations and roads, which were badly damaged.
In related news, a rapid flood, which occurred on Tuesday in Quảng Trị Province's Cam Lộ District, left tonnes of common water hyacinth, a floating species, lying on local fields.
Military men in an army base located in the district helped local farmers move the hyacinth out of the fields since there were many that spread over a wide area, making it difficult for farmers to clean up on their own.
VNRC releases aid for flood victims in provinces
The Việt Nam Red Cross Society will release emergency aid of VNĐ 4.2 billion (US$187,000), including money and essential goods, to help the central provinces overcome difficulties following the heavy rains and floods.
The aid for Hà Tĩnh, Quảng Bình and Quảng Trị provinces includes nearly VNĐ3 billion in cash and 1,200 boxes of essential goods, 300 sets of tools to repair houses, 15 tents and 455,000 Aquatab pills, as well as 501 shampoo boxes and water purification machines. 
The relief goods are being transported to the three provinces on Thursday and will be distributed to flood-affected families from today.
On October 18, the Việt Nam Red Cross made an emergency call for donation to help people affected by the heavy rains and floods in the central region. 
The society also launched an SMS campaign to raise funds for the flood victims. People can support the campaign, which began yesterday, by texting UH to 1404 until December 16, 2016. Each SMS costs VNĐ18,000 ($0.8).
Till date, the society has received donations of more than VNĐ17 billion ($760,000) from local and international organisations and individuals.
15 sand-mining boats seized on Red River
Police of the Hà Nội waterways traffic department and at the district level yesterday seized 15 boats operating illegally to extract sand from the Hồng (Red) River.
Seven boats — four sand-mining boats, three carrying goods — were found exploiting sand at 1am on the Hồng River section running through Thượng Cát Ward of Bắc Từ Liêm District
At the same time, on the river section belonging to Liên Hà Commune of Đan Phượng District, eight other boats, including those that were self-made, were caught at the spot extracting sand.
Three vehicles were without number plates.
According to Senior Lieutenant Colonel Nguyễn Văn Cương, deputy head of the Hà Nội waterways traffic police department, the seizure of those 15 boats is part of a plan by the director of the Hà Nội Police Department to strengthen inspection and penalties related to sand, gravel extraction and business on the city's rivers.
Units under the waterways traffic police department are on patrol to monitor illegal mineral resources exploitation in the city, he said.
According to police investigators, illegal sand miners usually operate at night and use sand-mining equipment with high capacity to dredge sand, earning huge benefits from this illegal activity.
"Sand dredging can cause banks to collapse and change the flow of the river during the rainy season, putting people at risk and damaging dykes and riverside structures," Phạm Ngọc Tiến, deputy head of Hà Nội' s Waterway Traffic Inspectorate, said.
Hà Nội, currently, has only 12 companies that are qualified for exploiting several grounds on the Hồng River. Thirteen other firms have been permitted by the Việt Nam Domestic Waterway Department to dredge the riverbed and use the material collected.
Hanoi hosts int'l conference on emigration
An international conference on emigration was jointly held by the Vietnam Academy of Social Science (VASS) and the Institute of Socio-Political Research under the Russian Academy of Sciences on November 3 in Hanoi.
Focusing on emigration Russia, Vietnam and ASEAN in the context of new economic integration and geopolitics, the conference aims to study theories and practicalities of emigration, thus seeking solutions to problems arising from emigration while promoting benefits and contributions of migrants in countries, regions and the world. 
Emigration has become a noticeable trend in the era of globalisation and it requires collaboration of countries in control and management, said Assoc.Prof. Dr. Dang Nguyen Anh, Deputy Chairman of the VASS. 
Participants at the event said that economic reason is the main factor leading to increasing international emigration, besides others such as wars, armed conflicts, security, politics and low development.
According to the United Nations' 2015 emigration and development report, emigration will bring many benefits to migrants, their native and destination countries if there are sound policies.
However, in fact, development gaps and socio-cultural differences are barriers to integration of emigrants. Social inequality forces immigrants to protest or even break the law, causing political and security instabilities in several countries.
Vietnam's houses-turned-karaoke bars become deadly trap for patrons
Most karaoke bars in Vietnam are renovated from residential houses and lack emergency escape routes for their large number of occupants.
A fire that killed 13 in a karaoke bar in Hanoi on November 1 was found to have been started by the careless welding of billboards that caused nearby flammable objects to catch fire, while the rescue mission for trapped customers was stalled by large iron frames caging the front of the building.
The fatal accident once again raised safety concerns over Vietnam's karaoke bars, the majority of which are residential houses that were renovated to run the business.
On the 'karaoke street' of Su Van Hanh in District 10, Ho Chi Minh City, business is booming in the dozens of karaoke bars frequented by city youths.
Each of the bars has a single doorway that serves as both the entrance and exit, usually between four and eight meters.
Flashy billboards run the length of these bar fronts, blocking potential escape routes through windows and balconies.
In one former residential house on the street, all five stories have been renovated to accommodate 16 karaoke rooms that have been in operation for ten years.
A single staircase and elevator service the entire facility, while hallways on each floor have been narrowed to allow more space in each karaoke room.
The lights in the building are kept on at all times, even during the day, as all sources of natural light, including emergency exits, have been blocked to soundproof the bar.
These make-shift bars are not uncommon in the city. Popular entertainment precincts, such as No Trang Long Street in Binh Thanh District and Phan Xich Long Street in Phu Nhuan District, also feature similar architecture.
According to an official at the municipal Department of Construction, the renovation of residential houses into restaurants or karaoke bars is against the law and venues that attract large crowds must have standard emergency escape routes that residential houses are not equipped with.
There are currently 415 entertainment venues in Ho Chi Minh City that attract large numbers of people, 150 of which are karaoke bars, according to Col. Nguyen Quang Nhat, head of the city's fire department staff bureau.
The fire department has advised business owners who plan to renovate residential houses to seek consultation in incorporating emergency exits, fire alarms, and fire extinguishers into their design plans.
HCMC to soon implement Japanese PPP model
Secretary of the HCMC Party Committee Dinh La Thang hoped that Japan will carefully study and select one of projects calling for investment in HCMC to soon implement the new Public Private Partnership (PPP) model, which has been implemented successfully in Japan's Aichi province on November 3.
The city secretary suggested Japanese side to pay attention to the lengthened stretches in Binh Duong and Dong Nai provinces of Ben Thanh-Suoi Tien metro route which is under construction in HCMC.
He made the statement at a meeting with Japanese former Minister of Land, Infrastructure and Transport Takeshi Maeda in Hanoi, when Mr. Maeda introduced the new PPP model.
The Japanese side would work with the Vietnamese Ministry of Transport and HCMC to choose a project to pilot the new PPP model, Mr. Maeda said.
It is expected to implement in March next year if advantageous, he added.
The PPP model requires the government and businesses to share profit and risks together. Specifically, the both sides will work to determine traffic flow expected in a route which will be built under the new investment mode.
If the traffic flow is in fact 6 percent higher than the expected number after the route opens to traffic, the Government will share risks with businesses. In case the rate higher than 6 percent, the both sides will share profit.
Businesses will not be allowed to increase toll level themselves. They will have to discuss with authorized agencies and get their approval before increasing the toll. 
Besides roads, the model will develop commerce and transport works along the route to contribute in local socioeconomic development.
Various activities celebrate Vietnam Cultural Heritage Day
A wide variety of cultural activities were held around Hanoi's Old Quarter in Hoan Kiem District on November 3 to celebrate Vietnam Cultural Heritage Day (November 23, 2005 – 2016).
An exhibition themed 'Vietnamese heritage – New Perspective' officially opened at the Hanoi Old Quarter Culture Exchange Centre at 50 Dao Duy Tu Street.
The event showcased products that were reproduced and designed from national treasures and artifacts of Vietnamese feudal dynasties such as the ancient statue of A Di Da (Amida Buddha) in Phat Tich pagoda in Bac Ninh province and the Tuyet Son statue in Tay Phuong pagoda (Hanoi).
Also on display is wooden furniture bearing the stamp of Ly, Tran, Le and Mac feudal dynasties as well as a series of products with advanced applications that were made of lacquer, wood and bronze.
A seminar on the Amida Buddha statue – the national treasure will be held on November 5 and another one discussing 'traditional fine arts applied in industrial fine art products' is scheduled to be held on November 9 on the sidelines of the exhibition.
On the occasion, visitors will be introduced to Vietnam's tea culture at Heritage House (87 Ma May Street) and traditional embroidery arts at Kim Ngan Temple (42-44 Hang Bac Street) from now until late November.
Notably, exhibitions featuring Vietnam's royal costumes as well as clothes for hau dong (mediumship) activities will also be displayed at the Hanoi Old Quarter Culture Exchange Centre from November 18-27.
In addition, numerous traditional arts forms, including cheo (traditional opera), tuong (classical drama) and quan ho (love duet), are expected to entertain visitors.
Kindergartens enrolling babies
The number of public kindergartens accepting children aged six to 18 months in the 2016-2017 academic year increased by 68 compared to the previous school year, according to the HCM City Department of Education and Training.
The city has 103 public kindergartens with a total enrollment of 1,231 children aged six to 18 months in the pilot programme, which began in 2014.
The programme is expected to be expanded to all HCM City public kindergartens by 2020. Previously, kindergartens did not accept children of this age.
Representatives of two kindergartens in Tân Phú and Thủ Đức districts said they could not meet the high demand for enrollees.  
Trần Thị Bạch Mai, principal of Sơn Ca Kindergarten in Thủ Đức District, was quoted by Sài Gòn Giải Phóng (Liberated Sài Gòn) as saying that many parents wanted their children to attend the kindergarten.
However, the school has only two classrooms for 22 children aged six to 18 months.
The Xuân Thới Đông Kindergarten in Hóc Môn District has set aside classrooms for children aged six to 12 months, while kindergartens in districts 4, 6, 8 and Bình Thạnh have rooms for children aged 13 to 18 months only.
Kindergartens in several other districts are enrolling only two or three children aged six to 18 months.
Trần Thị Hoài, principal of Trường Thạnh Kindergarten, said at a meeting with the People's Council's Committee for Cultural and Social Affairs and District 9 People's Committee, that all fees such as tuition, hygiene and lunches were the same as children of other ages.
Nguyễn Thị Thuận, principal of Sơn Ca Kindergarten 6 in District 12, said the city subsidised 35 per cent of teachers' salaries in the pilot programme. Other staff, including nursemaids, do not receive a subsidy.
She asked the city People's Committee to provide a salary subsidy to all staff involved in teaching and care of children six to 18 months.  
Acupuncture helps autistic children
More than 1,500 children with autism come to the National Hospital of Acupuncture for treatment every year, said head of the hospital Associate Prof Dr Nguyễn Bá Quang at conference on Vietnamese high-tech acupuncture therapy for paediatric diseases and cerebrovascular diseases held last Saturday.
Quang said that at the hospital's ward for acupuncture therapy and special care for children with autism, these children are used to many kinds of acupuncture, such as hydro-acupuncture, in which vitamins and nerve tonic are injected, acupressure and thread embedding, in which thread is inserted at specific points.
The acupuncture therapy in cooperation with modern medicine, psychology, as well as behavioural science for autism has been applied at the hospital for many years, he added.
Prof Dr Nghiêm Hữu Thành, the hospital's former head, told Việt Nam News that "acupuncture therapy helps develop brainpower and makes it easier to obtain skills and knowledge".
Dr Lê Văn Hải, head of the general outpatient ward at HCM City Traditional Medical Institute, said that the institute also used acupuncture and thread embedding to provide assistance in the treatment of children with autism.
According to Quang, it is estimated the country has more than 160,000 children with autism.
This cooperative treatment was highlighted by doctors at the conference.
Via the conference, the doctors from 24 southern and central highlands provinces and cities also were trained in high-tech acupuncture for cerebrovascular diseases.
At the event, 100 patients with diseases relating to nerve, spine and paralysis caused by cerebrovascular diseases were treated with acupuncture therapy including thread embedding. 
Sustainable farming lagging in central VN
Developing sustainable farming and new-style rural areas should be the ultimate goals of the agricultural sector in the country's central provinces.
This was the thrust of a recent conference on agricultural and economic development held by the Social and Science Institute of Central Regions (SSICR) for representatives from all central provinces from Thanh Hoá to Bình Thuận.
In 2010, the Government launched the National Target Programme on New Rural Development, which set out criteria for  infrastructure, production, living standards, environment, income, and culture in new-style rural areas.
However, the implementation has been uneven.
According to Bùi Đức Hùng, director of the institute, agricultural production in the regions has so far been focused on boosting productivity. The aspect of  sustainable development, particularly its impact on the environment and society, and the correlation between agricultural development and standard of living did not receive sufficient attention.
The environmental criterion is regarded as one of those hardest to implement. "It was among the three groups of criteria with lowest implementation rates," Hùng said.
The number of rural communes in the north-central region and south-central region meeting the environmental criteria set forth in the programme accounted for 22 per cent and 32 per cent in 2015, respectively.
"This is quite low compared to the achievements in the Red River Delta and Southeast region, which are 42 per cent and 65 per cent, respectively," he said.
The performance in clean water access was also poor, with the northcentral region having the lowest percentage of population being able to access clean water.
Participants at the conference also raised grave concern about problems arising in aquaculture, a strong sector of the region.
Although productivity in aquaculture was higher than the national average, risks were high and difficult to predict, they said.
Nguyễn Hoàng Long from the Đà Nẵng's Institute of Socio-Economic Development Research said the region's aquaculture was facing a wide range of problems, including overuse of chemical substances and antibiotics, frequent occurrence of pandemics and pollution. These have resulted in a strong drop of productivity and affected farmers' income, according to Long.
To diminish risks, Phạm Quốc  Trí of the SSICR said local authorities should put in place appropriate irrigation systems to secure safe water resource near breeding areas. They should also encourage farming households to allocate one to two hectares for treatment of water before and after growing and harvesting.
However, he suggested that they "give careful thought to balance between cost, benefit and applicability before spending budgets on building irrigation works."
Nguyễn Hoàng Yến of the same institute mentioned the shortcomings in environmental protection and safe water supply.
According to Yến, the policy of mobilising resources from private sectors and communities in this area was set forth in the national programme on new rural development. However, the result was modest due to bad management during implementation.
To tackle the problem, she said it was necessary to clearly define responsibilities and tasks for every party to avoid overlapping management. There should also be inter-sector and inter-region co-operation mechanisms and community-based management mechanisms to ensure efficient use of natural resources.
"Every economic sector should be encouraged to offer environment-related services such as waste collecting, transporting, recycling and treatment by offering favourable policies and legal frameworks," Yến said.
Ta Thi Ngoc Thanh and her devotion to charity work
Ta Thi Ngoc Thanh, former Director of SOS Children's Village is known for her devotion to social work and her great love for disadvantaged children.
At the age of 74, Ms. Thanh is still devoted to charity work. She has been recognized as one of 9 outstanding citizens of Hanoi.
Ms. Ta Thi Ngoc Thanh was born into a family with a Confucian tradition. Her mother died when she was 2 years old, and Thanh grew up without a mother's care. Following her family tradition, Thanh studied hard. After graduating from the Teachers Training College, Thanh taught math, physics, and chemistry at the Thanh Tri secondary school. She eventually became head of the school, and later accepted a position with the Department of Education on the outskirts of Hanoi. 
In 1969, Thanh was sent to Russia to study social psychology. Upon graduating, she returned to Vietnam to work for the Vietnam Institute of Education Sciences. When the SOS Children's Village was established, Ms. Ta Thi Ngoc Thanh became the Village's first Director. Ms. Thanh has helped many disadvantaged children: 
"The most important things are your heart, mind and enthusiasm. I want to make my small contribution to society. I'm happy to see many disadvantaged children do well in their study. It is essential to support them materially and spiritually", said Ms Thanh.  
After retirement, Ms. Thanh continued to do social work in her residential area in Dich Vong Hau ward, Cau Giay district, Hanoi. She still works as head of the ward's residential area and Vice Chairwoman of the Study Promotion Society. Every year, Ms. Thanh donates VND20 million of her pension to support disadvantaged children. 
Thanks to her help, many have grown up to lead successful lives. Nguyen Minh Phuong of Dich Vong Hau ward who was helped by Ms. Thanh has won a scholarship to study in Spain. 
Ms. Thanh said "I think my greatest success working in study promotion has been seeing the children grow up to be successful. I don't mind helping those in need".
Ms. Nguyen Thi Phuong Dung, deputy head of residential area No2, Dich Vong Hau ward, says Ms. Thanh drives the local study promotion movement. More than 80 percent of the children in the ward have achieved excellent academic results. Ms. Thanh has made a great contribution to that achievement. 
"Ms. Thanh has a simple and modest life style, is friendly with people, and has always taken the lead in the study promotion campaign. 
Thanks to her encouragement, many local children have done well in their studies and have won national and international prizes. Despite her age, Ms. Thanh is still very enthusiastic", said Ms. Dung.   
At the age of 74, Ms. Thanh continues to contribute to society and is acknowledged as an outstanding citizen of the capital.
Career day for UK alumni to be held in HCM City
Graduates from UK educational institutions should come to visit a career event called "Drive your success 2016" at Novotel Saigon on November 6 if they want to look for a job.
Organized by the UK Alumni Association Vietnam (UKAV), British Council, Navigos Search and ICAEW, the event will feature over 20 representatives of leading companies like Standard Chartered, Navigos, ICAEW, ACCA, VIB, Fossil – Misfit, and SSI. 
It is seen as the biggest recruitment event for UK alumni in HCMC. The event is also open to people who wish to find opportunities for middle management positions with one to five years of experience. 
The career day will offer direct meetings between candidates and HR managers, instant job interviews with employers and a scholarship award worth over VND50 million from ICAEW. 
Jobseekers can improve their skills at two seminars, Drive your success and Read the interviewer's mind, presented by guest speakers and lecturers.
The free-entrance event is open from 8 a.m. to 12 p.m. at the Novotel Saigon Hotel at 167 Hai Ba Trung Street, District 1, HCM City.
People are advised to register in advance at the link bit.ly/DYS_ForEmployees or https://www.facebook.com/UKAVDriveYourSuccess. Businesses wishing to join the event can contact the organizer at committeehcm6@ukav.org or http://bit.ly/DYS_ForEmployers.
Japan Foundation to unveil fusion composition
On Saturday, Vietnamese quartet JumpforJazz will debut their new composition at the JF Garage Concert at The Japan Foundation Center for Cultural Exchange in Hà Nội Saturday.
The composition, entitled The Reborn, will feature a unique fusion of jazz and Vietnamese folksong. Saturday will be its first public performance.
The ensemble features Nguyễn Hữu Vượng on piano, Nguyễn Minh Đức on double and electric bass, Hoàng Hà on drums, and Nguyễn Bảo Long as the bandleader on saxophone.
The foundation is hosting the concert with an aim to support and encourage young and talented Vietnamese musicians to perform and participate in a wide variety of concerts.
The Reborn will take place from 8pm to 9pm at the open stage in courtyard of The Japan Foundation, 27 Quang Trung Street. Admission is free, but the audience is advised to reserve tickets through the Japan Foundation. 
Vietnam province proposes high-speed rail link with China
The administration of a northern Vietnamese province bordering China has called on the government to consider its plan to build a new high-speed railway, compatible with the rail in the Chinese province of Guangxi.
Lang Son Province is currently connected with the capital Hanoi via the Hanoi – Dong Dang railway, which was put into use in May this year.
Despite the modernized rail system, the Lang Son administration wants a brand new high-speed service, saying it is essential to help improve the province's transportation capacity and make it easier to connect with China.
The administration has submitted a document to Prime Minister Nguyen Xuan Phuc, calling on him to urge the Ministry of Transport and relevant agencies to "consider and soon implement a high-speed rail plan."
The Hanoi – Dong Dang service currently runs on 1,435mm rail track at speeds ranging from 50 to 90kph. The modernized service cuts travel time from 5.5 hours to 3.5 hours.
But the Lang Son administration thinks it is not enough, and has proposed the construction of a brand new railway with speeds comparable to the Nanning-Pingxiang service in Guangxi, which travels at more than 100kph.
The proposed Hanoi – Dong Dang railway will then be linked to the Nanning – Pingxiang service to create a transnational train route, according to the proposal.
In the document submitted to the premier, the Lang Son administration underlined that a new, high-speed rail service would "fully tap into the rail transportation potential [of Lang Son], boost Vietnam-China export-import turnover, and reduce pressure on road transport and controlling traffic accidents."
The administration therefore suggested that "the Prime Minister ask relevant bodies to start implementing the high-speed Hanoi – Dong Dang railway project, including building an international standard rail station in Dong Dang in the 2016-20 period."
The proposal came after Lang Son authorities and the Vietnamese transport ministry met with a visiting delegation from Guangxi in December 2015.
According to Dan Tri (Intellectual) newswire, the Chinese side then suggested allocating capital for Lang Son to build a new 200kph rail service connecting the province with Hanoi.
Commenting on the Lang Son proposal, Deputy Minister of Transport Nguyen Ngoc Dong said it is not the first time a province has proposed building a rail service that links to China.
Other northern localities, including Hai Phong City and Lao Cai Province, have previously made similar propositions, according to the deputy minister.
"Of course if conditions permit it is good to have these rail services," Dong said.
"However, under the current circumstances, these proposals must be carefully considered and analyzed."
Dong said the Hanoi – Lang Son rail service currently experiences poor demand for both passenger and cargo transportations. The transnational service between Nanning and Gia Lam in Hanoi are also currently serving few passengers, compared to the Hai Phong – Hanoi – Lao Cai rail service, which links to the Chinese province of Yunnan.
The deputy minister also noted that building a high-speed railway is not as simple as installing wider railway track.
"We need a number of other factors, including technology, investment, and operation capacity," he said.
"Had it been that easy to build high-speed railways, the world would have been full of this kind of rail service."
Even the current north-to-south train service, running between Hanoi and Ho Chi Minh City, is yet to get a speed upgrade, the deputy minister added.
PM asks for urgent flood prevention plans
Because of the powerful operation of on- going cold front and east monsoon, heavy- very heavy rains have covered the north central provinces from Quang Tri to Phu Yen starting November 1 with the average rainfall of 100- 300 mm, even up to 300- 500 mm in some localities of Thua Thien- Hue, Da Nang, Quang Nam and Quang Ngai, reported the Central Hydrology Meteorology Forecast Center. 
Floodwaterl is rising rapidly to alarm levels 2-3 in Quang Tri province.
A severe flood occurred in the central region's river systems in the last couple days due to the heavy rain. Thereby, floodwater is forecast to continue rapidly rising on Ha Tinh province's Ngan Sau river and the local rivers from Quang Tri to Quang Ngai. 
Huong Son, Huong Khe, Vu Quang, Cam Xuyen, Duc Tho district of the Ha Tinh province, and Minh Hoa, Tuyen Hoa, Bo Trach, Le Thuy district and Ba Don town of the Quang Binh province are warned to continue suffering the severe flooding at 1- 2.5 meters.
According to the weather forecast, the flood level is rising rapidly to alarm levels 2-3 in Quang Tri and Quang Ngai, by level 1- 2 in Thua Thien- hue, Quang Nam, Binh Dinh, Phu Yen and Khanh Hoa.
In order to ensure lowlands safety, the water reservoirs in the provinces from Ha Tinh to Binh Dinh need to be kept close watch.
With the complicated weather situation, Prime Minister Nguyen Xuan Phuc yesterday required the Central Steering Committee for Natural Disaster, Search and Recue, Police Ministry collaborate with army and police forces and the flood- hit central provinces from Ha Tinh to Thua Thien- Hue in keeping close watch on the rainfall and flood situation, providing the most correct and timely information about heavy rain and flood to the residents, mobilizing the functional forces in moving resident's properties and animals to higher areas, and delivering enough food and drinking quality to the flood victims.
In addition, the PM called on local authorities to eye on water level and flood releases at  reservoirs, irrigational works and hydropower dams.
VNA/VNS/VOV/SGT/SGGP/TT/TN/Dantri/VNE