Protectionism to be severe next year, senior trade officials warn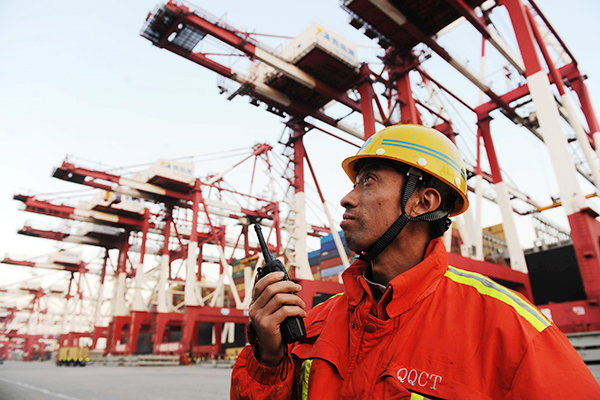 A worker looks closely as containers are unloaded in Qingdao Port, Shandong province. [Photo/China Daily]
Trade protectionism measures targeting Chinese goods will continue to be "severe" in 2017 as anti-globalization forces are likely to keep growing in the United States. Also, many European politicians may play the "China Card" in their elections, senior trade officials said on Thursday.
Yu Jianlong, secretary-general of the China Chamber of International Commerce, said the situation remains challenging and complicated because both the US and European Union are either having or will have dramatic changes in their political system, which will generate direct impacts on their trade relations with China.
Trade conflicts have escalated this year, with trade investigations now taking place on various types of goods, from telecoms to steel, and this is likely to continue.
The US initiated 18 trade-remedy measures against Chinese products including steel, agriculture and photo-voltaic products in the first half of the year, data from the Ministry of Commerce show.
"Even though China has become a net capital exporter this year, Chinese companies need to make investment decisions calmly next year, especially in the US and EU. The depreciation of the renminbi has also added pressure on their operating costs," said Yu.
He said other factors such as the start of Brexit talks and the elections in Italy, France and Germany could also cut China's export volume. Certain political parties strongly support the anti-globalization movement.
To protect its interests, China notified the Secretariat of the World Trade Organization that it requested dispute consultations with the US and the EU regarding special calculation methodologies in anti-dumping proceedings earlier this month. The case now is being review by the WTO.
China's nonmarket economy status is seen as a major obstacle for Chinese enterprises dealing with anti-dumping investigations. As a condition of joining the WTO, China agreed in 2001 that other WTO members could treat it as a "nonmarket economy" for 15 years, ending on Dec 11, 2016.
Zhang Xiangchen, deputy international trade representative of China, said China must raise its trade and investment activities with emerging economies, especially those from the Belt and Road Initiative, to diversify its export channels under current global business conditions.
A total of 2.84 million jobs in overseas markets have been created by over 30,000 Chinese companies so far this year, ministry data shows.
China's outbound direct investment to countries and regions such as Singapore, India, Thailand and Iran along the Belt and Road amounted to $13.35 billion between January and November this year, accounting for 8.3 percent of the country's total ODI volumes during the period.