3:50 a.m.
One of the co-founders of the Panama-based law firm at the heart of the "Panama Papers" uproar says the company has filed a complaint with Panamanian prosecutors alleging that the data was stolen by a hacking attack from abroad.
Ramon Fonseca said Tuesday that the firm, Mossack Fonseca, has evidence the hacking was done from Europe, but he declined to give any details. "I can't say more because the case is already under investigation," he told The Associated Press.
Mossack Fonseca is one of the leaders in setting up offshore bank accounts for the rich and powerful. Some 11.5 million of its documents were leaked to the German newspaper Sueddeutsche Zeitung revealing details of the secretive shell companies and the people using them. A global group of news organizations working with the Washington-based International Consortium of Investigative Journalists is now processing the records.
Fonseca said his firm had committed no crimes and "at the end of this dust storm you will see this more clearly."
He said the leak was a violation of privacy.
10:20 p.m.
FIFA President Gianni Infantino has defended his reputation after a Champions League broadcasting contract he signed was leaked from a Panama-based law firm's database.
Infantino says in a statement published by FIFA he is "dismayed and will not accept that my integrity is being doubted."
As UEFA's legal director in 2006, Infantino co-signed a deal to sell TV rights for Ecuador to a marketing agency linked to the ongoing FIFA bribery scandal, British daily The Guardian reported.
The agency, Cross Trading, was owned by Argentine marketing executives Hugo and Mariano Jinkis who were indicted last year by American federal prosecutors investigating a bribery conspiracy in international soccer.
Infantino says he "never personally dealt with Cross Trading nor their owners" in a tender process conducted by an agency retained by UEFA.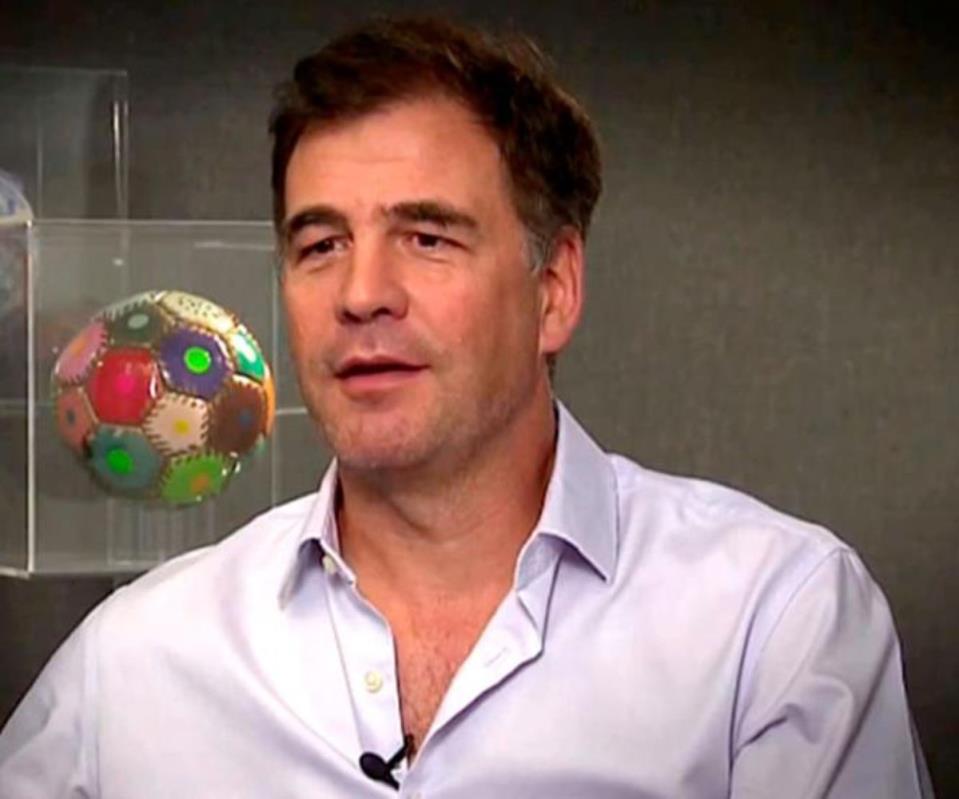 10:00 p.m.
An Argentine businessman who was extradited to the U.S. for his involvement in the FIFA corruption scandal is linked to offshore companies, documents leaked from a Panamanian law firm show.
Alejandro Burzaco transferred $370 million to secret companies in tax havens. The money was used to pay the South American soccer confederation for broadcasting rights to the region's top club tournament over a 14-year period.
The information was reported Tuesday by Argentina's La Nacion. The newspaper is part of a global group of news organizations working with the Washington-based International Consortium of Investigative Journalists.
Burzaco was previously the chief executive of sports marketing company Torneos y Competencias. He was one of 14 people indicted by U.S. authorities last year on bribery, vote-rigging and other corruption charges.
___
9:00 p.m.
The finance minister for the tiny country of Andorra wedged between France and Spain has told reporters that he once was in charge of an offshore company and is making the announcement in the interest of openness.
Jordi Cinca Mateos said in a statement Tuesday that he was the company's agent from 1999-2000, long before he entered government.
The offshore company dissolved in 2002 had been set up to deal with possible business interests in Central and South America for an Andorran company that Cinca Mateos used to work for.
Cinca Mateos says he doesn't know whether his involvement with the company would have emerged from a huge dump of leaked documents from a Panamanian law firm that set up companies in tax havens.
He says he made the announcement pre-emptively because he has nothing to hide but doesn't want his effort to serve as an example that others should imitate him.
Andorra is in the Pyrenees mountains and has about 85,000 residents. It is a destination for banking, skiing and duty free shopping.
8:35 p.m.
German Chancellor Angela Merkel and top economic officials are calling for greater transparency in the wake of the publication of thousands of names of people who conducted offshore financial activity through a Panamanian law firm.
Merkel spoke after a previously-scheduled Tuesday meeting with the heads of the World Bank, the Organization for Economic Cooperation and Development, the International Monetary Fund, the International Labor Organization and the World Trade Organization.
She said the new corruption allegations show "the theme of transparency is of the greatest importance."
OECD Secretary-General Angel Gurria said it was an "exceptional situation which we should profit from" by pressuring Panama to join international financial disclosure agreements.
World Bank President Jim Yong Kim called it "an opportunity to continue and aggressively move forward to find how these illicit financial flows are moving."
___
8:20 p.m.
One of the world's largest anti-corruption watchdogs is expressing regret that the head of its office in Chile is linked to several offshore companies, according to documents leaked from a Panamanian law firm.
Transparency International said in a statement Tuesday that Gonzalo Delaveau's resignation Monday shouldn't take away from the group's important work in Chile.
Jose Ugaz, chair of the Berlin-based group, said he was deeply troubled by revelations that Delaveau, a lawyer, was linked to five companies domiciled in the Bahamas.
Delaveau is not accused of any wrongdoing but Ugaz said his continued affiliation with Transparency International is incompatible with the group's aims to register the beneficial owners of all shell companies to make it harder for the corrupt to hide illicit wealth.
7:10 p.m.
British Prime Minister David Cameron says he and his family do not benefit from offshore funds, after the leader of the opposition called for an independent investigation into everyone holding money in tax havens.
A leak of millions of documents from a Panamanian law firm has disclosed details of the asset-hiding arrangements of wealthy people — including Cameron's late father.
Ian Cameron, who died in 2010, used other offshore investments to help shield his money from U.K. tax. There is no suggestion the arrangement was illegal.
Labour Party leader Jeremy Corbyn said Tuesday he wanted tax authorities should investigate "all people that have invested in these shell companies or put money into tax havens."
Cameron's office said "the prime minister, his wife and their children do not benefit from any offshore funds."
Cameron said Tuesday: "I own no shares, no offshore trusts, no offshore funds, nothing like that. And so that, I think, is a very clear description." Downing St. said Cameron's wife, Samantha "owns a small number of shares connected to her father's land, which she declares on her tax return."
6:50 p.m.
Pakistani Prime Minister Nawaz Sharif says he will set up an independent judicial commission to probe whether his family is involved in illegal overseas investments after reports based on documents leaked from a Panama-based law firm indicated his sons owned offshore companies.
In a televised address to the nation Tuesday, Sharif said a retired judge from the Supreme Court of Pakistan will head the commission.
He asked those levelling corruption charges against his family to cooperate with the commission and prove any allegations.
Sharif's comments came a day after his son Hussain Nawaz admitted he owned offshore companies and property abroad which has been disclosed in the so-called Panama Papers leaks.
6:40 p.m.
President Barack Obama says the massive leak of documents on offshore accounts is evidence that world leaders should do more to crack down on individuals and corporations that try to dodge taxes.
Obama remarks were his first on the so-called Panama Papers. He says the leaders have made some progress in shutting down international tax avoidance schemes, but not enough.
Obama says the problem is that too often the tax dodging in enabled by "poorly designed" laws that are easy to exploit. He says: "A lot of it's legal, but that's exactly the problem."
The Justice Department has said it is reviewing the documents for evidence of corruption or violations of U.S. law.
5:40 p.m.
French Finance Minister Michel Sapin says his country will put Panama back on its list of tax havens.
France had withdrawn Panama from its list of "uncooperative countries" in 2012 following the signature of a convention on the fight against tax evasion between the two countries.
Sapin, speaking to lawmakers at France's lower house of parliament, says Panama tried "to make us believe it was able to respect the key international principles."
France's list of tax havens currently includes six states: Brunei, Guatemala, Marshall islands, Nauru, Niue and Botswana. It allows tax administration to apply specific stringent measures on financial transactions with these countries.
___
5:35 p.m.
The chairman of Hungary's opposition Socialist Party says a former lawmaker and party treasurer has admitted that reports about an offshore company owned by his wife are "completely true."
Jozsef Tobias says that Laszlo Boldvai, who was a parliamentary deputy from 1994 to 2014, told him Tuesday that he is willing to face any inquiry and has suspended his party membership. Boldvai was also party treasurer for the Socialists in 1994-1998.
According to information published by Hungary's Direkt36.hu investigative journalism center, Boldvai's wife, a high school teacher, has owned a company registered in Samoa since 2012.
Years ago, Boldvai's personal finances were the subject of articles in several newspapers as he and his family seemed to be living beyond their means. Still, in 2009, a parliamentary commission chaired by another Socialist Party deputy decided not to investigate the allegations.
___
5:05 p.m.
Romania's national tax authority has set up a working group to examine the data published by investigative journalists on offshore accounts and firms held by Romanians.
The National Agency of Fiscal Management said Tuesday anti-fraud inspectors, tax inspectors and inspectors specialized in checking people's assets and financial information would be part of the interdepartmental group.
Funds have been made available for the group to probe information about companies, business people and correlate it with existing data about foreign and domestic bank accounts, shares and transactions.
Paul Radu, who heads the RISE Project, a group of investigative journalists publishing details about Romanians who have offshore companies, says there are 100 Romanians in the so-called Panama Papers.