Norway Voices Brexit Concerns
Norwegian ministers briefed parliament in Oslo November 30 on the implications of the UK's exit from the EU (Brexit) on Norway.
A preliminary analysis from Norway's finance, petroleum and agriculture ministries, summarised below, was presented by EU and European Economic Area (EEA) affairs Elisabeth Vik Aspaker and industry minister Monica Maeland.
Norwegian exports to the UK are just under 20% of Norway's total exports of goods and services, it reported. The UK is the largest trading partner for goods, or the third largest if oil and gas are excluded.
It found that most UK investment in Norway is in its oil and gas sector (for example, Centrica's Oda plan, filed Nov.30). The Norwegian state pension fund (global) has significant investments in the UK (772bn kroner at end-2015), with about 25% of the fund's property portfolio invested in UK.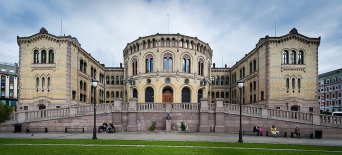 Norway's Storting, or parliament (Photo credit: G Cardinal / Wikipedia) 
The paper finds that, when Britain exits, the EEA Agreement in principle will no longer be the basis for Norway-UK trade. In its absence, the four freedoms (free movement of goods, services, capital and persons) shall cease to apply as the legal framework for trade policy with the UK. Norwegian business risks encountering customs and other trade barriers similar to the EU's current external trade policy and new customs. The paper therefore says it will be important to get new agreements in place. The scope of trade, but also more profound economic integration with the UK, suggest that a future agreement must be far more comprehensive than the World Trade Organisation provisions or a traditional trade agreement – and that transitional arrangements will be necessary.
The paper concludes that it is in Norway's interests to maintain duty-free access for industrial goods and to improve market access for seafood, for which it does not enjoy duty-free access today. It cautions that the UK may want to expand duty-free access for its agricultural exports.
Finally, the paper warns that is important to avoid a situation where Norway stands without transitional and permanent contracts, while the EU and the UK have such transitional arrangements and agreements. It is therefore in Norway's interest to be included in discussions of joint solutions between EU and UK in areas that affect the internal market.
Mark Smedley
 
---
You can now also follow Natural Gas World directly on your phone or tablet via Google Newsstand and Flipboard. Click  or    
Natural Gas World welcomes all viewpoints. Should you wish to provide an alternative perspective on the above article, please contact editor@naturalgasworld.com
Kindly note that for external submissions we only lightly edit content for grammar and do not edit externally contributed content.