New Leaders Revive Process to Improve Governance, But More Work Needed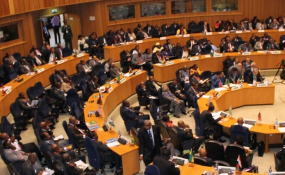 Photo: APRM
African Peer Review Mechanism meeting (file photo).
analysis
By Steven Gruzd and Yarik Turianskyi
In the Americas, when a young Latina girl turns 15, she celebrates her fiesta de quinceañera , a coming of age ceremony. Across the Atlantic Ocean, Africa's most important governance self-evaluation and promotion instrument – the African Peer Review Mechanism (APRM) – will also officially turn 15 on 9 March 2018.
These milestone birthdays are important occasions to reflect, but more importantly to look forward. As the APRM gets ready to smash open the piñata, SAIIA looks at what happened at the recent APRM meetings on the side-lines of the AU Summit in dusty, bustling Addis Ababa, and asks what lies ahead for the mechanism?
The APRM has its roots in the early 2000s – the Mbeki and Obasanjo years, and the New Partnership for Africa's Development (Nepad) – and today is a Specialised Agency of the African Union (AU). It is a voluntary tool by which African countries are meant to diagnose their governance strengths and weaknesses in the political, economic, corporate and developmental spheres, and develop and commit to remedies to ameliorate these ailments.
On 27 January, the 27 th meeting of the APR Forum (the highest decision-making body of the APRM, comprising of participating Heads of State and Government) was held in the AU's gleaming Chinese-built headquarters.
The Gambia – a tiny serpentine sliver of a state surrounded by Senegal, which made headlines in 2016-2017 when former President Yayah Jammeh refused to vacate State House after losing an election, and only did so when tanks crossed the border – became the 37 th of Africa's 55 states to join the APRM voluntarily.
Yet there is still outstanding paperwork. President Adama Barrow was not at the Forum, but his foreign minister said the state would accede. However, it's not officially in the APRM family until Barrow signs the accession memorandum of understanding (MOU).
In 2009, Cabo Verde (Cape Verde) indicated its interest in joining the APRM, but in the end, its president never signed the MOU. Gambian civil society needs to make sure Barrow puts pen to paper if he has not done so yet.
The meeting also marked the end Kenya's President Uhuru Kenyatta's two-year term as chairperson of the Forum. There is no doubt that there has been a marked revival of the APRM under his watch.
A new CEO, South Africa's Professor Eddy Maloka was appointed in January 2016, and has re-energised a system that was creaking with fatigue, mismanagement and stagnation. He has more than doubled the staff complement at the APRM Continental Secretariat in Midrand, South Africa, launched an ambitious strategic plan for 2016-2020 (the first in the APRM's history), pushed for more countries to be reviewed and more new countries to join the APRM (he visited The Gambia in February 2017 to persuade them to accede, for example), and oversaw review missions to Chad, Liberia, Senegal and Sudan, and the second-generation peer reviews of Kenya (2017) and Uganda (2018).
In addition, much work has been done on extending the mandate of the APRM to track the governance aspects of the AU's 50-year development blueprint, Agenda 2063 – the Africa We Want, and the UN's 17 Sustainable Development Goals; overhauling the APRM's weak monitoring, evaluation and reporting system; establishing the APRM as a governance knowledge hub; revising its cumbersome questionnaire and cementing relations with partners such as the AU's Department of Political Affairs. The APRM is chairing the joint APRM-African Governance Architecture Secretariat for this year. He also oversaw the development of an APRM Statute to guide the mechanism going forward.
Maloka has also brought in the Mo Ibrahim Foundation and the Harare-based African Capacity Building Foundation as two new strategic partners for the APRM. He engages willingly and enthusiastically with the media and academic community, and has overseen work on articulating the impact of the APRM over the last 15 years. On the last, however, more work needs to be done, as a draft report presented in December 2017 was heavily criticised as requiring further attention.
Political will at the continental levels also needs a significant boost. There were just 10 of the 37 heads of state at the meeting – from Benin, Chad, Ethiopia, Guinea (a non-member, whose representative left early) Kenya, Mozambique, Sierra Leone, South Africa, Sudan, Uganda, plus Zambia's vice president. The poor attendance is a perennial problem, and needs addressing. Most praised Kenyatta's efforts, and heard his impassioned appeal for countries to pay their minimum US$200,000 annual fees and clear their considerable arrears.
Kenyatta passes the baton now to Chad's President Idriss Déby Itno (65), who assumed power 27 years ago. Is Déby the right person to oversee a mechanism that focuses on improving governance? Chad removed presidential term limits in 2005, although the president is on record he would reintroduce them after his 2016 electoral victory. He needs to be given a chance to prove his stewardship of the APRM, but some in civil society like Jeggan Grey-Johnson from the Open Society Foundation have expressed doubt that Kenyatta's energy, commitment and momentum will be maintained. That would impact the impetus created under Kenyatta's leadership and increases the pressure on fellow APRM heads of state, the APRM Secretariat, the APRM Panel, National Governing Councils and civil society to ensure that there is appropriate follow-through on APRM commitments over the next two years.
Two peer reviews were conducted – the first review of Sudan, and Uganda's second generation review. Sudan's was short, and rather gentle and diplomatic on a country that faces severe challenges and with considerable governance deficits.
Uganda's was fairly critical of Uganda, on issues such as presidential power and over-large families. President Yoweri Museveni genially deflected criticism and boasted that Uganda's population had ballooned from 14 million when he took power in 1986 to over 40 million today. He contended that the continent has much empty space, and did not seem to grasp the future social, demographic and environmental consequences of large families on the sustainability of the planet, the uncertainty of job creation in an age of the fourth industrial revolution and the associated welfare burden if there are no associated benefits to the demographic dividend (many Ugandan women still have eight or more children).
Civil society is also concerned that the Ugandan process had been rushed – the country review mission was fielded in October-November 2017, and Uganda was reviewed in January 2018 – breaking all speed records for the usually sluggish APRM timelines. Some cost-cutting measures to reduce the size of the review team may have gone too far, placing huge strain on a small number of senior researchers. There were also grumblings from Ugandan civil society organisations that there was insufficient consultation with them.
Sierra Leone (originally reviewed in 2012) presented a progress report on its implementation of the APRM. President Jacob Zuma commended outgoing President Ernest Bai Koroma, and joked that he might soon be leaving office himself. Sierra Leone should be commended for this step. Far too few countries present implementation reports and do so far too infrequently. This needs to be addressed.
South Africa's former minister of justice Brigitte Mabandla was elected as the new chairperson of the APRM's nine-member Panel of Eminent Persons, with Professor Ibrahim Gambari from Nigeria as her deputy. This bodes well for the APRM as they are both enthusiastic, energetic and respected.
Finally, and of great concern to civil society, is the delay in publicly releasing Country Review Reports (CRRs). The published CRRs are meant to be made available six months after the Forum reviews them. Yet the reports of Chad (2017), Djibouti (2016) and Senegal (2017) are still not in the public domain. The APRM Secretariat says they are ready but need to be launched nationally first. However, this position is in contrast with the APRM founding principles and documents and provides governments with excuses to delay their release. While Kenya's second-generation report has subsequently appeared on the APRM's website on 28 January 2018, the others are still eagerly awaited.
In this year of celebrating APRM@15, it needs to focus on its core mandate, restore the confidence of its members and supporters, and streamline its systems. We look forward to the next 15 years with hope.
Steven Gruzd @rhymeswbruised and Yarik Turianskyi @Yarik_T are respectively head and deputy head of the African Governance and Diplomacy Programme at the South African Institute of International Affairs in Johannesburg.