New Brexit Poll Shows Brits in Favor of Leaving the European Union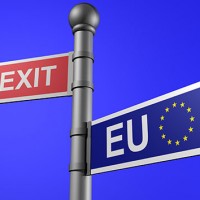 iStock/Thinkstock(LONDON) — Will the U.K. leave the European Union?
A new poll shows the U.K. is leaning towards leaving the EU, according to The Independent.
The poll reveals that 55 percent of Brits are in favor of pulling out of the EU while 45 percent are against a Brexit.
On Tuesday, Prime Minister David Cameron, who is campaigning for the U.K. to remain in the E.U., urged voters to "listen to experts," including the World Trade Organization and the chair of the U.S. Federal Reserve, at a news conference in London.
U.K. voters will be able to decide the fate of the U.K.'s relationship with the EU in a referendum on June 23.
Last week, Fed Chair Janet Yellen worried what kind of an effect the U.K. leaving the EU would have on the U.S. She said a "U.K. vote to exit the European Union could have significant economic repercussions," adding it "could shift investor sentiment."
Copyright © 2016, ABC Radio. All rights reserved.