Livestock economy: When Sam's chickens come home to roost
Written by Parthasarathi Biswas | Pune |
Updated: August 4, 2016 7:53 am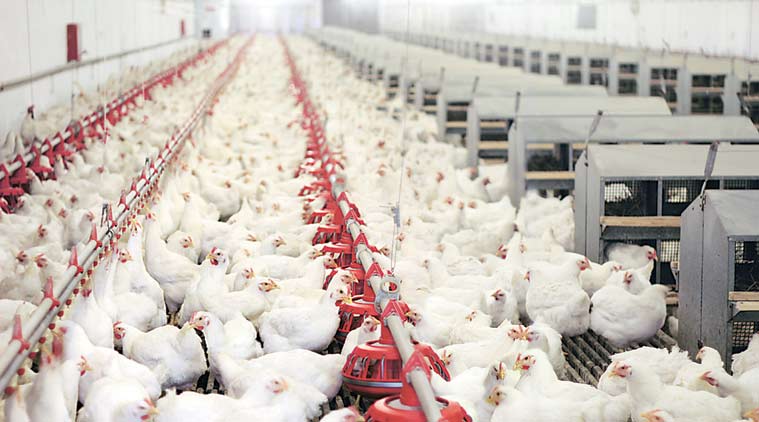 The main basis for the industry's fears stems from the overwhelming consumer preference in the US for chicken breasts.
Dynaeshwar Barbate has been keenly following news on the setback for India at the World Trade Organization (WTO) in the case of poultry product imports from the US. This farmer from Kharpudi, a village in Khed taluka of Pune district, is convinced that the entry of American chicken legs resulting from it would put his business at risk.
"From what I hear, the imported product will be at least 10-20 per cent cheaper. This will hit small and medium farmers like me," says Barbate, who "places" (sells) 6,000-7,000 birds every week from his broiler poultry farm.
The Department of Animal Husbandry, Dairying and Fisheries, on July 8, issued a notification that many see would open the gates to poultry imports, particularly low-priced frozen chicken leg quarters from the US. The WTO's Dispute Settlement Board had, on June 19, 2015, rejected India's restrictions on US poultry product imports. It held that the ban, citing concerns over avian influenza, was discriminatory – more so, when India had recorded several outbreaks of the disease despite not allowing US imports. Having lost the case, India sought a "reasonable period of time" for implementing the WTO ruling, which technically expired this June 19.
Some within the industry aren't sure, though, whether a flood of imports would actually follow. According to Prasanna Pedgaonkar, deputy general manager at Venkateshwara Hatcheries Private Ltd, an estimated 93 per cent of chicken bought by consumers in India comprises live birds freshly culled and sold by small shops and roadside retailers. Even out of the balance seven per cent, five per cent consists of fresh chilled whole birds and only two per cent frozen processed chicken. "What will come in is frozen legs, which is within the two per cent figure. Such imports may only have a disruptive rather than any lasting effect," he feels.
But Barbate does not buy this. He fears that the cheap imports would be targeted mainly at institutional buyers such as hotels and restaurants. Raju Bhosale, executive member of the National Egg Coordination Committee, goes a step further. The retail Indian consumer may right now be inclined towards eating freshly culled chicken. But once frozen stuff becomes available at cheaper prices, they, too, would start going to retailers having access to refrigerated cold storage within their premises: "Given our taste for tandoori leg pieces, it may not take much time for cheap alternatives to be lapped up".
The main basis for the industry's fears stems from the overwhelming consumer preference in the US for chicken breasts. The virtual absence of a domestic market for legs means that the bulk of these are, then, frozen and exported to other countries. The US, in 2014, produced 17.3 million tonnes (mt) of broiler meat and shipped out 3.3 mt, out of which leg quarters alone accounted for 1.7 mt. India's production itself, by contrast, was a mere 3.7 mt, with the country ranking a distant fifth behind the US, Brazil (12.7 mt), China (13 mt) and the European Union (10.3 mt).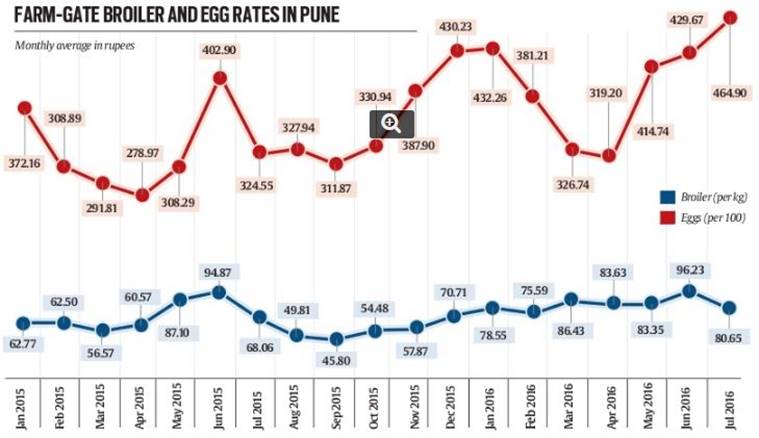 Vasant Kumar Shetty, convenor of the All India Broiler Coordination Committee, believes that several objections can be raised over American poultry imports, even if they may be cheaper. "The industry there uses genetically modified maize (GM) and soybean as poultry feed ingredients, which are not allowed in India. There is also use of beef tallow and lard (pig fat) that consumers here will not accept, if they are made aware about it," he alleges. The non-availability of proper cold storage chain, from the ports to the consumer end, will also be an issue. And, last but not the least, there isn't any comparison, as far as quality and taste goes, between freshly culled chicken and a product that is frozen for months.
"We will certainly raise the issue of Indian laws not permitting usage of GM feed ingredients. In the event US poultry imports are allowed to take place, our industry, too, should have the freedom to use such feed," he adds.
All this comes even as domestic poultry meat and egg prices have been on the rise in the recent period across India. Since December, average monthly broiler rates (ex-farm gate) in centres like Pune and Nashik have gone up from Rs 70-71 per kg to Rs 96-plus levels in June, before easing to Rs 80 last month. Egg prices in Pune similarly averaged Rs 465 per 100 pieces in July, as against Rs 325 a year ago.
The price increase has been attributed largely to rising costs of maize, the main ingredient in chicken feed. Farmers rear young chicks that grow from a hatch weight of roughly 40 grams to 1.5-2 kg in over six weeks or so. About 1.75 kg of feed is required to produce a one-kg bird. The feed consists of about 60 per cent maize, 20 per cent soyabean meal (do-oiled cake) and 20 per cent minerals and other ingredients. For eggs, the requirement is 20 kg feed (with higher 70 per cent maize content) for every 100 pieces.
"Since May, maize prices have soared from Rs 10 to Rs 15 per kg and it has raised production costs from Rs 70 to Rs 80 for a one-kg bird," explains Mangesh Dhumal, chairman of Sakar Poultry Private Ltd, a Pune-based aggregator that "places" nine lakh-odd birds every month from some 600 poultry farms across three districts of Maharashtra.
Barbate notes that farmers like him could realise broiler rates upwards of Rs 100 per kg this year. "Today, we are able to pass on our higher costs to consumers. But that flexibility would disappear once cheap imports come in. Even without imports, we saw broiler prices falling to Rs 45-50 per kg in March last year," he notes.
The industry is hopeful that production costs would dip in the coming months on the back of a bumper maize crop this year. Farmers have sown a total area of 75.94 lakh hectares under kharif maize this time, up from 66.12 lakh hectares during the same period last year.
But the big question is why do consumers never get the benefit from lower production costs or slide in farm-gate prices, whereas increases in these are promptly passed on. In cities such as Pune and Mumbai, a kg of dressed chicken is retailing at Rs 170-200 per kg (as against peak farm-gate prices of Rs 103-104 per kg in June), with eggs also selling at Rs 5-7 per piece (Rs 4.40-4.50 at farm-gate). Clearly, production costs alone are not at play here.
The industry has no real convincing answer, apart from mentioning shrinkage losses, haulage and other operational
expenses. Dhumal claims that there is an average 20 per cent body weight loss for birds during lifting and transportation to the retail point, which needs to be compensated for. In addition, transportation costs come to Rs 8-10 per kg. But even after adding all these and other incidental expenses to a farm-gate production cost of Rs 75 per kg, broiler retail prices should not exceed Rs 140-150 per kg.
It is this huge spread between producer and retail prices that may come under threat in a free import regime. To what extent farmers like Dynaeshwar Barbate, too, would have to pay the price remains to be seen.