Letter from Lisbon: Web Summit battles for the media spotlight as US elections take centre stage
Image: AP/Press Association Images
AS MORE-IMPORTANT events take place across the Atlantic, Web Summit rumbles on in Lisbon – and after a few minor hiccups on opening night, the event seems to have found its groove.
Web Summit is debuting in its new home of Lisbon and that means a lot is riding on the outcome of this year's event.
The ability of the conference to continue to build largely comes down to its ability to make a splash every time – and doing so also means attracting worldwide media attention.
In the past, Web Summit has made headlines by attracting big-name guests like Tesla Motors and SpaceX chief Elon Musk, and now the company heavily markets the event as the place everyone who's anyone in tech will be for three days in November.
However, this year Web Summit is not only finding its feet in its new home, but the conference is also competing with one of the biggest news events on the planet: a US Presidential election.
Major media organisations that previously did multiple live broadcasts from the event have scaled back their plans for this year with little appetite for interrupt rolling coverage of the US results. That means much less of a spotlight for a conference that craves attention like a young child.
Web Summit clearly spotted this could be an issue from early on and has gone all out bring in big political names and make politics a core theme of the event. Some high-profile attendees include former president of the European Commission Juan Manuel Barroso and World Trade Organisation director-general Roberto Azevêdo.
The event has come to Lisbon to scale even further beyond 50,000 people, with the MEO Arena apparently able to accommodate an 80,000-attendee conference. But if Web Summit is to reach that lofty figure, it will need to make a major splash this time around.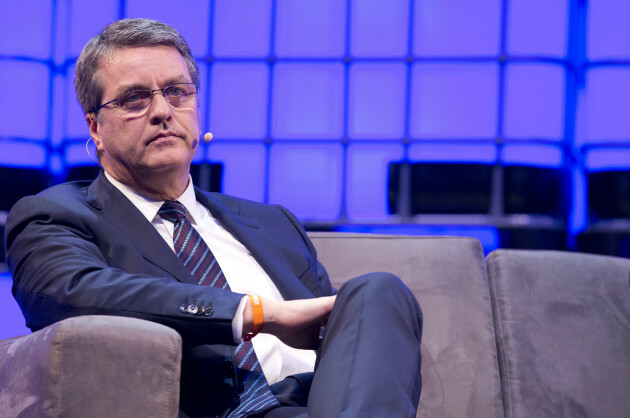 World Trade Organization chief Roberto Azevedo Source: AP/Press Association Images
Moving queues
After last night's official opening, when some attendees who had paid between €700 and €5,000 for tickets were left out in the (relative) cold, the wheels were back on today.
From early this morning, there were lengthy queues outside gates to the venue, but many of general attendees lining up said they had only been queuing for around 10 to 20 minutes.
Aside from queues, Web Summit has retained its general buzz that attendees seem to live off for the three days, while transport to the event is a definite step up on Dublin.
The event venue is located near a very regular metro line that is connected to the airport and all corners of the city. Again, queues at the metro station were quite long this morning but kept moving with very few mumblings of discontent.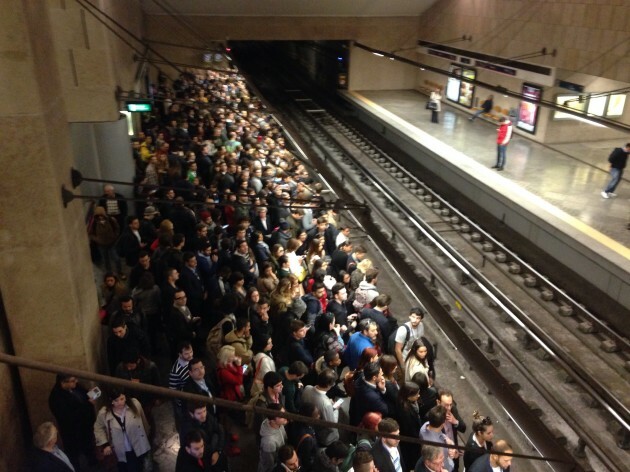 Metro queues for Web Summit
Irish startups to meet Web Summit
Parkpnp – This Irish startup, which was co-founded by Krüst coffee shop and bakery co-owner Garret Flower, wants to become the Airbnb for car parking spaces. Launched earlier this year, the company recently closed a €500,000 seed round of funding and was a finalist in ESB Spark of Genius startup pitching competition, which saw the company qualify for the main pitching competition at Web Summit that has a cash prize of €50,000.
Matchday – Founded by Ian O'Reilly and Jonathan Deane, the early stage fantasy sports app is exhibiting in the sports section of Web Summit this year having two weeks ago won best startup at Dublin sports conference OneZeroCon. People can use the app free of charge and bet on events in game – and in real-time – such as, will Ronaldo score this free-kick, and win prizes like pints of Heineken.
Talks to watch out for tomorrow
US election fallout – Centre Stage (10:45am)
Tomorrow morning we will probably have a very good idea of who will be the next US president and on centre stage Bradley Tusk, formerly campaign manager for New York mayor Mike Bloomberg, and climate change activist Shailene Woodley will give their outlook on what the next American president will mean for the tech community.
The front page of the internet – PandaConf (2:55pm)
In a keynote speech, Alexis Ohanian, the founder of Reddit, will talk about how hard it is for people to earn attention on the internet and why he feels Mad Men-style marketing is going to make a comeback.
Love & tech in the time of Tinder – Centre Stage (4:40pm)
Wrapping up proceedings on the main stage tomorrow, Tinder founder Sean Rad will talk about the company's plans to move beyond the dating scene and start helping people find long-lasting friendships.
Killian Woods is reporting from Web Summit 2016 in Lisbon.
Written by Killian Woods and posted on Fora.ie