Kenting tourism needs a boost 墾丁中國客減 旅遊業促釋利多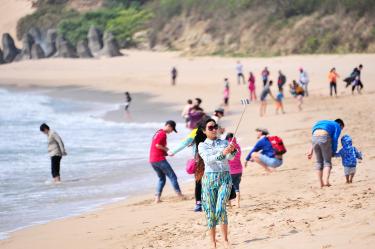 Following the presidential election, the number of Chinese tourists visiting the Hengchun Peninsula has fallen by about 20 percent. Tourism business owners hope that the government will propose strategies for stimulating the tourism industry, such as offering a new batch of tourism consumer subsidies, so as to perk up Taiwanese people's enthusiasm for tourism.
Pingtung Hotel Commercial Trade Association chairman Chang Jung-nan says that Hong Kong, Singapore, Malaysia and China were the main sources of visitors to Pingtung, but they fell to 10 percent of total visitors after the general election. Now, following the Lunar New Year, there are only domestic tourists left. This makes business owners rather anxious, and they hope the authorities will issue citizens' travel vouchers, directly providing real subsidies to tourism businesses, which would be a shot in the arm for tourism.
Chang says that Taiwan's regulations regarding visas for overseas visitors are complicated, and this is an inconvenience for many backpackers who would like to visit Taiwan. Chang suggests that in future the government should think about relaxing visa requirements, as this would help develop the Southeast Asian market.
An experienced independent travelers' tour guide surnamed Han says that one possibility would be to reshuffle the cards to take in fewer Chinese visitors on package tours, since higher-quality independent travelers would bring more tangible benefits to Taiwan's economy.
Chang Chi-kuang, general manager of the Howard Beach Resort Kenting, says he hopes the government will once again offer travel vouchers. Chang says this would lead to overall upgrading not only of legal hotels and guesthouses, but also related transport, catering and services, thus reinvigorating domestic tourism.
TODAY'S WORDS
今日單字
1. batch n.
波;批 (bo1; pi1)
例: A new batch of radios has just arrived at our warehouse.
(一批新的收音機已經送達我們的倉庫。)
2. perk up v. phr.
帶動;活絡;振興 (dai4 dong4; huo2 luo4; zhen4 xing1)
例: A cup of coffee might perk you up a bit.
(喝杯咖啡也許可以幫你活絡精神。)
3. a shot in the arm phr.
強心劑 (qiang2 xin1 ji4)
例: Archie's invention has given the company a shot in the arm.
(阿奇的新發明為公司注了一劑強心劑。)
The Chateau Beach Resort says that, thanks to an increase in Taiwanese tourists, business volume has grown slightly in the first quarter. The resort says it will invite disc jockeys from abroad for the coming spring music festival season, in the hope that this will attract fans of European and American music.
(Liberty Times, translated by Julian Clegg)
總統大選過後,恆春半島中國遊客減少兩成左右,觀光業者盼望政府提出刺激觀光業的策略,再推一波旅遊消費補助,帶動國人旅遊風氣。
屏東縣旅館商業同業公會理事長張榮南說,屏東觀光客來源大多為香港、新加坡、馬來西亞及中國,大選後驟減為一成;春節過後,只剩國內旅客,讓業者憂心忡忡,盼發行國人旅遊消費券,直接對旅館業者實質補助,是刺激旅遊觀光的強心劑。
張榮南表示,台灣對於外籍旅客的簽證規定繁瑣,許多想來台觀光的背包客感到不便,政府未來應該思考簽證放寬,有助於開發東南亞市場。
資深自由行導遊老韓說,或許可以重洗牌,少一點一條龍的中國團客,素質高的自由行觀光客對台灣經濟才有幫助。
墾丁福華飯店總經理張積光指出,期盼政府再推旅遊消費補助,不僅能帶動合法飯店民宿業,相關交通、餐飲、服務業將全面提昇,重振國內旅遊。
夏都沙灘酒店表示,因為台灣客旅遊增加,第一季業績還微幅成長,接下來的春天音樂季也將邀請國際DJ舉辦活動,希望吸引歐美音樂愛好者到訪。
(自由時報記者蔡宗憲)