Institutional reforms key to higher economic growth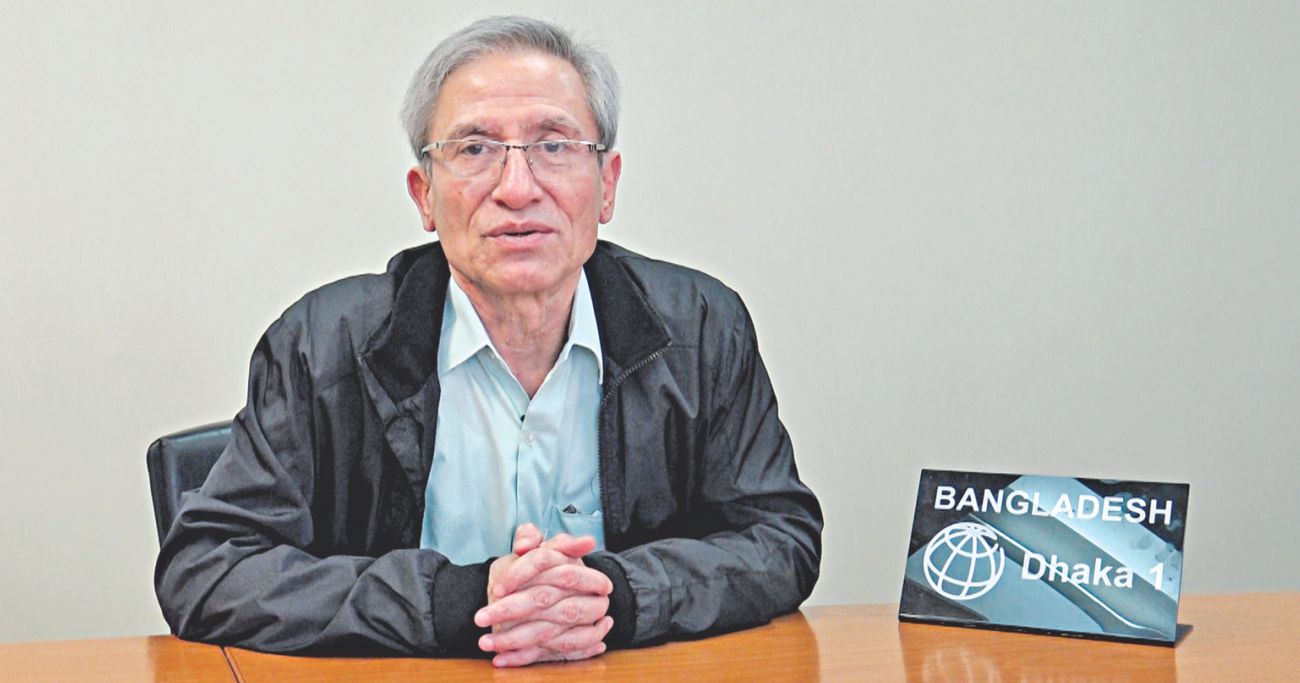 Bangladesh should fix domestic challenges, carry out institutional reforms and focus on completing priority projects in 2017 to help the country take a quantum leap towards higher economic growth, said an economist.
Zahid Hussain, lead economist of the World Bank in Dhaka, said: "I think domestic challenges are bigger. If we can handle them properly then Bangladesh will be able to cope with external uncertainties."
During an interview, Hussain reflected on the just-concluded year which was marked by uncertainties, unpredictability and unexpected changes globally.
"It was a mixed year for Bangladesh as in some areas the country did better than expectations while some unprecedented and unexpected incidents took place."
The consistency in agriculture production and export growth is noteworthy, he said. 
There was uncertainty in garment exports and a question emerged whether Bangladesh will be able to retain its market share and beat Vietnam in the US market. But apparel exports fared well in the US market compared to 2015 despite 15-16 percent duty.
Hussain said a sort of crisis that resembles the Great Depression of 1930s is being formed now across the world. The multilateral trading system will face a survival threat in 2017.
Although there had been a Cold War since 1945, the US was the foremost leader in the global economy. The US has led the establishment of the world's trading system, and the multilateral trading system under the World Trade Organisation, supported by Europe.
"But the new faces in the US administration are not too much excited by the multilateral trading systems. Even they are saying that they will not sign the Trans-Pacific Partnership (TPP) agreement.
"If TPP is not signed it will be a piece of good news for Bangladesh. But it is not good news for the world trade because it will weaken the foundation of the multilateral trading system."  
Hussain said the US is moving towards bilateralism whereas the country has been seen as the pioneer of multilateralism.
If the US embraces bilateralism and the Brexit comes into effect, the future would not be bright for the small countries such as Bangladesh in terms of economic capacity as these countries would not be able to cut export reliance in the short term.
Small countries do not have adequate institutional capacity to go for bilateral trade agreements, he added.
Hussain said it is good that two major infrastructure projects, including Dhaka-Chittagong Highway, were opened to public in 2016, after long delays.
Priority has to be given to major infrastructure projects that have already been undertaken, he said.
Many initiatives aimed at institutional and infrastructure reforms have been undertaken, but there is no progress. "If we can make progress in these areas then raising GDP growth from 6.5 percent to 8 percent in the short term will not be very difficult."
He said the major barriers that stand in the way of industrialisation are a shortage of water, gas, land and weak transport systems. Special economic zones have been designed as a package solution to these problems.
Bangladesh plans to develop 100 special economic zones (SEZs) in the next 15 years, with a target to earn an additional $40 billion by exporting goods from the economic zones by 2030. The government has so far approved 30 SEZs and awarded contracts for some zones.
"If we can start with some SEZs, even if they are small, then investors will be keen about them. So, we have to ensure that some of them are completed in time," he said, adding that the government also needs to involve foreign investors in implementing the rest of the SEZs.
He said there are many projects under the annual development programme (ADP). But the projects that can strengthen communication and create congenial environment for setting up new industrial units have to be fast-tracked this year.
Bangladesh has raised its ranking in the World Bank's latest Doing Business Index to 176th from 178th, out of 190 countries. But Bangladesh still remains in the near bottom layer in the sub-indexes such as access to electricity, property registration, or contract enforcement.
Hussain said Bangladesh has to accelerate effectiveness of the alternative dispute resolution. He said Bangladesh International Arbitration Centre has helped settle some disputes.
It would be unrealistic to think that it will be possible to fix the court system in the shorter run, he added. Besides, 95 percent of the business disputes are settled outside the court system globally.
"If we can increase the effectiveness of alternative dispute resolution mechanism in areas such as tax disputes or contract enforcement then Bangladesh's ranking would quickly climb up in these indices."
The WB economist said the uncertainties in some areas will be clear in 2017, allowing Bangladesh to exactly understand what the risks are.
"Once we understand the risks, we will be able to understand what steps have to be taken to counter them. I hope 2017 will further clear the uncertainties. I am not saying that the uncertainties will go, but the sky will be clear."
He warned that some new uncertainties may emerge as the country nears the next national election due in 2019.
"We hope there will be stability and there will be a cooperative environment so that we can take our national economy forward."
Talking about the utilisation of foreign assistance, Hussain said Bangladesh's options for taking external credit have widened.
The Asian Infrastructure Investment Bank has made available huge amounts of funds. India is providing bilateral credit line and is interested to provide more. Bangladesh is also getting offers from China.
"On one hand, it is a problem of plenty."
He said dealing with the new multilateral lenders would not be very difficult for Bangladesh as these institutions are following almost the same model of the World Bank or other multilateral lenders.
But in case of bilateral agreements, which are normally administered through Export Import banks, the true financing cost of the projects has to be identified clearly. It has to be ensured that Bangladesh has institutional capacity to handle these agreements.  
"It is being said that these are soft loans and the interest rates might not be more than 1.5 percent to 2.0 percent. But the details have to be looked into. Maybe the word 'interest' has not been used in the details but the interest fee might go up 1 percent to 1.5 percent furthermore in the name of commitment fees, processing fees and management fees.
"Similarly, if 10 percent or 15 percent is paid upfront then the country will get 90 percent or 85 percent of the loan. In such case, the interest rate will be fixed on the 100 percent of the loan, not the 90 percent of the loan that is being actually given."