Iceland must resolve U.S. fund feud after elections, foreign minister says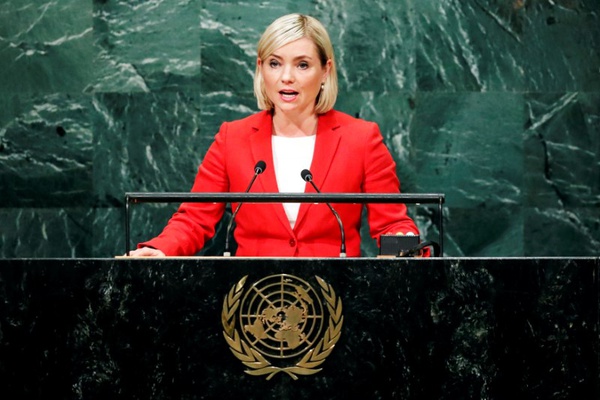 By Marc Jones and Steve Slater
LONDON (Reuters) – Iceland's next government will have to prioritize resolving a feud with a group of U.S. funds once national elections this month are over, its foreign minister said on Tuesday.
Iceland holds elections on Oct. 29 with the ruling Progressive Party currently well behind in the polls following this year's revelations that some of its top politicians had links to offshore tax havens.
The scandal has overshadowed Iceland's impressive comeback from one of the world's most extreme banking crisis. It is growing briskly and has just taken a big step in dismantling the capital controls introduced eight years ago when it was on its knees.
Though it is had received next to no attention in the election campaign, the elephant in the room is now a $1.4 billion pile of currently frozen government bonds owned by U.S. funds Autonomy Capital, Eaton Vance, Loomis Sayles and Discovery Capital Management.
Reykjavik has been refusing to discuss the issue after the funds spurned what they saw as a low offer back in June, but Foreign Minister Lilja Alfredsdottir told Reuters in an interview that the issue needed to be resolved.
"I think it is important that the authorities will address the issue as soon as we have a new government," Alfredsdottir said.
"This is about sequencing…the next liberisation steps are going to be focused on domestic entities and we see how much we can do in that, and then we will take the next steps with regards to the hedge funds."
With elections just two weeks away however there will not be any progress for now. Reverting back to the government's recent stance, Alfredsdottir said "no negotiations are taking place with the offshore ISK holders (U.S. funds) and none are planned."
With little domestic voter attention on the issue, there has been no indication of how the Independence or left-wing Pirate party, who both lead Alfredsdottir's Progressive Party in the polls, would approach the impasse.
Two of the funds, Autonomy and Eaton Vance, have already filed a complaint about their treatment to the European Free Trade Association (EFTA) in Brussels and have been making noises about stepping up their fight.
Iceland's authorities play down the threat of it developing into an Argentina-style dispute, saying they have been transparent in their actions and that the moves are "fully consistent with both domestic law and Iceland´s international obligations".
One of the government's original reasons for keeping restrictions on the funds was as a precaution to ensure there was no sudden rush of money from the country as capital controls were lifted.
But with the highest interest rates in western Europe – a 5.25 percent interest rate compared with negative rates in the euro zone, parts of Scandinavia and Switzerland – cash has been flooding in, not out.
"What has been happening is that we have had a pretty good recovery, there has been a lot of inflows due to the increase in tourism," Alfredsdottir said.
(Editing by Larry King and Angus MacSwan)