LAS VEGAS, Jan. 5, 2023 /PRNewswire/ — Huion, the leading enterprise of handwriting input devices, introduced its new-generation pen computers, graphics tablets, and mini keyboard at the most influential tech event in the world, the Consumer Electronics Show. It allows visitors to get a first-hand experience with these products and share their thoughts with artists and creatives based on the same interests.
Pen Computer- Kamvas Studio 24
Having a built-in pen display on your computer will not only build a standalone workstation for you but also effectively manage your workflow. With a resolution of 2.5K, Kamvas Studio 24 allows you to immerse yourself in working and playing on its 23.8-inch display. It can be a go-to device for creatives and studios.
It's worth shouting out that the pen computer equips a new pen, PW550, which is powered by the latest Huion PenTech 3.0+ technology. The upgraded tech increases linear pressure sensitivity to deliver natural writing and optimizes the pen head for better vision. Another pencil-like pen, PW550S, is also out of the box, designed for long periods of use.
With regard to performance, this pen computer is powered by Intel® Core

i7-12700F processor, which delivers cutting-edge performance when loading professional software. NVIDIA GTX1650 graphics card has outstanding performance in graphics designing, video editing, and gaming. The 32GB RAM allows you to multitask at a reasonable speed. Furthermore, a 1TB SSD provides enough space to open a large number of programs without lag.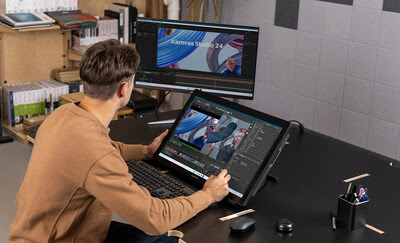 Speaking of its design, Kamvas Studio 24 has a nice aesthetic with a black body and well-rounded ports for data transfer and allowing peripherals to be plugged in. Featuring a camera and speaker, it meets regular use, such as online learning, video chats, or live streaming.
Efficiency also could be achieved by the 10-point capacitive touch on the device. It allows you to access different functions in each piece of software using various gestures, making your work more convenient. As the workhorse of Huion's big reveal, Kamvas Studio 24 definitely is an all-rounder.
Pen Computer- Kamvas Studio 16
If you are projecting to expand your portables, Kamvas Studio 16 is the right choice. It's well-built with a swanky and minimalist look. Combining a laptop, tablet and pen display, the pen computer can be used as a computer for browsing websites and playing video games, and as a tablet for watching movies and editing documents. Also, it can be used for drawing, graphic design and video editing as a pen display. Work, play and create, this 3-in-1 pen computer is an ideal device for today's hybrid work.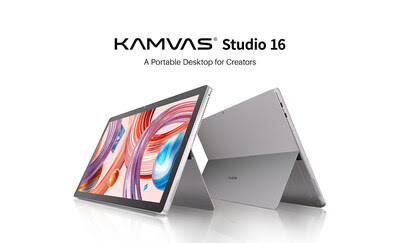 The QHD (2560 x 1440) resolution delivers sharp details and vibrant graphics on its 15.8-inch display. Given that it features QLED technology, 100% Adobe RGB Gamut Coverage, and 16.7M (8Bit) color depth, you will get incredible sensory vision when editing graphics or playing video games on Kamvas Studio 16.
Powered by the Intel® Core

i7-1165G7 processor, the 15.8-inch pen computer runs every creative software smoothly. And the Intel® Iris® Xe GPU provides excellent graphics and video editing without lag.
To match the minimalist design, Kamvas Studio 16 only has dual USB-C ports. Don't get me wrong, they actually are full-featured and can provide USB 3.2 (with a max speed of 20Gbps) data transmission, DP1.4 video transmission, and PD fast charging. Thus, you can get larger storage for artwork and files with an external hard drive or enhance working productivity with an external 4K monitor. Being capable of general standard workflow, Kamvas Studio 16 a good companion for creative professionals who create and work on the go.
Pen Tablet- Inspiroy 2
Huion also rolls out Inspiroy 2 series of tablets at the exhibition. It is available in different sizes: small, medium, and large. Coloring with Sakura pink, Pine green or Black, Inspiroy 2 is designed for the younger generation.
Inspiroy 2 is the industry's first drawing tablet that is equipped with Group Keys and a Scroller. The Scroller is similar to a mouse scroll wheel. What's more, if you press any of the Group Keys, the corresponding group of shortcuts will be enabled immediately, highly improving workflow and making it an ideal tablet for art school students and creatives.
The strong compatibility will bring users many benefits. Notably, ChromeOS support will benefit students accessing online education during the pandemic. Besides, Inspiroy 2 series of tablets are portable in terms of dimensions and thickness.
Keydial Mini
Finale
As an innovator and manufacturer, Huion hit the CES stage and launched a series of innovative products, showing its cultivation and creativity in digital ink devices and solutions. The big reveal corresponds with Huion's principle, Bear user request in mind, Encourage user involvement, Fulfill targets with user-oriented thoughts.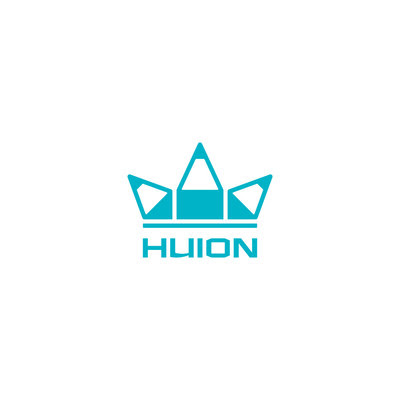 Photo – https://mma.prnewswire.com/media/1973823/1.jpg
Photo – https://mma.prnewswire.com/media/1973824/2.jpg
Photo – https://mma.prnewswire.com/media/1973821/3.jpg
Photo – https://mma.prnewswire.com/media/1973822/4.jpg
Photo – https://mma.prnewswire.com/media/1973825/5.jpg
Photo – https://mma.prnewswire.com/media/1973820/6.jpg
Logo – https://mma.prnewswire.com/media/1584078/LOGO_Logo.jpg