Geneva (GVA) – opening of a new route from Kraków!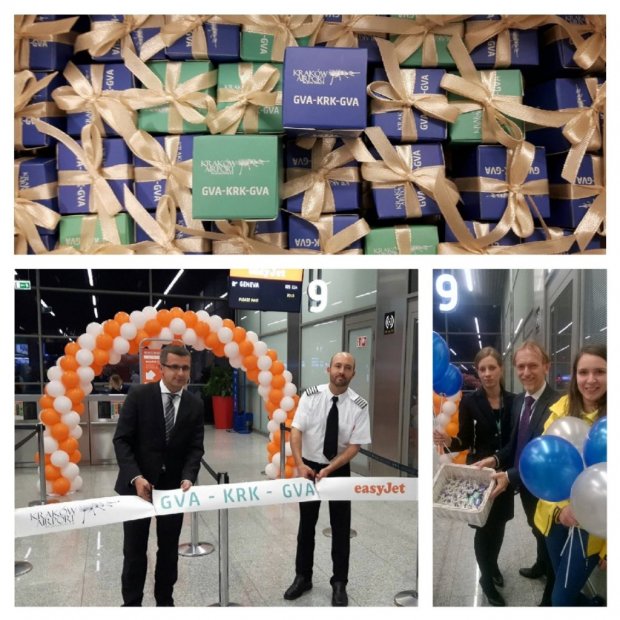 On 8th NOVEMBER 2016, easyJet and Kraków Airport officially opened a new route to Geneva. The British airline will operate on the Geneva – Kraków route two times a week. Flights will be operated on Tuesdays and Saturdays. The direct connection with Geneva Cointrin's International Airport (GVA) – main airport is an interesting offer of both business and tourist flights for the residents of our region.
Fot. Kraków Airport.
After the ribbon-cutting ceremony carried out by representatives of the airport and the carrier: Commercial Director of Kraków Airport, Paweł Galiak as well as crew member of the inaugural flight, for passengers was waiting surprise prepared by Krakow Airport.
All departing passengers passed through a gate of balloons in the colours of the carrier-easyJet prepared specially for this occasion, were treated to a handmade chocolates.
Geneva Cointrin International Airport is located 4 km from the centre of Geneva. It is the second largest airport in Switzerland and is serving several million passengers per year. Geneva International Airport has the longest runway in Switzerland with a length of 3 900 meters. Northern boundary runs along the Swiss-French border,  which makes that access to the airport is possible from both countries.
Geneva is the second in terms of the number of inhabitants of the city in Switzerland. Is considered to be the most cosmopolitan city in Europe, almost half of the inhabitants of Geneva has a passport other than the Swiss. Have their headquarters here 22 international organizations (e.g., the European UN Headquarters, the WHO, the World Trade Organization, the International Red Cross and Red Crescent Movement, CERN) and more than 200 non-governmental organizations. Geneva is also capital watchmaking industry.