Full Article: Poll: Britain's EU divorce most likely to end with bilateral trade deal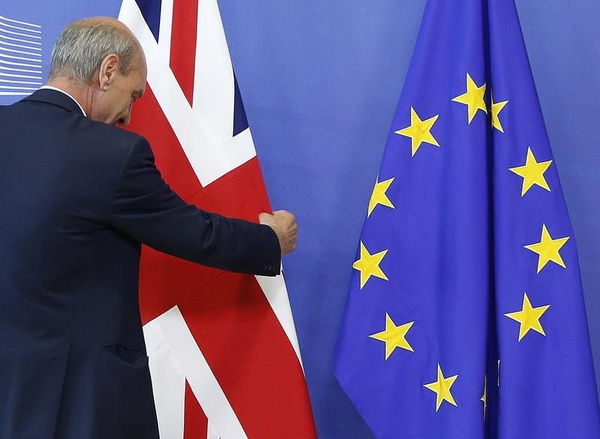 By Jonathan Cable
LONDON (Reuters) – Britain will most likely leave the European Union having signed a bilateral trade agreement, according to a Reuters poll of economists on Tuesday that also suggested there remains little chance of the country slipping into recession.
Since the June 23 decision to leave the EU, Britain's economy has performed much better than had been previously feared. The Bank of England is not expected to loosen monetary policy further in the foreseeable future.
Prime Minister Theresa May has said she intends to trigger Article 50, which begins the two-year countdown to Britain's formal departure from the EU, by the end of March. But so far there have been few clues as to what direction the divorce proceedings will take.
A bilateral agreement between the EU and Britain is the most likely outcome from the divorce, said most economists in the poll who answered an extra question ranking four possible outcomes in order of likelihood.
Some countries have negotiated deals with the EU to gain greater access to each others' markets for goods, eased customs duties and set rules on standards.
"We still don't have a lot of clarity over what they want to achieve. A series of bilateral deals would be some sort of half-way house," said Paul Hollingsworth at Capital Economics.
It was a close call between second and third place, but the second most probable outcome was a standalone World Trade Organization membership without any specific agreement. Trading based on WTO rules is seen by most economists as the option likely to weigh most heavily on Britain's growth prospects.
The third most likely option was membership of the European Economic Area which allows for free movement of goods and services with the EU. Members must pay a subscription fee and allow unrestricted migration.
There is continued speculation that May is leaning more towards a "hard Brexit" – giving up on trying to maintain access to the EU single market in favor of imposing controls on immigration.
"Clearly controlling migration is one of the key issues. Equally, I don't think they want to fall back on WTO rules only, given they have said they want to strike a pretty close relationship," Hollingsworth said.
None of the respondents thought Britain would be most likely to ignore the referendum result and remain a member of the EU, which was overall the least likely option. The same group recommended in an October poll that would be the ideal option for the long-term performance of the economy.
IMPORTING INFLATION
In the weeks after the referendum, the Bank of England cut Bank Rate to a new low of 0.25 percent and restarted its asset purchase program to support an economy that was expected to slip back into recession.
That recession hasn't happened. The median likelihood of one in the coming year was put at just 20 percent in the latest poll, and the BoE is not expected to change policy until 2019 at least – the end of the forecast horizon.
None of the 60 economists polled in the past few days expect the Bank to cut borrowing costs at its next policy-setting meeting on Dec. 15.
"The UK, like other advanced economies, might suffer in the event of a global financial crisis. Otherwise, the underlying resilience of the economy should keep it on a growth path," said Stephen Lewis at ADM Investor Services.
Still, growth will be modest and probably weaker than the BoE thinks, with the economy expanding 2.0 percent this year but just 1.1 percent next. In 2018 growth will be 1.4 percent. In a November poll the respective forecasts were 2.0, 1.1 and 1.5 percent.
For the first time in half a decade, Britain's economy is expected to expand slower than the euro zone's, which is predicted to grow 1.4 percent in 2017. [ECILT/EU]
After the referendum, sterling fell as much as 20 percent against the dollar but has recovered slightly to be down around 15 percent.
This has provided a boost to some exporters, but it is also likely to send inflation up, eating into consumers' available cash. Prices are expected to rise 2.4 percent next year and 2.6 percent in 2018, above the BoE's 2 percent target and unchanged from November predictions.
(Polling by Purnita Deb, Krishna Eluri and Khushboo Mittal; Editing by Ross Finley and Hugh Lawson)