EU's Mogherini starts talks in Tehran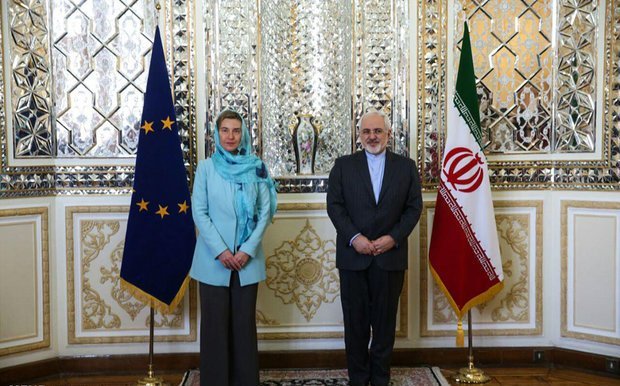 TEHRAN – European Union foreign policy chief Federica Mogherini who arrived in Tehran on Saturday at the head of a high-ranking delegation started her talks with top Iranian officials.
Mogherini is accompanied by seven EU commissioners.
Immediately after her arrival Mogherini started talks with Foreign Minister Mohammad Javad Zarif behind closed doors.
In addition to Zarif, Mogherini is scheduled to hold talks with President Hassan Rouhani, Parliament Speaker Ali Larijani, Secretary of Supreme National Security Council Ali Shamkhani, and Ali Akbar Velayati, the top aid to the Supreme Leader.
While Mogherini will be leaving Tehran today, the accompanying delegation will have a longer stay in Iran to exchange ideas with Iranian counterparts.
Following the signing of the JCPOA between Iran and the 5+1 group, the EU has taken a different tack towards Iran and has attempted to rebuild its cooperation with the energy heaven.
Media outlets have said a key issue will be the opening of EU permanent political office in Tehran.
Reportedly, the chief EU diplomat will also hold talks on the Syrian conflict with officials in Tehran.
According to EU Observer, the EU delegation visited Iran to reassure international banks on doing business with the Islamic Republic.
EU commissioners' talks with Iranian officials primarily focus on energy, trade and industry.
A senior EU official said on Wednesday that the sheer number of commissioners "is to give a coherent and unified message" of re-engagement.
The official said the trip was designed to "reassure everyone that re-engaging in Iran is possible".
She said international banks, whose services will be needed to underpin future foreign investment, have been reluctant to return to Iran due to legal and reputational concerns associated with the intricate web of EU and U.S. sanctions imposed in recent years.
"Thirty three [Iranian banks] have reconnected to Swift so far," the EU official said, referring to a Belgium-based firm which handles international wire transfers.
"Major banks have not been re-engaging [with Iran]; it takes time to rebuild trust and confidence."
The Belgian KBC bank, Germany's DZ bank and Austria's Erste Group are among the international financiers that have resumed ties. But prior to the detente, U.S. regulators had fined French bank BNP Paribas $9 billion for sanctions-busting.
The EU official added that "Iran wants to join the WTO [World Trade Organization] and we are willing to play a supporting role".