Creighton: Ireland isn't prepared to take advantage of companies leaving the UK
Image: Laura Hutton/RollingNews.ie
IRELAND IS NOT prepared to take advantage of financial services companies that may be looking to leave the UK in the wake of the Brexit vote.
That is according to former minister of state for European affairs Lucinda Creighton, who also said that a 'hard Brexit', which would likely see the UK lose some of its access to the EU single market, would mean big trouble for businesses trading with the nation.
After the UK's vote to leave the EU put its 'passporting' arrangement in doubt, Dublin was touted as one of the cities that could benefit from a flight of financial services companies from the city of London.
As free movement of people and services across member states is one of the rights guaranteed to EU countries, financial services companies in London were allowed to trade freely with other cities in the EU.
However, the recently appointed UK Prime Minister Theresa May has previously signaled that she is likely to take a tough stance on the free movement of people, which also puts the free movement of financial services in doubt.
Ill prepared
Speaking at the EXIM summit on global trade in Dublin this week, Creighton said that Ireland is not properly prepared for a Brexit.
"(Ireland is) ill prepared to capitalise on opportunities from Brexit. I think this is a huge, huge issue," she said.
I would take financial services as one example. If you look at the financial service sector the big issue is passporting. If the UK leaves the single market then they won't have automatic access to other EU member states.
"Companies who are looking at alternatives, Frankfurt, Amsterdam, Paris and Dublin will be looking for a smooth easy quick transition."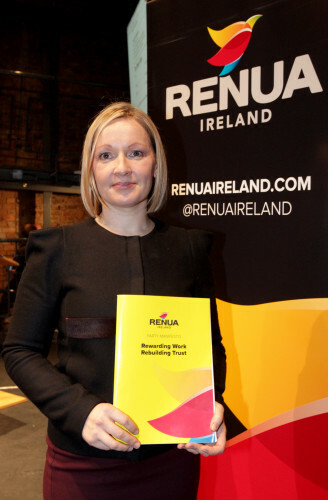 Creighton founded the Renua political party Source: Mark Stedman/RollingNews.ie
She added: "The difficulty is that we are very slow in licensing in this country at the moment, we have a huge glut in the system, if you go to Luxembourg you can get a license for a passport for a financial services company in approximately 10, 12 weeks, it takes a lot longer than that here.
"That is a big challenge that has to be addressed by the Central Bank and the government."
Tariffs
Creighton, a Fine Gael TD before she left to found her own party, Renua, recently paired up with multinational public relations company Fipra as head of its Brexit team after losing her a Dáil seat in the February election.
She also recently set up her own company, Vulcan consulting, which offers advice to businesses on domestic and EU regulation, and said that several of her clients are worried about the possible introduction of tariffs between the UK and the EU.
I'm working with one client at the moment, a huge global company, and they have already calculated that if tariffs are introduced, if the UK leaves the (EU) single market and goes into the WTO (World Trade Organisation) trading system, it will cost that company a quarter of a billion euro a year.
Addressing a conference room in Croke Park she said: "I don't know if there are many companies in the room that might be impacted quite to that degree, but it is very significant and it is going to have a huge impact on business, both in the UK and those trading with the UK.
"I would encourage companies to engage with the Irish government, to make sure you have those conversations with key ministers (and) TDs because they need to be aware of the threats."
Written by Paul O'Donoghue and posted on Fora.ie