Conference puts spotlight on Geographical Indications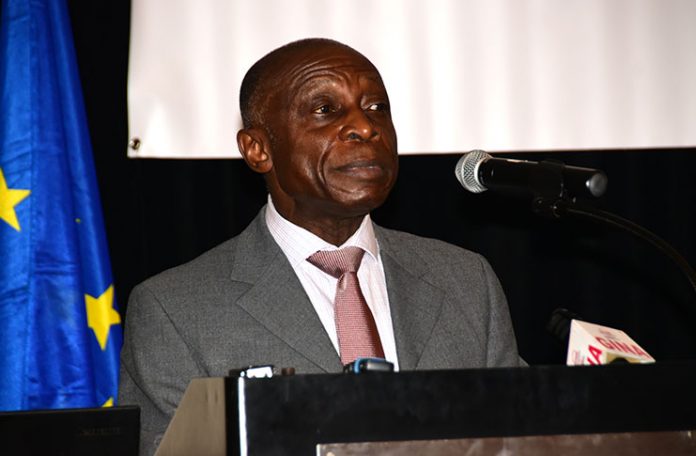 Minister of Foreign Affairs, Carl Greenidge, addressing the workshop on Thursday
MINISTER of Foreign Affairs Carl Greenidge has contended that Geographical Indications (GI) protection for Guyana's products and the smooth and gradual integration of these products into the regional and global economies is imperative for national development.
A section of the gathering at the GI workshop and conference on Thursday
He expressed the view at the opening of a two-day Geographical Indications workshop and conference on Thursday at the Marriott Hotel, Georgetown.
The conference brought together a wide cross-section of local, regional and international experts on intellectual property, with a focus on Geographical Indications.
According to the foreign affairs minister, many studies show "that the price that can be obtained from a well-known GI traditional product could easily be doubled that of a comparable product that doesn't enjoy the same feature."
The GI feature, he said, represents an important aspect of trade, rural development, protection of know-how and tradition, as well as product promotion and tourism.
"It has even become an important feature of bilateral trade agreements… and this can be an important feature for the development of our tourism industry as well as the development of high-quality food traceability system which is becoming increasingly very important," the minister said.
Policy-makers, he said, also have a role to play in promoting Geographical Indications.
"GI status alone will not automatically give increased demand or the penetration of external market protection. Without effective marketing, it will not increase sales and export," the Foreign Affairs Minister emphasised.
Guyana already has passed GI legislation in 2005 and implementing regulations were subsequently passed in 2008.
These provided details for the Act, which includes procedures and requirements of products as GI.
"Guyana's legislation is largely compliant with the World Trade Organisation (WTO) agreement and is similar in many respects to the legislation of those other CARICOM states that have such legislation," Greenidge said.
Lead Legal Expert, Bernard O'Connor, said the workshop aims to enhance market access and promote certification for quality products in Guyana.
"Over the last week or so, three applications have been submitted to the Commercial Register for the registration of Geographical Indicators in Guyana," he said.
O'Connor noted that Guyana's law permits for GI protection without registration, although record-keeping allows the indicator to benefit from a range of advantages.
According to the legal consultant, rice is the "most obvious and the biggest" product that can benefit from GI registration.
CARICOM Assistant Secretary-General for Trade and Economic Integration (TEI) Joseph Cox, explained that GIs are products associated with quality, allows producers to obtain market recognition and a premium price for their goods, facilitate trade and improve the economy.
The overall objective of the GI project is to promote sustainable development in Guyana and the Caribbean and reinforce and promote local quality products and the smooth and gradual integration of these products into the regional and global economy.
Also present at the conference were Indigenous Peoples' Affairs Minister Sydney Allicock, European Union Delegation First Secretary Adam Wisniewski, Demerara Distillers Limited Managing Director Komal Samaroo, and GuySuCo Chief Executive Officer Errol Hanoman, among others.