China doesn't want trade war with Europe, says premier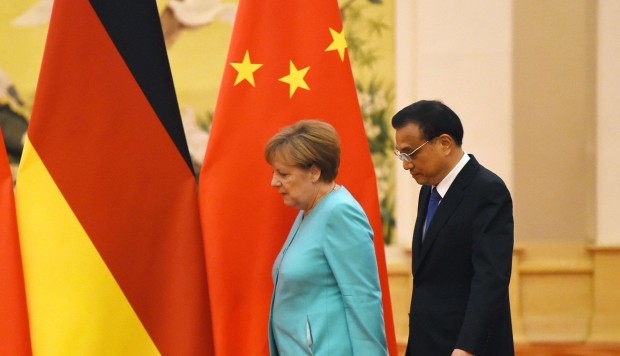 China does not want a trade war with Europe, Premier Li Keqiang said on Monday at a news briefing with German Chancellor Angela Merkel, who called for more talks with Beijing on its market economy status under the World Trade Organisation.
Beijing sees Germany, China's largest trading partner in the European Union, as influential in the 28-member bloc's debate on the politically sensitive issue of its market economy status.
China agreed when it signed up to the World Trade Organisation in 2001 that some countries could use often advantageous third-market comparisons when determining if Chinese imports were being sold at cut prices.
China's overcapacity problems complicate EU vote on market economy status: business group
That provision is set to expire automatically in December, but anger persists over Beijing undercutting foreign industries with its heavily subsidised goods, particularly with massive overcapacity in Chinese sectors such as steel.
China is adamant that countries must abide by the deal struck 15 years ago, but reluctance in Europe to give up a method to defend against cheap Chinese imports has set up a looming dispute at the WTO and the prospect of broader trade friction.
"China has already fulfilled its obligations on joining the WTO. What's needed now is for the other parties to fulfil the matching obligations they had promised," Li said.
"We don't want to fight a trade war because this will benefit nobody," he said.
Merkel, who on Sunday began her ninth trip to China since taking office, said the two sides should avoid an emotional debate on the issue.
She said during a trip to China last year Germany favoured granting China market economy status in principle, but that Beijing still had work to do, including further opening its public procurement markets.
'Difficult to predict': German ambassador on China's bid for market economy status with EU
European commissioners are expected to debate the issue in late June or July, at a time of heightened trade tension after global rivals accused China of dumping cheap steel exports after a slowdown in demand at home.
Li said trade protection measures would not help resolve the problem and that low-end steel was not something China wanted to produce or sell and was committed to phasing it out.
Merkel has stressed the need for a level playing field for foreign firms amid growing pressure from industry to confront the Chinese more forcefully.
Germany is open to foreign investment and expects the same from China, she said.
Dumping at heart of Chinese trade stand off
China has repeatedly pledged to increase market access for foreign firms and carry out market reforms in its effort to revamp its slowing economy. Foreign critics however accuse it of not following through on its reform agenda and introducing new regulations that are restricting market access even further.
Li reiterated China's intention to open up to more foreign investment.
"The facts prove that China's market is open. We will be even more open. We will take even more steps based on the principles of treating everyone equally, fairness and transparency," he said.