The government has a less than 50% chance of securing an orderly exit from the European Union within two years and will potentially have to accept a phased departure lasting much longer, prompting "a decade of uncertainty", Lord Kerr, Britain's most experienced EU negotiator, has said.
Now a crossbench peer, Kerr said parliament, including himself, would "not have the guts" to vote down any government bill triggering article 50, the start point for the two-year EU negotiations.
At most, he said, parliament would add conditions such as requiring ministers to set out their negotiating objectives in a green paper and report back regularly on the progress of the talks.
Kerr was the Foreign Office permanent secretary from 1997 to 2002, UK representative to the EU from 1990 to 1995 and was credited with drafting article 50.
Predicting a crunch point in the UK-EU talks of autumn 2018, he said the government was likely to table proposals next spring saying that would be immediately rejected, leading to "an extremely nasty bout of xenophobia in the Daily Mail and Sun in the summer, far worse than the recent attacks on the judges as enemies of the people".
He said that if the UK fell out of the EU without an agreement – the so-called cliff edge – "the result would be a disaster, a bonanza time for lawyers, emergency session of parliament, a huge amount of the British statute book collapses if the 1972 European Communities Act agreement that took us in and our adherence to the EU treaties is abrogated. It means massive uncertainty for economic operators."
In a frank speech at the London School of Economics, he said there was a growing chance that the UK and EU heads of state would not reach an agreement. Kerr claimed "the fog in the channel is getting thicker all the time", adding even if an agreement was reached by spring 2019 there was a chance "a demob happy European parliament" in its final months before elections in 2019 would refuse to ratify the deal. He put the chances of a deal within two years as now lower than 50%.
Kerr challenged those who claimed an interim deal would be easier to negotiate, saying that would still require an agreement on the long-term destination. In the past week, it was reported that Mark Carney, the Bank of England governor, the chancellor, Philip Hammond, and the Irish prime minister, Enda Kenny, all backed versions of an interim deal.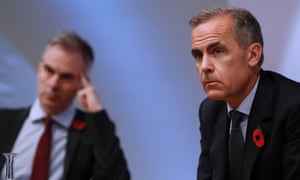 Kerr said: "In my view as an ex-negotiator, interim agreements are only feasible when you have a permanent agreement. The interim agreement covers a gap before the permanent agreement comes into force and while the ratification process takes place.
"No one concedes something in an interim agreement that they would not be prepared to concede for a permanent agreement … In a transition or a bridge, you have to know where you are going, and have a second pillar on the other side of the river, and that is just as hard to negotiate."
Kerr said the supreme court case about parliament's right to trigger article 50 was, in practical terms, a sideshow. "The number of us in parliament who will have the guts to vote against triggering article 50 is very very small. There is Ken Clarke and there is probably someone else.," he said.
"It is quite difficult when the people have just spoken for us to say: 'OK people you voted, you got it wrong, we are not going to pay any attention.' It is very difficult, and impossible in the House of Lords. We are not democratic at all. I have never been elected."
He said he agreed with Keir Starmer, the Labour Brexit spokesman, that a parliamentary vote to block article 50 would lead to a constitutional crisis, an early election and a defeat for the Labour party.
He said the negotiations to leave were becoming more difficult, adding: "One of the things that worries me is the fog in the channel is getting thicker all the time.How do we look from across the channel at moment? We look incoherent. They cannot believe there was not a plan and five months on, there is still no plan. They note the xenophobia – the attacks on foreigners, the sense that the climate in Britain is changing.
"I don't know how true that it is, but it is what people believe. They were shocked by the speeches at the Birmingham Conservative conference.
"Boris Johnson's sense of humour does not travel well across the continent. But Mrs May's absolute rejection of any role for the European court of justice in Britain was the single most damaging issue. Most people in Brussels think that rules out anything but a hard Brexit because, 'how can you play if you will not accept the referee's decision?'"
He said he feared that the UK ministers were operating in an echo chamber and plotting its negotiating stance "without sending out scouts over the hill to find what the enemy were up to".
But he insisted if May made a broad statement soon setting out her willingness to cooperate on foreign policy defence and security, she could change the mood in the EU. He insisted there was a deal to be negotiated on free movement. "Most people in Brussels think there is a doable deal on free movement of persons that they would pretend to dislike intensely and, under the table, quite a few people would be clapping their hands," he said.
Kerr said an association agreement with the EU, similar to the one negotiated with Ukraine, was the best option. He said a phased agreement was possible with different timetables for different events, but warned a deal in which the UK tried to stay inside the customs union for specific sectors was likely to be ruled illegal by the World Trade Organisation. New trade deals would take as long as seven years to negotiate once the UK had left the EU, he said.
"We need to remember that we are not top of the agenda for many people in Europe," said Kerr. "That does not mean they are not prepared to go the extra mile, but we need to take account of things that concern them and not to advance our arguments in terms of British exceptionalism, which is what we are doing now."
Sketching out a slim prospect that the UK could eventually remain in the EU, Kerr said: "It is not inconceivable by 2019 the economic effects of act of self-harm will start to become clear and we might think we may be better off to stay in. We would know by then what sort of treaty could be agreed with the 27 other EU member states, and, I promise you this, it will not be as described by Boris Johnson – that you can have your cake and eat it."
"The British public might think 'we were misled – inflation is rising, unemployment is rising, inward investment has slowed to a trickle – maybe this is all great mistake'". He said he was clear as author of article 50 that if the UK "came to its senses", it could withdraw its notice to leave the EU.
But he said he could not see the political circumstance in which this could occur since any election would focus on Corbyn who he did not believe could win. He said: "The nation will not vote for Mr Corbyn as PM and the arguments about European policy would be lost in the woods."
Kerr, who acts as a legal expert advising the Scottish National party on EU relations, said he did not see any prospect of the SNP trying to trigger a second referendum on Scottish independence.
"I think the SNP is not planning on an early referendum on independence," he said. "If there was an independence referendum now I believe the SNP would lose because the economic numbers have moved badly against Scotland … it would be lost 60-40."