BUSINESS IN BRIEF 30/3
Housing credit support package comes to an end
With all capital now exhausted, the VND30 trillion ($1.34 billion) housing credit support package has come to an end, according to the State Bank of Vietnam (SBV).
From March 31 commercial banks will not be permitted to grant new credit from the package.
The amount of credit expended from the package as at February 29 was more than VND29.65 trillion ($1.32 billion), to some of 45,000 borrowers, with over VND20.9 trillion ($939.18 million) disbursed.
The housing credit support package was introduced in mid-2013 and targeted low-income customers, increasing supply and demand of low-cost housing, and improving market liquidity, as the real estate sector was recovering from the crisis that struck in 2011. In the three years since its introduction the package was amended many times in regard to targeted borrowers and interest rates, etc., to hasten disbursement.
SCG joins Thai Village
Thai conglomerate SCG participated in Thai Village, an exhibition for Thai enterprises in Vietnam to promote their brands, at 23/9 Park in Ho Chi Minh City from March 25 to 27 to celebrate the 40th anniversary of Vietnam – Thailand relations.
Mr. Piyapong Jriyasetapong, General Director of TPC Vina Plastic and Chemicals, a SCG subsidiary in Vietnam, said he wanted to express his and his company's thanks for the wonderful support received in Vietnam and hoped to welcome more Thai enterprises to the country.
The company also committed to contributing more to Vietnam, he added, and enhancing cooperation among regional countries.
Binh Duong racks up over 1.2 billion USD in trade surplus
The southern province of Binh Duong enjoyed a trade surplus of more than 1.2 billion USD in the first quarter, with export turnover of over 5.6 billion USD and import value of nearly 4.4 billion USD.
Outstanding exports were recorded in wood furniture (up 9.7 percent), garments (9.1 percent), footwear (13 percent) and electronic products (11.9 percent).
The foreign direct investment (FDI) sector accounted for 79 percent of the total export turnover, up 17.8 percent from the same period last year.
Efficient measures promoting trade and investment have been taken by the province with a view to enlarging domestic and international markets. Those include signing cooperation agreements with enterprises in the Netherlands' Emmen and Hoovegeen cities.
Along with providing prompt external services for businesses investing in the locality, the province has paid attention to enhancing cooperation relations with other provinces and foreign partners.
Last year, the province licensed 176 new FDI projects worth 966 million USD and 734 million USD was added to 113 operational projects.
Binh Duong is now home to 26 industrial parks, covering a total area of 8,800 hectares. The average occupancy rate is 65 percent.
It plans to lure 1.4 billion USD in FDI in 2016. It vowed to continue to improve the local business climate and provincial Competitiveness Index by adding further support to investors, stepping up administrative reforms and ensuring social welfare.
Vietnam Forest Corporate to launch IPO in April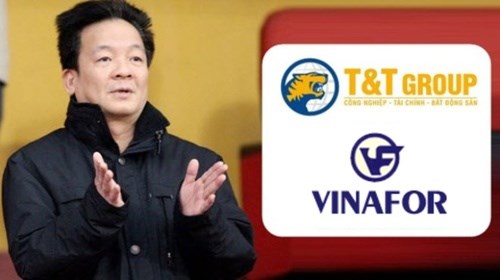 Vinafor selects T&T Group as its strategic shareholder under the equitisation plan. (Photo: cafef.vn)
The Vietnam Forest Corporate (Vinafor) will offer 24.5 million shares or a 7-percent stake at an initial public offering on April 21.
The state-owned corporation, which is based in Hanoi, has also chosen multi-industry investment firm T&T Group as a strategic shareholder. The shares will be auctioned on the Hanoi Stock Exchange at a starting price of 10,100 VND (0.45 USD) each.
After equitisation, Vinafor will have charter capital of 3.5 trillion VND, corresponding to 350 million shares. The state still holds a 51 percent stake, while IPO investors have seven percent and staff employees have two percent.
Established in 1995 following the merger of 10 state-owned corporations, Vinafor is involved in planting, forest protection and forest product processing in the country. It is also involved in office leasing services. In 2015, its sales reached 1.2 trillion VND, an increase of 15 percent over 2014. It also reported after-tax profit of 159 billion VND.
After equitisation, Vinafor has only 14 subordinate units, 13 subsidiaries and 29 associated companies.
It carries out its business in 12 cities and provinces with a land fund of 43,450ha, including good business locations in Hanoi, HCM City, Hai Phong and Binh Dinh Province.
Vinafor has been constructing high-rise apartments in the capital's Ha Dong district and an office building in Quy Nhon City in Binh Dinh province. The two constructions will be completed in 2016 and 2017.
Vinafor earned 179 billion VND in dividend in 2015 from its subsidiaries and associated companies.
Yamaha Motor Vietnam was founded in 1998 as a joint venture of Vinafor, with a 30 percent stake, Yamaha Motor Japan and Hong Leong Malaysia. This investment is worth 1.12 trillion VND now.
As one of the major motorbike distributors in Vietnam, Yamaha Motor Vietnam has achieved good business results. It reportedly earned 18.5 trillion VND in revenue and after-tax profit of 648 billion VND in 2014.
At the end of 2015, while determining the enterprise's valuation for equitisation, Vinafor valued its stake in Yamaha of 916 billion VND. This investment alone accounted for one-fourth of the total value of Vinafor. The value was only based on the book value, actual valuation of the 30 percent stake in Yamaha would undoubtedly be much higher, according to securities expert.
Int'l mining exhibition opens in Hanoi
The third international mining and minerals recovery exhibition (Mining Vietnam 2016) commenced in Hanoi on March 29.
Deputy Director of the Vietnam Chamber of Commerce and Industry (VCCI) Exhibition Service Co., Ltd – the organiser – Tran Viet Dung described the event as the biggest of its kind with the engagement of 171 businesses from 22 countries around the world.
On display are equipment, machinery and technologies serving mining activities.
The exhibition creates an excellent opportunity for businesses to educate themselves on the latest trends in increasing productivity and competitiveness in the field, which is poised for both expected opportunities and challenges in the light of deep-and-wide international integration.
Deputy Chief of the Singapore Exhibition Services' representative office in Vietnam BT Tee said Vietnam is one of a few countries to be able to maintain an annual economic growth of 6 percent, which fuels demand for energy usage – a factor to create a stable mining industry.
He said he hopes the display of new cutting-edge machines and equipment serving the coal mining industry in particular and the construction industry in general will help businesses forge closer ties.
The mining industry has been playing a crucial role in Vietnam 's economy through the supply of material, coal, and metal for numerous manufacturing sectors such as thermal power, cement, chemistry and metallurgy.
In 2015, the sector produced around 40,000 tonnes of coal, 109,000 tonnes of iron ore and hundreds of thousands of tonnes of bronze and tin ore.
The exhibition, which will run until March 31, also includes a workshop on enhancing safety measures in the mining process in Vietnam through technological innovation and another on the application of non-traditional technology in mining for increasing productivity and sustainable development.
Vietnam, Laos step up investment ties
Deputy Prime Minister Nguyen Xuan Phuc called on Vietnam and Laos to roll out mechanisms and policies to support investors in each country.
The official made the appeal while co-chairing the second Vietnam-Laos investment cooperation conference that opened in the central city of Da Nang on March 27.
The two countries should focus on implementing their bilateral agreement for 2016-2020, accelerating transport connectivity and hastening the implementation of the one-door mechanism.
Businesses, for their part, need to speed up the progress of licenced projects and observe local laws, the official stressed.
Vietnamese businesses should consider investing in the neighbouring country and building strategic projects, he added.
Echoing Phuc's views, Lao Deputy Prime Minister Somsavad Lengsavath urged the two sides to complete their administrative reforms and outline bilateral cooperation mechanisms.
The two countries need to hold a joint Cabinet meeting after the annual meeting of the two Politburos in order to realise their agreed-upon goals, he said.
He suggested Vietnamese businesses coordinate with Lao authorities to invest in projects in the spheres of health care, education-training, agriculture and tourism.
This year's conference devoted a lot of time to charting cooperation orientations for the two sides and discussing the Lao Government's preferential policies for Vietnamese investors.
The event offered an opportunity for Vietnamese businesses and investors to access new projects in Laos and promote the two sides' collaboration in other fields like tourism and transport.
Within the framework of the conference, Vietnamese and Lao agencies and businesses engaged in seminars that introduced Laos' needs and investment attraction plan for the next five years.
Vietnamese investors have, so far, poured 4.9 billion USD in the neighbouring country, helping create jobs for about 40,000 Lao labourers.
Laos ranks first among 68 countries and territories Vietnam has invested in, while Vietnam is placed second among countries investing in Laos.-
Conference "Vietnam- a new Asian dragon" opens in France
More than 250 Vietnamese and French businesses gathered at a conference called "Vietnam, a new Asian dragon" and a series of round-table seminars in France on March 25 to discuss economic cooperation between the two countries.
The event, the first large-scale business conference on Vietnam held at the French Senate, was co-organised by the Vietnamese Ministry of Industry and Trade, the Vietnamese Embassy in France, the Senate of France and the French agency for trade and investment promotion (Business France).
Speaking at the event, Minister of Industry and Trade Vu Huy Hoang asserted that Vietnam is considered one of the most dynamic economies in Southeast Asia, with an active open-door policy amid its international integration process.
The minister said France is among Vietnam's top business, economy and investment partners in the EU. Bolstering cooperation in all areas between the two will have a significant influence on relations between Vietnam and the EU.
He added that the French President's visit to Vietnam scheduled for this year will be a good opportunity to cement bilateral relations between the two nations.
According to Henri Baissas, General Director of Business France, about 2,000 French firms export goods to Vietnam. The Southeast Asian country might become a major trading partner of France, as Vietnam has a bright economic overview, promising fruitful cooperation.
Vietnamese businesses introduced their major export products, particularly farm produce such as rice, tea, coffee and cashew nut. French enterprises presented their technology and potential in the fields of infrastructural development, transport, renewable energy and pharmaceutical chemistry.
At the event, Vietnam's Trade Promotion Agency and Business France signed an agreement to help the two sides' enterprises intensify commercial exchange and investment in both countries.
Int'l forum stresses VN investment
Limitations in growth model reforms, inadequate policies towards businesses and loose connectivity between domestic and foreign enterprises are among the causes eroding the attractiveness of VN's investment climate.
These were among the problems to be overcome, according to the Head of the Party Central Committee's Economic Commission, Vuong Ðình Huy, speaking at an international workshop last Saturday.
It is necessary to assess Viet Nam's competitive edge in comparison with global competitiveness, and devise solutions to raise the national index, Hu? added.
Also, the country should evaluate the competitive edge of local businesses, as well as their products, against a national backdrop, he added.
Huy suggested Vietnam create solutions and institutions to attract the world's venture capital funds to support startups, especially small to medium-sized private enterprises (SMEs), explaining that apart from opportunities, the startups are expected to face many risks.
At the same time, the country should put in place specific solutions to help local firms better connect with foreign direct investment (FDI) partners and take part in the global value chain, he said.
Other delegates at the workshop emphasised the need for Viêt Nam to bring into full play the many opportunities afforded by the Trans-Pacific Partnership (TPP) agreement, to which the country is a member.
Administrative reforms will result in new waves of investments and startups, said Vu Tien Loc, Chairman of the VN Chamber of Commerce and Industry.
He proposed the Government create an optimal and equal institutional environment, in tandem with rolling out measures and policies in support of SMEs. Businesses themselves should then operate within the favourable environment created, he added.
World Bank Country Director to Vietnam, Victoria Kwakwa, said red tape in procedures, excessive bureaucracy and corruption were at the roots of a sluggish economy.
A transparent banking system and well-regulated financial market are necessary for institutional streamlining and infrastructure development, which can ensure economic growth, she added.
The World Bank official also suggested Viêt Nam develop more skillful labourers who can easily adapt to economic changes.
Vietnam's chocolate sector looks to go premium
Vietnam's cocoa sector should aim its sights at the premium chocolate market, the director of the Internatioanl Cocoa Organisation's (ICCO) economics and statistics division has urged.
Speaking at the second Cocoa Revolution conference held in HCM City yesterday, Laurent Pipitone said that an ICCO panel of experts on Fine Flavour Cocoa recommended that Vietnam's cocoa production be considered as having a fine flavor cocoa origin.
There is a huge price differences between fine flavor cocoa and ordinary cocoa. While ordinary cocoa is priced between USD2,800 and USD3,300  per metric tone, the fine flavor cocoa niche can fetch up to USD5,000 per metric tonne, with high-grade cocoa commanding prices of up to USD12,000 per metric tonne.
Demand for dark chocolate and fine flavor cocoa has risen dramatically, especially in Europe and the US, he said.
The direction now for Vietnam is the focus on the quality for the premium chocolate market, he said.
"You need to develop the volume of quality cocoa to have a bigger market share, which requires more investment to create larger cocoa estates," Pipitone said.
Gricha Safarian, managing director of Puratos Grand-Place Vietnam, said the company had focused on improving quality as well as post-harvesting and fermentation over the last five years.
In 2013, the company received an award for the best cocoa in the Asia Pacific region in Paris for the cocoa beans grown in Ben Tre, the southern province of Vietnam. Beans are expected to be classified as fine flavor cocoa by the ICCO, according to Safarian.
"We are the only chocolate company worldwide doing its own fermentation. Most companies buy fermented beans from farmers, " Safarian said. "That's why we have control of the fruity aroma in the Vietnamese bean."
The opening of a fermentation plant was one of the last steps taken to achive full vertical integration from cocoa beans to chocolate bars, he said.
Asked about the sustainability of the sector, Safarian said:"I think we need to combine the actiob of the private sector and the Government, taking into account the interest of all stakeholders, including farmers, the industry and the Government. We'd like more land allocation for cocoa. On our side, we're working hard to improve farmers' income through higher yields and prices."
The cocoa industry has had support from the private sector, including form the Ditch government-funded PPP (public-private-partnership) project for sustainable Cocoa in Vietnam, which aligns public efforts with those by Mars, Puratos Grand-Palace , the Ministry of Agriculture and Rural Development, IDH and HELVETAS.
Phan Huy Thong, director of the National Agriculture Extension Centre and Head of the Vietnam Cocoa Committee, said the cocoa sector had not had stable development in the past decade, despite encouraging results.
The country has 11,200 hectares under cocoa cultivation, with productivity remaining low at an average of 0.85 tonnes of dry bean per hectare because of plant density, improper shade management, and lack of investment in fertilisers and pest control.
The Government has taken steps to improve infrastructure, expand training and strengthen linkages between stakeholders in the value chain.
This year, the ICCO expects a supply deficit for beans, which would offer cocoa-growing countries opportunities.
With nearly 50,000 hectares of coconut and fruit trees in the Mekong Delta, and about 100,000 hectares of cashew nut trees in the southeast and Highlands regions, there is huge potential to expand cocoa cultivation in Vietnam, Thong said./.
Central city to invest $133 million for Lien Chieu port
Da Nang plans to turn Lien Chieu Port into a major cargo port in the central region and the East-West Economic Corridor No 2 connecting Thailand, Myanmar, Laos and Việt Nam with total investment of VNĐ3 trillion (US$133.3 million).
Lien Chieu port, which currently handles 50,000 deadweight tonnage (DWT) container ships, will be built to allow access to 100,000-tonne ships and cargo ship with loading capacity of 8,000 twenty-foot equivalent unit (TEUs).
Vice chairman of the central city's Nguyễn Ngọc Tuấn said the construction of the Liên Chiểu port will ease congestion at the overloaded Tiên Sa Port.
Tuấn also asked Ministry of Transport to start construction of the port in 2020 for operation in 2025 when Tiên Sa Port reaches its capacity of handling 11 million tonnes of cargo.
He said the deep-sea Liên Chiểu port is eligible for connection with railway and road systems from the East-West Economic Corridor No 2 (EWEC2).
Tuấn said Tiên Sa Port, which serves both cargo and cruise ships, will gradually be cruise port with an anticipated capacity of 250,000 tourists in 2030.
According to the ministry of transport, Tiên Sa port is designed for hosting 50,000 DWT container ships and 225,000 Gross Tonneage (GRT) cruise ships.
The central city also plans to upgrade Sơn Trà Port for 20,000DWT ships and build up an Inland Container Deport (ICD) to support ports in Đà Nẵng and Chân Mây port in neighbouring Thừa Thiên-Huế province.
A survey from the ministry of transport revealed that Đà Nẵng, which is situated at the end of EWEC, would handle 29 million tonnes of cargo by 2030.   
The central city's port system including Tiên Sa, Liên Chiểu and Sơn Trà has been planned as the biggest integrated port among six seaports in Việt Nam (Quảng Bình, Quảng Trị, Thừa Thiên-Huế, Kỳ Hà, Dung Quất and Đà Nẵng).
Last year, Đà Nẵng's ports handled a record 6.5 million tonnes of cargo, and hosted nearly 120,000 tourists disembarking from cruises.
According to Việt Nam's seaport system development plan to 2020, Đà Nẵng Port has been confirmed as a major commercial port in the region, making it one of the key gateways to the East Sea from the sub-Mekong region.
Power plant construction begins after 5-year delay
Construction of the Hải Dương-Việt Nam thermo power plant officially kicked off yesterday in Hải Dương Province's Phúc Thành Commune after a five-year delay.
The power plant will have two 600MW-steam turbines run by JAKS Hải Dương Power Company Ltd under the Malaysia-based JAKS Resources Berhad Group and the China Power Engineering Consulting Group. It has a total capital investment of US$1.86 billion.
According to an agreement signed in July last year, the Hải Dương power plant, built under the Build-Operate-Transfer model, will be handed to the Vietnamese government after 25 years of operation.
The first turbine is expected to start running in December 2019 while the second turbine is slated for June the following year.
The thermo power plant, covering an area of more than 300ha spread over Phúc Thành, Quang Trung and Lê Ninh communes in Kinh Môn District, was approved by the Vietnamese government in August 2011.
Yet the failure of joint venture co-operative agreements between the investor, JAKS, and Malaysian companies Island Circle Investment Holding Ltd and Sanjung Merpati Sdn Bhd, as well as China-based energy firms Wuhan Kaidi Electric Power Engineering Co and Meiya Power Ltd, left the project up in the air for nearly five years.
The power plant marked the first project by JAKS group in Việt Nam's power generation industry.
Bus system may fail to reach target of 1 million passengers a day
HCM City authorities say that it may be difficult to reach the goal of 1 million bus passengers a day by 2020, the target set by the city in its master plan.  
At a meeting on public transport held in the city recently, the municipal Transport Department said that the number of passengers had declined because of bus quality and poor management.  
Also contributing to the drop in passengers is the higher traffic density, which has increased the length of time of certain routes, and poor service quality.
The limited area for buses at stations and the lack of a metro or bus rapid transit (BRT) system with convenient connections have also driven away passengers.
Delegates at the meeting asked the city's Transport Department to review state subsidies for transport companies and adjust the subsidy level if needed.
The department was also encouraged to develop a policy to encourage companies to invest in new buses and rearrange taxi activities.
"Smart bus tickets and direct subsidies for students should be deployed soon," Huỳnh Công Hùng, standing member of the city People's Council, was quoted as saying on a Government website.
Smart bus tickets will also be used for other public transport means like the metro and BRT, and would be launched by the end of the year.
"Only 12.7 per cent of the city's area is for bus routes and stations. That would be difficult to adjust," Bùi Xuân Cường, director of Transport Department, said.
He also pointed out that the quality of service and management would increase if information technology was applied. But huge expenditures would be needed.
The deputy chairman of HCM City People's Committee, Lê Văn Khoa, said the bus system must become more competitive by improving quality, encouraging more private enterprises by offering incentive policies and restructuring transport companies.
"Subsidies for the bus system are necessary because the buses play a very important role in reducing congestion. But efficiency is needed," Nguyễn Thị Quyết Tâm, chairwoman of the municipal People's Council, said.
"If we have good policies and create profits, private investors will help solve our challenges in reaching the goal of 1 million passengers a day by 2020," she added.
Vinamilk's opens 7th Global GAP-standard dairy farm
The Viet Nam Dairy Products Joint Stock Company (Vinamilk) has opened its seventh Global GAP (Good Agriculture Practice) certified diary farm in the northern province of Ha Tinh.
The VND300 billion (US$13.34 MILLION) farm has 3,000 dairy cows.
It is equipped with "leading technology applications" from Sweden that ensure an ideal living environment for the cows.
It is the first in Viet Nam to import high-yield cows from the US that reportedly produce 20 per cent more milk than other breeds.
Vinamilk's farms and its contracted farmers have an estimated 120,000 cows that provide 750 tonnes of milk a day.
The company is set to open two more farms in Thanh Hoa and Tay Ninh provinces with 8,000 and 16,000 cows by year-end.
It aims at increase its herd to 200,000 by 2020, when it will produce 1,800 tonnes of milk annually.
Free parking lot a lure for buying apartment in The Sun Avenue
Property experts predict that the market in trading parking lots in apartment buildings will become red hot as a new circular issued by the Ministry of Construction on managing and using apartment buildings comes into effect on April 2.
In fact, the market has existed in some apartment buildings for a long time with costs ranging from hundreds of millions to billions of đồng. This has however been prevalent mostly in apartments in the centre of HCM City.
Though it costs a lot of money to have a steady long-term parking slot in an apartment building, most people prefer to buying rather than hire.
Xuan Truong of HCM City had once bought an apartment without a parking lot due to the high cost. But his thinking has now changed after seeing the increasing demand for living in apartments in the city's central parts.
"Many people now like to live in an apartment in the central areas of the city. The number of people owning a car has also increased. But there is limited parking space in each apartment building. If there is no parking lot, it is not convenient."
Wary of the issue, many people now prefer to buy apartments in high-quality projects where parking lots are available.
Buying apartment, getting free space for car
Seeing the demand, Novaland Group has announced an attractive promotion for its The Sun Avenue in District 2, HCM City: customers buying a three-bedroom apartment will get a free car parking slot.
This is the first time that Novaland is offering this promotion, which it believes will encourage people to further invest in housing in the eastern part of HCM City.
Customers buying two-bedroom apartment will get a free kitchen upgrade and a VND90 million smart home package.
All buyers will get a VND36 million discount plus a discount of 10 per cent for paying in a small number of instalments.
The promotions are limited, Novaland said.
The Sun Avenue, since the day it was introduced in the market, has been an attractive project not only because of the developer's promotions but also its good location and design.
The project fronts a 500 metre stretch on Mai Chi Tho Boulevard in District 2, which connect the east and the west of the city. In addition, it is opposite to the station of Metro Line No2.
From The Sun Avenue, it is only five minutes to the Thu Thiem New Urban Area and 10 minutes to District 1. Furthermore, when the Long Thanh International Airport opens, it will be only 15 minutes away.
With its strategic location and range of facilities, property-market insiders predict that investors can earn a profit of 8-45 per cent from it.
Many customers have chosen The Sun Avenue for their home and office thanks to its sprawl of 2,000sq.m, which is expected to become a busy food and shopping hub of the city. The shops here will serve 5,000 residents of The Sun Avenue and others living on Mai Chi Thọ Boulevard.
Newway shares listed on UPCOM
Newway Joint Stock Company listed its 8.5 million shares on the Unlisted Public Company Market (UPCOM) on March 22.
Newway JSC was formerly named Ha Noi Tourism Transport Company under the ownership of the Ha Noi Transport Corporation. The company launched its initial public offering (IPO) on the Ha Noi Stock Exchange in March 2015.
Nearly 270,000 shares were sold during the IPO, at a price of VND10,000 (US$0.44) per share.
After the IPO, the company was renamed Newway Transport Joint Stock Company with a charter capital of VND85 billion (US$3.7 million), remaining unchanged until now.
As of November 21, 2015, the company has 284 shareholders, including the Ha Noi Transport Corporation, its largest shareholder, holding 94 per cent of the company's charter capital.
Newway company's operation focuses on providing transport services via buses and it has a total fleet of 22 buses. It also provides vehicle maintenance services, transport vehicle spare parts and organises tours.
Sài Gon Industrial Foodstuffs JSC lists on UPCOM
Sai Gon Industrial Foodstuffs JSC (IFC) on March 23 listed three million shares worth VND30 billion (US$1.34 million) on the unlisted public company market (UPCom) of the Ha Noi Stock Exchange.
IFC share's reference price at the first trading day was VND26,500 (US$1.18) per share.
IFC distributes products such as sugar, milk, wine, beer and soft drinks.
In the first six months of this year, the company's revenue reached VND127.56 billion and profit before tax was VND2.4 billion. IFC's total assets were VND229.15 billion.
Savina offloads more than 16m shares in IPO
Vietnam Book Corporation (Savina) offloaded more than 16.7 million shares, or a 24.6 per cent stake, in its initial public offering on March 24 in Ha Noi.
According to Ha Nội Stock Exchange, which organised the auction, the shares were sold for an average VND13,072 each. Savina got VNĐ218.7 billion from the IPO.
Earlier this month, Savina took property developer Vingroup, which has a 65 per cent stake in the book company, as its strategic investor. Savina sold more than 44 million shares to Vingroup at VND10,700 each. Thus, Vingroup will pay VND472 billion to own the major stake in the company, located in the prime area of Trang Tien Street.
The state has only a 10 per cent stake after the equitisation.
Savina is also managing more than 15,000sq.m of land in five lots in the city, of which, two lots of more than 3,300sq.m are in located in the prime area of Hai Ba Trung Street, next to Trang Tien Plaza.
Vingroup acquired a major stake in 2015 in another state-owned firm, the Vietnam Exhibition and Fair Centre (VEF), which owns prime locations in Giảng Võ Street. After three months of listing on the local unlisted market, the VEF share value increased from VNĐ10,000 to VND60,000.
Major expansion underway at Vinamilk
Vinamilk, one of the most trusted brands in the dairy industry, announced today that it will expand the number of its dairy farms in Ha Tinh Province as part of its continuing effort to bring more of its premium milk to the dairy aisles of Vietnam.
Vinamilk, a brand that is synonymous with high quality and great taste, said in a statement that it will soon have its seventh dairy farm meeting Global GAP standards in full operation.
We are excited about opening the new farm to bring premium products to the nearly 90 million people of Vietnam, said the company in the statement and we are excited about the upcoming year and our plan to introduce a long list of innovative products.
The brand, known for its rich, creamy taste, sources milk from local farms in the areas it serves.
Vinamilk milk comes from artificial growth hormone-free cows, and is processed with the highest service and processing standards, exceeding dairy industry requirements.  
Vietnam seeks private investment for US$721 million highway
Prime Minister Nguyen Tan Dung has approved a plan to attract private investment for a highway project in the Mekong Delta with a cost estimate of VND16.34 trillion (US$721 million), the government office has said.
According to the plan, submitted by the transport ministry, selected developers will build the six-lane road connecting Can Tho City and Vinh Long Province under a built-operate-transfer arrangement.
At least two local construction companies FECON and Cotecons have expressed their interest.
My Thuan-Can Tho, as the road is officially known, is one of 21 highways that will be built around the country in the next 15 years, according to a national plan for traffic infrastructure.
Struggling to fund new transport projects, including roads and airports, Vietnamese government has been opening the sector to private investors in recent years.
Latest figures from the finance ministry showed Vietnam will need around VND1,000 trillion (US$44.52 billion) for transport projects over the next five years, and the government can take care of less than 29%.
Built-operate-transfer is a partnership model that allows private investors to join public projects in exchange for the operating rights for a certain amount of time, before the infrastructure is handed back to the state.
My Thuan – Can Tho Highway a BOT project
Prime Minister Nguyen Tan Dung has given approval to the My Thuan – Can Tho Highway project in the Mekong Delta being conducted under the build-operate-transfer (BOT) mode.
Toll booths will be built on the Ho Chi Minh City – Trung Luong Highway (from the city to Tien Giang province) to fund the project, and also on the new highway once completed.
The Ministry of Transport has been assigned to take responsibility for the scheduling, investment, and financial plans for the project. It must also determine how long tolls will be collected on the Ho Chi Minh City – Trung Luong Highway.
The Prime Minister also directed that the project be conducted under Decree No. 15, issued on February 14, 2015, regarding public-private partnerships.
Under national planning the My Thuan – Can Tho Highway is part of the route from Ho Chi Minh City to Can Tho city. Along the My Thuan – Can Tho Highway are 80 entry and exit ramps – the first in Vinh Long city in Vinh Long province and the last in Dong Binh commune, Binh Minh district, Vinh Long province.
The maximum speed along the highway is 100 km/h.
Cash now an option with Uber
Passengers in Vietnam now have a cash payment option when using Uber taxi services, in addition to the usual card payment method.
Only 70 per cent of travelers had the option of paying cash during Uber' previous trial period. Together with India and Kenya, Vietnam is the third country where Uber accepts cash and the first country in Southeast Asia.
Cash is still King in Vietnam, said Mr. Dang Viet Dung, General Manager of Uber Vietnam. "After an eight-month trial our cash payment technology is now accessible to everyone in Hanoi and Ho Chi Minh City," he added. "Our second anniversary is coming up and we thought this would be a great gift from Uber, to demonstrate our commitment to delivering new solutions to meet the evolving needs of our rapidly growing consumer base in Vietnam."
Hyderabad in India was selected for the first global pilot, in May 2015, followed a few weeks later by Nairobi in Kenya. Today, all 27 cities in India where Uber is available have cash payments as an option, along with Jeddah and Riyadh in Saudi Arabia, Hanoi and Ho Chi Minh City in Vietnam, Manila in the Philippines, Bali, Bandung, Surabaya and Jakarta in Indonesia, Bangkok in Thailand, Lima in Peru, and Cairo in Egypt.
All travelers in Hanoi and Ho Chi Minh City now have access to all existing Uber features and more when it comes to paying for their ride. They need only choose the cash payment option, take a ride, and pay the driver at the end of the trip.
All students in 10,000 Bridge Engineers Program graduate
Forty-four FPT students in the 10,000 Bridge Engineers Program have graduated in Tokyo.
Forty-three were in the program's first academic year while one was in the second academic year. An FPT representative told VET that the student in the second academic year was so talented he graduated earlier.
Upon graduating all students will be employed immediately. Eighty per cent will work at major companies in Japan such as Fujitsu, SBI Holdings, Human Touch, Pasona Tech, and the FPT Japan JSC, while the remaining 20 per cent will work at Japanese projects of FPT's partners.
The 10,000 Bridge Engineers Program was started in 2015 by FPT Software and has trained almost 1,000 Vietnamese students, 300 of which were trained in Japan.
In 2016 the program is expected to conduct four courses in Japan, in January, April, July, and October.
Within FPT Software's globalization strategy Japan is the most important market to bring stable development, said Mr. Tran Dang Hoa, Managing Director of the FPT Japan JSC.
As at late 2015 FPT Japan had three offices, with a new office in Tokyo on 1,300 sq m, and 500 employees, or 40 per cent more than in the previous year.
FDI capital tops $4 billion in first quarter
Foreign direct investment (FDI) capital registered in Vietnam reached US$4.03 billion in the first three months this year, up 119 percent over the same period last year, reported the Foreign Investment Agency under the Ministry of Planning and Investment.
Disbursement hit US$3.5 billion, a year on year increase of 14.8 percent in the first quarter.
As of March 20, 473 new projects were licensed at the total funds of $2.74 billion, up 77.2 percent in the number of projects and 125 percent in capital volume from a year ago. 203 projects supplemented $1.29 billion in investment capital, up 99 percent and 107 percent respectively.
In March, foreign firms invested in 19 fields. The most attracted one was manufacturing and processing with 216 new projects and 149 capital increase projects. Their capital touched $2.9 billion accounting for 72.2 percent of total registered funds.
South Korea continued to be the largest investor in Vietnam with $888.7 million, followed by Singapore with $554.4 million and Taiwan (China) with $465.6 million.
The most invested provinces were Dong Nai attracting $585.4 million, Bac Ninh $398.2 million and Binh Duong $372 million.
One more Korean company granted investment certificates in Can Tho
The People's Committee of Can Tho city has just granted an investment license to Taekwang Vina Industrial Joint Stock Company.
Accordingly, the Korean company will start building a shoes-manufacturing factory at 2B Hung Phu industrial park in Can Tho in May, 2016.
By 2023, the factory with an area of 62 hectares of land will create 30, 000 jobs for local workers.
This has been the biggest FDI project with capital of US$ 171, 5 million in Can Tho city so far.
On the occasion, leaders of Can Tho city also granted three investment certificates to Hai Ha Road and Water Transport Company, Phuc Tan Ready-Mix Concrete Construction Limited Company and Truong Hai Auto Corporation with total investment of nearly US$ 127 billion.
Turkey imposes 25.27% dumping tax on Vietnamese steel tubes
Turkey has decided to impose an anti-dumping tax of 25.27% on all cold rolled stainless steel welded tubes imported from Vietnam and Malaysia, except from three Vietnamese steel firms and one Malaysian firm.
The Turkish Ministry of Economy on March 18 announced the final decision on the investigation into cold rolled stainless steel welded tubes imported from Vietnam and Malaysia following suspicions of dodging the anti-dumping tax on their exports.
Due to investigation results, the current dumping tax rate of 25.27% levied on cold rolled stainless steel welded tubes imported from China will be applied to the same products imported from Vietnam and Malaysia.
However, three Vietnamese steel firms have escaped the dumping tax – Inox Hoa Binh JSC, Sonha International Corporation and OSS Dai Duong International JSC. These firms co-operated fully with Turkey during the investigation process and proved that they produced the steel products themselves and did not make any transaction to evade anti-dumping duties.
According to the Vietnam Competition Authority under the Ministry of Industry and Trade, other Vietnamese steel firms did not fully answer all questions from Turkey or provided insufficient information, resulting in a dumping tax of 25.27%.
Earlier, the import department under the Turkish Ministry of Economy on December 2014 launched an antidumping probe into steel imports from Vietnam and Malaysia due to suspicion that Chinese and Taiwanese steel tubes – which are subject to anti-dumping duties from Turkey – were shipped to Vietnam and Malaysia before transport to Turkey to avoid the anti-dumping tax.
Indonesia accredits ten Vietnamese agricultural product testing laboratories
Indonesia has recently recognised ten Vietnamese laboratories capable of testing food safety standards and agricultural product quality, meeting the country's requirements for imports of Vietnamese goods, according to the National Agro-forestry-Fisheries Quality Assurance Department (Nafiqad) under the Ministry of Agriculture and Rural Development.
Nafiqad Deputy Director Phung Huu Hao said that under Indonesia's new regulations, commodities of plant origin exported to Indonesia must comply with the host's registration processes, required document check, and food safety standards.
Products imported into Indonesia should be from countries with Indonesia-recognised food safety control systems, or from those with food safety inspection labs registered with the Southeast Asian country.
In the case of food safety testing systems from export countries recognised by Indonesia, manufacturers or export agents must notify the official website of the Indonesia Agency for Agricultural Quarantine before sending the products for transport.
Previously, Vietnamese businesses faced difficulties in exporting agricultural products to foreign countries including Indonesia due to the lack of labs meeting the requirements for testing products, in addition to the costly and time consuming process of sending export samples abroad for testing.
Indonesian recognition of Vietnamese testing laboratories is expected to facilitate businesses in testing agricultural products being exported to this market, said Nafiqad Director Nguyen Nhu Tiep.
Tiep also added that businesses and members of trade associations with products being exported to Indonesia such as food, vegetables, cacao, coffee, tea, pepper and cassava could contact Nafiqad for co-ordination in testing product quality.
Republic of Korea tops foreign investment in first quarter
Total foreign investment pledges by the Republic of Korea (ROK) in Vietnam reached US$888.6 million in the first quarter of 2016, making it the largest foreign investor in Vietnam during the said period.
Singapore came second with US$554 million, equivalent to 13.7% of more than US$4 billion attracted in the first three months of the year, according to Vietnam's Foreign Investment Agency.
The southern province of Dong Nai was the largest recipient of foreign direct investment with US$585 million in both new pledges and additional investment in existing projects.
Bac Ninh and Binh Duong provinces followed with US$398 million and US$371 million respectively.
As of March 20, licences were granted to 473 FDI projects throughout the country with around US$2.74 billion expected to be poured in, while foreign companies also pledged to invest an additional US$1.29 billion in 203 current projects.
Sector-wise, manufacturing accounted for 72.2% of total FDI, estimated at US$2.9 billion in 216 projects, both new and existing. The second position belonged to property trading, which attracted a total of US$239.78 million.
SBV reviews preferential credit programme for agricultural development
The State Bank of Vietnam (SBV) held a conference in Hanoi on March 24 to review two years of implementation of the pilot preferential credit programme tailored for agricultural development.
The conference saw the attendance of Politburo member SBV Governor Nguyen Van Binh.
Through resolution 14/NQ-CP, the Government assigned the central bank to work with the Ministry of Science and Technology and the Ministry of Agriculture and Rural Development to implement a pilot credit programme for connectivity models.
The SBV has directed credit institutions to provide loans for a number of localities.
After two years, relevant banks have disbursed nearly VND7 trillion (about US$280 million) for a credit programme for connectivity models in addition to high technology application and farm export promotion projects in localities across the country, which exceeded their initial commitment of over VND5.6 trillion.
The pilot credit programme has helped reduce input costs for the connectivity models' products through offering preferential credit for the models.
Via the pilot programme, the banking sector can not only increase credit growth related to agricultural production, but also promote large-scale, competitive agricultural production, contributing to gradually improving farmers' living standards and constructing and developing new rural areas.
VEF/VNA/VNS/VOV/SGT/SGGP/Dantri/VET/VIR