BUSINESS IN BRIEF 26/3
RoK economy and FDI slowing down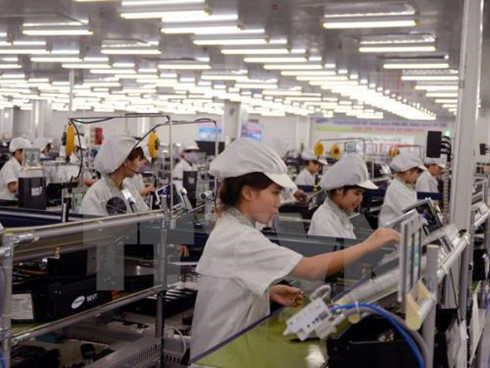 In line with their economic rise, emerging markets such as the Republic of Korea (RoK) have increased in importance over recent years – not only as destinations for foreign direct investment (FDI) – but as a source of investment as well.
Popular brands such as Kumho Asiana, Posco, Samsung, LG, Lotte, and CJ have long been operating in Vietnam and as a group these businesses comprise the largest foreign greenfield investors in the Southeast Asian nation.
But with an economic downturn hitting the RoK, will this growth in outward FDI continue?
In a business survey of 540 RoK companies with business stakes in Vietnam by the Korea International Trade Association (KITA), 49% of the respondents said they were content with their achievements in Vietnam last year.
The same percentage said they were willing to expand investment in existing businesses here in Vietnam.
These statistics are consistent with other published surveys that show foreign companies around the globe are pulling back, with outward FDI into most emerging markets, below what it had been in 2015 and 2014.
It's possible some experts speculate, that worsening economic conditions in their home markets could have hit the RoK company balance sheets, making it harder to fund international expansion and causing a retrenchment from global markets.
"Too much exposure to the Chinese economy has dampened the outlook for the RoK, and the volatile exchange rate also has added to woes," said Lee Soo-sung, managing director of Roland Berger in the RoK.
It also comes at a time when more and more industry observers and investors are questioning whether or not Vietnam is ready to reap the benefits from the free trade deals it has entered into.
Raphael Madarang, director of global trade and supply chain solutions for APL Logistics, is one leading expert who questions whether Vietnam has sufficient labour forces to meet production.
There has been news that Vietnam could experience a manpower shortage by 2017 or 2018, so they may not have enough people to run the factories and the mills, he recently told just-style.com an online news research portal.
However, in the context of a Vietnam-RoK free trade agreement that entered into force last December the prospects for economic cooperation and trade remain upbeat for 2015.
Particularly for RoK invested companies in the clothing, footwear and textile sector as existing RoK manufacturers such as Fibre Producer Hyosung Vietnam Limited Company and Panko Tam Thang Textile-Garment Co, Ltd report exports show no signs of slowing down this year.
The reduced tariffs brought about by the trade pact are also expected to help boost Vietnam farmers exports such as rice, garlic, ginger, shrimp and chilli and help them gain a toehold in the RoK market.
Investors unfazed despite gloomy global forecast
Experts predict that Vietnam will continue to be magnet for foreign investors this year, despite the context of sluggish global economic growth.
At last week's Vietnam Access Day, organized by Viet Capital Securities (VCSC) in Ho Chi Minh City, hundreds of foreign investors, speakers, and Vietnamese firms discussed the potential of the Vietnamese market for overseas capital flows in 2016. The emphasis of this year's event is Vietnam's resilience in spite of global headwinds, which have prompted international investors' flight from emerging markets.
According to Aaron Batten, country economist at the Asian Development Bank, Vietnam was the only ASEAN country with an upward growth forecast in 2015, with its annual GDP rising by 6.68%. This is a clear sign of recovery for the Vietnamese economy, and this momentum is expected to continue in 2016 thanks to low inflation rates, a flexible foreign exchange policy, and rising credit demand, Vietnam will remain a bright spot with stable growth this year.
"Pro-growth policies such as the numerous free trade agreements-notably the Trans-Pacific Partnership-or the liberalization of equity and property markets will support Vietnam's growth. This will boost foreign investments in the country as well as spur manufacturing and exports in 2016," Batten forecast.
The economist nevertheless warned that Vietnam will need delicate balancing policies in 2016 to support growth and minimize significant risks, such as fiscal constraints, a decline in foreign reserves, and the snail's pace process of state firms' equitization.
Meanwhile, Michel Tosto, managing director of institutional sales and brokerage at Viet Capital Securities, told VIR that the turnout for Vietnam Access Day 2016 was higher than previous years, which reflects foreign investors' continued interest in Vietnam Overseas attendees are particularly keen on fast-growing sectors such as consumer goods, retail, or online commerce thanks to Vietnam's young population, growing middle class, and higher income levels.
Consumer-related sectors such as logistics have also enjoyed significant attention, according to Tosto.
"This year is expected to be quite stormy for global markets, as capital outflows from emerging and frontier markets will continue. This will undoubtedly affect Vietnam, and we cannot expect a great boom in foreign investment as a result. However, foreign investors in general are still optimistic about Vietnam, because its domestic growth and foreign exchange rates were much more stable in 2015 compared to other ASEAN countries," he said.
Manager of PYN Elite Fund Petri Deryng noted that this is his third time attending Vietnam Access Day, and he has indeed seen increased interest from the overseas investment community in the Vietnamese market over the years.
His PYN Elite Fund, one of the largest overseas funds in Vietnam, net bought US$60 million worth of Vietnamese stocks last year, accounting for 44% of all foreign purchases in the Vietnamese stock market. Vietnamese stocks now take up 80% of the Finnish fund's portfolio.
"As a fundamental investor, PYN Elite Fund prefers an ongoing commitment to the Vietnamese market rather than a one-off deal. With this strategy in mind, we usually prioritise stocks with long-term growth prospects and good potential for high revenue, such as consumer goods, retail, and real estate. This year, we'll continue to select Vietnamese stocks that satisfy these requirements and expand our portfolio here," Deryng told VIR.
The annual Vietnam Access Day is one of the largest forums for foreign investors with an interest in Vietnamese firms. The event is aimed at connecting overseas funds with leading Vietnamese firms, providing investors with a comprehensive insight into Vietnam as well as potential investment opportunities.
Local companies see strong potential in Hong Kong
Hong Kong is the world's eighth largest trading economy and one of Asia's leading financial and business centres, said speakers at a recent seminar in HCM City informing local companies on trade opportunities.
"It has been ranked as the world's freest economy in the Index of Economic Freedom for the past 20 consecutive years," said Tina Phan of the Hong Kong Trade Development Council (HKTDC).
Ms Phan also said the biggest advantage to local businesses of doing business in Hong Kong is that it provides free international export sales leads from its worldwide network and its comprehensive trade agreements with the globe's major markets.
Official statistics show Vietnam is the country's 9th largest trade partner with Hong Kong's exports last year to Vietnam totalling US$9.8 billion and imports tallying in at US$6.5 billion.
The top imports into Hong Kong last year were electronic products, bamboo and ceramic products and rice, said Ms Phan.
She said if local businesses want to maximize their exposure to the international business community, Hong Kong is an excellent choice for participating in trade fairs and exhibitions.
Last year, there were roughly 30 international exhibitions that attracted some 35,000 exhibitors and 726,000 buyers from all parts of the globe held in Hong Kong.
This upcoming April and May there are eight international trade fairs and exhibitions showcasing key export products of Vietnam such as electronics, clothing and household products, said Ms Phan.
Quang Ninh defines enterprises as its valued resource
Enterprises are a valuable resource of Quang Ninh, improving their capacity will thus allow the northern province to raise its competitiveness, said Chairman of the provincial People's Committee Nguyen Duc Long on March 22.
He made the statement at a meeting with local business leaders and representatives the same day.
Speaking at the meeting, a representative from BIM Group said the group faces obstacles in implementing its investment projects due to constant changes in the law, suggesting the province establish an agency that provides investment consultancy for local enterprises.
Meanwhile, AES Corporation, an investor of the Mong Duong 2 Thermal Power Project, hoped that the province will speed up its administrative procedures and continue developing infrastructure, as well as skilled human resources for the benefit of businesses.
Listening to feedback, Chairman Long asked businesses to offer suggestions that help the province shift towards a service-industry economy by 2020.
Quang Ninh held two talks with local enterprises to obtain their feedback in 2015.
The province had more than 1,100 newly-registered businesses last year, raising the total number of enterprises operating in the locality to about 11,000 with a combined capital of 127 trillion VND (5.7 billion USD).
Tay Ninh lures nearly 4 billion USD
The industrial parks (IPs) in the southern province of Tay Ninh have to date attracted 177 foreign direct invested (FDI) and 93 domestic projects, with a total registered capital of nearly 4 billion USD as of mid-March this year.
Of them, 184 projects have officially operated, creating jobs for over 97,000 local labourers.
They also brought home 523 million USD from exports, up 60 percent from the same period last year, which contributed 153 billion VND to the state budget, a 2.8-fold increase from last year's figure.
Among the prominent IPs are the Phuoc Dong – Boi Loi IP in Go Dau district with 23 projects, worth nearly 2 billion USD in FDI and over 300 billion VND (13.5 million USD) in domestic investment.
It is followed by the Linh Trung III Industrial and Processing Zone in Trang Bang district, with 314 million USD in FDI and 1.7 trillion VND (76.5 million USD) in domestic investment; and the Trang Bang IP in Trang Bang district with 82 projects, worth 221 million USD in FDI and nearly 3 trillion VND (135 million USD) in local investment.
Local IPs have made significant investment in environmental protection technologies.
A concentrated wastewater treatment plant with a daily capacity of 2,500 cubic metres is expected to begin operations in the Trang Bang IP by the end of the first quarter this year.
Meanwhile, a system with a daily capacity of 6,000 cubic metres is under construction in the Thanh Thanh Cong IP.
The Phuoc Dong – Boi Loi IP is also constructing its third concentrated wastewater treatment facility, with a daily capacity of 4,900 cubic metres.
An expansion to a concentrated wastewater treatment system in the Cha La IP, to create an additional 2,000 cubic metres in capacity, is also underway.
As many as 3,800 hectares of land in the province has been zoned for developing industrial parks, including the Trang Bang IP, the Linh Trung III IP and Processing Zone, and the Thanh Thanh Cong IP.
National-level meeting to explore investment opportunities in Laos
A Vietnam – Laos investment cooperation meeting at the national level is scheduled to take place in central Da Nang city between March 26 – 27.
The event will be chaired by the countries' Government leaders and attended by about 500 representatives of their ministries, localities and enterprises; Director of the Ministry of Planning and Investment's Foreign Investment Agency, Do Nhat Hoang, announced on March 22.
It will focus on the industries and regions for which Laos is calling for Vietnamese investment. The meeting will also provide information on the country's incentives and assistance for Vietnamese investors, he added.
As part of the meeting, a discussion will be held between the two sides' authorised agencies and businesses on March 26, to assess Vietnamese investments in Laos , Laos 's investment demand, and the nation's investment attraction directions and incentives for Vietnam .
The main meeting on March 27 is set to discuss orientations for investment cooperation and the two Governments' support policies, to fuel an inflow of Vietnamese investments in Laos .
Vietnamese investors have poured 4.9 million USD into Laos so far, making the land-lock nation the biggest investment destination of Vietnam . Meanwhile, Vietnam ranks second, after China , among countries investing in Laos , according to the Foreign Investment Agency.
Firms win nat'l quality awards
The Ministry of Science and Technology on March 22 named 77 Vietnamese enterprises that will be granted a 2015 National Quality Award.
The results were announced during a press conference for the 2015 National Quality Awards and Global Performance Excellence Award (GPEA) of the Asia-Pacific Quality Organisation held in Hanoi.
Of the 77 awardees, 20 firms will receive gold awards, including Electrical Equipment Joint Stock Company, Trường Hải Automobile Joint Stock Company, Pharmaceutical Joint Stock Company Traphaco and Đông Á Steel Joint Stock Company.
The remainder of the firms will receive silver awards.
Three other firms will be awarded the 2015 GPEA, including theThiên Long Stationery Group, the National Oil Services Joint Stock Company of Vietnam and the Nam Dược Pharmaceutical Company.
The award ceremony will take place in Hanoi on April 10.
Tran Van Vinh, director general of the ministry's Directorate for Standards, Metrology and Quality, said the national quality award was an annual award aiming to recognise businesses that have achieved excellent performance and outstanding achievements in innovating, improving quality and contributing to the country's productivity and quality movement.
"This is an opportunity for enterprises to assess and perfect themselves in improving product quality and service, enhancing competitive capacity and promoting their trademark in domestic and foreign markets, especially in the context that our country has signed many Free Trade Agreements, the Trans-Pacific Partnership and joined the ASEAN Economic Community," Vinh said.
The awarded companies range from small to large-sized producers and service providers. They are judged on seven criteria of leadership, strategic planning, customer service and knowledge in addition to measurement, analysis and management, workforce focus, and process management and results.
Launched in 1996, the awards are granted by the Prime Minister, and are part of a system of the International Asia-Pacific Quality Awards of the Asia-Pacific Quality Organisation. Nearly 1,700 awards have been presented in the past 20 years, and 37 Asia-Pacific Global Performance Excellence Awards have been given out.
Delays and confusion beset Quang Ninh businesses
At a Quang Ninh Province People's Committee meeting on March 22, there was a rising tide of complaints that the foreign direct investment laws are too complicated and constantly changing.
A representative of BIM Group said the situation is simply out of control with the complexity of the laws creating formal and informal obstacles for doing business in the province.
The representative suggested that Quang Ninh province establish a formal governmental body specialized in investment consulting. This agency could then act as an ombudsman on foreign direct investment matters.
The current investment climate is unacceptable and it's unfair to both local and foreign companies to have the laws in a constant state of flux with no governmental body fully informed on investment issues.
Investors are troubled by increased taxes, frequent changes in laws, slow administrations, and the status of the courts, which handle cases too slowly, according to investors at the meeting.
A representative of AES Group, operator of the Mong Duong II thermal power plant, complained that infrastructure development is lagging and more needs to be done to improve employee training.
Chinese investment in Vietnam is accelerating
China's domestic economy is widely reported to be slowing down relative to its impressive growth over the past decade— however, leading economists report foreign investment by their businesses is at record high levels.
The leading economists say the Chinese investors are looking for higher and safer returns outside of their home country as a way to build their brands and global competitiveness.
Now government officials in Vietnam report their foreign investment statistics are showing that Chinese businesses are increasingly turning their gaze towards their southern neighbour.
At a recent conference in Hanoi sponsored by the Foreign Investment Association of Vietnam speakers said Chinese investment in the first two months of 2016 has taken a sharp upturn and they questioned the impact.
The speakers said it is estimated that since 2005 the total outward investment by Chinese businesses in all countries around the globe has been US1.1 trillion, with nearly three quarters of it in energy, natural resources, and related transportation infrastructure.
A relatively small portion of their investment is in the US because the federal Committee on Foreign Investment in the US screens out such type of investments by foreign countries, considering it a threat to national security.
Speakers questioned whether Vietnam should follow the US lead and forbid Chinese investment in national resources as well as state owned enterprises, on the basis that they are vital to the national security interest of the country.
Professor Nguyen Mai, Chairman of the Association, said Chinese businesses first began investing in Vietnam in late November 1991 and has since steadily grown over the years.
"Most of it has been in the cities and industrial zones in the border provinces between the two nations," said Mr Mai."Specifically, the provinces of Lao Cai, Lang Son, Cao Bang, Ha Giang and Lai Chau, have drawn the majority of investment from China."
Investments in the referenced provinces have been highly concentrated in natural resources said Mr Mai, such as a titan iron ore processing plant in Thai Nguyen and an antimony plant in Ha Giang.
They have also have invested heavily in rubber and wood product manufacturing plants as well as a cigarette factory in Lao Cai, along with fossil fuel and coal production facilities in Cao Bang.
"China's investment has been beneficial in helping local people lift themselves out of poverty and improve their standard of living," said economic expert Bui Trinh.
By and large Chinese businesses haven't invested in the agriculture, forestry or seafood industries, Mr Trinh said, but have focused on tapping the hard commodities or natural resource of the nation.
"Admittedly, Vietnam faces a risk of Chinese businesses exhausting the nation's natural resources," he said.
Now, with investment returns on hard commodities low, Chinese businesses have shifted their focus onto industries with higher rates of return such as entertainment, real estate, insurance, and technology.
As a result of some investment failures, Chinese state owned enterprises have been counselled by the government to take less than majority interests in their investments, so they can learn local marketplaces and reduce their exposure to risk.
Bui Kien Thanh agreed that limits should be placed on Chinese investment, particularly with respect to natural resources. "If we don't place limits, the nation's natural resources will be exhausted and we won't have much to show for it," said Mr Thanh.
All the economic trends and China's rapidly growing private sector have set the table for higher levels of investment in Vietnam, and there needs to be a bilateral investment deal to place reasonable limits on China's involvement in Vietnam.
Coal mining industry vows shift towards sustainability
 Viet Nam will develop a technologically-advanced coal mining industry with high competitiveness moving towards sustainability in the next five years to contribute to ensuring energy security.
This was the overall goal of the coal industry's development planning to 2020, with a vision to 2030, approved by Prime Minister Nguyen Tan Dung earlier last week.
The planning said that advanced technologies would be applied in all processes, from exploration to processing to providing coal for domestic production, and especially coal for electricity production. In addition, all coal mines would meet environmental standards before 2020.
According to the planning, export of coal would be under a close management in order to gradually reduce export volumes and only certain types of coal, which Viet Nam did not have demand for in terms of consumption, would be allowed to be shipped abroad.
This was necessary when Viet Nam still had to import coal to make up for the shortage of coal for thermoelectricity production. The shortage was anticipated to become more severe by 2020.
The planning estimated that coal output would reach between 47 million tonnes and 50 million tonnes in 2020, while the country's total demand for coal was estimated at 86.4 million tonnes, of which 64.1 tonnes would be for electricity production. By 2030, Viet Nam would need totally 156.6 million tonnes of coal, while the output was estimated to be between 55 million tonnes and 57 million tonnes.
At a meeting held in November last year, the Viet Nam Energy Association said that there would be a shortage of about 12 million tonnes of coal for electricity production in the next five years.
According to the planning, the total coal reserves as of the end of 2015 was estimated at 48.88 billion tonnes, more than 3 billion tonnes of which would be used for the planning to 2020 and come mainly from the Dong Bac (North East) coal basin.
Besides the Dong Bac coal basin, which stretched through Quang Ninh, Bac Giang and Hai Duong provinces, coal reserves were also located in Song Hong (Red River) coal basin which covered Thai Binh,
Hung Yen and Nam Dinh provinces, and included six domestic mines and more than 100 small-scale mines.
According to the planning, expansion of existing mines together with developing new ones would continue till 2030, in order to increase coal output.
Despite the Song Hong coal basin's huge reserves, the basin was still under exploration and the exploitation would be very tough and complicated. The planning said that between 2020 and 2030, pilot exploitation using new technologies would be carried out at Song Hong basin as a base for the development of mines on an industrial production scale.
The planning estimated that the coal mining industry would need totally VND269 trillion (US$12 billion) by 2030.
HCM City trade plan renewed for five years
A trade co-operation programme between HCM City and 20 southern provinces over the last five years has significantly contributed to improving product quality, meet consumer demand and promote socio-economic development, a meeting heard in HCM City yesterday.
The programme, begun in 2011, focuses on providing and exchanging information and comparing notes on authorities' oversight of commerce; supporting firms in creating links in production and distribution; strengthening oversight to secure product quality; and human resource training.
The southern provinces and cities have created favourable conditions for HCM City businesses to expand production projects and build distribution systems besides co-operating with farmers for animal breeding and cultivation.
Twenty three firms participating in the city's price stabilisation programme have invested more than VND14 trillion (US$627.8 million) in 38 production facilities, 54 agricultural farms, 53 supermarkets and shopping centres, and 55 shops in the region.
Thus they created reliable raw material sources and ensured high quality and low prices, the department said.
Le Van Khoa, deputy chairman of the city People's Committee, said linking up suppliers and buyers was one of the programme's important activities.
In five years, 1,349 contracts worth more than VND22.13 trillion ($992.46 million) had been signed between city businesses and companies in the southern region.
Phan Kim Sa, director of the Dong Thap Province Department of Industry and Trade, said the programme helped small production units improve their technologies, enabling more and more products to enter modern distribution systems in HCM City.
The province has abundant raw materials while the city firms have technological and managerial expertise, meaning the co-operation is a win-win proposition, according to Sa.
Following the resounding success of the programme, the HCM City Department of Industry and Trade yesterday renewed it for another five years.
The department and its counterparts in the 20 cities and provinces plan to enhance activities to link suppliers and producers, co-operate for price stabilisation programmes and resolve difficulties faced by businesses.
Khoa suggested the department should collaborate with its counterparts to help businesses build supply chains and brands and promote consumption in domestic and foreign markets, especially of VietGap and GobalGap certified farm produce.
They should all join hands to fight smuggling and trade fraud, and monitor quality of products in the market, he said.
Deputy Minister of Industry and Trade Ho Thi Kim Thoa hailed the programme and urged HCM City to expand the co-operation model to other places.
She hoped more businesses would join the programme in the coming years to increase the supply of quality goods.
Distribution networks should be expanded to make it easier for customers to access the products, she said.
Businesses should focus on improving product quality and competitiveness, particularly with the country's deeper global integration, she said.
Relevant authorities should work to raise awareness of using Vietnamese goods among consumers, she added.
Da Nang hosts conference with Laos
The 2016 Viet Nam-Laos investment co-operation conference will be held in the central city of Da Nang on March 26 and March 27.
The conference is being organised jointly by the ministries of planning and investment of Viet Nam and Laos and the Association of Viet Nam Investors into Laos (AVIL).
This is a national-level conference being hosted by the governmental leaders of the two countries and will see the participation of leaders from ministries, agencies, localities and enterprises, from the two sides.
The investment co-operation conference this time will focus on content which seek investment co-operation in sectors which Laos prioritises to attract investments from Viet Nam.
The conference will also discuss preferential policies of the Laos government towards Vietnamese investors.
This is an opportunity for Vietnamese enterprises and investors to access new investment projects in Laos, enhance connectivity and boost co-operation in investment, commerce, tourism and transport, in the near future.
A meeting between authorised agencies of Laos and Viet Nam, and associations and enterprises, will be held on March 26.
The meeting will evaluate investment results of Vietnamese enterprises in Laos, investment demands from Laos between 2016 and 2020 and orientation and prioritised policies of investments from Viet Nam to Laos.
The conference will take place on the following day, and will be hosted by the governments of the two countries, with the participation of about 500 delegates who are leaders of ministries and agencies, localities and organisations, apart from associations, enterprises, investors, and media, of the two countries.
The investment co-operation conference takes place in a favourable context, opening up prospects of investment co-operation between the two countries.
The two countries had their own development potential which could supplement each other through joint development, Do Nhat Hoang, director of Foreign Investment Agency (FIA) under the ministry, said.
The establishment of the ASEAN Economic Community (AEC) opened new opportunities in co-operation in the sectors of economy, investment, trade and tourism among ASEAN countries, he added.
Viet Nam had widely and deeply integrated with the international economy.
The country signed free trade agreements (FTA) with big partners including South Korea, the European Union (EU), Eurasian Economic Union (EEU) and especially the Trans-Pacific Partnership (TPP).
The new generation FTAs would boost trade, create favourable opportunities for foreign enterprises when investing and doing business in Viet Nam, Hoang said, while at the same time, creating a driving force for the country to reform institutions, create a clear and transparent investment environment and meet the requirements of integration and international practices.
The Vietnamese investment in Laos totals US$4.9 billion, according to FIA.
The country ranks second among countries with investment activities in Laos.
Vietnamese projects created about 40,000 jobs in Laos, which helped enhance labour capacity, generate income and contribute to the Laos State budget.
MBBank increases charter capital to $730.6 million
The Military Joint Stock Commercial Bank (MBBank) has increased its charter capital from VND16 trillion (US$716.6 million) to VND16.31 trillion after merging with Song Da Finance Company (SDFC).
The bank issued 31.1 million shares, equivalent to VND311 billion to swap MBB shares with SDFC shares.
The ratio between SDFC shares and MBBank shares is 2.2:1.
MBBank announced the merger with SDFC in an extraordinary shareholder meeting in October last year.
The new finance company – MB Finance Co Ltd (MB Finance) is expected to have a charter capital of VND500 billion.
In the first two years, MB Finance will be equipped with facilities, personnel and a distribution network to enter the consumption finance market. The new company will expand its market share and operations, and diversify its products and customers from the third year of operations.
VOF spends $9 million on Thái Hia Hospital
 VinaCapital Vietnam Opportunity Fund Limited (VOF) announced on Monday an investment of US$9 million to acquire a controlling stake in Thai Hoa International Hospital in Đồng Tháp Province.
VOF, which belongs to VinaCapital, a leading investment management and real estate development firm, was an AIM-traded investment company established to target key growth segments in Viet Nam.
Thái Hia International Hospital established in Đồng Tháp province in 2009, is a general hospital that serves healthcare demand in the Mekong Delta region. The hospital currently has 30 doctors, and 200 beds that can treat 300,000 patient visits per year.
The hospital planned for more visits between 2016 and 2017 due to the government's Private Partnership Programme between public and private hospitals and the loosening of National Health Insurance regulations that will take effect in the second half of this year.
VOF also announced that Luong Ngoc An, who spent more than 20 years at Từ Dũ Hospital, one of the largest obstetrics centres in Việt Nam, would be the CEO for the next stage of growth of the hospital.
As of the end of February, VOF had investments in Vinamilk, Sofitel Legend Metropole Hotel Ha Noi, Hoa Phat Group, and Eximbank, in addition to International Dairy Product, Khang Dien House, Hau Giang Pharmaceuticals, and Petrovietnam Technical Services Corporation. It also had investments in PetroVietNam Drilling and Well Services JSC, and VinaLand Ltd.
Shares in VinaCapital Vietnam Opportunity closed at $2.5 on Monday in the London Stock Exchange.
Dien Quang Lamp products to use local chips
The HCM City-based Dien Quang Lamp JSC teamed up with the HCM City National University's Integrated Circuit Design Research and Education Centre (ICDREC) to manufacture products using the latter's chips.
They include devices using wireless communication technology for intelligent lighting control systems, such as street and traffic lights, home and industrial lighting, and others.
ICDREC will develop a dedicated LED driver chip for Dien Quang, according to an agreement the two signed yesterday.
In recent years there has been strong growth in electronic lighting with the increase in sales of LED lighting products.
Since 2010, Dien Quang has turned out around 300 new products each year, half of them LED-based.
With demand for chips at around 20 billion units a year, Viet Nam is a promising market for semi-conductor products and applications.
Though the country ranks third in ASEAN in the field of IC design, the domestic use of Vietnamese-made chips remains meagre, according to Dien Quang.
BMW, VIB sign strategic agreement
BMW chose Viet Nam International Bank (VIB) as its first Vietnamese financial partner to provide support to local customers who buy new and used cars.
Under the strategic agreement, signed on March 21 in HCM City between BMW Group Segment Financial Services and VIB, BMW buyers will receive a preferential interest rate of 5.99 per cent per year in the fixed first half-year. The rate will be equal to the savings interest rate for 12 months with 3.9 per cent amplitude per year.
VIB will also give a preferential interest rate of 0 per cent per year in the first month to 20 customers who borrow money to buy BMW products in April, May and June 2016, and open free credit card accounts at VIB.
VIB created its own channel to serve BMW's customers under its international standards, including a private switchboard service for customers, support from senior specialists and a separate evaluation process.
TMT targets of selling 10,500 cars in 2016
The TMT Motor Joint Stock Company (TMT) set a goal to sell 10,560 cars this year – 44 per cent more than in 2015, the company's executive board announced.
Of this figure, 8,060 will be light trucks. The rest are heavy trucks and other vehicles.
The company expects to earn VND5.8 trillion (US$259.8 million) in revenue and VND256.3 billion in profit after taxes this year – 75 per cent and 35 per cent, respectively, higher than last year. It expects a dividend rate of 50 per cent this year, a 25 per cent increase over 2014.
The company's annual shareholders' meeting will be held in April.
TMT inaugurated a truck factory that will produce 20,000 units per year in the northern province of Hung Yen on March 1.
In 2015, TMT shareholders agreed to issue 1.5 million bonus shares to the executive board, thanks to the company's positive business performance, which boosted TMT's stocks to VND50,000 per share. However, after this resolution was approved, TMT's stocks suffered a fall and are now being traded at around 37,000 dong per share.
HCM City to host international imaging-broadcasting exhibition
Around 150 exhibitors from 12 nations and territories are expected to take part in three broadcasting and imaging exhibitions to be held simultaneously in HCM City in May.
Viet Nam International Photo and Imaging, Viet Nam International Broadcasting & AV, and Việt Nam International ITC and Smart Show, to be held for the fifth year, will have the theme of "Digital Emotion in Việt Nam."
Visitors can see and experience new consumer and professional products like DSLR and mirrorless cameras, drones, VR, UHD, 4K TV, smart phones and broadcasting and audio-video equipment.
They can visit pavilions set up by Korea, China, and Southeast Asian countries like Singapore and Malaysia.
There will be interesting events on the sidelines like the "Café and Coffee" photo contest, a virtual studio, and a drone competition.
There will be a technical seminar and workshop while the PayTV Association will hold its general meeting.
The exhibitions at the Sai Gon Exhibition and Convention Centre are expected to attract 30,000 visitors.
Plastics and Rubber Vietnam 2016 meets industry expectations
The sixth edition of Plastics and Rubber Vietnam 2016 held earlier this month at the Saigon Exhibition and Convention Centre (SECC) attracted 6,402 trade visitors including 85 members of the press from more than 30 countries and regions.
As many as 208 group delegations from well-known companies and buyers visited the event, including Binh Minh Plastics Ltd, Dynaplast Packaging Vietnam, Dong Nai Plastic Jsc, Mechanics Construction And Foodstuff Joint Stock Company, VRG Sa Do Rubber Thread JSC.
Many of the 149 exhibitors from 21 countries and regions displayed their latest products and services for the Vietnamese market.
Commenting on the demand for new technologies by local manufacturers, Carl F Woolf, International Trade Adviser for UK Trade and Investment, said: "Vietnamese industry is currently undergoing rapid development and is where China was a few years ago."
"Although this is the first time that the British Pavilion has exhibited in Việt Nam, we found that there are a lot of good opportunities for our company members to develop their business here," he said.
Industry thought leaders addressed issues and shared best practices with the industry at seminars held over three days at the event.
Organised by the Multi Engineering Solutions Laboratory, the sessions were well attended by more than 150 delegates.
The next edition of Plastics and Rubber Vietnam will return from March 20 – 22, 2018 at SECC.
Vietnamese businesses invited to HK fairs
The Hong Kong Trade Development Council (HKDTC) is inviting Vietnamese companies to participate in or visit eight major trade fairs the island will host in April and May to promote their exports and expand globally.
Tina Phan, Indo-China director of HKDTC, told a media briefing last week that the fairs, in diverse areas and with an international reputation, would help businesses find plenty of opportunities.
They cover areas including lighting, electronics, information and communications technology, houseware and textiles, gifts, printing and packing, and medical equipment.
Last year 30 expos organised by the HKTDC attracted 35,000 exhibitors and 726,000 visitors from around the world, with Vietnamese exhibitors and visitors making up 2,100, a 9 per cent rise from the previous year.
Trade between Hong Kong and Viet Nam topped US$16.3 billion last year, a 16.7 per cent rise, with Hong Kong's exports valued at $9.8 billion. Viet Nam sold $4.8 billion worth of electronic items to Hong Kong and bought $3.7 billion worth in return, both figures representing double digit growth.
Viet Nam is Hong Kong's ninth largest trade partner.
Electronic procedures now at seaports
E-border guard procedures will be carried out around the clock at seaports from April 18, pursuant to Prime Ministerial Decision No. 10 dated March 3 and be under the management of the Ministry of Defense's Border Guard unit.
As soon as the portal for e-border guard procedures at seaports is connected with the national single-window portal, anyone carrying out procedures is required to make e-declarations and submit an e-dossier to the border guard station at the seaport.
The border guard stations will complete e-border guard procedures at the seaport under the regulations on e-procedures applicable to vessels calling at or leaving seaports and offshore oil and gas ports via the national single-window portal.
When a breakdown occurs in the national single-window portal the procedures will be carried out via the portal of the seaport.
The new regulation applies to Vietnamese vessels on entry or exit, foreign vessels and crews on entry or exit, in transit or navigating between seaports (including oil and gas exploration and exploitation service ships operating offshore, foreign vessels having domestic transport permits issued by the Ministry of Transport, and Vietnamese-owned vessels flying foreign state flags of foreign nationalities), and foreign nuclear-powered vessels and vessels carrying radioactive substances.
Foreign vessels arriving at Vietnamese seaports to carry out scientific research, fisheries, salvage, sunken property recovery, marine facility construction, and natural resource surveying, exploration and exploitation activities in Vietnam's sea areas and having permits or written approval from competent Vietnamese agencies are also obliged to comply with the PM's Decision.
Chubb Life and Viet Capital Bank launch bancassurance
Chubb Life, the global life insurance division of Chubb Limited, and Viet Capital Bank announced the commencement of a bancassurance partnership on March 22.
The new partnership will maximize the benefits for Viet Capital Bank's customers by leveraging the services and products of both parties.
Through the distribution channel the two companies will offer diversified life insurance products and services with preeminent benefits, which will suit a wide range of individual customers at Viet Capital Bank's branches in key cities and provinces in Vietnam, provide financial protection solutions and additional benefits to those who are working for Viet Capital Bank's partners, such as business groups and corporations, through individual and group insurance products, and increase additional benefits for Chubb Life's customers when enjoying the bank's services.
"One of Chubb Life's objectives is to expand and diversify our distribution network to better serve our customers with life insurance solutions," said Mr. Lam Hai Tuan, Chairman and Country President of Chubb Life in Vietnam. "This collaboration will also allow Viet Capital Bank's customers to access more value-added financial management services in parallel with suitable financial protection plans from Chubb Life."
"In addition to diversifying our products and financial services, Viet Capital Bank continually looks to provide customers with more quality benefits," said Mr. Nguyen Hoai Nam, Deputy General Director of Viet Capital Bank.
"Our strong network, together with Chubb Life's wide product portfolio, is core to this cooperation. We strongly believe in the bancassurance model as a way to provide better customer service and products."
VEF/VNA/VNS/VOV/SGT/SGGP/Dantri/VET/VIR