BUSINESS IN BRIEF 24/11
Vietnam Airlines to operate 13% more flights for Tet     
Vietnam Airlines will add nearly 900 flights on 10 domestic routes between January 15 and February 13 next year to meet the demand during Tet (Lunar New Year).
They will offer 185,000 additional seats, taking the total number of seats on all domestic flights during the holidays to more than 1.6 million, 13 per cent higher than on normal days and 46 per cent higher than last year.
The 10 routes are between cities such as Ha Noi, HCM City, Da Nang, Nha Trang, Hue, and Phu Quoc, with the Ha Noi-HCM City sector having the highest number of additional flights – 327.
It will be followed by the HCM City-Da Nang and HCM City-Hue sectors with 190 and 136.
More information is available at www.vietnamairlines.com and the airlines' offices across the country. 
VN expects high fruit exports to difficult markets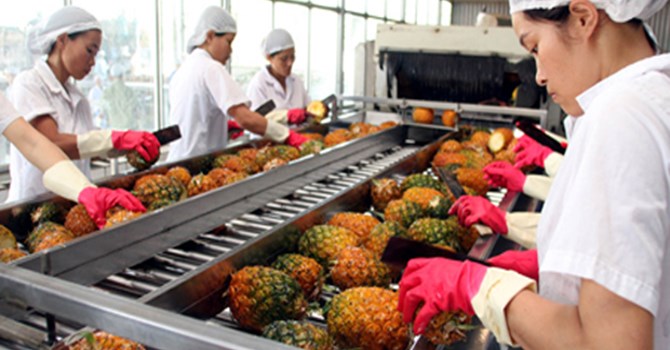 Viet Nam exported nearly 10,000 tonnes of fresh fruit to difficult markets such as the United States, Canada, South Korea and Japan in the first 10 months of this year.
This export volume doubled figures from the whole of last year.
According to Head of the Ministry of Agriculture and Rural Development's Plant Protection Department Hoang Trung, some 5,100 tonnes of dragon fruit and 1,550 tonnes of mango were shipped to these countries.
The United States led the import of Vietnamese fruit, with 2,600 tonnes of dragon fruit and 1,200 tonnes of mango, followed by Japan, Canada and South Korea.
The country exported nearly 2.1 million tonnes of fruit and vegetables, making a turnover of some US$2 billion during the period. Meanwhile, it imported nearly 420,000 tonnes of fresh fruit.
Trung said his department was conducting an experimental project on exterminating fly disease on red dragon fruit, following the requirements of Japan. Japan will officially open its doors to the Vietnamese fruit by early 2017.
Viet Nam expects to increase its exports to Australia and Taiwan in the future, after the two markets begin allowing businesses to import Vietnamese fresh mango and dragon fruit, respectively, this year. 
Việt Nam, Australia to intensify cooperation in agriculture
Việt Nam and Australia agreed to improve cooperation in the agricultural sector during their first high-level dialogue on agricultural policies in Hà Nội on Tuesday.
Lê Quốc Doanh, deputy minister of agriculture and rural development, said agriculture plays an important role in Việt Nam's socio-economic development, contributing to about 20 per cent of the country's Gross Domestic Product (GDP). 
In 2015, Việt Nam shipped agricultural products worth US$500 million to Australia and imported agricultural products of the same value. However, both nations have not fully exploited their own potential, Doanh said.
Việt Nam wants Australia to facilitate the export of products from Vietnamese enterprises to Australia as well as continue sharing its experience in policymaking to promote bilateral trade in agricultural products, the deputy minister said.
Doanh said Australia is an important partner in agricultural development. The two countries have co-operated to implement programmes such as clean water in rural areas and response to climate change, especially in vulnerable areas such as the Mekong Delta and in many coastal regions.
The dialogue is an opportunity for both countries to settle policy obstacles, improve market access for each other's agricultural products and discuss ways to boost product quality, said David Parker, deputy secretary of Australia's department of agriculture and water resources.
Australia and Việt Nam have collaborated to improve agricultural policies and livelihood and for human resource development in the agricultural sector and in rural areas, he said.
Việt Nam exported $17 million worth of fruits and vegetables to Australia in the first nine months of 2016 and imported $35 million worth of the same from Australia. The country is Australia's 15th trading partner, while Australia is Việt Nam's 8th.
Bilateral trade between the two countries has grown rapidly, from $32.3 million in 1990 to $5.1 billion in 2013 and $6 billion in 2014.
Shinsei Bank to acquire 49% of MCredit
The Hanoi-based Military Bank (MBBank) signed a deal on November 21 with a Japanese bank to sell a 49 per cent stake in the MCredit Finance Company (MCredit).
MB Bank will sell the 49 per cent to Shinsei Bank, marking the latter's entry into Vietnam's unsecured loan market.
The two parties expect to complete the deal in 2017 by establishing a joint venture, the MB Shinsei Consumer Finance Company Limited. The deal is still subject to regulatory approval at this time. 
Speaking at the signing ceremony, Mr. Yukio Nakamura, Vice Chairman of Shinsei Bank, said he believes the joint cooperation between the two will produce new opportunities and value as well as improve MCredit's competitiveness in the market.
"We appreciate the development potential of the consumer finance market in Vietnam," he said. "This deal is of major importance to Shinsei Bank in foreign markets."
Mr. Le Huu Duc, MB Bank Chairman, said the joint venture will be a key factor in MCredit's successful development, based on Shinsei's modern technologies and diverse experience. 
"The project will not only benefit MB and Shinsei Bank but also contribute to building a healthy credit system in Vietnam," he said. "It will also enhance economic cooperation between Vietnam and Japan."
MCredit, set up in March, was capitalized at about $20.7 million as at June. It will start in the unsecured loan business in December.
It is currently wholly owned by MBBank, after being restructured from the Song Da Finance Company.
Shinsei Bank operates in the banking, investment and insurance sectors. It has more than 50 years of experience in consumer finance through its subsidiary, Shinsei Financial, which occupies third place in the Japanese market in terms of consumer finance and ranks among the best companies for technological solutions in the sector.
MB Bank is a diversified financial group with a network of over 250 transaction points in Vietnam and two foreign branches, in Laos and Cambodia, as well as subsidiaries in securities, insurance and fund and asset management.
According to local market researchers Stoxplus, following a robust surge in 2014 the consumer finance market in Vietnam witnessed its fastest growth in 2015, of 44.1 per cent compared to 18 per cent in 2014. The outstanding loan balance soared from $10.5 billion in December 2014 to $15.12 billion at the end of 2015.
Thuduc House to increase stake in Fideco
The Thuduc Housing Development Corporation (Thuduc House, code: TDH) has agreed to finalize the list of shareholders to obtain approval for raising its ownership in the Foreign Trade Development and Investment Corporation of Ho Chi Minh City (Fideco, code: FDC) to 65 per cent without a public offering.
The process of obtaining written opinions from shareholders is expected to be conducted in December. Thuduc House plans to buy more than 18.2 million FDC shares, increasing its holding to 25 million shares, or a 65 per cent stake.
"The purpose of this move is to expand the company's land reserves," a representative from the Public Relations Department at Thuduc House confirmed with VET. The form of purchase is expected to be made by agreement between the two parties and will take six to nine months.
Apart from 29 ha in Can Gio district, Ho Chi Minh City, FDC also owns more than 2,000 sq m in District 1's Phung Khac Khoan Street, which are considered to be of high value.
Thuduc House has planned to buy more FDC shares since the beginning of this year. After a range of transactions conducted before March, it announced it owned nearly 6.9 million FDC shares, corresponding to 24.89 per cent of charter capital.
FDC is expected to earn a profit of about $1.33 million from issuing swap shares with the Dat Phuc Construction Design Company Limited and the Thien Y Import Export Trading Packaging Company Limited.
Thuduc House is drawing up a specific business plan for key projects. This year it will focus on an open sale of S-Home apartments in the Phuoc Long project (168 apartments), the Binh Chieu project Phase 2 (145 plots of housing land) and the TDH-Tocontap project (40 plots of housing land). Other projects will be sold in 2017, including Binh Chieu Lot I (405 apartments), Binh Chieu Lot H (218 apartments), TDH-Tocontap (223 apartments), and TDH – Phuc Thinh Duc (935 apartments).
On that basis, Thuduc House sets revenue plans for the 2016-2018 period that correspond to the time of deployment and delivery of each project. Revenues from condominiums are to be about $12 million, $34 million and $44 million in the three years while sales of housing land are expected to reach $16 million in 2016 and nearly $2 million in 2017.
It estimates total revenue for 2016 to be more than $28 million, $36 million in 2017, and $44 million by 2018. Thuduc House so far has implemented more than 40 projects around the country, developing urban towns, row houses, and apartment blocks for both low and high-income earners.
The company has also developed commercial centers, wholesale markets, hotels, resorts, and office buildings and launched affordable apartment projects in District 9 and Thu Duc district in Ho Chi Minh City.
Japanese fashion brands eye Vietnam market
A delegation of nine Japanese firms which own 14 fashion brands have come to Vietnam to sound out opportunities in the market which has seen modest development of Japanese fashion products.
At a program to link Japanese and Vietnamese enterprises for franchise agreements in HCMC on November 21, the visiting Japanese fashion firms said they are looking at Vietnamese companies that are interested in franchise deals and apparel business.
Organized by the Japan External Trade Organization (JETRO), the program prepares the first steps for Japanese fashion firms to enter the domestic market.
Akira Kaise, CEO of I Am Co. Ltd, said the company's fashion brand Name has been available in many markets including Hong Kong, China, South Korea, Taiwan, Spain, the UK, and the Netherlands, and he now comes to Vietnam for new business opportunities.
"Vietnam is becoming a potential market for I Am given the country's young population, growing economy and higher personal income," Kaise said.
Aside from exploiting the market, the company wants to have its products processed in Vietnam, or make investments in the market to take advantage of low-cost and skilled labor.
JETRO said enterprises picked for the event are owners of popular fashion brands with diverse products for men and women.
Most of them sell products at medium prices, which is suitable for local consumers.
Although garment and textile is the strength of Vietnam, JETRO hopes Japanese products will have a position in the domestic market thanks to their unique designs and high quality.
However, several people are of the opinion that Japanese fashion products are expensive given the current incomes of Vietnamese people while their designs are not popular in the country.
Shipping lines told to make surcharges public
The Government has issued a decree specifying that all shipping lines are required to make public all transport charges and extra fees to goods owners.  
The decree, effective from July 1, 2017, forces shipping firms whether owning ships or not to announce a proposed list of shipping surcharges on their websites, especially surcharges appropriate to transport routes and types of cargo, and post up the price lists at the companies' headquarters or offices as well.
If shipping firms want to raise prices of services, they will have to wait 15 days from the date of the adjusted prices and fees being announced. The posted information must also be reported to the Vietnam Maritime Administration, and shipping firms must update data upon a written request from relevant authorities.
The Ministry of Transport along with the Ministry of Finance will be responsible for checking the execution of enterprises.
Enterprises using the service can ask for compensation if such services fail to meet the quality standards and fixed prices that shipping lines have announced before. Under such circumstances, the provincial government will be responsible for handling disputes.
Earlier, some import-export companies complained they had to pay many kinds of irrational fees for shipping lines, including container service and cargo congestion fees. Therefore, the decree is aimed to help these businesses avoid those fees. 
Dung Quat Oil Refinery beats revenue target
Dung Quat Oil Refinery in the central province of Quang Ngai is expected to turn out one million more tons of oil products in the rest of the year, which will help the company beat its 2016 revenue target by VND12 trillion, the news site Vnexpress reports.
Binh Son Refining and Petrochemical Company (BRS), the operator of the plant, released the information at a review meeting on production and business activities in the 9-month period.
The refinery will produce one million tons of fuels between now and the year's end, taking the total to 6.91 million tons in 2016, a year-on-year increase of 100,000 tons.
Revenue from one million tons of products will increase by VND12 trillion, and contribute an extra VND2 trillion, or nearly US$90 million, to the State budget.
A representative of BRS said the company has reached its production target earlier, thanks to the safe and stable operation progress, with an optimal capacity of 105-107% compared to the designed rate. In addition, weather has been relatively favorable, making crude oil import and product trade convenient.
The early completion of the target has helped offset a production halt due to its routine maintenance in mid-2017, he said.
The oil refinery, covering an area of 810 hectares, currently has a maximum capacity of 6.7 million tons per year, or an equivalent of 148,000 barrels of oil a day.
The plant is invested with US$3 billion. It has earned VND785 trillion in revenue after six years of operation and paid around VND133 trillion in taxes to the State. It has total accumulated output of around 43 million tons, meeting 40% of fuel consumption demand nationwide.
BRS is focusing on upgrading and expanding the plant to increase its processing capacity up to 8.5 million tons from the current 6.5 million tons, which is expected for completion in 2022.
520 int'l firms to join 14th Vietnam Expo 2016
The 14th Vietnam International Trade Fair- Vietnam Expo 2016 is scheduled to open at Saigon Exhibition & Convention Center (SECC) in Ho Chi Minh City from November 30 to December 3.
The organization board said that this year's fair attracts around 520 Vietnamese and international exhibitors from 20 countries and territories with their 600 booths.
The fair is chance for visitors able to meet skillful craftsmen of the traditional crafts such as Bat Trang Pottery, Van Phuc Silk, Dong Ky Wood Carving and Ngu Xa Bronze Casting.
This is the first time that the Department of Trade and Industry of Hanoi introduce traditional pavilions under a slogan of "Preserving and developing Hanoi's traditional crafts".
Two seminars about role of new technologies for small- medium enterprises will be held by Ministry of Science and Technology and Indonesia Embassy. 
The 2015 Vietnam Expo attracted 15, 000 domestic and foreign participants. More than 500 contracts and memorandum of understandings about cooperation were also signed.
80% of Vietnamese industrial zones violate environmental regulations
Eighty in every 100 industrial zones in Vietnam are violating the country's environmental regulations, an expert said at a recent economic workshop in Hanoi.
The figure was shared by Assoc. Prof. Dr. Dinh Duc Truong from the Hanoi-based National Economics University during the international workshop on 'Vietnam's Economy in the Medium Term: Prospects and Environmental Effects.'
The workshop was co-organized by the National Center for Socio-Economic Information and Forecast and the Republic of Ireland's government agency for international development, Irish Aid.
Dr. Truong cited statistics from the General Statistics Office of Vietnam for his findings.
According to Truong, foreign direct investment (FDI) businesses account for up to 60% of the firms based in Vietnam that violate standards on waste discharge.
Many of these businesses bring outdated technology, banned in developed countries, into Vietnam in order to lengthen their life cycle and make use of  low environmental investment requirements and taxes.
"[Vietnam's] low environmental standards and lack of a monitoring system allow FDI businesses to save between ten and 50% of investment costs compared to those of their parent companies," Truong said.
The associate professor stressed in his report 'Vietnam – Pollution Heaven for Foreign Businesses' that Vietnam was already facing grave environmental risks despite having yet to become a fully industrial nation.
The country spends US$780 million every year on healthcare services related to environmental pollution, Truong said, citing a report by the Vietnamese Ministry of Natural Resources and Environment.
Pollution damage accounts for an estimated five percent of the country's annual gross domestic product (GDP), while the respective figure for China is 10%, Truong said, citing World Bank (WB) studies at the workshop.
He warned that Vietnam could well surpass its northern neighbor in this regard should its pollution continue at the current rate.
Dr. Truong elaborated on his forecast in an interview with Tuoi Tre (Youth) newspaper on November 20, saying that countries with serious pollution like China had adopted the green GDP, which factors the environmental consequences of economic growth into a country's conventional GDP.
Vietnam, Truong said, was still calculating its environmental damage as a stand-alone factor.
Steel tops among export products to Cambodia
Vietnam exports 28 types of products to Cambodia to get nearly US$1.8 billion in the first ten months of this year, down 11.53% against the corresponding period last year, according to preliminary statistics from the General Department of Vietnam Customs. 
Steel topped among export items with US$245.7 million (making up 17% of total revenue but down 28.47%), trailed by petroleum (down 26.47% to US$232.2 million) and garment (up 13.29% to US$196.9 million).
In general, most of products exported to Cambodia saw a decline in volume and value in the reviewed period, of which fruit and vegetables suffered the deepest decrease of 70.69% to US$1.8 million.
Only a few export products enjoyed a growth, such as telephones and components (up 1169.76% to just US$1.82 million) to US$1.82 million).
Export products to Cambodia included steel (making up 17%), petroleum (16%), garment (13%), footwear and garment materials (9%), animal feed and materials (5%) and others (40%).
Japan – third largest import market of Vietnam
Japan is Vietnam's third largest import market, trailed after China and the Republic of Korea, according to the General Department of Vietnam Customs.
Vietnam imports from Japan inched up 1.56% to more than US$12.2 billion in ten months leading up to November this year.
Machines, equipment and tools ranked first among import products with US$3.35 billion (down 13.4%), followed by computers, electronics and components (US$2.26 billion, up 18.9%) and steel (US$989.6, down 6.7%).
Import products that saw a robust growth in the reviewed period included milk and dairy products (up 99%), animal feed and materials (up 91.6%), cameras, film cameras and components (up 153.2%) while those with a sharp decline were petroleum (down 98%), fertilizer (down 52%) and telephones (down 44%).
A seminar was held in Ho Chi Minh city on November 17 by the Japan External Trade Organization (JETRO) within the framework of a program to promote connectivity between Vietnamese and Japanese businesses. It was participated by 37 Japanese businesses which are interested in exporting products to Vietnam.
Michiyo Uehara, representing JETRO said most of the participating businesses are small and medium-sized. They introduced Vietnamese distributors to their household, ceramic, kid and healthcare products.
It was the third seminar of this kind ever held by JETRO with the aim of connecting Japanese businesses with Vietnamese distributors to boost exports of Japanese products to Vietnam.
Saigon expected to drink 40 million liters of beer during holiday
The demand for beverages in Ho Chi Minh City is expected to increase by 30% during the upcoming Lunar New Year Tet holiday, the city's trade department said.
To be specific, consumption of beer is projected to hit 40 million liters while soft drink sales may reach 45 million liters.
Local companies have been ramping up production to get ready for the country's biggest shopping season.
It's estimated that businesses in the city will allocate about VND17 trillion (US$755 million) on producing and stocking goods for the holiday, which will begin on January 28. The volume of goods is expected to go up by 25%-45% against last Tet.
Tran Thai Ha, of the market research firm Nielsen Vietnam, said the most popular products during Tet are beer, soft drinks, coffee and confections but demand varies from region to region.
Last Tet, sales of beer and beverages increased significantly in the south, but in the north, they slightly fell while demand for confections soared, Ha said.
She added that more and more consumers are looking for healthy food choices so suppliers can boost sales of these products during peak shopping season.
Wharf closure leaves Saigon river tours 'grounded'
A small industry enabling tourists to explore Ho Chi Minh City via its 2,000km worth of waterways has been 'grounded' after emerging in 2011.
Local tour organizers and travel firms had been developing river tour packages to attract international tourists, but have had to run away from their fledgling businesses after the main wharf in the city was asked to close.
River tour operators have been forced to sell off their fleets of boats, but still hold out hope that a new wharf will be built to allow them to resume their service, which proved to be attractive to foreign holidaymakers, particularly during their short heyday five years ago.
In February 2011, a new tourism package called 'Sunset River Tour' was launched and quickly appealed to international visitors to Ho Chi Minh City.
Tourists would board boats on the Saigon River in the late afternoon to admire the sunset while floating on the city's main waterway.
At the time, photos and videos capturing the breathtaking scene of the sun reflected off the Saigon River flooded social media, as tourists were impressed by the 'Sunset River Tour.'
"There were times when a boat offered as many as ten journeys a day, with all foreign passengers," one man who used to work as a crew member for a river tour company recalled.
The closure of the Bach Dang Wharf, near the city's downtown area in March 2015 was a real nightmare for travel firms, who did not know what to do with their fleets of boats.
"The ship operators were scratching their heads to find a solution and maintain operations," Nguyen Xuan Truong, who once worked in the river tour business, told Tuoi Tre (Youth) newspaper.
"Some companies eventually had to shut down their service, meaning many crew members switched to working on cargo ships."
With the only place for tourist boats to dock and pick up passengers 'killed off,' travel firms have had no other choice but to sell their vessels.
Leading tour organizer Saigontourist invested heavily in developing a fleet of tourist boats, each with 30 to 100 seats, and 16 speedboats to embrace the river tour trend back in 2011. The star of the Saigontourist fleet was a 600-seat restaurant boat.
However, the company has had to liquidate two of its major boats, and the others "now dock at [its] own wharf in the Binh Quoi 2 ecotourism area [in Binh Thanh District], waiting for sale," admitted Saigontourist river tour manager Nguyen Thanh Lam.
Lam, who has more than 15 years of experience working in the river tour sector, said the demise of the Bach Dang Wharf was the main killer of the river tour industry in Ho Chi Minh City.
"Some travel firms have their own wharfs, but most of them are located away from the city's center and are incapable of docking bigger ships," Lam told Tuoi Tre.
The Saigontourist representative said the number of river tour customers is now 40% to 60% lower than the pre-2015 period.
Besides Saigontourist, other companies must dock their ships across makeshift decks along the Saigon River, which snakes through District 1, 2 and Binh Thanh and Nha Be Districts.
Lam suggested that a new wharf be set up near the city center in District 1 to facilitate both local and international tourists who wish to explore the city on the river.
Bui Ta Hoang Vu, director of the Ho Chi Minh City tourism department, admitted that the decision to close the Bach Dang Wharf without a replacement facility has impacted local travel firms.
Vu said the municipal administration plans to focus on developing river tours and will consider building a new wharf in the downtown area to serve tourists.
Many foreign tourists have been discouraged from taking river tours after learning that they had to travel to another district be able to board the boat.
Luke Smith, one of the two Canadians Tuoi Tre met near the old Bach Dang Wharf last week, said they gave up their plan to go on a river tour after being told they had to board the ship at Tan Cang in Binh Thanh District.
Hardware expo ready to unlock its doors in HCM City
With the aim of bringing more opportunities for Vietnamese to approach advanced and hand products in both manufacturing and daily life – Vietnam Hardware & Hand Tools Expo 2016 (November 30-December 3) – is ready to open its doors.
Speaking at a press conference on November 22 in Hanoi, the organizers said the Expo at the Saigon Exhibition and Convention Centre promises attendees a truly international showcase with a huge selection of the latest products, services and technologies from more than 152 exhibitors from 17 countries. 
The exhibition focuses on four main tool segments: tools; do it yourself and building hardware; fasteners; and securities, locks and fittings. In addition, there are special seminars on opportunities for resellers to promote and develop products.
The event not only creates opportunity for collaboration and exchange between buyers and sellers, but also give them direct access to advanced technologies and products, said the organizers.
They said, the first of its kind expo in Vietnam is expected to attract more than 5,000 specialized visitors from across the country and representatives from major brands including Bosch, Elora, Onishi, Bawa Tools, Kynko, Hazet, and Matador.
Vietnam: Fastest-growing ASEAN trade partner of Canada
Last year commercial goods trade of Vietnam with Canada reached US$4.8 billion making the Southeast Asian nation the largest trading partner of the North American country in ASEAN.
Vietnam exports to Canada for 2015 surpassed US$4.1 billion, while imports from the north American country tallied in at roughly US$700 million, according to Canadian trade statistics.   
Official Canadian statistics for the first three quarters of 2016 showed that the robust trade carried over into 2016 with total exports of Vietnam tallying in at US$2.757 billion and imports US$350 million for total commercial trade of US$3.107 billion.
The leading exports of Vietnam to Canada were clothing and textiles, footwear, seafood, furniture, spices, cashew nuts, and sporting equipment. Vietnam imports from Canada consisted primarily of wheat, seafood, vegetables and fertilizers along with high-end Canadian clothing, leather and fur products.
Hoang Anh Dung, trade counsellor to Canada, crunched the numbers and calculated that Vietnam obtained export growth of 14.8% to Canada while other ASEAN countries experienced negative export growth.
Per Mr Dung's computations – Thailand exports dipped 2.6%, Indonesia exports were down 9.3%, while those of Malaysia, Singapore and the Philippines fell 7.7%, 6.1%, 11.1%, respectively.
Mitsubishi Motors Viet Nam debuts showroom in Da Nang     
Mitsubishi Motors Viet Nam has inaugurated a new showroom in the central city of Da Nang, its seventh in the central region and 30th in Viet Nam.
The nearly VND20 billion (nearly US$900,000) facility includes a showroom, service centre and accessories and spare parts sale centre.
According to its latest report, Mitsubishi Motors Viet Nam, 82 per cent of which is owned by Mitsubishi Motors, sold 4,600 cars in the first 10 months of 2016.
Its central Viet Nam showrooms are located in Thanh Hoa, Vinh, Nghe An, Gia Lai, Dak Lak, Quang Ngai and two in Da Nang.
In 2015, Da Nang hosted the fourth stage and fifth starting point of the 2,200km Viet Nam-trans Mitsubishi Caravan.
Last year, Hino Motors Viet Nam also debuted a showroom in Da Nang.
Japan is the biggest investor in Da Nang, with 112 projects worth $397 million – 10 per cent of the foreign direct investment (FDI) projects in the city, creating 32,000 jobs.
The city plans to build an industrial park on 134ha for medium-sized and small businesses from Japan.
A direct flight between Osaka and Da Nang will be launched in 2017. The seven direct flights per week to Tokyo have helped promote tourism and investment since their launch in 2014. 
FPT profits rise 7%     
The FPT group, Viet Nam's leading software company, has recorded an after-tax profit (ATP) of VND1.99 trillion, a 7 per cent year-on-year (YoY) increase.
The IT giant's consolidated revenue is VND31.8 trillion, a 2 per cent year-over-year (YoY) decrease, and its profit-before tax (PBT) has increased by 4 per cent YoY to VND2.3 trillion.
Its ATP, to be disbursed to the parent company's shareholders, is VND1.53 trillion, a 6 per cent YoY increase. The earning per share (EPS) was VND3,334 after 10 months, up 5 per cent as compared to the first 10 months of 2015.
With 31 per cent contribution to the consolidated PBT, 'going global' continued to be a key strategy for FPT. After 10 months, FPT's overseas markets recorded a revenue of VND4.72 trillion, a healthy increase of 28 per cent, and PBT of VND713 billion, up 39 per cent year on year.
The retail segment also continued be a bright spot in the 10-month period, with its YoY revenue up 32 per cent and PBT up 42 per cent YoY.
Apart from decent business performance in the first 10 months of 2016, the company has also strengthened its position and been recognised by the business community. FPT is the first enterprise in Southeast Asia to be recognised by GE as its partner in the Industrial Internet of Things (IIoT). The software multinational is also the only Vietnamese enterprise that received the title Digital Transformer of The Year, and it has featured among the Top 10 Companies for Sustainability Development in 2016. 
Dai-ichi Life, Lien Viet Post Bank join hands     
Dai-ichi Life Viet Nam and Lien Viet Post Joint Stock Commercial Bank have committed to building and promoting strategic co-operation for the sustainable development of the banking and insurance sector.
The commitment was made under a business contract signed between the two sides on Monday.
Specifically, the insurance company and the bank will help introduce and supply their services to each other's customers over a period of five years, starting in November.
Tran Dinh Quan, Director General of Dai-ichi Life Viet Nam, said the co-operation agreement with LienVietPostBank was a step towards realising its distribution channel diversification strategy.
He said he hoped that with the co-operation, more and more Vietnamese customers would have the chance to access the company's life insurance services.
LienVietPostBank Director General Pham Doan Son said the bank's revenue and operational efficiency were expected to be improved, thanks to the signing. 
Insolvency reform a priority: Chief Justice     
Viet Nam will pay special attention to reforming the nation's insolvency regime as part of efforts to create a favourable business and investment climate, Supreme People's Court Chief Justice Nguyen Hoa Binh said yesterday.
Addressing the 10th Forum for Asian Insolvency Reform (FAIR) which opened in Ha Noi, Binh said a good insolvency regime was important at the time of rapid global integration, when many Vietnamese businesses were extending their global reach and a growing number of foreign firms were investing in the country.
"Viet Nam is taking appropriate steps to improve the business climate and attract investment for socio-economic development," Binh said. "Reforming the insolvency regime towards making it more efficient and convenient is an important part of this effort." 
Binh said Viet Nam updated its law on insolvency in 2014 and hoped to share achievements from this effort at the forum, while learning from international experiences to make further improvements.
During the past three decades, Viet Nam has updated its insolvency regime three times. The aim is to accord sufficient protection to creditors, debtors as well as workers, and ensuring social stability, Binh said, adding that insolvency regime was a useful tool for eliminating weak and inefficient companies and promoting economic restructuring.
New amendments to the Law on Insolvency will further clarify conditions for insolvency, simplify procedures and facilitate restructuring, he added.
The two-day forum attracted hundreds of participants from 18 countries and territories and international organisations, becoming a platform for policy makers, scholars, legislative and juridical organisations, ministries and businesses to share experiences and promote insolvency reform ins member countries.
The Forum for Asian Insolvency Reform (FAIR) is an organisation committed to bringing stakeholders together to discuss insolvency reform in Asia, according to the World Bank website. 
Vietjet launches year-end sales with promotional tickets
Vietjet offers 300,000 promotional tickets priced at zero dollars from November 23 -25 in a move to celebrate the coming travel and shopping season in Southeast Asia.
The promotion is applied for all routes between Vietnam and Southeast Asian countries including Singapore, Thailand, Malaysia and Myanmar and travel from December 1, 2016 to December 31, 2017, excluding national holidays.
Thanks to diverse cultures, unique sceneries and impressive cuisines, Southeast Asian destinations are attracted to global travelers. Also the area is famous for being tourism-friendly at the affordable costs and abundant air fare promotions, which is always the driving force to travelers and shopaholics, the airline said.
With its high-quality services, special low-fare tickets and diverse ticket classes, Vietjet offers its passengers enjoyable flights with dynamic and friendly flight crew, comfy seats, amazing hot meals and special surprises from the airline's inflight activities.
Vietjet Air now owns more than 40 A320 and A321 planes which make some 350 flights every day. Its flight network has covered almost all destinations in Vietnam and many others in Singapore, the Republic of Korea, China, Thailand, Myanmar and Malaysia.
It has provided services for more than 30 million passengers so far.
Quan Ngang IP to be widen to over 321 ha
The Prime Minister has agreed on a plan to expand Quan Ngang Industrial Park in the central province of Quang Tri, raising the total area of the park to 321.74 ha from the current 205 ha.
The third phase of the park will also be included in the national industrial park development plan to 2020.
The PM assigned the provincial People's Committee to direct relevant agencies and investors to outline a detailed plan for the project.
It is also responsible for guiding investors to build and submit environmental assessment reports for approval, and to implement procedures related to the use of water resources and cultivation land, and wastewater treatment in accordance with laws on environmental protection.
Relevant units will coordinate with investors to work on issues related to employees in the park, including arranging a land fund for building houses for workers.
The industrial park, located in Gio Quang commune, Gio Linh district, is 15 km from Cua Viet Port, 45 km from My Thuy Port of Quang Tri, and 182 km from Da Nang Port in central Da Nang city.
There are 14 projects registered for investment in the park with total invested capital of over 3 trillion VND (132 million USD). Eight of the projects are operational, with the remainder are in the process of construction.
The expansion of the park is expected to promote industrial development, boosting the locality's growth and improving income for employees.
HCM City, European businesses enhance cooperation
Chairman of the Ho Chi Minh City People's Committee Nguyen Thanh Phong hosted Michael Behrens, new Chairman of the European Chamber of Commerce (Eurocham) on November 21 to discuss orientations for cooperation in construction and sustainable development.
Phong thanked Eurocham for its role as a bridge linking the city's leaders and European businesses operating in the southern economic hub. 
Eurocham helped businesses understand the city's new policies and it, together with other organisations of foreign investors in the city, built a close link to help the city's leaders to get opinions from firms, facilitating foreign investors' operations in HCM City, he said.
He suggested Eurocham share experience in building green works of European urban centres, introduce energy-saving equipment using high tech and solutions to waste treatment.
Behrens, for his part, said European businesses are willing to share their experiences and wish to cooperate with the city during its process of building and implementing the smart city project.
Eurocham is ready to work together with HCM City in training high-quality human resources and receiving students to practice and work at European research centres and factories in Vietnam, he added.
He affirmed that European firms stay ready to join hands in dealing with issues such as the use of renewable energy, water resources management, liquid and solid waste treatment, and urban transport system construction.
Better FMCG value growth in 10M
The economy's consumer-price-index (CPI) in October was 4 per cent year-on-year due to price increases in healthcare services, crude oil, and food. At 2.27 per cent for the first ten months the figure remains under control. Total retail sales of consumer goods grew a touch slower than last year.
In the short term, both urban four key cities – Hanoi, Ho Chi Minh City, Da Nang and Can Tho – and the rural FMCG market (for in-home consumption) performed better in terms of value in the period. However, growth in rural areas was driven by an increase in the average paid price, not purchase volumes.
Non-food sectors lead urban market value growth while rural consumers are also investing more in personal care products besides dairy – the key growing sector in rural.
Liquid bath enjoyed healthy growth in both the urban four key cities and rural areas. The category attracted more new buyers, in particular in rural areas, and these tended to buy high-cost products.
Growing channels (medium-sized street shops, minimarkets and convenience stores in the urban four key cities, and small street shops in rural areas) continue to take market share away from others. Supermarket & Hypermarket see early signs of recovery. Will these maintain positive growth in the last two months of the year?
More people are beauty conscious these days and so spend more on beauty products. Together with the affordable premiumization trend, there are plenty of opportunities to tap into the beauty segment, especially in the middle class.
MWG's dienmayxanh.com grows 207% in 10M
The Mobile World JSC (MWG) has announced revenue of VND35 trillion ($1.57 billion) in the first ten months of this year, up 76 per cent year-on-year and equal to 103 per cent of its annual target.
After-tax profit was VND1.33 trillion ($59.6 million), up 57 per cent year-on-year and equal to 96 per cent of the annual target. Turnover of thegioididong.com was VND24.9 trillion ($1.11 billion), a 50 per cent increase year-on-year, and VND10.1 trillion ($452.9 million) at dienmayxanh.com, 207 per cent higher year-on-year. Online turnover reached VND2.53 trillion ($113 million), up 102 per cent year-on-year and equal to 77 per cent of the annual target.
The company opened 469 new stores nationwide in the first nine months, including 365 new thegioididong.com stores and 104 new dienmayxanh.com stores. As at October 31 it had 1,102 stores, including 929 thegioididong.com stores and 173 dienmayxanh.com stores.
In early November, MWG Chairman Nguyen Duc Tai announced that after-tax profit in 2016 has been estimated at VND1.5 trillion – VND1.6 trillion ($67.5 million – $71.7 million) and it would have 1,200 stores nationwide by the end of the year.
Mr. Tai confirmed with VET that its online business holds a 10 per cent market share and leads the online retail market, followed by Lazada. Its thegioididong.com chain stores accounted for 40 per cent of mobile retail share as at October, according to GfK. Small mom & pop stores accounted for 20 per cent while other chain stores accounted for 40 per cent. Its dienmayxanh.com chain stores, meanwhile, accounted for 16-17 per cent of total consumer electronics retail share as at October.
Mr. Tai also announced the group was the third largest retailer in the country, behind Co.op Mart with $1.2 billion in turnover and Big C with $900 million. "The company will overtake these two retailers in the near future with $1.8 billion in turnover," he said. "We have determined that our growth strategy in the 2016-2018 period relies on the thegioididong.com and dienmayxanh.com chains and their online business. In the 2019-2025 period our strategy will focus on Bach Hoa Xanh and vuivui.com – our online supermarket."
Bach Hoa Xanh targets Vietnamese housewives who prefer to save time on shopping by visiting chain stores. Its turnover now stands at VND1 billion ($44,700) per month in each outlet.
Eighty stores are to be opened in cities and provinces around the country and its business results for 2017 will prove how effective this model is. "If we succeed we will launch a range of stores nationwide by 2018," Mr. Tai said. "For now, we cannot give any figures on profits from Bach Hoa Xanh."
There is major potential in Vietnam's grocery sector, which is worth $60 billion; higher than the value in both the mobile devices and consumer electronics industries, of $6 billion. Bach Hoa Xanh expects to account for 10 per cent of total grocery turnover.
vuivui.com has launched a website in Ho Chi Minh City. Mr. Tai said its online business accounts for 5 per cent of total retail turnover and will expand to 20 per cent in the future. "MWG plans to become the No. 1 online retailer by 2020," he said.
First eScooter sharing system in Vietnam piloted
On November 21, 2016 an eScooter Sharing System was launched at Ho Chi Minh University of Technology. 
The system is the result of a joint project between Bosch in Vietnam and Ho Chi Minh University of Technology (HCMUT), Danang University of Science and Technology (DUT), and Vietnamese-German University (VGU). Students working in this project are winners of the Green Challenge contest which was co-organised by Bosch in Vietnam and the above mentioned universities in 2015. The best ideas from the contest were then put into implementation from the beginning of 2016. 
Bosch sponsored more than VND4 billion (about $182,000) for this pilot project. The next two systems will be launched in December 2016 at VGU in Binh Duong, and DUT in Danang, respectively. In this pilot project, students of the three universities can use 18 eScooters free of charge within their campuses, after registering online.
The system offers a smart and eco-friendly alternative to commuting for end users. "We believe that research and development will help enhance the competitiveness and build a knowledge economy in Vietnam," said Vo Quang-Hue, managing director at Bosch Vietnam. 
Through this project, Bosch wants to initiate stronger cooperation and collaboration between businesses and academia to boost research and development activities. Vo Quang-Hue added that this system, if properly implemented in large cities, will help solve challenges in public transportation and in environmental protection. Furthermore, the system will be one of the solutions for building up smart cities.
To use the service, users create an account at http://bosch-green-challenge.com.vn/ and login to locate the station and book an eScooter. They will then be provided with a code and a control card to activate an eScooter at the chosen docking station. This control card is used as a key for the eScooter, locking, unlocking, and opening the helmet box under the seat. 
All eScooters are electrically charged at the charging stations which are using solar energy thanks to the solar panels on their roof. A fully-charged eScooter can travel up to 80 kilometres, at the maximum speed of 45 kilometres per hour. People aged 18 and above with a motorcycle driving license can use these eScooters.
EVN to resume Quang Trach I in late 2017
State-run Electricity of Vietnam (EVN) will resume the construction of Quang Trach I thermal power plant at the end of 2017, with a total investment capital of VND33 trillion ($1.47 billion), according to newswire Tuoitre.
Quang Trach I is one of the two thermal power plants located in Quang Trach Power Centre in Quang Binh province.
The plant includes two turbines with a total capacity of 1,200 MW. According to EVN's plans, the first turbine will come into test operation in 2021 and the second unit in 2022.
Previously, EVN was chosen to replace Vietnamese oil and gas group PetroVietnam to develop the long-delayed thermal power plant.
The project's construction was kicked off in July 2011, with the total investment capital of $1.7 billion. The two turbines were expected to come into operation in June and December 2015 and contribute to the national grid an annual 8.5 billion kWh.
However, more than five years after the ground-breaking ceremony, the construction has been immobile save for a finished office building.
Regarding Quang Trach II thermal power plant, the other plant in Quang Trach Power Centre, EVN will replace Russian Inter RAO Group to carry out a pre-feasibility study on the project.
The new investor has yet to release the specific date to start the construction, however, EVN expects to take the first turbine on a test-run in 2028 and the second one in 2029.
VEF/VNA/VNS/VOV/SGT/SGGP/Dantri/VET/VIR