BUSINESS IN BRIEF 23/3
ACV to upgrade Hue airport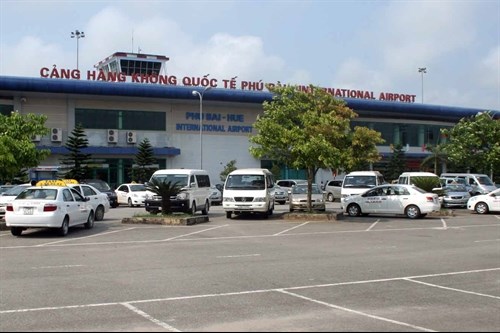 The Airports Corporation of Vietnam (ACV) plans to upgrade the international terminal at Phu Bai airport in central Hue city under the build-operate-transfer model, saying it was needed to serve the increasing number of passengers.
In a document sent to the Ministry of Transport, the corporation said that the terminal was upgraded in 2013 to increase its capacity to 1.5 million of passengers per year.
In 2015, the terminal welcomed 1.3 million passengers.
The corporation estimated that the number of passengers annually would be 3.4 million by 2020 and 8.6 million by 2030.
"The upgrade and expansion of the terminal is necessary to meet the rapid growth of the aviation market and assure the service quality of the airport," an ACV representative said.
The company said it would study the expansion of the terminal as the number of international flights was rising.
Two companies are ready to invest in the upgrade of the terminal, an ACV spokesman said.
The Phu Bai terminal has two storeys with an area of 6,540 square metres with three boarding gates, 2 luggage conveyor belts and 14 check-in desks.
In 2013, the airport was closed for eight months to upgrade the runway. Total investment capital for the construction was 600 billion VND (27 million USD) paid by the ACV.
Counterfeit money on rise
The volume of counterfeit money seized in 2015 through the banking systems and the State Treasury network rose 0.17 percent compared with 2014, and 22.9 percent compared with 2013.
According to the SBV, confiscated false money in polymer notes can be detected by touch and sight through security characteristics such as watermarks, security threads, colour-shifting ink and raised printing.
In an attempt to minimise risks and economic losses caused by counterfeit money, the SBV has recommended people learn about security characteristics of real money, and carefully check all money when making transactions.
For more information on Vietnamese money and ways to determine its authenticity, individuals and organisations are advised to visit the SBV's website at http://www.sbv.gov.vn.
Petrol prices up 670 VND per litre
The prices of RON 92 petrol and E5 bio-fuel increased 670 VND and 570 VND per litre, respectively, as of 4:30 p.m. on March 21.
Following a joint decision issued by the ministries of Industry and Trade and Finance, the ceiling prices of RON 92 petrol and E5 bio-fuel will be 14,422 VND and 13,819 VND per litre.
The ceiling price of diesel oil also went up 290 VND per litre to 9,873 VND per litre.
The maximum price of kerosene remains unchanged at 8,905 VND per litre.
This is the sixth petrol price adjustment this year, where the price dropped in four instances, maintained in one instance and increased in the latest one.-
Work begins on FLC resort in Quang Ninh
FLC Group began construction on its resort complex, FLC Ha Long, in Ha Long City in the northern province of Quang Ninh on March 20.
Covering 224 hectares in Hong Ha ward, the complex will cost 3.4 trillion VND (147 million USD).
It will include an 18-hole golf course, a convention hall with 1,300 seats, a 600-apartment hotel, a luxury village area, clubs and pools.
The golf course should be completed this year and the resort complex will be put into operation in 2017.
Quality inspections tightened for steel imports
Imported steel must be sampled for quality inspection to be eligible for customs clearance, according to the Joint Circular No 44 issued by two ministries involved in the process.
The circular, issued by the Ministry of Industry and Trade (MoIT) and the Ministry of Science and Technology (MoST), which officially took effect on March 21, was to tighten controls over steel imports and prevent low-quality products from entering Vietnam.
Specifically, before being imported into Vietnam, steel would be subject to inspection of metal components and mechanical and physical quality. Inspection results would serve as a basis for customs clearance. Based on the applied standards, the authorities will assess whether the consignments are eligible for import to Vietnam or not. Products with conformity announcements or certificates would be exempted from inspection.
Steel under the HS code of 7224.10.00 and 7224.90.00 is required to have a declaration paper on imported steel certified by the MoIT.
Meanwhile, domestic producers would be required to apply quality management systems to assure product quality.
In addition to regular inspections, quality inspection would be carried out when there is a claim or information in the press about poor-quality products.
For special kinds of steel, export-import companies must show a product list issued by the Department of Heavy Industry under the MoIT and a copy of an import certificate issued by the ministry.
The Customs Department and the departments of Industry and Trade and the departments of Science and Technology in major cities and provinces are responsible for handling imported steel products which failed to meet the nation's quality standards. The departments must also keep an eye on imported steel and provide the number of products imported into the country.
Meanwhile, steel importers will be held accountable for the quality which must meet the country's standards.
The finance ministry has sent a document to the HCM City's Party Committee Secretary Dinh La Thang answering some issues relating to the one-shop customs mechanism and special check-ups on imported steel.
The ministry said there was a tariff difference in imported steel. Instances of trade fraud have been noticed in imports as businesses importing rolled steel, containing 0.0008 percent boron (Bo) element, were labelled as metal to enjoy a tax preferential of zero percent.
Upon the proposal from Vietnam Steel Association in October, exporters took advantage of the tariff levels to avail tax arrears. Around 1 million tonnes of steel billets was imported as metal into Vietnam.
The association asked for stricter check-ups and control on the steel billets imported from China.
The ministry affirmed that the tightening on imported steel has been a non-tariff solution to limit import of cheaper products.
The MoIT has issued a temporary decision against imported steel billets and coated steel to protect domestic companies after domestic manufacturers sent their appeal to the ministry, demanding the implementation of measures to prevent imported coated steel sheets from being sold at cheap prices in Vietnam, causing huge losses to local steel producers.
Steel billets and coated steel will be imposed a tariff of 23.3 percent and 14.2 percent, respectively, within 200 days.
The tariff will not be imposed on commodities originating from an underdeveloped country if total volume of its imported goods into Vietnam do not exceed 3 percent of the whole investigated goods.
Vietnam printing company seals 2-million-EUR contract in Sudan
The Hanoi Printing Joint Stock Company (HNP) has recently won a textbook contract worth over 2 million EUR with Sudan's Federal Ministry of Education.
Under the contract, which was signed in Sudan on March 20, the Vietnamese company will be in charge of printing and supplying textbooks for both pupils and teachers on Maths (grade 1 & 2), Arabic (grade 1 & 2), Science (grade 6 & 7) and English (grade 7).
These academic materials are part of a World-Bank-funded project to improve basic education in Sudan, which has a budget of 76.5 million USD.
At the signing ceremony, Sudanese Deputy Minister of Education D. Elsir Elshenikh Ahmed said the package deal winning reflects the professional manner and credibility of Vietnamese enterprises in general.
Bac Ninh draws Japanese investment in tourism
A workshop was held in the northern province of Bac Ninh on March 21 to attract Japanese investment in tourism.
Vice Chairman of the provincial People's Committee Nguyen Tien Nhuong described the locality as one of the most dynamic economies in the country, with unique culture and traditional craft villages.
The province attracted more than 800 foreign direct investment (FDI) projects worth 11.8 billion USD, he said, adding that Japan ranks second among countries and territories with total investment of 1.4 billion USD.
He noted that Bac Ninh boasts rich tourism resources such as "Quan ho" (love duet singing), an Intangible Cultural Heritage of Humanity; an age-old culture with numerous festivals; craft villages; and architecture.
With the aim of building the provincial capital of Bac Ninh into a centrally run city in the 21 st century, Nhuong said local authorities hope economic, trade and investment ties with Japan will increase, especially in tourism infrastructure.
The province welcomes Japanese investors and tourists, and will create the best conditions possible for the two sides' business communities to forge connectivity, he added.
Representatives from the provincial Department of Planning and Investment spoke to Japanese firms about local natural resources, the investment climate and preferential policies to develop tourism. They also highlighted some notable projects from Japan and investment orientations in the field.
Chairman of Japan City Hotel Association Kimitaka Fujino mentioned the tourism development between Vietnam and Japan in recent years, as well as proposals from Japanese investors in the field.
He also discussed measures to promote short- and long-term bilateral cooperation.
During the workshop, participants also spoke about the Vietnamese Government's goals to develop trade, investment and tourism cooperation with Japan.
Pyramid schemes under spotlight
Minister of Industry and Trade Vũ Huy Hoàng has called for quarterly reevaluations of multi-level marketing firms, or pyramid schemes, operating across the country.
The move comes in response to many cases of fraud being filed against multi-level marketing businesses operating pyramid schemes. In particular, the Liên Kết Việt Company was caught swindling some 60,000 people in more than 27 cities and provinces nationwide, appropriating a total of VNĐ1.9 trillion (roughly US$85 million) since 2014. The company's business licence was revoked on March 9.
The minister requested the provincial industry and trade departments to supervise firms operating pyramid schemes and people who join local multi-level marketing networks. Conferences, seminars and training sessions hosted by these firms need to fall under greater scrutiny.
Hoàng also asked local administrations improve public awareness of banned activities in a multi-level marketing context, the responsibilities of firms that operate such schemes, the participants' rights and interests and issues related to commissions, bonuses and other economic interests.
He said the Việt Nam Competition Authority (VCA) would co-ordinate with the market watch body to investigate these businesses more thoroughly to uncover violations and protect the customers' legitimate rights.
There are 66 multi-level marketing businesses operating in Việt Nam, nearly half of which are wholly foreign-invested businesses.
The VCA recently revoked the business registration certificates of four multi-level marketing businesses: Con Đường Việt Trade and Production JSC, Tầm Nhìn Đại Hưng 668 Limited Company, TNC International Trade and Im-Export JSC and Trái Tim Ngọc Việt JSC. All have headquarters in Hà Nội.
Foreign shops driving rent up
More foreign shops such as France-based Auchan and US-based 7-Eleven convenience stores will lead to competition for rental spaces, particularly in downtown HCM City, according to a new report.
"Good positions downtown will play a very important role in attracting customers, and we see the price for rent increasing after Lunar New Year," Võ Thị Phương Mai, Cushman & Wakefield's retail service manager, was quoted as saying in Đầu Tư (Việt Nam Investment Review) newspaper.
According to a recent survey conducted by CBRE Việt Nam, after Tết, the retail sector is expected to grow and demand for rental positions will increase.
Prices have risen from 10-15 per cent compared to the period before Tết.
Well-known fast-food and coffee brand names like McDonald's, KFC, Starbucks, Trung Nguyên, Phúc Long, Kichi Kichi, Seoul Garden and Món Ngon are expanding their businesses and have created pressure in the rental space, the report said.
Within a radius of 15km from downtown, prime spots for renting will become scarce, especially on major streets and the ground floors of high-rise buildings for 50-500 sq.m of rental space.
The report also said that many spaces inside trade centres remained empty because investors were waiting to rent spaces on major streets.
To meet the demand, real estate investors will offer more ground-floor spaces in high-rise buildings this year.  
MBBank increases charter capital to $730.6 million
The Military Joint Stock Commercial Bank (MBBank) has increased its charter capital from VND16 trillion (US$716.6 million) to VND16.31 trillion after merging with Song Da Finance Company (SDFC).
The bank issued 31.1 million shares, equivalent to VND311 billion to swap MBB shares with SDFC shares.
The ratio between SDFC shares and MBBank shares is 2.2:1.
MBBank announced the merger with SDFC in an extraordinary shareholder meeting in October last year.
The new finance company - MB Finance Co Ltd (MB Finance) is expected to have a charter capital of VND500 billion.
In the first two years, MB Finance will be equipped with facilities, personnel and a distribution network to enter the consumption finance market. The new company will expand its market share and operations, and diversify its products and customers from the third year of operations.
Eximbank appoints new general director
The Viet Nam Export Import Commercial Joint-Stock Bank's (Eximbank) board of directors has appointed Le Van Quyet as the new general director of the bank.
The bank is awaiting the State Bank of Viet Nam's approval (SBV) of this appointment.
Quyet was born in 1961. He has a bachelor's degree in economics and a master's degree in business administration. He worked at the SBV branch in the southern Đong Nai Province before becoming director of the Vietcombank branch in the southern Bien Hoa City. He has been a member of Eximbank's board of directors since December 15, 2015.
Quyet will replace Tran Tan Loc, who was previously the acting general director of Eximbank. Loc has been appointed the standing deputy general director of the bank.
US$151 million complex started construction in Quảng Ninh
The FLC Group, on Sunday, officially began construction of the FLC Hạ Long resort complex in the northern Quảng Ninh Province's Hạ Long City.
Encompassing an area of 224 hectares (ha), the VNĐ3.4 trillion (US$151 million) project would have an 18-hole golf course, an international convention centre, a five star hotel and a high-end resort.
The golf course is expected to become operational by the end of this year while the entire complex is scheduled to be completed in 2017.
Speaking at the ground-breaking ceremony, Hương Trần Kiều Dung, FLC's general director, said the group implemented several largescale projects nationwide in 2015.
"The FLC Group will mobilise all of its sources to implement the project. The design and planning of the project have been completed, while the first golf holes have been established to ensure the target of launching the golf course by the end of this year," Dung said.
The complex is expected to add diversity to the province's tourism sector, attracting more tourists as well as creating jobs for local people.
Nguyễn Đức Long, deputy secretary and chairman of the provincial People's Committee, said they highly valued the professionalism of the group. The golf course would have a favourable location with the direct view to Hạ Long Bay.
The complex is expected to add diversity to the province's tourism sector, attracting more tourists as well as creating jobs for local people.— Photo kinhdoanhnet.vn
"In addition, we expect the investor to ensure the environment surrounding the project. We have considered the complex as one of our key projects," Long said.
On March 6th, FLC Vĩnh Thịnh's Phase 1 was also inaugurated in the northern Vĩnh Phúc Province. Phase two with an area of 250ha and VNĐ5 trillion investment also began construction on the same day. The FLC Quy Nhơn would be inaugurated in the next six months. The FLC Group planned to start construction of a complex in central Quảng Binh Province in the near future.
Phú Mỹ Hưng sells out phase 1 of Scenic Valley 2
Phú Mỹ Hưng Development Corporation said it has sold all units it offered in the first phase of its new Scenic Valley 2.
The company said 600 customers attended the sales event, 10 per cent of them foreigners, and all 183 apartments in blocks A and B were sold out in one morning.
Phú Mỹ Hưng said the next sales phase would be in the beginning of April to sell apartments in Block C.
Scenic Valley 2 is an attractive project since it is located at the junction of Nguyễn Văn Linh and Nguyễn Lương Bằng streets and the company, for the first time, is offering payment in instalments of 1 per cent a month.
The project has three 17-storey towers with 248 apartments and 47 shops measuring from 71sq.m to 124sq.m. It will be finished in 2018.
The Phu My Hung Development Corporation late last week organised a meeting to offer customers advise on design and interior decoration.
Some customers won vouchers for free design and decoration totally worth VNĐ2.5 billion (US$115,000).
On the same day the company unveiled three new show flats at its Star Hill project.
Hoang Anh Gia Lai Group expands investment in Myanmar
Hoang Anh Gia Lai Group (HAGL) has invested additional US$230 million into the second phase of the HAGL Myanmar Center construction project in Yangon.
HAGL Chairman Doan Nguyen Duc said the construction covers 28-storey block buildings on a space area of 130,000 sq.m capable of providing 1,134 apartments and office buildings for lease.
The first phase included a commercial center, and a two 27-storey building, which were constructed in 2013 and officially debuted late last year.
The Myanmar Government leased the 16-acre land site in the heart of Yangon to the group for 70 years to develop this project with total investment of US$440 million.
Once the centre is placed into operation, it promises to become an economic and cultural hub of Vietnam in Myanmar which will likely meet the increasing demand for office space for rent, hotels, and shopping malls in Myanmar and generate jobs for around 2,500 local people and more than 200 Vietnamese people.
ManulifeAM Vietnam turns initial profit
Assets under management and funds have increased constantly in its ten years of operations.
2015 was the first time the Manulife Asset Management Vietnam Company Limited (ManulifeAM Vietnam) officially recorded a profit from asset and fund management, though the figure was not released.
In the ten years since its establishment, total assets under management have increased continually, from VND2.2 trillion ($98.6 million) in 2005 to VND12 trillion ($538 million) as at December 31, 2015, or an average increase of 19 per cent per year.
Along with increases in assets under management, revenue from managing assets has increased 8.4-fold over the ten years, or 24 per cent per year.
ManulifeAM Vietnam was licensed by the Ho Chi Minh City Department of Planning and Investment on June 10, 2005. It is an independently-managed fund management company, which reports to the State Securities Commission (SCC).
Latest banking merger takes shape
The Song Da Finance Joint Stock Company (SDFC) has been merged into the Military Commercial Joint Stock Bank (MB) as a result of an agreement signed by the two sides on March 18.
MB will attain all existing assets, lawful authority, and benefits and assume all debts, legal duties, and responsibilities of SDFC.
Along with approval for the merger, the State Bank of Vietnam (SBV) granted MB a license to establish a subsidiary credit company, the Military Bank Finance Company Limited (MFinance).
MB has been preparing to put MFinance into operation in the third quarter of this year and is seeking strategic partners with experience in consumer credit.
Piaggio launches scooters for men
Piaggio Vietnam has introduced the Medley ABS, the first of its new line of scooters for men, costing from VND71.5 million ($3,200) to VND72.5 million ($3,250).
There are two versions: the ABS classical version at $3,207 and the sporty version at $3,252.
General Director of Piaggio Vietnam, Mr. Costantino Sambuy, said the localization rate of the new scooter is 60 per cent and is not only being produced to meet domestic demand but also for export.
The Medley ABS has large wheels and a compact design that allows for easy city riding.
It boasts an LCD screen, electronic fuel injection system, immobilizer (an electronic security device that prevents the engine from running unless the correct key is used), and an anti-lock brake system (ABS).
In the storage compartment under the saddle is a USB port to recharge smartphones and sufficient space to store two helmets.
The air filter and oil filter will be replaced by Piaggio after the vehicle has traveled 10,000 kilometers.
Saigonbank to increase charter capital
The State Bank of Vietnam (SBV) has given approval to Saigonbank increasing its charter capital from VND3.8 trillion ($138.13 million) to VND4.08 trillion ($183 million), following a plan from its Board of Management being approved at a recent extraordinary general meeting.
The SVB approval comes in Document No. 1615/NHNN-TTGSNH issued on March 18.
The Document notes that Saigonbank is responsible for completing all legal procedures and must obey existing legislation. It must report to the SBV if it issues additional shares and any one shareholder holds more than 5 per cent of charter capital.
If it fails to complete the requirements contained in the Document within 12 months of the date of signing the approval will expire.
Agriculture credit meeting demand
Mr. Tran Van Tan, Head of the Credit Office at the State Bank of Vietnam's 's Credit Department, told the "Towards Sustainable Agri-Finance in Vietnam - From the Case of Lam Dong Province" conference held by the Japan International Cooperation Agency (JICA) and the Vietnam Academy of Social Sciences (VASS) in Hanoi on March 18 that agriculture plays an important role in Vietnam's economic structure and though it accounts for only around 17.4 per cent of GDP it employs over 50 per cent of the country's workforce, ensures national food security, and contributes to export turnover.
Agriculture, forestry and fishery exports earned $30.45 billion in 2015, accounting for 18.8 per cent of Vietnam's export turnover. During the global economic crisis from 2008 to 2013 agriculture was a pillar of Vietnam's economy and the main factor in stabilizing the rural economy.
Recognizing the role of agriculture, the conference of the 10th Party Central Committee issued Resolution No. 26 on August 5, 2008, strengthening social mobilization, including using bank credit. The government also promulgated Resolution No. 24 on October 28, 2008, introducing a plan of action to implement the resolution on agriculture, farmers, and rural areas set out at the conference of the 7th Party Central Committee.
The State Bank of Vietnam (SBV) has determined that agriculture is one of five sectors to enjoy priorities and has directed credit institutions to balance their budgets and meet the sector's demand for capital in a timely manner. At the same time the central bank has applied a credit policy and monetary policy tools to assist the sector.
Related provisions include the ceiling on short-term interest rates applied to the agriculture sector being 1 to 2 per cent lower than other sectors, the promulgation of Circular No. 20 on reducing reserve requirements for credit institutions that have 40 per cent of loans to the agriculture sector, and the giving of priority in refinancing to credit institutions that meet difficulties in loans but have 40 per cent of loans to the agriculture sector.
Outstanding credit for agriculture has increased steadily over recent years. Growth in the 2011-2015 period averaged 17.39 per cent; higher than the average credit growth of 13.51 per cent.
As at the end of 2015, outstanding credit for agriculture stood at $37.85 billion, up 13.32 per cent against 2014 and accounting for 18.12 per cent of total credit.
The proportion of bad debts in agriculture as at the end of 2015 was 1.54 per cent, down from 2.28 per cent at the beginning of the year. The proportion is often less than the average.
The results show that credit policies for agriculture and rural areas have been suitable and have met people's demand.
SHB finance firm operational next quarter
SHB Consumer Finance Co Ltd, an arm of Saigon-Hanoi Bank (SHB), will be up and running in the second quarter of this year, heard a meeting in the city on March 17 between SHB leaders and HCMC Party chief Dinh La Thang.  
Nguyen Van Le, general director of SHB, told the meeting that procedures for SHB-Vinaconex-Viettel Finance JSC (VVF) have been completed and that SHB Consumer Finance Co Ltd will operate from next quarter to boost consumer lending on the domestic market.   
At its extraordinary general meeting in late October last year, SHB announced a merger between the two businesses, and a sale of 100 million shares worth VND1 trillion to shareholders to convert all VVF shares into SHB shares at a 1:1 ratio. SHB will restructure VVF to turn it into SHB Consumer Finance Co Ltd.
By end-June 2015, VVF's total assets had neared VND1.23 trillion (US$55.2 million) and pre-tax profit reached VND13.4 billion. Its bad debt had accounted for 35% of total outstanding loans, or VND57 billion.
According to the State Bank of Vietnam (SBV), the country had had 16 finance enterprises as of December 31 last year. As more banks have inked merger and acquisition (M&A) deals and set up new firms in the finance sector, consumer lending would grow.   
At present, a number of banks acquire finance firms, invest more in them and offer for sale part of their stakes to foreign investors.
By end-2015, SHB had had total assets of over VND205 trillion, including mobilized capital of VND188 trillion and chartered capital of VND9.5 trillion. The lender has nearly 7,000 employees and 500 transaction offices at home and abroad. SHB runs a wholly-owned bank in Laos and five braches in Cambodia.   
It has pledged to provide loans worth a combined VND45 trillion for 15 build-operate-transfer (BOT) infrastructure projects in Vietnam.
MBV hands over two E-Class to Rex Hotel
Mercedes-Benz Vietnam (MBV) has handed over two premium E 250 AMG sedans to Rex Hotel, increasing the hotel's Star fleet to four. Authorized dealer Haxaco is responsible for the distribution process and after-sale service.
"Choosing Mercedes-Benz E 250 AMG is our effort to provide high-end comfort for our customers," said Phan Thanh Long, general manager of Rex Hotel.
The E 250 AMG is a new variant highlighting the sporty character of the E-Class – the best-selling mid-size luxury sedan in Vietnam with 60% market share in 2015.
Dirk Adelmann, managing director of Mercedes-Benz Passenger Cars, said his company is pleased to accompany Rex in heightening service quality and image in the perceptions of foreign guests.
With the AMG Sport package (front and rear aprons, side sill panels) and 18-inch light alloy AMG wheels, the E 250 AMG meets the demand for a luxury vehicle with a strong sporty orientation. Stainless steel pedals, the 3-spoke sport steering in Nappa leather and the floor-mats with AMG logo further assure this orientation.
The added reversing camera with dynamic guidelines creates a visibility during parking and reversing manoeuvres. Moreover, NECK-PRO head restraints with nine air bags will provide better safety for Rex's valued guests.
In 2015, the "three-pointed" brand had the most successful year in 20 years of operation in Vietnam with 3,600 vehicles sold, reaching a growth rate of 50%. A significant factor that has contributed to this success is the company's partnership with leading five-star hotels and resorts, which account for 80% of this potential market.
Located in the heart of HCMC, Rex is one of the five-star hotels managed by Saigontourist Holding Company. With over 80 years of operation, the hotel is a symbol of HCMC's tourism and bears many hallmarks of the used-to-be 'Pearl of the Far East' land.
Rex Hotel has 286 guest rooms, five restaurants and bars, and eight multi-functional conference rooms. The hotel has become "Home of Vietnamese heritage" to many foreign travelers as well as overseas Vietnamese.
Saigon Co.op, Masan also bid for Big C
The Big C supermarket chain in Vietnam has become an acquisition target of multiple companies, with Saigon Co.op and Masan emerging as the latest bidders, as its owner Casino is selling assets in Asia and Latin America to cut debt.
Vietnamese companies Saigon Co.op and Masan Group have also submitted bids, according to the Wall Street Journal.
A source told the Daily that another Vietnamese firm which does not want to be named has also submitted its bid to acquire the Big C assets in Vietnam comprising 33 supermarkets, 10 convenience stores and e-commerce site at Cdiscount.vn.
Applications for the first round of bids for Big C Vietnam were due on March 10. French retailer Casino Group is now reviewing the bids and will choose around five companies to conduct due diligence. Final and fully financed offers are then due around mid-April before a decision is made, according to the Wall Street Journal.
The foreign firms interested in Big C are Thailand's Charoen Sirivadhanabhakdi, Japan's Aeon Co. and Korean-Japanese conglomerate Lotte Group, the source said, adding that several of the bids valued Big C Vietnam at more than one billion euros (US$1.1 billion).
Japan's Aeon was among the parties that submitted first-round bids. The company has opened three shopping centers in HCMC, Hanoi and Binh Duong and is about to inaugurate another mall in HCMC at a cost of US$500 million. Its primary target is to have 20 shopping centers in Vietnam by 2020.
Aeon is expanding investment in ASEAN countries as part of a strategic business shift to Asia. In Vietnam, the group has acquired 49% and 30% stakes at two supermarket chains Citimart and Fivimart respectively, as well as started operating its convenience store chain Ministop.
Vietnam is considered one of the most promising retail markets in Southeast Asia with US$110 billion in revenue last year, making it attractive to many retailers in the world.
Big C is a big supermarket system in Vietnam as it stands second in terms of store coverage after Co.opmart of Saigon Co.op with 80 stores in the south and the north. It has 50 million customers a year with 2.8 million loyal customers.
Casino is selling assets in Asia and Latin America to cut debt, while focusing on price and convenience stores in its largest market, France, as it competes for growth amid weak consumer spending. A deal would follow Casino's agreement last month to sell Thai supermarket chain Big C Supercenter Pcl to billionaire Charoen Sirivadhanabhakdi's TCC Holding Co. for 3.1 billion euros.
VN, India look to up textile trade
Việt Nam and India made significant progress in the textile and garment trade last year, Deputy Minister of Industry and Trade, Đỗ Thắng Hải, said at the third meeting of the Việt Nam-India Joint Sub-Commission on Trade last week.
Opening the meeting in New Delhi, India's Secretary of Commerce from the Ministry of Commerce and Industry, Rita Teaotia, hailed the strong ties between Việt Nam and India. She also spoke highly of Việt Nam as the current co-ordinator between India and the Association of Southeast Asian Nations (ASEAN) in the 2015-18 period.
The partnership between the two countries had expanded into multiple fields, such as textiles and garments, she said, while noting that little progress had been made in pharmaceuticals.
Teaotia said the two sides should enhance information exchange, particularly in trade and commerce, as well as strengthen connections in air and sea transportation.
Deputy Minister of Industry and Trade Đỗ Thắng Hải said bilateral co-operation had made notable progress since the second meeting of the Việt Nam-India Joint Sub-Commission on Trade in Hà Nội last year, the highlight being textiles and garments, followed by energy and industry, footwear and chemicals.
The deputy minister said the two nations should enhance regional value chains and identify ways to support businesses to further cement bilateral economic ties. He said India's privileged credit package, worth US$300 million, for investments in Việt Nam's garment and textile sector, should take effect soon.
India could consider opening a bonded warehouse in Việt Nam to reduce costs and increase the competitiveness of its products, Hải said.
During the occasion, Hải also had a working session with India's Minister of Textiles Santosh Kumar Gangwar, in which he said that Việt Nam enjoyed the benefits of a number of FTAs, including a large market for exports, and had the advantage of having skilled workers in the textiles and garments sector, while India was a large supplier of cotton and fabrics.
The two countries could complement each other and tighten their partnership so as to integrate more deeply into global value chains, he said.
Gangwar said he would propose to the Indian government that it should address the remaining challenges in the two sides' co-operation in textiles and garments, and that he hoped the upcoming visit of Prime Minister Narendra Modi to Việt Nam would give a push towards that end.-
IBM introduces cognitive computing technology to Viet Nam
IBM Viet Nam officially introduced the cognitive computing technology to Vietnamese organisations and enterprises at its 2016 IBM Business Connect conference in Ha Noi on March 18.
Cognitive system is a technology category that uses natural language processing and machine learning to enable people and machines to interact more naturally, thus extending and amplifying human expertise and cognition.
These systems learn and interact with each other to provide expert assistance to scientists, engineers, lawyers and other professionals.
IBM's cognitive computing system defeated two former champions on the television quiz show, "Jeopardy," in 2011.
Since then, IBM technology has been widely used in many sectors, such as health, retail, banking, sports and energy in many countries.
Referring to the kind of investment the technology needs, Robert Morris, vice president of Global Laboratories, IBM Research, said it does not require big computers or massive floor area but only networks that are widely connected.
IBM's cognitive technology based businesses were growing 20 per cent  annually, according to the vice president.
Vietcombank opens five new branches in HCM City
The JSC Bank for Foreign Trade of Viet Nam (Vietcombank or VCB) on March 14 opened five new branches in HCM City's Districts 2, 8, 9, Binh Chanh and Go Vap.
The new branches bring the total number to 96 across the country, including 17 in HCM City.
Nghiem Xuan Thanh, chairman of VCB, said the total credit balance of VCB in HCM City reached VNĐ96 trillion (US$4.30 billion), accounting for one-fourth of the system's total credit balance.
VCB has the largest credit market share in the city.
Le Van Khoa, vice chairman of HCM City's People's Committee, said the city would create the most favourable conditions for all the commercial banks to develop their network in the city.
The city has developed several programmes to connect banks with enterprises to help sustain sustainable growth of the city.
VCB targets becoming the number one bank in Viet Nam and one of the top world's 300 largest credit institutions conforming to intentional norms and laws by 2020.
The bank has developed bank-agency relations with more than 1,800 banks in more than 176 nations and territories in the world.
VCB also plans this year to open five more branches in Hai Phong, Da Nang, Phu Quoc, Hung Yen and Binh Phước.
Hanoi works to draw Japan's investment
Hanoi wants to step up cooperation with Japan in various fields, especially investment, trade and tourism, an official said at a workshop in the city on March 20 with the participation of 30 Japanese businesses.
Chairman of the municipal People's Committee Nguyen Duc Chung said comprehensive cooperation with Japan is the focal factor in the capital's socio-economic development and external affairs.
He underlined Hanoi's orientation to draw foreign direct investment toward advancing technology and promoting technical transfer for sustainable development. Hanoi hopes Japan will continue to run new investment projects in the capital, he added.
He also revealed the capital's policy of boosting two-way trade and its strategies to draw tourists from Japan to Hanoi and vice versa.
Local authorities pledged to create the best conditions for the two sides' business communities to cooperate in the fields of investment, trade and tourism, he said.
President of the Japan City Hotel Association Kimitaka Fujino highlighted the workshop as an important note in a series of Vietnam – Japan cultural exchange programmes in Hanoi that aim to lure Japanese investors.
Lying at the heart of the Red River Delta, Hanoi is an economic hub in northern Vietnam. It boasts advantages in capital sources, technical infrastructure and capable workers.
Vietnam participates in Berlin energy dialogue
Industry and Trade Minister Vu Huy Hoang joined a crowd of economic and energy ministers, and leaders from economic and energy firms worldwide at the Berlin Energy Transition Dialogue 2016, which took place in the capital of Germany on March 17.
The Vietnamese delegation, led by Hoang, represented ASEAN member countries to participate in discussions on enhancing international cooperation towards effective use of energy resources and development of renewable energies in the framework of the dialogue.
The Vietnamese official had separate meetings with the German Ministers for Foreign Affairs, and Economic Affairs and Energy, and Slovakian Minister of Economy, and representatives from German leading energy firms such as Siemens, Enercon, and Goldbeck Solar to discuss future cooperation between Vietnam and the two European countries, especially in projects related to energy and renewable energy.
German officials highlighted effective links between Germany and Vietnam in recent time, expressing their hope for increased promotion of trade and investment between the two countries in the time ahead.
Meanwhile, Slovakian Minister of Economy Vazil Hudak suggested the two countries promptly hold a meeting of their joint committee in Bratislava this year.
Later the same day, Minister Hoang met with representatives from the Aviation and Space Group in the German Bundestag , the Global Wind Energy Council (GWEC), the Oecomineral AG Group and the Messer Group GmnH.
Previously, Hoang, who is also Chairman of the Vietnam-Germany Friendship Association, hosted a reception for a delegation from the Germany-Vietnam Group led by President Sigfried Sommer.
VEF/VNA/VNS/VOV/SGT/SGGP/Dantri/VET/VIR