BUSINESS IN BRIEF 22/8
Vietnam urged to boost supporting industry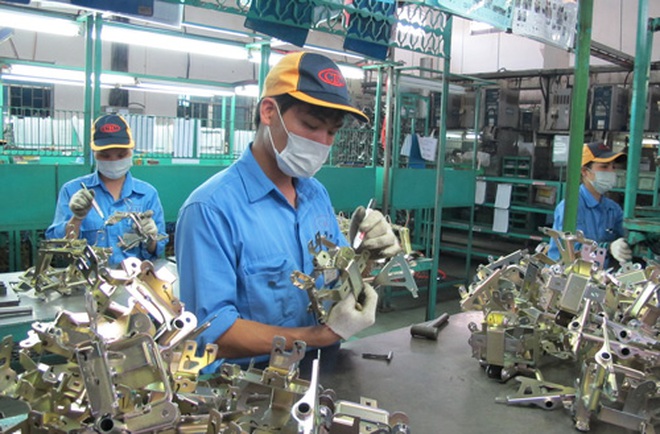 Vietnamese businesses in supporting industries need to become more competitive to enter the global supply chain, a forum heard in HCM City recently.
Truong Thi Chi Binh, director of the Supporting Industry Development Enterprise Centre, told the Nepcon Vietnam Forum that the number of Vietnamese firms in the sector remains modest, with most of them being small or medium-sized enterprises.
Only a few of them are part of the production chain of multinational companies, according to Binh.
Poor production and trading competence and lack of market information are the main factors that prevent domestic firms from entering the global manufacturing chain.
But with the free trade agreements the country has signed, more and more foreign investors will come to Vietnam, providing them opportunities to do so.
Japanese companies are the largest auto suppliers to the US and Canada, but most of their factories are based in China.
Many people think Japanese auto firms will shift their factories in China to Vietnam or open new factories here to take advantage of the Trans-Pacific Partnership.
"The question is whether Vietnamese firms can capitalise on this opportunity," Binh said.
She urged local firms to improve their technologies, management and foreign language competence and promote their products better.
Pham Tuan Anh, deputy general director of the Division of Heavy Industries, said supporting industries provide the foundation for key industries by supplying components.
"A country's industrial sector cannot develop if its supporting industries are not developed since the latter determines production cost and value addition for finished products and thus their competitiveness," he said.
"Though the Government has policies in place to boost the development of supporting industries, the rate of locally sourced parts remains modest at just 10 percent," he said.
Luu Hoang Long, Chairman of the Vietnam Electronic Industries Association (VIEA), said the electronics industry has developed strongly in recent years with exports rising year after year.
"But most of the exports are by foreign-owned firms with a low rate of local sourcing of parts," he said.
According to studies by the Vietnam Development Forum and National Graduate Institute for Policy Studies, raw materials, parts and components are the decisive factors in production costs, generally accounting for 80 percent, while labour only accounts for 2 percent.
"Therefore, the development of supporting industries is an important element in the development and competitiveness of the electronic industry," he pointed out.
Speakers at the forum, which was organised by Thailand-based Reed Tradex, VEIA, and the Vietnam Association of Small and Medium Enterprise, also spoke about the basic contents of the new-generation FTAs and the Government's support policies for supporting industries.
The forum was held as part of NEPCON Vietnam, an exhibition on SMT, testing technologies, equipment, and supporting industries for electronics manufacturing to be held in October.
Mexico studies Vietnam's garment-textiles
A delegation from the National Chamber of Textile, Industry of Mexico (Canaintex) will make a trip to Vietnam from August 27-28 to explore the garment-textile sector.
The delegation is scheduled to visit seven factories and one industrial zone to study the process of making fiber and apparel products.
According to the Chamber, the Trans Pacific Partnership agreement, once effective, will allow Vietnam to ship its garment-textile products to more markets, particularly the US.
Vietnam is the second biggest garment-textile supplier of the US, while Mexico is the sixth.
Statistics show that Vietnam shipped to the US 11 billion USD worth of garment-textile products last year.
In the first half this year, the figure hit 4.29 billion USD, up 5.93 percent from the same period last year.
Russian expert: Vietnam attractive to foreign investors
A Russian expert on Asia-Pacific and the ASEAN from the Russian Institute for Strategic Studies has hailed Vietnam as an attractive market for investors and a highly competitive economy. 
In a recent interview granted to Vietnam News Agency, Maria Stanislavovna Zelenkova highlighted Vietnam's economic achievements with a 6.6 percent growth and expanded economic ties with 200 partner countries around the world. 
Vietnam has shifted from agriculture and light industry to heavy industries and science-technology, she said, suggesting that Vietnam should focus on new technologies and new economic sectors, including nuclear energy. 
As Russia has the world's leading technology in nuclear energy, Stanislavovna said Vietnam should firmly believe in Russia's support in the field, including in human resources training. 
She expressed her belief that nuclear energy would become an important factor in the Vietnamese economy. 
Regarding investment, the Russian expert said Vietnam appeals to foreign investors thanks to its skilled workforce and the State's suitable policies on investment, real estate and business incentives. 
Commenting on the prospects of the Vietnam-Eurasian Economic Union free trade agreement that took effect on October 5, she said the deal would bring a lot of benefits to Vietnam. 
Thanks to considerable economic growth, Vietnam could join the deal not only as a key member but also an investor able to compete with other countries, she said, adding that Vietnamese firms should do their best to enter EAEU market as an investor.
Hải Phòng Port to be international gateway by 2020
The northern port city of Hải Phòng is expected to become the international gate of the north for an estimated 109-114 million tonnes of goods in and out and about 25,800 foreign tourists by 2020.
The goal was set under the planning for seaports in the north by 2020 with a vision towards 2030, recently approved by Minister of Transport Trương Quang Nghĩa.
The main terminals of Hải Phòng seaport include Sông Cấm, Đình Vũ, Lạch Huyện, Nam Đồ Sơn, and Bạch Long Vĩ.
By 2020, Sông Cấm Terminal will receive cargo vessels with loading capacity of 5,000-10,000 tonnes, Đình Vũ Terminal will receive cargo vessels with loading capacity of over 20,000 tonnes from nearby countries, Lạch Huyện Terminal will receive vessels carrying up to 6,000 foreign passengers, Nam Đồ Sơn Terminal will be used for national security and defense; and Bạch Long Vĩ Terminal, connecting the Bạch Long Vĩ Island with the mainland, will be used to boost the island's development.
The plan also includes the development of Quảng Ninh, Thái Bình and Hải Thịnh seaports in the next four years.
Quảng Ninh Port, a national-level port, with main terminals of Cái Lân, Hòn Gai, Cẩm Phả, Yên Hưng, Hải Hà, Vạn Gia, Mũi Chùa, Vân Đồn, Vạn Hoa and Cô Tô, is expected to handle 65.5-75.5 million tones of goods in and out by 2020, and 121-142.5 million tonnes by 2030. Foreign tourist arrivals are set to hit 252,500 by 2020 and 723,200-823,200 yearly by 2030.
Thái Bình Port will be a provincial-level seaport, with Diêm Điền and Trà Lý terminals. It is expected to receive 2 million tonnes of goods by 2020 and 6.25 million tonnes by 2030.
Lastly, Hải Thịnh Port, based in Nam Định Province, also a provincial-level seaport, will transport goods to and from the Nam Định Thermal Power Plant. The port is set to receive 500,000 tonnes of goods by 2020, and 6.25 million tonnes by 2030.
To reach the goals, Minister Nghĩa ordered agencies to enhance public-private partnerships and create favourable conditions for investment.
Simplifying administrative procedures in investing activities should be implemented also, he said.
Nghĩa assigned the Việt Nam Maritime Administration to work with local authorities to run the planning and report to the ministry.
Heads of People's Committees in the four localities were told to allocate land funds for developing seaports, he said.
The planning of seaports in the north by 2020 with vision towards 2030, was issued to better serve sea transport demands in the triangle of economic zones of Hà Nội, Hải Phòng and Quảng Ninh.
It also aimed to develop northern seaports and boost socio-economic development in the north region by 2020, the ministry said.
Hậu Giang eyes Japan investment
The Cửu Long (Mekong) Delta province of Hậu Giang hopes to attract Japanese investments in all sectors, a provincial leader told a meeting with the Japan External Trade Organisation in the province on Thursday.
"The province will create the most favourable conditions and preferential policies for Japanese investors," Trương Cảnh Tuyên, People's Committee vice chairman, said.
Hậu Giang has attracted two Japanese projects with a combined investment of more than US$1.36 million, according to the local Department of Planning and Investment.
It also has six official development assistance projects from Japan worth VNĐ219.5 billion ($9.84 million) and  three projects by Japanese NGOs.
The latter include one to research aquaculture in the Xà No River in Vị Thanh city in 2009 and another to build 10 houses at a cost of VNĐ350 million ($15,694) for poor people in Châu Thành District in 2010, sponsored by the Japan Tobacco International company.
Shinnyo-en, a charity organisation, built a bridge to access Tân Phú elementary in 2013 and provided scholarships to 38 of the school's students the next year.  
JETRO executives also visited the Cần Thơ Sugar Joint Stock Company to explore business opportunities, according to media reports.
Hậu Giang is currently looking for investments of $330 million in 33 projects, especially in agricultural and food products, agricultural technologies and trade and tourism development, according to its People's Committee.
The province is offering incentives to investors such as income tax waiver for the first four years and a 50 per cent waiver in for the next nine.
They will also enjoy subsidised land and water and lower import and export taxes.
Since 2004 more than 3,700 companies have registered to set up businesses in the province with a combined investment of VNĐ43 trillion ($1.93 billion), mostly in trade, services and construction.
Hậu Giang is home to nearly 500 domestic projects worth VNĐ120 trillion ($5.38 billion).  
There are also 15 foreign businesses with total investment of nearly $650 million, and 12 joint venture businesses worth more than $165 million.
Nhon Trach 2 power plant meets electricity targets
The Nhon Trach 2 thermal power plant in the southern province of Dong Nai is expected to produce 25 billion kWh for the national grid as by September 2016, said Director of the PetroVietnam Power Nhon Trach 2 company.
Over the past number of years, the company has focused on applying advanced technology in management and operation to reduce cost and improve efficiency in production, Quoc said.
The 2016 power output is estimated at 5.5 billion kWh, generating 1.25 trillion VND (56.25 million USD), up 1 percent and 9.5 percent from the previous year, respectively, according to Quoc.
The company has made a proposal to PetroVietnam to build two more power plants: Nhon Trach 3 and 4, each would produce 750-800 MW, at a combined construction cost of over 700 million USD.
The Nhon Trach 2 company was listed among the top 50 enterprises with the best annual reports and among the top 30 of the VN HOSE index (HCM Stock Exchange), with a growth rate of 70 percent after two years of public listing.
The Nhon Trach 2 thermal power plant began commercial operation in late 2011. As a national key project in the provincial PetroVietnam Nhon Trach Power Centre, the power plant has a total capacity of 750 MW and is fueled by natural gas which has been registered under the United Nations' Clean Development Mechanism as a main fuel.
With three turbines, it is designed to churn out an average of 4.2 billion kWh each year.
It also plays an important role in supplying electricity to the southern key economic region.
US$4, 6 bln invested into Quang Ngai's construction of thermal power plants
According to the People's Committee of the central province of Quang Ngai, the Prime Minister yesterday approved the project to build four thermal power plants with capacity of 3, 00 MW in the province. 
Of these, two thermal power plants are located at Tam Quang and Binh Thanh communes in Binh Son district of Quang Ngai province with operation capacity of 750 MW each.
Exxon Mobil Corporation of the United States is construction management unit. Accordingly, Exxon Mobil Group will invest a well system to separate offshore water, and pipe entrance of 88 kilometer length connecting with Chu Lai seashore. 
Vietnam National Oil and Gas Group (PVN) invest in this project with total capital of US$ 4, 6 billion. Its total turnover is estimated to be US$ 60 billion, including US$ 30 billion from gas turnover and US$ 30 billion from power receipts. 
After finishing and put into operation, the project will send VND 3, 9000 billion to State budget per year, contributing ensuring national energy security.
PVFCCo links up Japanese firms
PetroVietnam Fertiliser and Chemicals Corporation (PVFCCo) will team up with Japan's UBE Industries Ltd, and Sojitz Corporation to study opportunities for investing and building an ammonia plant and derivatives from gas resources in Viet Nam's south-eastern region.
Under a memorandum of understanding signed in HCM City on August 19, the participants will conduct a pre-feasibility study for the ammonia project, which is expected to have a daily capacity of between 1,500 and 2,000 tonnes, as well as the possibility of processing derivatives from ammonia and carbon dioxide.
The study will be carried out within six months. It is part of the PVFCCo's long-term development strategy to become a leading business in the field of fertilizers and chemicals in Viet Nam and the Southeast Asia region.
The ammonia plant is hoped to meet the increasing demand for ammonia in the production of DAP and AS fertilizers, rubber and oil chemical products.
PVFCCo has been effectively operating the Phu My Fertiliser Plant since 2004.
UBE is a diversified manufacturer with a core focus in the chemicals sector. It has ammonia and caprolactam factories in Japan, Spain and Thailand. The company is not only an investor but also a consumer of ammonia.
Meanwhile, Sojitz, a Japanese diversified company covering production and trade of chemicals, has been in the Vietnamese market for a long time. It has been co-operating with the Vietnam Oil and Gas Group in studying projects on gas processing, including a study on using gas from the Ca Voi Xanh (Blue Whale) oilfield to produce methanol and derivatives.
If the project turns into reality, PVFCCo is expected to double its production scale and market share, while UBE and Sojitz will have the opportunity to further expand their market share in special-purpose chemicals in Việt Nam and the region. 
VN-EAEU deal to triple trade revenue
Trade revenues between Viet Nam and the Eurasian Economic Union (EAEU) are expected to increase to US$10-12 billion by 2020, after a free trade agreement between the two sides takes effect this year.
News website ndh.vn reported, citing a Ministry of Industry and Trade (MoIT) estimate, that this triples total bilateral trade revenue of roughly $4 billion in 2014. Viet Nam's exports to the union alone are expected to grow by 18-20 per cent per year.
The MoIT said in a statement this week that the Viet Nam-EAEU FTA will become effective on October 5, following confirmation from the Ministry of Foreign Affairs.
The union consists of Russia, Belarus, Kazakhstan, Armenia an Kyrgystan. The related countries have ratified the agreement after signing it in Kazakhstan on May 29, 2015.
After the agreement takes effect, Viet Nam and the union will establish a joint committee, along with a committee on trade of goods, and a sub-committee on goods origin regulations.
MoIT's Europe Market Department Director Dang Hoang Hai told a conference in Ha Noi last month that Viet Nam, as the first FTA partner of the union, would improve the competitiveness of its export goods.
The agreement covers a market of almost 183 million people and accounts for 3.2 per cent of global gross domestic product.
Viet Nam and the union will cut about 90 per cent of their lines of tariff.
They will slash the rate for nearly 60 per cent of tariff lines to zero per cent immediately after the agreement becomes effective.
Viet Nam will immediately lift import duties for EAEU products such as salmon, which is taxed by 10 per cent; and tilapia and tuna, now seeing tariff rates of 15-20 per cent.
The EAEU will apply a zero per cent tariff for Vietnamese products such as uncondensed milk and ice cream with no sugar and sweet substance, which has an import tax of 15 per cent; and fresh chestnut and turkey meat, which are subject to import duties of 5 per cent and 20 per cent respectively.
Hai said Viet Nam's major exports such as garment and textile, footwear, farm produce and seafood will have opportunities due to the tax cuts.
The content of the agreement can be seen on the website of MoIT, http://www.moit.gov.vn.
The EAEU-Viet Nam FTA, initiated in March, 2013, was signed after eight official rounds of negotiations. 
Ministry proposes tax cuts for firms that renovate apartments
The construction ministry is drafting a project on management of the property market through six measures to support transparency and stability, Minister of Construction Pham Hong Ha said.
Ha said at a meeting with property developers — held by the Viet Nam Real Estate Association last week — that the property market in the first seven months of this year was stable and that no unusual developments were seen.
However, there were potential risks to which special attention must be given.
Ha said the imbalanced developments in supply and demand of luxury projects and housing projects for low-income earners were a problem, adding that oversupply of the former and shortage of the latter had been forecast from the beginning of 2017.
Viet Nam needs 10 million square metres of social housing, but currently has only 30 per cent of that. In addition, there is a severe shortage of housing projects for lease.
Promoting social housing developments would be the focus, and policies would be prepared to encourage property developers to invest in this segment, Ha said.
The concentration of the credit flow in high-end projects or a minority of developers was another risk, although outstanding loans in the property sector remained at a safe eight per cent of the total outstanding loans, he said. Ha said property developers should tighten management of their own projects to ensure liquidity and be prepared for credit tightening policies.
Ha said while there was some speculation in some projects, it had not become a widespread phenomenon.
The ministry would closely watch the market developments to ensure sustainable growth and efficient and cost-effective use of resources, Ha said, stressing the importance of the real estate market in macro-economic stability.
Ha said financial resources for property development played a key role. "It's time Viet Nam eyed new capital sources such as from real estate investment trusts," Ha said. Capital for property development in Viet Nam main comes from developers, banks and citizens.
In the draft, the ministry is seeking to prepare policies to accelerate the capital market for property development. Improving the transparency of the property market is also an important measure.
Ta Van To, general director of the CEO Group, said the ministry should hasten the simplification of administrative procedures.
President of the Viet Nam Real Estate Association Nguyen Tran Nam said detailed instructions for transactions in unfinished property projects were needed, together with tighter management to ensure compliance.
Nam said the construction ministry should work with relevant ministries and agencies to publicise areas where foreigners would not be allowed to buy houses or apartments.
Nam said the association expected to jointly work with construction authorities in building a market database that was necessary to boost the development of the real estate market.
Young opt for flats over houses in City
Apartments are becoming the housing of choice for many young families in HCM City thanks to the many advantages they offer.ccording to Le Hoang Chau, chairman of the HCM City Real Estate Association, young couples with VND1 billion (US$45,500) have plenty of options with regard to buying a house or apartment in the city.
But the latter is a good choice since it maximises their benefits.
The biggest advantage is that buyers can easily borrow from banks. Also, with apartments, developers collaborate with banks to design attractive packages to attract more customers.
In terms of location, an apartment costing VND1 billion is often closer to the city centre than a similarly priced house.
Dang Thai Cuong of HCM City's Go Vap District said he considered many places before buying an apartment.
"The apartment has a better location and good living environment."
For around VND1 billion, he was able to buy a 70sq.m apartment. With the amount, he could only have bought a house of 40sq.m situated in a small alley without facilities.
If he wanted a house of comparable quality, he would have to go to Hoc Mon District, he said.
Many others were of the same opinion as Cuong, saying they were ready to pay monthly administrative fees to live in a 65sq.m flat in a floor high up rather than in a smaller house in a lane.
Housing developers say since it is now a buyer's market, they are striving to develop many projects to meet customers' demands.
That is why they are building many apartments at around VND1 billion — such as 8x Rainbow in Binh Tan District, 8X Plus Truong Chinh in District 12, and 8X Thai An in Go Gap District.
Nguyen Nam Hien, general director of Hung Thinh Land, said while VND1 billion would only get a house in an alley with poor infrastructure, it would be good enough to buy an apartment.
"Apartments are also very safe," he pointed out.
Most apartment buildings have cameras and security guards working 24 hours a day whereas the risk of burglary is high at private houses in alleys.
Chau said the choice between a house and apartment depends on the financial wherewithal of a person as well as their habits and thinking, but for him, with VND1 billion, an apartment is a smart choice.
Mini again targets 50 per cent growth
Mini, maker of Mini Cooper and other cars and a BMW group company, targets growth of 50 per cent this year in Viet Nam, the same as last year, according to the country's sole BMW importer.
Tran Đang Thao, general director of Euro Auto, said the brand has been very popular with customers since it first came to the country in 2013.
On Thursday Euro Auto launched the new Mini One 5 Door at VND1.228 billion (US$55.8 million) with Mini TwinPower Turbo technology and fuel efficiency of 5.1 litres per 100km.
Mini has installed a hotline in Ha Noi and HCM City similar to the one BMW has. Customers having trouble finding parking space in the downtown area can call the number to get Mini staff to come and take their car away. 
Samsung SDS strengthens regional presence through Vietnamese joint venture
Samsung SDS will co-operate with the country's largest airport terminal logistics business Aviation Logistics Service (ALS) to establish a joint venture in Vietnam and boost its presence in the Southeast Asian logistics market.
The information has been published on Samsung SDS's website recently.
"Considering ALS's local network and diverse business capabilities, we decided that Vietnam is the optimal partner for Samsung SDS. Through this agreement we will continue to expand our business in Southeast Asia," said Kim Hyung-tae, executive vice president of Samsung SDS's Smart Logistics Business Unit.
According to Hyung-tae, there are numerous reasons for choosing Vietnam to establish a joint venture. The first is the rapid growth of the local logistics market, reaching between 15 and 20 per cent annual growth. The second is that a large number of foreign investors are relocating their manufacturing facilities to Vietnam thanks to the recent change of international trade environment brought about by the Trans-Pacific Partnership Agreement as well as the ASEAN Economic Community.
In addition, mobile phones and components became Vietnam's largest export item since 2013, which also influenced Samsung SDS to make this strategic decision, he said.
Samsung SDS is currently handling about 40 per cent of the operations at Noi Bai international airport in Hanoi, the largest airport in northern Vietnam, while ALS is the leading air freight terminal operator in the country, responsible for almost all operations. ALS is also the first and only company in Vietnam providing off-airport cargo terminal system, a model that has contributed a great deal to ALS' success in Vietnam. Thus, Samsung SDS said it will seek new customers in Vietnam by providing integrated logistics services and expanding local sales channels on the back of ALS' existing customer base.
Samsung SDS plans to provide an integrated logistics service, including global and inland transportation, warehousing services, and customs brokerage, while utilising ALS's customer network along with attracting potential customers by strengthening its external sales force through this partnership.
Alongside the co-operation with ALS, Samsung SDS is negotiating partnership opportunities in China and will continue its efforts to provide advanced logistics services to customers outside Samsung group. 
Samsung SDS provides its global logistics services through an integrated logistics solution labelled ''CelloSCLISTM'' which covers the whole range of logistics business, from supply chain management to logistics execution. Additionally, Samsung SDS launched a logistics platform called ''Cello Square'' in August 2015.
The joint venture will strengthen Samsung's presence in Vietnam. The Korean giant currently has three major manufacturing complexes in the country, including Samsung Vina Electronics in Ho Chi Minh City and the $2.5-billion Samsung Vietnam Electronics complex in the northern province of Bac Ninh, which became operational in 2009. The remaining one is the $5-billion Samsung Vietnam Electronics Thai Nguyen complex, which went on stream in March 2014.
Besides, in March, Samsung SDI Vietnam Co., Ltd. (SDIV) was licensed to add $117.6 million to its existing mobile phone battery production factory in Que Vo Industrial Park in Bac Ninh.
In addition, on March 30, the Hanoi People's Committee granted the investment certificate for Samsung Electronics Vietnam's $300 million research and development (R&D) centre to be built in Hanoi's Hoang Mai district.
Busan Bank opens branch in HCM City
The Busan Bank (BS) of South Korea opened a branch in HCM City on Thursday, Vietnamplus.vn reported.
Chief Executive Officer and Director of BS Financial Group Sung Se Hwan said that BS is South Korea's fifth largest bank, through which more than 60 Korean enterprises have invested in Việt Nam.
The opening of the BS branch in HCMC will facilitate the investment of businesses from South Korea in general and Busan in particular in Việt Nam, he said.
The bank will strive to become a financial partner of both Korean and Vietnamese enterprises, he added.
Speaking of the bank's branch opening, Vice Chairman of the municipal People's Committee Trần Vĩnh Tuyến pledged to create favourable conditions for Korean enterprises seeking to invest and take advantage of business opportunities in the city.
South Korea ranks fourth among countries and territories investing in HCM City. Currently, Korean investors are running 1,200 projects in the city with a total capital of US$4.22 billion.
Vietnam, Indonesia promote trade, investment
A workshop highlighting economic and trade co-operation potential between Vietnam and Indonesia, one of the top priorities of their strategic partnership, was held in Hanoi on August 19.
Chairman of the Vietnam-Indonesia Friendship Association Nguyen Dang Tien cited that two-way trade had topped US$5.4 billion in 2015 and is expected to hit US$10 billion in 2018.
The establishment of the ASEAN Economic Community at the end of 2015 will enable businesses to make the best use of investment opportunities to fulfill the bilateral trade target, he said.
Indonesian Ambassador to Vietnam Ibnu Hadi evaluated that as ASEAN member states, Vietnam and Indonesia share a lot of similarities such as income and strong economic growth. Both are looking towards industrialisation in agriculture, fisheries and mining, he added.
The two countries also have a young population, efficient labour forces and improved infrastructure, he said, adding that the two governments define each other as key partners and hope to increase bilateral relations to a new height.
Indonesia mainly imports mobile phones and rice from Vietnam, while shipping various products like paper, automobile spare parts and motorbikes to the Vietnamese market.
Fifty-four Indonesian companies are operating in Vietnam.
Indonesia is the fourth most populous country in the world with over 250 million people, while Vietnam ranks 14th globally with over 90 million.
PM wants special compensation mechanism for Long Thanh airport project
Prime Minister Nguyen Xuan Phuc has told the Ministry of Natural Resources and Environment to appraise a special compensation, site clearance and resettlement mechanism for Long Thanh airport project in Dong Nai Province.
The ministry should work with the Ministry of Transport and relevant agencies over the viability of the special mechanism and report results to the Prime Minister for consideration.
Under a scheme to set up a special compensation and resettlement mechanism for the airport project, 5,000 hectares would be taken back to make room for the multi-billion-dollar international airport in Long Thanh District in the southern province. The project would affect 4,700 households with nearly 15,000 people in Long An, Binh Son, Cam Duong, Suoi Trau, Bau Can and Long Phuoc communes.
Situated 40 kilometers from HCMC and 30 kilometers from Bien Hoa City, the airport project of national significance got the Prime Minister's nod for its location, scale and functional sections in 2005. Its master zoning plan was approved in 2011.   
More than VND336.76 trillion (over US$16 billion) will be needed for the project, including nearly US$5.5 billion for the first phase. The funding will be sourced from the State budget, official development assistance (ODA) loans, investment of enterprises, proceeds from equitization of State-owned enterprises and other sources.
Phase one of the project is scheduled to get off the ground in 2019, with one runway and one terminal to be put into operation by 2025 to handle 25 million passengers and 1.2 million tons of cargo a year.
As planned, one more runway and terminal would be built in the second phase to increase the airport's annual capacity to 50 million passengers and 1.5 million tons of cargo. The airport would handle 100 million and five million tons a year after phase three is completed.
The airport will be developed to meet the 4F standard of the International Civil Aviation Organization (ICAO).
At a meeting with Minister of Transport Truong Quang Nghia in early July, the authority of Dong Nai Province urged the ministry to soon appraise the special compensation and resettlement mechanism to pave the way for early construction of the airport project.
Dong Nai requested the ministry to consider a plan to extent HCMC's Metro Line No. 1 from Suoi Tien Park in District 9 to Sat Market in Bien Hoa City. Dong Nai also suggested expanding the section of National Highway 1 going through the province and installing a median strip for the whole section, and building a bypass for Long Khanh Town. 
Dong Nail asked the ministry to tell contractors of upgrade projects for the sections of national highways in the province to do away with flooding spots to ease public concern.
Mobile World shares hit record high
Shares of Mobile World closed down three points at US$6.70 (VND151,000) per share as of the close on August 18 on the HCM City Stock Exchange, after reaching a record high of US$6.91 (VND154,000) per share a day prior.
Mobile World runs two retailing chains including mobile devices chain thegioididong.com and consumer electronics chain dienmay.com.  
The company announced on its website that it planned to reach about US$156 million (VND34.17 trillion) in revenue this year, an increase of 26% against last year.
It projected an after-tax profit of about US$62 million (VND1.39 trillion) for 2016, a year-on-year increase of 23%.
Vietnam plans to up tilapia production by 160%
Aquaculture is recognized globally as a growth industry, with a good potential for increased development and economic gain, says the Ministry of Agriculture and Rural Development (MARD).
Aquaculture's favoured status reflects the fact that marine fisheries, once the source of bountiful harvests, are now yielding fewer fish creating an increased demand for farmed raised fish and other seafood.  
As a result, aquaculture is viewed the many leading economists as one of the most lucrative segments of agriculture.
But the more important question, says MARD, is whether Vietnam can share in that success story and develop a growing thriving, sustainable aquaculture industry for fish and other seafood.
Most recently, MARD concluded that with respect to tilapia, the answer is yes and passed a development scheme that anticipates by 2020 output for the freshwater fish by the nation's fish farmers to surge 160% to hit 300,000 metric tons annually.
In rough figures, the number of full-time jobs in 2020 generated by the segment should be right at 54,000.
The recently passed Development Scheme on Tilapia Cultivation by 2020 with a vision towards 2030, contemplates that 50-60% of the output (150,000-180,000 metric tons) will qualify for export.
The plan targets to develop large-scale tilapia cultivation with diversified and high-value products for both domestic and foreign markets; ensure supply of fries for breeding; control diseases; and raise income for farmers.
By 2020, the nation's total tilapia cultivation area will strike 33,000 hectares and 1,500,000 square metres of farming cages on rivers and reservoirs. Under the scheme, tilapia cultivation will be developed in seven ecological regions. 
In addition, the plan calls for organizations and individuals to get financial assistance from the government in the form of credit loans in accordance with Government Decree 55/2015/ND-CP, dated June 9, 2015 on credit policies for agricultural and rural development.
However, tilapia production and consumption in Vietnam face many challenges, says MARD, most notably of which are issues related to lack of high quality and disease-resistant seeds.
In the southern region, 70% of brood stocks show signs of degeneration and slow growth rates, especially in salt-tolerant stocks. Meanwhile the Northern region often lacks seeds in the winter.
In addition, due to quality and the small size of fish, the majority of output does not meet with export requirements. As well, the market and the price of tilapia is unstable, often resulting in a low export price.
In short, MARD says, the industry has its work cut out if it is to achieve the long term goals set out for it.
PVFCCo to build Ammonia production facility with Japanese partners
The PetroVietnam Fertilizer and Chemicals Company (PVFCCo) on August 19 signed a Memorandum of Understanding with Japan's UBE Industries Ltd (UBE) and Sojitz Corporation (Sojitz) to study the possibility of joining hands in building an Ammonia (NH3) production facility and derivatives from gas fields in south-eastern region. 
Under the MoU, parties will carry out a feasibility study for the facility, which would be built in the south-eastern region with an estimated design capacity of 1,500 to 2,000 tonnes per day. 
The factory would also be able to process derivatives from NH3, such as carbon dioxide (CO2). The factory aims to meet the rising demand for NH3 that is used to produce products like DAP fertiliser, rubber and petrochemical products. 
When the factory is operational, the PVFCCo will double its NH3 market share. 
The feasability research will last for six months. 
PVFCCo has been operating the Phu My Fertiliser Plant safely and effectively since 2004 and is upgrading the capacity of the NH3 factory in the plant from 450,000 to 540,000 tonnes per year.
Bac Giang earns big from lychee fruit
The northern province of Bac Giang has earned around 3 trillion VND (about 135 million USD) from lychees and some 2 trillion VND (90 million USD) from related services so far this year.
The figures were released by Director of the provincial Department of Industry and Trade Tran Quang Tan at a conference to review lychee production and consumption in Bac Giang on August 18. 
The price of lychees hit a 40 year high this year, at an average of 21,000 VND (0.95 USD) per kilogramme, 35 percent higher than last year. 
Domestic consumption accounted for about 50 percent of the 142,000 tonnes harvested. The other half was shipped abroad, mostly to China. 
The province also witnessed a remarkable year-on-year increase in the amount exported to such strict markets as the US, Australia, the EU and the Republic of Korea. 
In order to ensure sustainable development in the sector, the province aims to provide assistance to lychee farmers to apply VietGAP and GlobalGAP standards in production, while expanding the cooperative model to enhance local lychee brand names. 
The locality will also work closely with other bodies and ministries to promote domestic consumption in the southern market and seek new and high-value export markets. 
More incentives will be offered to better preserve lychees and facilitate exports. 
During the event, Deputy Minister of Agriculture and Rural Development Nguyen Thanh Nam urged the province to promote the shipment of lychees to the southern and central markets. 
He also called for the application of technology in the post-harvest stage and VietGAP and GlobalGAP standards in production. 
The province should establish an agricultural market to better connect farmers and enterprises, Nam said.
VEF/VNA/VNS/VOV/SGT/SGGP/Dantri/VET/VIR