BUSINESS IN BRIEF 22/3
Vietnam's tyre market keeps rolling along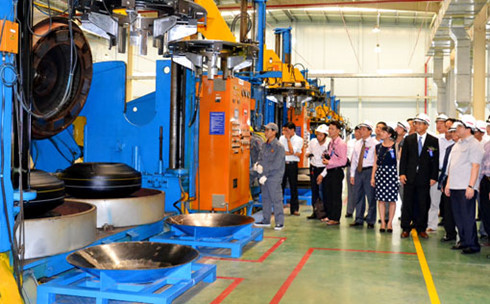 Vietnam, with a strong presences of foreign manufacturers operating within its borders, has emerged as a major market for automotive tyres over the last five years, says the Vietnam Chemicals Agency.
An Agency reports shows the tyre segment of the economy obtained average annual growth of 9% during the five-year period 2009-2013, largely driven by increasing per capita incomes and a rising middle class.
The report says the motorization rate of the country, which boasts a population of around 91 million, has been growing at a brisk pace and the country's vehicle fleet size has been expanding tremendously over the last few years.
In light of the growing demand for vehicles, many domestic and global players in the tire industry are strengthening their footprint by establishing manufacturing plants within the country's borders.
Bridgeston based out of Japan and Kumho and Sailun out of the Republic of Korea are just three of the leading brands that have recently expanded their operations in the country.
In addition, the nation has vast rubber natural resources, which further makes the country an ideal destination for establishing tyre manufacturing facilities, says the report.
All these factors have been fueling OEM, original equipment manufacturing, and replacement demand for automotive tyres in Vietnam.
According to – Vietnam Tyre Market Forecast & Opportunities, 2020 – growing automobile sales, rising vehicle fleet and increasing foreign investments in the automotive sector are the major factors driving the Vietnam tyre market.
The two-wheeler tyre segment dominates the market, followed by the passenger car and commercial vehicle & OTR tyre segments. However, the passenger car tyre segment is expected to exhibit the fastest growth rate over the next five years, followed by the commercial vehicle & OTR tyre segment.
The world demand for tires is projected to rise 4.1% per year to 3.0 billion units in 2019.  In value terms, global sales of tires are forecast to advance 7.0% per annum to US$258 billion in 2019.
More than half of all tires are projected to be sold in the Asia/Pacific region, with the region forecast to post the fastest regional growth in demand through 2019.  China, will remain one of the fastest growing national markets for tires.
Several other countries in the Asia/Pacific region are also projected to achieve rapid gains in tire demand – particularly India, Indonesia, and Thailand.
Considering all the factors, leading experts say the tyre segment in Vietnam will keep rolling along and sales, led by foreign tyre manufacturers operating within the country's borders, should most likely touch a record high US$2.7 billion by 2020.
French businesses to increase presence in Vietnam
President of the French National Assembly Claude Bartolone has said he wants to hold exchanges with Vietnam's relevant agencies on how to increase the investment of French businesses in Vietnam, during his ongoing visit to the Southeast Asian country.
The visit also aims to seek to balance the bilateral trade deficit, which is leaning towards the European country, he said at a press conference in Hanoi on March 18.
Bartolone noted that a number of French businesses are making effective investments in Vietnam in the fields of goods distribution, medicine and transport.
He said he hopes there will be more opportunities for French enterprises to invest in Vietnam, especially in their strengths such as high technology, energy saving and the environment.
The French National Assembly ratified the Vietnam – EU Partnership and Cooperation Agreement (PCA) on March 17, he noted.
Bartolone expressed his pleasure in visiting Vietnam, which follows high-level delegation exchanges between the two nations.
He said that before the visit, he met with French President Francois Hollande who expressed wish to visit Vietnam in the latter half of 2016.
The French NA leader added that he was happy that the visit falls on the celebration of the International Francophone Day (March 20).
He stressed that Vietnam is a significant member of the Francophone movement, citing that over 7,000 Vietnamese students are pursuing education in France, while an increasing number of French students are studying in Vietnam.
The visit is also a chance for him to study the regional issues, including those relating to the East Sea, he said, reiterating France's viewpoint of supporting the respect for international law, especially those set by the United Nations, to ensure navigation and aviation freedom in the region.
The French top legislator witnessed a signing ceremony of a Memorandum of Understanding (MoU) on receiving French volunteers at Vietnam's general education institutions.
The MoU inked between Deputy Minister of Education and Training Nguyen Vinh Hien and French Ambassador to Vietnam Jean Noel Poirier aims to build a bilateral cooperation framework to support the teaching and learning of French in Vietnam.    
Vietnam attends economic cooperation forum in Venezuela
The Vietnamese, Indonesian and Malaysian embassies in Venezuela have coordinated with the Latin America and Caribbean Economic System (SELA) to organised a workshop on ASEAN-SELA economic cooperation, in the capital Caracas.
Representatives from ASEAN member states gave a presentation on the development and major achievements of the bloc across three pillars: politics-security, economics, and culture-society.
Vietnamese Ambassador Ngo Tien Dung highlighted the establishment of the ASEAN Economic Community (AEC) in 2015 as a significant milestone to step up connectivity and integration in a region with a combined population of over 630 million and a gross domestic product (GDP) of 2.6 billion USD.
He said that insufficient market information due to geographical distance has made the investment and trade exchange between ASEAN and SELA restricted.
However, he confirmed that there is large room for the two sides to increase multi-faceted cooperation, especially in economics, trade, tourism, science and education.
The diplomat suggested the involved parties increase high-level delegation exchanges and push ahead with the signing of inter-regional cooperation agreements to create a legal foundation for the enhancement of their collaboration in various fields.
He also shared Vietnam's experience in reform, specifically in poverty reduction and climate change adaptation as well as the country's opportunities and challenges in regional and global economic integration.
Established in October 1975, SELA is a regional intergovernmental organisation, which comprises 27 members, including Venezuela.
House prices forecast to increase after steel price hike
The cost of building houses is expected to increase due to the recent rise in steel prices, which will in turn likely cause a spike in home purchase prices.
Real estate developers raised these concerns after the Ministry of Industry and Trade (MoIT) announced additional tariffs to be levied on imported steel products as of Tuesday.
This is a temporary safeguard measure against inexpensive imports that were said to be threatening the domestic industry.
Under the new decision, the import tax imposed on steel billets would increase from 10 per cent to 23.3 per cent while the tax imposed on long steel products would rise to 14.2 per cent from below 5 per cent.
With the new tariff, steel prices are expected to increase by three per cent.
Nguyễn Thế Điệp, deputy chairman of the Hà Nội Real Estate Club, said the prices of steel and cement account for 40 per cent of a real estate project's construction costs, and thus the hike in steel prices will definitely lead to a surge in house prices.
Property developers whose projects are in the first stage of construction would be the most affected, Điệp said.
Nguyễn Viết Hải, general director of the VIC Investment Joint Stock Company, said that over the past few days, the company had to purchase steel at higher prices.
Steel is the most important material for construction projects, and the hike in building costs would force investors to adjust prices for the final products to gain profits, Hải said.
However, housing developers are unsure how long the price hike will last.
Hải said that decisive factors involving house prices were not only materials, but also labour costs and demand. In addition, the safeguard measure will only be in effect until October.
When prices increase, demand might fall because people tend to wait until prices drop, he said.
Economic expert Ngô Trí Long said the rise in house prices is predictable, but how long the steel price hike would affect the market is hard to say because it depends on the relationship between supply and demand.
FPTS set to decide on listing in March
FPT Securities Company (FPTS) will finalise whether to trade shares in the unlisted market UpCoM or list them on the local bourse at the annual shareholder meeting on March 22.
FPTS planned to list its shares last year but then cancelled it after seeing the down trend in the market.
With nearly 100,000 investor accounts, FPTS was one of the local securities companies with the best electronic transactions and services such as EzOpen, EzTrade, EzTransfer, and EzAdvance. With the advantage of technology, FPTS also provided public enterprises with an online general shareholder meeting and online shareholder management.
In 2015, FPTS reached VNĐ260 billion in revenue and VNĐ164 billion in profits.
HHC offers 8.12 million shares to raise charter capital
Hải Hà Confectionery JSC (HHC) planned to issue 8.12 million shares worth VNĐ10,000 (US45 cents) each between Q2 and Q3 in order to double the current charter capital.
HHC said it offered the shares to its existing shareholders at VNĐ11,000 (US49 cents) each at the ratio 1:1, adding that the remaining shares not bought by the shareholders would be sold to other investors at prices not lower than VNĐ 11,000 each.
After the sale, HHC will spend VNĐ90 billion (US$4.04 million) on a new confectionery plant spanning more than 48,000sq.m in VSIP Bắc Ninh Industrial Zone.
Last year HHC earned VNĐ781 billion (US$35.04 million)  in revenue and VNĐ34 billion (US$1.53 million) in profit. HHC planned for VND800 billion (US$35.89 million) in revenue this year and a 10 per cent dividend on the new charter capital.  
The company will hold its general shareholders meeting on March 26.
On March 18, HHC closed at VNĐ31,000 (US$1.39) in the unlisted market on HNX.
Sebrina, VietTien to become Hanel strategic shareholders
Electronics firm Hanel One-member Company approved Singaporean firm Sebrina Holdings and Vietnamese electrical designer VietTien Engineering JSC to become its strategic shareholders.
HANEL, specialing on electronics, information technology service, construction and real estate, will offer more than 19 million shares in an initial public offering (IPO) on the Ha Noi Stock Exchange on April 14.
The shares, representing a 9.94 per cent stake in the company, will be offered at a starting price of VND10,000 (US$0.43) each.
After privatisation, VietTien will be Hanel's biggest shareholder. VietTien will hold 36 per cent of Hanel shares, while Sebrina will hold 25 per cent. The Hà Nội People's Committee will hold 29 per cent of Hanel's shares.
Sebrina Holdings has been operating for more than 20 years. It's a multi-asset class family office established in Singapore, diversified investments in oil & gas, quant trading, real estate and venture capital.
VietTien was founded in 2004. It focuses on services including air conditioning and mechanical ventilation, fire prevention, plumping and sanitary and machinery installation and maintenence.
Hanel has nine subsidiaries and five associated companies, including Hà Nội Telecom, which owns telecom provider Vietnamobile, and Daewoo Hotel on Nguyễn Chí Thanh Street in Hà Nội.
Hanel has also built many real estate projects in Long Biên District in east Hà Nội.
By the end of 2014 Hanel's total assets were valued at VND2.902 trillion, with an after tax profit of VND120.28 billion.
Tightened loan sources to affect banks, enterprises: experts
A road map is needed for the adjustment of Circular No 36 because the real estate market has just recovered and shows no signs of a "bubble", said Vũ Quang Phấn, deputy director of the house and real estate management department under the Ministry of Construction.
Property experts and enterprises gathered in a workshop to discuss the amendment draft of Circular No 36 early this week.
In a draft document from the central bank that had been circulated for public opinion, the risk ratio of receivable lending for real estate and securities would be raised from 150 per cent as stipulated in Circular No 36 to 250 per cent.
The maximum ratio of short-term funds used for medium- and long- term loans would be reduced from 60 per cent to 40 per cent.
The amendment of Circular No 36 aims to stabilise the property market and prevent and control risks of credit institutions' lending activities.
Sudden changes would affect the real estate market by tightening loan sources and conditions, Phấn added.
Agreeing with the opinion, Bùi Quang Tín from the Banking University of HCM City, said that sudden changes would influence both banks and enterprises.
According to statistics from the State Bank of Việt Nam (SBV), the use of short-term capital for medium- and long-term loans of joint stock commercial banks was 33.36 per cent and 36.9 per cent, respectively, as of December 31 last year.
SBV also reported that the rate rapidly increased in the first months of this year to nearly 40 per cent at many commercial banks.
Therefore, if the rate was reduced to 40 per cent from 60 per cent as stated in the draft, it was clear that banks would not lend more, Tín said.
If policies are continuously changed, one of the most concerning problems will be the impact on business plans of banks and enterprises, he said, adding that a stronger amendment would affect the stable development of the property market in the future.
Đinh Duy Trinh, director general of the Bản Việt Land Corporation, told the Thời báo Kinh tế Việt Nam (Việt Nam Economic Times), that the amendment draft was stirring up concerns on property credit tightening, while most of the capital sources for property were funds borrowed from banks and money mobilised from customers.
If the decision to limit the capital supply for the property market and change the risk ratio from 150 per cent to 250 per cent goes into effect, many projects will be paralysed, which would be a hard hit to a property market that had just recovered, Trinh said.
However, Đinh Thế Hiển, an economic expert, said that the tightening of lending sources would help enterprises balance their supply with real demand.
The amendment would be able to screen participants, as weak property enterprises would be eliminated, he added.
"Home buyers can find higher quality homes from investors that have good financial potential and governance experience", Hiển told cafef.vn.
MB Bank's new finance company to operate in Q3 2016
Sông Đà Finance Company (SDFC) merged with the Military Commercial Joint Stock Bank (MB Bank) yesterday.
Under the agreement, MB Bank will manage all the assets and debts owed by SDFC after the date of the merger.
Lưu Trung Thái, deputy chairman of the bank's Board of Management, said that MB Bank has been approved by the State Bank of Việt Nam to set up a subsidiary specialising in consumption finance with charter capital of VND500 billion (US$22.2 million).
The bank said that it would work to put the new company into operation in this year's third quarter.
Producers urged to up quality
Experts urged local manufacturers to improve product quality and distribution so their products can reach more local consumers, especially in rural areas, where sales of low-quality, fake products remain rampant.
Lại Xuân Môn, permanent deputy chairman of the Việt Nam Association of Farmers, said at a recent conference to revise the results of the campaign "Vietnamese prioritise Vietnamese products" that low-quality products still occupied rural markets, where some 70 per cent of the country's population lived.
Businesses should boost efforts to bring their products to these markets while improving product quality and selling products at more reasonable prices.
The fight against poor-quality fake products must be stepped up at the same time, Nguyễn Văn Hùng, Deputy Head of the Commission for Mass Mobilisation, said.
Vũ Trọng Kim, deputy head of the campaign's steering committee, said consumer awareness of the need to use Vietnamese products to ensure the country sees sustainable economic development must be enhanced, adding that many people still preferred imported or low-priced products.
The relevant ministries and organisations must provide support for companies bringing Vietnamese products to rural markets, Kim said.
The distribution system in rural markets faced problems that could only be tackled with coordination among firms and with the government, Bùi Văn Cường, Secretary of the Party Committee of Central Enterprises Bloc, said.
Cường said it was necessary to focus on a few major products for boosting distribution and consumption, such as garments and milk products.
Chairman of Việt Nam Front Fatherland Nguyễn Thiện Nhân said the campaign had taken root only after seven years, and it was now critical to have measures in place to quantify its efficiency, such as increases in consumption or changes in consumer awareness.
Hồ Thị Kim Thoa, deputy minister of Industry and Trade, said the ministry would hold programmes to inject Vietnamese products into foreign distribution systems to ensure that overseas Vietnamese have the opportunity to purchase Vietnamese products.
The ministry is also focused on developing points of sale for Vietnamese goods across the country and on building Vietnamese brands.
Japanese firms seek Vietnamese suppliers
The HCM City Export Processing and Industrial Zones Authority (HEPZA) and the Japan External Trade Organization (JETRO) organised a business-matching session on Thursday to connect Japanese firms and Vietnamese suppliers.
The meeting explored cooperation of companies operating in supporting industries.
About 120 Vietnamese companies, 60 Japanese enterprises operating in Việt Nam, and 23 Japanese firms looking for suppliers participated.
Japanese companies want to cooperate with Vietnamese firms to increase the ratio of materials supplied by Vietnamese firms. Success could help Japanese companies reduce production costs.
The local content ratio of products made by Japanese manufacturers in Việt Nam last year was 32.1 per cent. This is more than the 26.2 per cent in the Philippines, but less than the 65 per cent in China, 56 per cent in Thailand, and 41 per cent in Indonesia, according to JETRO.
Trần Lê Diễm Châu, deputy chief of HEPZA's investment office, said that 17 export processing and industrial zones in the city attracted 1,387 projects, with total registered capital of around US$9 billion. Of those projects, 559 are foreign investment projects with total investment capital of around $5.4 billion.
According to Nguyễn Tuấn, vice director of the Investment and Trade Promotion Centre, the development of supporting industries is essential for economic development.
The Ministry of Industry and Trade has an approved support industry master plan, which includes goals through the year 2030. Việt Nam will focus on: metal parts and components, plastic-rubber, electrical-electronics, textile-footwear, and high technology to support the industrial sector.
Consumers rights violations still rampant
Despite efforts made by agencies and organisations in implementing policies on the protection of consumer rights, violations are still rampant, according to the Consumer Rights Protection Association of HCM City.
The sale of poor quality products and fake goods as well as trade fraud remained high, said Ngô Bách Phong, the association chairman.
Hygiene and food safety were the top concerns of consumers and were the most frequent complaints.
The association proposed that the Government apply strict measures in dealing with violations on food safety, he said.
Speaking at a seminar in HCM City yesterday, Phan Thế Thắng, deputy head of the Consumer Protection Division under the Việt Nam Competition Authority, said the number of violations had increased strongly year after year.
"We received nearly 2,000 complaints about violations of consumer rights last year, mostly relating to daily consumption goods (food and household utensils)," he said.
In addition, the number of defective products that had been recalled has also increased.
A legal framework in the country exists but enforcement had been insufficient, he said, adding that resources supporting consumer rights protection were limited.
Sakai Toshifumi, director of JICA Liaison Office in HCM City, said consumer protection was important in the time of international integration.
JICA has been co-operating with the Việt Nam Competition Authority to promote better enforcement of the Law on Protection of Consumers' Rights since 2104.
"Under the co-operation project between VCA and JICA, we expect two outputs. The first is strengthening basic knowledge for authorities and associations," he said. "The second is strengthening readiness of consultations from consumers."
This year the project would have a training programme in Japan about these two outputs, he said.
Trần Vinh Nhung, deputy director of the HCM City Department of Industry and Trade, said consumer rights were important as transactions took place both inside and outside the country, particularly as e-commerce had increased.
"The protection of consumer rights requires the involvement of all state agencies, industries and whole society," he said.
Thắng said businesses should raise awareness about the importance of protection of consumer rights and assign staff to be in charge of solving consumer complaints.
Consumers should be aware of their rights in a period of open economic integration. Awareness would lead to a wiser selection of goods, he said.
Coordination between ministries and agencies should be strengthened as well.
The Prime Minister has chosen March 15 as the Vietnamese Consumer Rights Day, which will raise public awareness about the importance of protecting consumer rights and interest.
Ministry says extend support programme
The Ministry of Construction has asked the State Bank of Việt Nam to extend the terms of the government's VNĐ30 trillion (US$1.3 billion) property support package.
This is being as the term ending on June 1 this year is a cause for concern for many homebuyers.
In a despatch sent to the State Bank of Việt Nam (SBV) this week, the ministry said the extension is needed to assure consistency and stability in the implementation of housing assistance policies.
The package was launched on June 1, 2013, and the SBV announced in a Circular No 11/2013/TT-NHNN that the programme would be completed 36 months from the mentioned date.
The package has been disbursed to assist low-income homebuyers and prop up an ailing realty market that faced very high inventories.
The annual preferential interest rate for loans in this programme was lowered to 5 per cent during the last three years, after it was initially set at 6 per cent.
Homebuyers fear that once the support package ends the interest rates might rise to match current market rates, which would at least double the preferential level and hit them financially.
The problem is that homebuyers were not told about such a change in interest rates when they decided to buy properties. They only learnt about this recently through media reports, with some customers expressing panic during the last two weeks.
Nguyễn Văn Trường, a homebuyer in Hà Nội's North Từ Liêm District, said that in the past he was so happy with the support package that he did not notice the related regulations.
"Furthermore, we were not fully advised [by homesellers and banks]. If my family had known in advance that interest rates would be adjusted to match market levels after June 1, 2016, we would have had other considerations," he told the Vietnam News Agency.
"Commercial rates presently ranging between 11 per cent and 12 per cent per year will put extreme pressure on buyers," he said.
Deputy Minister of Construction Phạm Hồng Hà said interest rates being changed when the terms of the support programme ends is suitable for current laws on credit, but with the VNĐ30 trillion package nearing it full implementation, the SBV should consider removing the deadline of June 1.
According to the ministry, 98 per cent of the package, or some VNĐ29.5 trillion, has been committed to households and individuals who sought loans for construction, purchases and repairs. More than VNĐ20.3 trillion, or nearly 70 per cent of the package, has been disbursed for these purposes.
The ministry said that with such progress, the disbursement ratio may reach 85 per cent as of June before a possibility of full completion by the end of this year.
Also, the ministry said the continuation of the support programme would be in line with the moves of relevant ministries, sectors and the SBV, which are promptly mulling the launch of regular funds for social housing development, in accordance with the Housing Law and government directives.
The HCM City Real Estate Association Chairman Lê Hoàng Châu said the continuation was possible because the terms of the programme were only set by the SBV, based on its calculations in implementing Resolution No 02/NQ-CP, which the government issued on January 1, 2013 to direct support for production and business activities and the market.
The resolution does not stipulate specific terms for the programme.
Việt Nam Real Estate Association General Secretary Trần Ngọc Quang said lengthening the time for implementation of the package and maintaining the current preferential interest rate would also ensure the interests of property developers, many of whom reportedly need continuing loan disbursement for their unfinished projects.
The government enables buyers of social houses and commercial property priced less than VNĐ1.05 billion ($46,700) to seek funding from the programme.
According to the ministry and the SBV, nearly 45,000 households and individuals have benefitted from the programme. About 30 per cent of them are social beneficiaries and 70 per cent are commercial ones.
Banks with State capital, including Agribank, BIDV and Vietcombank, along with Vietinbank, have mainly been responsible for the disbursement of the support package.
Farmers getting a raw deal from dairy firms
The country does not produce enough raw milk to meet domestic demand, but farmers are in trouble because dairy firms are opting to import cheaper powdered milk for their production purposes.
In HCM City, which has the country's largest number of milch cows, nearly 800 households in Củ Chi District are unable to sell fresh milk to dairy firms because they have not signed supply contracts.
Such farmers are having to sell their raw milk to other consumers including households who make yoghurt and sell fresh milk, or asking households that have a supply contract to help them.
According to Nguyễn Văn Hơn, head of the Giòng Sao Hamlet in Củ Chi's Tân Phú Trung Commune, his hamlet has 40 households who breed about 700 cows.
Until now, most of the hamlet's raw milk has been sold to big dairy companies like Vinamilk, FrieslandCampina and Long Thành Milk.
"However, these companies have recently tightened quality controls and limited their purchases," he said.  
Households without supply contracts are in a much more difficult situation, and face the prospect of giving up breeding cows for milk, according to Hơn.
Phạm Văn Đạt, who breeds six cows in Củ Chi's Tân Phú Đông Commune and does not have a supply contract, said he had to sell raw fresh milk to those he hired to milk the cows for VNĐ7,000-9,000 (US$0.32 – 0.41) a kilo.
"The price has been pushed down, but I had no choice but to accept it," he said.
Fresh milk is sold to dairy companies in HCM City at an average price of VNĐ11,628 a kilo, according to the city's Department of Agriculture and Rural Development.
Several local newspaper reports have cited experts as saying the current situation has arisen because of the big price difference between fresh milk and imported milk powder.
They said imported powdered milk costs less than $2,000 a tonnes in the first two months of the year. If dairy firms use the powdered milk, it costs them a little more than VNĐ6,000 ($0.27) to produce a litre of liquid milk, just half the price of domestically produced fresh milk.
Of the 727,000 tonnes of raw milk produced in the country last year, about 145,000 tonnes were sold to individuals and traders and about 580,000 tonnes to dairy firms, according to Nguyễn Đăng Vang, chairman of the Việt Nam Animal Husbandry Association.
Meanwhile, domestic consumption of liquid milk was recorded at around 1.3 million tonnes last year.
But "nearly 60 pert cent of the country's liquid milk consumed last year was reconstituted milk, which is powered milk mixed with water and flavour," he said.
"The nutritious value of reconstituted milk is lower than that of fresh milk," he added.
He said labels used by dairy firms to sell their products should clearly state whether the milk is reconstituted milk or processed fresh milk. In case it is mixed, the labels should mention the percentage of reconstituted milk in the product, so that the consumers can distinguish between different products and make their choices, he said.
Currently, most liquid milk products are labelled "sterilised milk."
The number of milch cows nationwide has increased from 167,000 producing 381,000 tonnes of raw milk in 2012 to 300,000 cows producing 727,000 tonnes last year, according to the Animal Husbandry Department under the Ministry of Agriculture and Rural Development.
The ministry attributes the increase to some dairy firms increasing investment in their farms, in order to compete with imported products, tariffs are reduced under regional and international trade agreements signed by Việt Nam.
Vinamilk, for instance, has cows that can produce 28 litres of milk a day, matching international yields.
However, many cows bred by individual households can only produce 12-15 litres a day, and such dairy farmers are likely to suffer more over the next three years as import tariffs fall to zero under the Trans-Pacific Partnership, dairy company representatives have said.  
Meanwhile, the price of imported powdered milk has fallen continuously in recent years because of oversupply.
Speaking at a meeting with Secretary of the HCM City Party Committee Đinh La Thăng on Tuesday (March 1), Mai Kiều Liên, general director of Vinamilk, said her company would have to reduce the purchase price of raw milk to about VNĐ9,000 ($0.40) a litre in the next three years to remain competitive.
Vinamilk, which has signed contracts with about 8,000 households nationwide, currently buys fresh milk at VNĐ13,000 ($0.59) a kilo.
"If farmers still breed cows on a small and scattered scale, it will be difficult for them to reduce production costs," she said.
Vinamilk has asked households who have signed supply contracts to replace their old cows with those that can yield 20 litres a day. Liên also suggested that farmers either increase their scale of operations or co-operate with neighbours to do so, in order to reduce their production costs.
The HCM City Department of Agriculture and Rural Development estimates that a household with less than five cows will have production costs of VNĐ11,619 per kilo, while those with 10, 20 or 50 cows have their costs reduced correspondingly to VNĐ9,332, VNĐ7,936 and VNĐ7,076 per kilo.
According to the department, the city has more than 2,500 households with less than five cows each.
In Việt Nam, milch cows are mostly bred in HCM City, Hà Nội, Long An, Lâm Đồng, Bình Định, Nghệ An and Sơn La provinces.
SeABank and Big C sign strategic agreement
French-owned supermarket chain Big C and Southeast Asia Commercial Joint Stock Bank (SeABank) signed a strategic agreement on March 17.
Under the agreement, Big C and SeAbank will work together to deploy modern payment methods for customers such as point of sale (POS) equipment, and co-branded card issuance.
SeABank will provide many favourable banking and financial programmes for Big C's supermarket system. Big C customers will receive preferential rates and service charges when SeABank products.
SeABank was established in 1994 and has charter capital of VND5.46 trillion (US$244.8 million). The bank employs 2,500 staff nationwide.
On the same day, Big C Thăng Long on Trần Duy Hưng Street, Hà Nội, was refitted and relaunched to make it more attractive and convenient for custormers. A new cinema is being constructed and will be put into operation soon.
Big C has five supermarkets in Hà Nội and 33 nationwide.
Legal changes needed under EVFTA
The "Reviewing Vietnam's Legal Framework against EVFTA Commitments on Investment" conference was held by the Center for WTO and Economic Integration under the Vietnam Chamber of Commerce and Industry (VCCI) on March 16 in Hanoi.
Addressing the conference, Ms. Nguyen Thi Thu Trang, Director of the Center for WTO and Economic Integration, said that potential major investors from Europe are very much interested in issues surrounding investment.
The EU would like to be supported by standards on investment protection and the legal framework on investment in Vietnam, Ms. Trang noted.
In order to abide by commitments made in the EU – Vietnam Free Trade Agreement (EVFTA), Vietnam should make certain legal amendments and adjustments.
Regarding investment protection, there must be provisions for loss compensation, late interest payments, and indirect compulsory purchase and requisition.
In dispute resolution between the State and foreign investors, the Investor State Dispute Settlement (ISDS) regime of the EVFTA should be included in Vietnamese legal documents.
Ms. Trang also proposed the National Assembly create a separate law on implementing the investment commitments instead of reviewing existing legal documents.
VCBS: Exchange rates stable to end of quarter
Vietcombank Securities (VCBS) has predicted that the foreign exchange market and exchange rates will feel less pressure to the end of the first quarter but that relatively high risks exist for 2016 as a whole.
In a recent report VCBS noted that exchange rates increased from the end of 2015 to early January then gradually fell from the second half of January. Rates applied by most commercial banks fluctuated from VND22,325 to VND22,340 per USD to the end of February, or VND200 lower than the rate at the end of last year.
VCBS attributed the relatively stable exchange rates in the first quarter to less pressure from international factors, more flexible policy in exchange rate control, the application of a central-level exchange rate that is updated every day, and a balance between supply and demand thanks to foreign direct investment flows.
It expects rates to remain stable to the end of this quarter, when the State Bank of Vietnam may buy more foreign currencies to increase its reserves.
Central highlands farmers flock to cultivate passion fruits
In considering that growing passion fruits might make higher profits than growing coffee, a number of farmers in Gia Lai Province had cut down their coffee and rubber trees and then replaced them by passion fruits as not knowing that their decision could already contain high risks.
According to recent references, with a price of VND10,000 per kilogram, the growing of passion fruit has made real profits. However, the price might rise at higher levels recently, sometimes up to VND28,000 per kilogram. As a result, farmers believed that passion fruit would be a kind of money-making plant and then they have flocked into growing them.
In August 2015, Mrs. Nguyen Thi Lua's family in Ia Kha Town of Ia Grai District in Gia Lai Province destroyed their rubber and coffee fields in intention to cultivate passion fruits in an area of 1 hectare with an investment capital up to VND200 million. Their passion fruits have been giving fruits and traders have come to bargain buying passion fruits for export to China. With current price, Mrs. Lua earns at average VND1.5 million a day. According to her words, passion fruits might produce at average 90 tons annually which creates an amount equivalent to 60 tons of coffee beans at current prices.
Meanwhile, in order to produce such an amount by coffee, she has to grow more than 10 hectares of coffee trees. This is the reason why her family has decided to abandon coffee trees for passion fruits. Her family has meanwhile already destroyed 3,000 more square meters of coffee trees in waiting for growing passion fruits in April.
Statistics show that there are around 40 hectares of passion fruits in Ia Grai District, mainly locates in area of Ia Ba Commune and Ia Kha Town. Meanwhile, along a section of Highway 19 which passes Mang Yang District, coffee trees have already been canceled and are now in waiting for being uprooted to prepare surface for passion fruits. Some households have cultivated passion fruits mixed in their rubber tree fields.
The 3,000 square-meter orchard of passion fruits belongs to Mr. Nguyen Van Thuc in Dak Jrang Commune in Mang Yang District which were grown in October last year is now in blossom. Earlier, there were coffee trees in this land area. He explained why he eradicated coffee trees to grow passion fruits, since other farmers easily earned money off it.
According to the Department of Agriculture and Rural Development of Mang Yang District, the district currently has an area of 180 hectares of passion fruits. Since the beginning of this year, the area of passion fruits has increased to 50 hectares and is expected to strongly enlarge in the future.
The Department of Cultivation and Plant Protection under the Department of Agriculture and Rural Development of Gia Lai Province said that cultivation of passion fruits in the province was totally spontaneous. Farmers flocked to cultivate passion fruits when they saw that passion fruits were bought at high prices. At present, there are around 301 hectares of passion fruits, of which in 2015 alone, the area of newly-grown passion fruits was 108 hectares. The area of passion fruits that are giving fruits is 143 hectares.
Farmers said that they grow passion fruit as it produces high profits. Cultivation mainly bases on experience and self-learning instead of methodical training. After farmers harvest passion fruits, traders go to their houses to buy them and prices are entirely decided by traders.
Mr. Dao Lan Hung, head of the Department of Agriculture and Rural Development of Ia Grai District, said that his district had not either had any project for passion fruit cultivation or encouraged farmers to expand the area of passion fruit because consumption of this kind of fruits remained unstable.
According to Mr. Ha Ngoc Uyen, head of the Department of Cultivation and Plant Protection of Gia Lai Province, there is not any factory that uses passion fruits as input material in the province.
Consumption hinges on traders who buy passion fruits then transport to other provinces. Therefore, the price of passion fruits is not steady and contains high risks. Growing passion fruits massively also causes the cultivated land of other crop plants to decrease, affecting agricultural project.
Without determining whether their soil is suitable for passion fruits, farmers may make pests develop strongly, causing loss to their crops. In addition, it will cause exhaustion, degradation and pollution to soil and imbalance in ecosystem.
Local firms advised to boost exports online
Opportunities have been created for Vietnamese enterprises to boost merchandise exports online, so they should make the most of this channel to increase sales, said the deputy head of the Vietnam E-Commerce and Information Technology Agency (VECITA) at a conference in Hanoi on March 16.
VECITA deputy director Lai Viet Anh, speaking at the conference on Gold Supplier, an online export solution for Vietnamese businesses, held by Alibaba Group and OSB Investment and Technology Company, that the domestic e-commerce market has expanded sharply. Online sales amounted to US$2.2 billion in 2013, and rose to US$2.97 billion in 2014 and US$4.07 billion in 2015.
However, almost all transactions were conducted under the business-to-customer (B2C) model while the business-to-business (B2B) model accounted for a fraction of the total.
She said in developed e-commerce markets, the B2B model makes up a majority of total transactions. In South Korea, for instance, B2B deals account for 91% of total e-commerce deals and the percentage is 50% in Thailand.  
Tran Xuan Thuy, director of Alibaba Vietnam, said the country's signing of more free trade agreements (FTAs) would bring fresh opportunities for Vietnam's economy, and that local companies should make use of the online channel to step up B2B e-commerce.
Anh of VECITA said the ratios of Internet users in the U.S., Japan and South Korea, which are key importers of Vietnamese items, are high. Therefore, the doors are wide for domestic enterprises to penetrate these markets.
She cited a survey of 800 Vietnamese import-export companies as showing that B2B exports had increased strongly in recent years.     
Nguyen Thanh Hung, vice chairman and general secretary of the Vietnam E-commerce Association (VECOM), said e-commerce is growing strongly in HCMC and Hanoi but underdeveloped in other parts of the country.
Experts said the gap between the two major cities and other localities should be narrowed to create more chances for businesses.   
Tran Trong Tuyen, chief executive officer of DKT Technology JSC, said Hanoi and HCMC hold a 75% e-commerce market share.
E-commerce will grow by three to five times in the coming years if it develops well in other cities and provinces, he said.
Tuyen said half of 90 million Vietnamese use the Internet, so Vietnam holds huge growth potential.
DKT Technology has an online shopping platform at bizweb.vn for around 15,000 companies in Vietnam.
Hung of VECOM said to boost the development of e-commerce in Vietnam, management agencies, firms and relevant parties should join forces to support the sector in other localities in addition to Hanoi and HCMC.
VECOM projected that the nation's online retail sales would amount to US$10 billion by 2020, accounting for 5% of total retail revenue.  
Hung said the e-commerce sector is expected to expand by over 30% annually from 2016 to 2020 and probably 2025.
EU investors might sue State agencies
European investors might sue Vietnamese authorities under a bilateral free trade agreement (FTA) between the European Union (EU) and Vietnam if they suffer damage caused by the latter's policies.
Nguyen Thi Thu Trang, director of the WTO Center under the Vietnam Chamber of Commerce and Industry (VCCI), warned of the possible legal action to be taken by EU investors at a conference held in Hanoi on March 16 to review Vietnam's legal framework and commitments to the EU-Vietnam FTA (EVFTA).
Trang said lawsuits could arise within the investor-state dispute settlement (ISDS) mechanism, one of the three main parts of the EVFTA's investment chapter. The two other parts are about investment liberalization and investment protection.
The reason is that State agencies may violate Vietnam's commitments concerning investment protection specified in the EVFTA or commitments to national treatment, most favored nation, thereby causing damage for investors.
If State agencies lose in a lawsuit lodged by EU investors, they would have to use taxpayer money for settlement.
As a result, domestic investors may be affected by decisions of State agencies, Trang told the conference organized by VCCI and the British embassy in Hanoi.
Chau Giang, deputy head of the legal department at the Ministry of Planning and Investment, said Vietnam has had to deal with four lawsuits from foreign investors and won three of them. Under the EVFTA, Vietnam and the EU will set up a dispute settlement unit besides a reconciliation unit.
Pham Manh Dung, former head of the ministry's legal department, called for Vietnam to urgently review decrees and guiding documents as many of them are impeding investment and trade.       
Dung said investment covers many issues like bidding, public procurement, State-owned enterprises and trade liberalization.
"I think the best way to build laws in line with the nation's international integration process is to make them compatible with a modern market economy, instead of revising them whenever an FTA is signed," he said.
He added that problems with investment relate to not only laws but also law enforcement, which needs to be improved too.
VEF/VNA/VNS/VOV/SGT/SGGP/Dantri/VET/VIR