BUSINESS IN BRIEF 18/3
MoF eases regulation for tax refund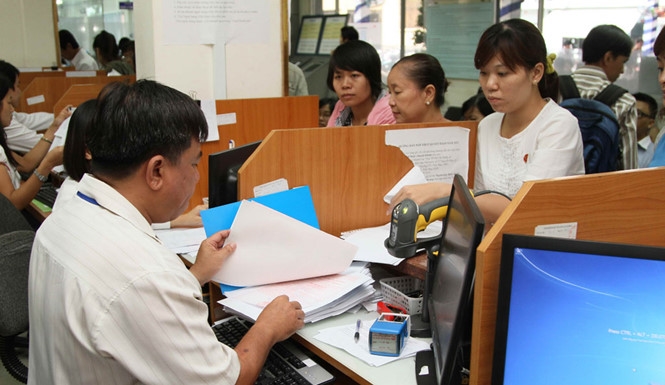 The ministry's decision is in response to complaints about tax refund delays caused by tax agencies, which causes shortage in businesses capital sources.
The Ministry of Finance has asked local tax authorities to refund value-added tax (VAT) to enterprises if the amount of tax they default on is less than the amount of tax refund that they will receive.
The ministry's decision is in response to complaints about tax refund delays caused by tax agencies, which causes shortage in businesses capital sources.
Deputy Minister Đỗ Hoàng Anh Tuấn said that 287 businesses across the country were waiting for tax refunds but there are both objective and subjective reasons for the delay.
One of the reasons is that some enterprises owe the State budget but the State budget must also refund tax to these enterprises. However, under current regulations, the two debts are not allowed to be offset, so enterprises are required to settle debts with the State budget before receiving tax refund.
According to Tuấn, there are 20 enterprises facing this situation.
The ministry officially abolished the regulation via a document sent to local tax offices on Monday.
The ministry's leader also asked the General Department of Taxation (GDT) to check and inform local tax agencies within 6 working hours upon receiving their proposals for tax refund approval.
If they receive approval, the agencies would then issue a decision to refund tax to enterprises and update the tax payers database.
Local tax offices must take full responsibilities if they are slow in refunding tax to enterprises, Tuấn said.
However, the ministry still requests localities to delay the tax refund if they detect any breaches of tax or customs regulations committed by companies or if tax payers are unable to prove the eligibility of the tax amount declared in their applications.
Tuấn added that some businesses which were under scrutiny also have to be put in the waiting list.
Another reason for the tax refund delay is that some localities do not have enough funds to return to enterprises.
Nguyễn Thị Tuyết, general director of the Nhất Trí Thành Company which specializes in supply materials for the metallurgy industry, said the firm should have received VNĐ38 billion ($1.7 million) of tax refunds by the end of January, but due to a shortage of money, the local tax office delayed the refund until the beginning of February.
Nguyễn Hữu Quang, an official from the National Assembly's Finance and Budget Committee, said a delay like this was not rare.
Deputy head of central Đà Nẵng City's tax authority Nguyễn Đình Ân said that there are 5-6 pending applications at his office because of capital shortages. Normally, due to the limited quota set for each locality, the GDT would approve the refund in accordance with the order of priority such as type of business, export and big investments.
Tuấn said that the ministry had enough resources for tax refunds nationwide. Currently, funds reserved for tax refund total VNĐ3.8 trillion (US$173 million). However, he did not deny the possibility that "This man has much to eat but that man finds no small piece."
He said HCM City now had only VNĐ92 billion ($4.2 million) in the reserve while it needed VNĐ800-900 billion ($36-41 million) for tax refunds. In contrast, the central Hà Tĩnh Province has VNĐ1.1 trillion ($50 million).
To fix the problem, the ministry would remove quotas set for each locality and be more flexible in allocating funds for tax refunds.
Đinh Nho Hậu, head of the Hà Tĩnh Province's tax office, said that the changes in tax refund regulations would help tackle difficulties for both local tax offices and businesses.
He also suggested that there should not be any discrimination among enterprises. Tax offices should repay tax to enterprises right after they complete procedures applying for the refund, regardless if they are big exporters or investors.  
Over the past two months, 3,100 applications were sent to local tax agencies and all of the enterprises successfully reclaimed tax with total amount of funds worth VNĐ13 trillion ($591 million). This year, the Government set aside VNĐ98 trillion ($4.5 billion) for tax refunds.
E-commerce key in export markets
E-commerce will bring big opportunities for online exports as key export markets of Việt Nam, including the US, Japan, South Korea and the EU had high rates of Internet use.
This was stated by Lại Việt Anh, deputy director of Vietnam E-commerce and Information Technology Agency (Vecita) at a meeting in Ha Noi yesterday.
The world's leading e-commerce group Alibaba together with OSB, JSC, and Alibaba Group's Authorised Reseller in Việt Nam organised a meeting to discuss the effectiveness of online export supporting tools and solutions to boost business efficiency for enterprises especially small- and medium-sized enterprises.
A survey by Vecita on more than 800 export firms showed that up to 73 per cent of enterprises said that application of e-commerce in exports is "effective" and "very effective", while the dispute rate is low (only eight per cent).
However, according to Anh, only eight per cent of the enterprises signed contracts on the e-commerce trading floors, while three per cent signed via enterprises or partner websites.
Up to 74 per cent of them met directly for signing contracts while 65 per cent did so through email and post, the survey shows.
Lê Thị Thanh Hằng, director of Elmaco Import and Export Co., Ltd, said e-commerce would open new export markets, since the budget for the activities is not high.
After five years of using online exports, the enterprise has invested time and efforts in uploading product information, images, certificates and payment and customer feedback.
Hằng also asked management agencies and e-commerce websites to tighten management on information and quality so that enterprises could feel secure when making transactions.
Speaking on how to create an impression with partners, Trần Xuân Thủy, country manager of Alibaba to Việt Nam, said that exporters needed to have certificates on quality and safety to create confidence among buyers.
Product information should be uploaded with details about price, payment and package, so that partners could find the necessary information on products easily, he added.
Vietnamese enterprises have not grasped the success in online exports because of the low effectiveness when using e-commerce and undetailed product information, Thủy added.
According to the experts at the workshop, Vietnamese exports are expected to grow faster this year as some important free trade agreements between Việt Nam and European Union, and Việt Nam and Korea will take effect.
However, certain difficulties have emerged, such as a decrease in exports by 15 per cent in the first one month and a half of this year compared to the same period last year.
The decreasing exports are also a reason for export firms to shift from the traditional business environment to online environment in order to optimise trade, according to experts.
Việt Nam has a population of 91.3 million, of these, 45 per cent are using Internet and market scale of e-commerce is up to US$4.07 billion, according to Vecita.
Steel prices surge ahead of tariffs
The domestic steel market has seen a price surge and hoarding before temporary safeguard measures recently imposed on two types of steel imports into the Southeast Asian country, experts said.
Domestic steel prices have reported an increase by VNĐ250,000 (US$12) per metric tonne. Currently, the steel price is at VNĐ8.9 to VNĐ9 million a tonne.
The surge is a result of the temporary safeguard measure that will take effect on March 22 that could see a rise in the price of imported steel prices.
The Ministry of Industry and Trade (MoIT) on March 8 announced additional tariffs on imported steel products as a temporary safeguard against inexpensive imports that were allegedly threatening the domestic industry.
As per the Decision No 862/QĐ-BCT issued by the ministry, it will impose temporary safeguard duties of 23.3 per cent on steel billets and 14.2 per cent on long steel products for a maximum of 200 days.
On December 25, 2015, the MoIT issued Decision No 14296/QĐ-BCT on a safeguard investigation into imports of steel billets and long steel products, based on a complaint lodged by local producers Hòa Phát Steel Joint Stock Company (JSC), Southern Steel Co Ltd, Thái Nguyên Iron and Steel JSC and Việt Nam-Italy Steel JSC.
The four domestic steelmakers, who collectively account for 34.2 per cent of the country's total supply, said their production had been affected by cheaper imports.
Việt Nam Steel Association (VSA) has asked its member producers to have suitable production plans in place as well as keeping selling prices stable.
VSA added that the temporary safeguard measure on steel billets and long steel products has been useful under international regulations to prevent flooding of imported steel into Việt Nam.
The association statistics showed that in February, the steel output of its members rose by 69 per cent to 1.16 million tonnes as compared with the same period last year. Steel consumption last month was more than 918,000 tonnes or 70 per cent year-on-year increase. Steel exports reached 178,000 tonnes, posting 15 per cent rise from last year.
Nguyễn Văn Sưa, VSA's deputy chairman told Tuổi trẻ (Youth) newspaper that it was unreasonable for the safeguard to affect market-driven steel prices as Việt Nam's steel supply is exceeding demand.
Sưa said steel businesses could only increase their price if the raw materials are imported in the time of the safeguard takes effect.
Speedy restructuring needed in domestic agriculture sector
Restructuring and equitising State-owned enterprises in the agricultural sector must be implemented quickly, Minister of Agriculture and Rural Development (MARD) Cao Đức Phát said.
The minister said this to participants at a conference to review restructuring of State-run enterprises between 2011and 2015, held in Hà Nội on Tuesday.
According to the minister, equitisation must be an important part of the restructuring process of SOEs in the agriculture industry.
Trần Ngọc Thuận, general director of Vietnam Rubber Group (VRG), said despite achieving success, the equitisation process in some member companies remained poor. Thuan attributed the low price of latex to the sluggish equitisation process in his corporation.
In addition, VRG also faced difficulties in managing a large-scale rubber plantation areas. The group has conducted equitisation in five member companies between 2011 and 2015. However, it carried out equitisation in only two companies only.
The group also has planned to disinvest VNĐ3.1 trillion (US$139 million) from non-core businesses. Actually, it has so far disinvested only VNĐ1 trillion.
Besides challenges, VRG was also successful in enterprise restructuring. It expanded production in key industries. As a result, in 2015, the group earned more than VND2 trillion. Of this figure, more than VND800 billion came from wood processing and the production of Medium Density Fibreboard (MDF). The group has now occupied 40 per cent market share of MDF in Viet Nam. It is expected to occupy at least 70 per cent of market share after some factories which are being built begin operations.
Phí Mạnh Cường, general director of Vietnam Forest Corporation (VinaFor), told Vietnam News that his corporation always attached great importance to SOE restructuring to make its production and business performance stable and better.
From 2011, the VinaFor has seen handsome growth amid the economic slowdown. In early 2011, the corporation's equity stood at VND1.54 billion and late 2014, it reached over VND2.1 trillion with a profit of VND200 billion annually. By doing so, the corporation was careful when selecting strategic partners with close monitoring by relevant agencies such as finance, banking, auditing and accounting.
In addition, the corporation has also focussed on key sectors and avoided investing in non-core businesses.
According to Deputy Minister of MARD Hà Công Tuấn, the rural sector has become attractive to investors. Between 2011 and 2015, MARD reorganised and equitised 12 corporations, 4 companies and several member companies.
The total capital from the equitisation process between 2011 and 2015 reached nearly VND2 trillion. Tuấn also said the process of equitisation remained sluggish. He said in the process, some equitised businesses could not sell out their shares as planned. There was no business that could sell their share to foreign investors.
Tuấn further said strategic investors was an important factor to SOEs in the equitisation process.
In the time to come, the rural and agriculture sector need to make great effort in restructuring SEs in the sector. Ailing businesses will hinder the development of the whole sector, Tuấn said.
HCM City leader says both officials, businesses should be 'ethical'
Government agencies and enterprises should both be "ethical" while discussing complaints related to red tape, Đinh La Thăng, the Secretary of the HCM City Party Committee, said while meeting with foreign investors in the city yesterday.
Executives from foreign-invested companies expressed their unhappiness with administrative procedures, saying working with the customs and tax departments affected their business.
Export and import procedures involve multiple agencies and numerous documents, they complained.     
But Nguyễn Hữu Nghiệp, deputy head of the HCM City customs department, claimed that when a company imports a shipment, it spends almost 72 percent of the time working with ministries and just three minutes with customs officials.
Thăng instructed the customs department to resolve all complaints made at the meeting within a week and organise regular meetings with companies to understand their difficulties.
Nghiệp promised both tasks would be carried out.
Thăng reminded city officials that helping foreign firms also enables the city to achieve its socio-economic targets, and urged the foreign investors to express their opinions with regard to the city's development.
He appreciates the contributions made by all enterprises, domestic and foreign, he said, promising to create favourable conditions for them to operate efficiently.
While the city administration needs to be transparent, enterprises need to be "ethical" for their co-operation to be effective, he said.
In the context, he said the city is moving towards e-governance to improve transparency.
He called on foreign firms to expand, bring in new technologies and treat their employees well in terms of salary, accommodation, and social insurance.
"Enterprises often complain that the quality of human resources is low or there are not quality workers to recruit, but [if workers are treated well] you will not worry about a human resource shortage."
Nguyễn Thành Phong, Chairman of the city People's Committee, said the target is to make HCM City an economic and cultural hub of South-east Asia.
The key to achieving the target lies in improving the quality of growth and resolving issues related to infrastructure, the investment environment and administrative reforms, he said.
According to a report from the Department of Planning and Investment, between 1988 and 2015 the city licensed 5,854 foreign projects that are still in operation with a combined investment of over US$40 billion.
Last year it attracted FDI worth $4.5 billion, up more than 38 percent from 2014 and representing 19.8 percent of the country's $22.76 billion FDI.
Singapore is the city's biggest foreign investor with $8.7 billion, followed by Malaysia with $5.8 billion.
The property sector has attracted the largest amount of FDI at over $14 billion. VNS
Rice exports jump as more of last year's orders filled
Rice exports have surged in the first two months as many of last year's contracts are being executed this year, according to the Việt Nam Food Association.
The country exported more than 856,219 tonnes for US$347.8 million, a year-on-year increase of 101.89 per cent and 81.73 per cent, and Huỳnh Minh Huệ, VFA general secretary, indicated there had been too many orders to handle last year, including some large government contracts with Indonesia and the Philippines.
At a regular meeting of the association last week, he said exports of common white rice accounted for 32.68 per cent of exports, up almost five times from the same period last year, and exports of glutinous rice also surged due to high demand from China.
Exports of fragrant rice continued to grow steadily thanks to increased exports to China and Africa, he said.
VFA anticipates exports to reach 1.3 million tonnes in the first quarter, 56 per cent up from the same period last year.
Huệ said the number of contracts to be executed remained high at around 1.4 million tonnes.
But with inventories at export firms 81,140 tonnes lower than at the same time last year — at one million tonnes — they would have to buy rice, he said.
Prices are currently high in the domestic market despite this being the peak harvest season and the association announcing no plans to stockpile the grain.
High demand from exporters coupled with a forecast of falling output in the Cửu Long (Mekong) Delta due to drought and saltwater intrusion has pushed up the prices.
The Ministry of Agriculture and rural Development reported that by March 5 around 139,000ha of the winter-spring rice crop in nine provinces had been damaged by drought and saltwater, with the loss estimated at one million tonnes.
In previous years the VFA proposed purchasing one million tonne of rice for temporary storage at the beginning of March to support domestic prices, but this time farmers can earn reasonable profits at current prices.
According to rice traders in the Mekong Delta, a kilogramme of IR 50404 paddy in the field costs VNĐ4,600-4,650, VNĐ300 higher than a year earlier, and high-grade paddies are priced much higher.
HCM City metro line No 1 set to reach tunnel-boring stage
Tunnel-boring machines will be deployed at the end of this year to connect the three underground stations on HCM City's metro line No 1, with city authorities saying the stations have been assigned priority.
At a media briefing yesterday, officials from the HCM City Management Authority for Urban Railways (MAUR) said bidding opened last month for construction of the 515-metre underground section between the Opera House and Bến Thành Market and ground would be broken for it in the third quarter of this year.
For building the stations on the 1,315-metre underground section from the Opera House to Ba Son Shipping Yard, Japan's Shimizu-Maeda was hired in July 2014 and the work is going on.
Construction of the Opera House and Ba Son stations is partly finished, and with the roof of the former completed, the surrounding roads have been reopened to traffic.
Hoàng Như Cương, deputy director of MAUR, said he had complete confidence in the capacity of Japanese contractors, and is not worried there would be any leakages or damage to neighbouring buildings because of the underground structures.
"It is 40 metres underground with artesian waters, but the contractor is dealing with this problem very well."
With the quick progress of the construction the metro would be in use in four years' time, he predicted.
Work on 11 stations above ground are in advanced stages.  
For the 17.1km surface section, Sumimoto-Cienco 6 has completed 95 percent of the design. Contractors have pre-cast 2,069 out of the 4,563 segments required for the U-shaped viaduct and installed 129 spans measuring 4.5km.    
Construction is going smoothly and has been speeded up to attain completion by 2020, with a part of the route usable by 2019.
At the meeting, MAUR revealed that construction of metro line No 2, which does require approval from the National Assembly following a recent decision by the Government, would begin 2018 and take six years.
Cương said land acquisition and planning for it are under way, with 791 households requiring to be relocated. Land clearance had been speeded up, he added.
UN development body helps VN industrial sector create strategies
Prime Minister Nguyễn Tấn Dũng has approved the portfolio of a project funded by a United Nations body on development policies and strategies for the industrial sector through capacity building.
The project, by the United Nations Industrial Development Organization (UNIDO), will be carried out for 36 months with a total investment of US$1.08 million.
It aims to raise the institutional capacity of both, the government and the private sector, thus helping to improve the strategy for the sector as a whole and develop suitable policies for each specific industry, and ultimately enhancing the competitiveness of Viet Nam's industrial sector.
According to the industrial development strategy through 2025, with a vision to 2035, Viet Nam's industrial sector will develop with a sound structure in terms of industry and region. The industrial sector should be sufficiently competitive to develop during integration, with modern technologies, and participate in the global value chain in a number of specialised sub-sectors and fields, and can fundamentally meet the requirements of the economy and exports.
By 2035, Viet Nam's industrial sector will develop with a majority of specialised industries meeting international standards in terms of technologies and product quality, deeply participating in the global value chain, using energy efficiently, and competing fairly in international integration.
Vietnam bolsters trade, investment in Germany
Minister of Industry and Trade Vu Huy Hoang met with about 50 German and overseas Vietnamese businesspeople at Vietnam Trade Office in Berlin on March 16 as part of his working visit to Germany to boost trade and investment between the two countries.
Speaking at the meeting, Minister Hoang briefed attendees on Vietnam's socio-economic situation over the past years and its major orientation for economic, trade and investment development specified in the Resolution adopted by the 12th National Party Congress earlier this year.
He also answered inquiries from German firms on investment and trade climate in Vietnam following the country's signing of the Trans-Pacific Partnership (TPP) and the EU-Vietnam Free Trade Agreement (EVFTA), as well as the establishment of the ASEAN Economic Community (AEC).
Some firms expressed their interest in developing material growing areas in Vietnam to serve the export of agricultural products and herbal medicines to Germany, EU and Africa.
Meanwhile, overseas Vietnamese businesses hoped that the Vietnamese government would facilitate their investment in the country as well as the flow of investment capital from Vietnam to Germany.
Minister Hoang said the ministry and Vietnam Trade Office in Germany are willing to provide support for enterprises to ramp up two-way trade and investment.
During his working trip at the invitation of Sigmar Gabriel, Vice Chancellor of Germany and also Minister for Economic Affairs and Energy on March 17-18, Minister Vu Huy Hoang is scheduled to attend several economic forums and meetings.
Vietnam's exports to Mexico rise fast
Vietnam's export turnover to Mexico reached nearly 1.54 billion USD in 2015, up 49.16 percent from 2014, the highest increase in a decade, according to the trade office of the Vietnamese Embassy in Mexico.
Vietnam's key exports to the second largest Latin America economy include mobile phones and parts; leather footwear, computer, electronic goods and components, aquatic products, garment – textile, transport vehicles and parts, coffee, furniture, and rubber.
According to the General Department of Vietnam Customs, Vietnam imported 477.52 million USD worth of products from Mexico in the year, mostly computers; electronic items; machinery and equipment; animal feeds; steel and metals.
Two-way trade reached nearly 2.23 billion USD, an increase of 55.70 percent year-on-year.
Commercial Counsellor at Vietnam's Embassy in Mexico Hoang Tuan Viet attributed the increasing trade to the recently signed Trans-Pacific Partnership (TPP) agreement, to which Vietnam and Mexico are two active members, and the inauguration of a representative office of the Mexican import-export association (ANIERM) in Vietnam.
Founded in 1944, ANIERM is a non-profit organisation working to facilitate foreign trade, logistics and other services.
Vietnam and Mexico established diplomatic relations on May 19, 1975 and since then the politic-diplomatic relationship between the two countries has developed both bilaterally and multilaterally.
Mexico is Vietnam's second largest trade partner in South America, behind only Brazil. Meanwhile, Vietnam is Mexico's 12th largest trade partner in the Asian-Pacific region.
HCM City authorities talk with foreign investors
Ho Chi Minh City's authorities pledged to create the best conditions for foreign businesses to expand investment, Secretary of the municipal Party Committee Dinh La Thang confirmed at a meeting in the city on March 16.
He highlighted the crucial role of the foreign business community in realising local socio-economic development goals, and proposed overseas firms further renovate technology to increase labour productivity and competitive edge.
Both local authorities and foreign companies must be transparent in their operation, he said, suggesting taking better care of their workers, especially when it comes to salary, accommodation, social insurance and social beneficiary policies.
One of the issues that drew participants' interest was regulations under the Ministry of Science and Technology's Circular 23 on importing second-hand equipment and machinery, which will take effect from July 1, 2016.
Foreign business players pointed out some difficulties in investment in the city such as administrative and customs procedures, tax declaration, human resources quality and infrastructure improvement.
Chairman of the municipal People's Committee Nguyen Thanh Phong said the city will promptly deal with the shortcomings and reform its policy to create a more favourable and attractive investment environment.
HCM City will step up administrative reform and infrastructure improvement to serve locals and businesses better, he said, adding that the city will hold scores of round-table meetings with foreign businesses in the coming time.
According to the municipal Department of Planning and Investment, the city attracted 4.5 billion USD in FDI in 2015, a year-on-year rise of 38.28 percent, making up 19.8 percent of the country's total FDI.
Vietnam Airports Corporation holds first meeting for shareholders
The Aviation Airport Corporation of Vietnam (ACV) held the first meeting for shareholders in Ho Chi Minh City on March 16.
The event is considered a necessary move to turn the State-owned ACV into a joint-stock company, according to the steering committee for equitisation of ACV.
On October 6, 2015, the Prime Minister approved a plan to equitise ACV with chartered capital of 22.4 trillion VND (over 1 billion USD). More than 2.2 billion stocks were to be sold to the market at 10,000 VND (0.45 USD) each. The State would hold 75 percent of the group's chartered capital, while 20 percent of the remaining stake was to be sold to strategic investors.
The ACV coordinated with Ho Chi Minh Stock Exchange (HOSE) to organise the first initial public offering (IPO) in the city on December 10, 2015.
The Ministry of Transport on March 14, 2016 issued a decision to adjust the chartered capital of the ACV joint stock company to over 21.7 trillion VND (976.5 million USD), equivalent to more than 2.17 billion shares at 10,000 VND each. The State holds 95.4 percent of the shares.
At the meeting, Nguyen Nguyen Hung was re-elected Chairman of the ACV's members council while Le Manh Hung continued to hold the position of ACV General Director.
Seminar discusses utilising e-commerce tools
A seminar held in Hanoi on March 16 discussed utilising support tools for online exports, especially among small and medium-sized enterprises.
According to the Ministry of Industry and Trade's Vietnam E-commerce and Information Technology Agency (VECITA), up to 73 percent of firms said e-commerce brings great benefits and the rate of conflicts arising from e-contracts is as low as 8 percent.
VECITA deputy head Lai Viet Anh said only 8 percent of enterprises reach deals on e-trading platforms and 3 percent make transactions on their own or partners' websites. Meanwhile, as many as 74 percent meet face-to-face and 65 percent deal with their partners via emails or correspondences.
She said VECITA has launched an e-commerce portal specially designed for domestic firms, providing information on the market for each goods' category, Vietnamese trade offices in other countries, as well as information about merchants and product authentication.
Tran Xuan Thuy, Vietnamese Market Director of Alibaba.com said in order to facilitate exports via online channels, merchants must provide quality certificates and product details; including prices, payment and shipping processes.
Vietnam is expected to earn big from exports this year after several free trade agreements take effect, including those between Vietnam and the European Union, and between Vietnam and the Republic of Korea.
However, its export revenue dropped around 15 percent year-on-year in the first month and a half of this year, prompting exporters to switch to the online environment to optimise trade.
The event was co-hosted by the world's e-commerce giant Alibaba and the OSB investment and technology company.
Mexico trade association establishes office in Vietnam
ANIERM, a Mexican import-export association, has recently inaugurated representative offices in 45 countries, including Vietnam.
According to ANIERM President Arturo Perez Behr, these agencies aim to support Mexican enterprises in seizing trade opportunities overseas, particularly following the signing of the Trans-Pacific Partnership agreement.
Founded in 1944, ANIERM is a non-profit organisation working to facilitate local import, export, logistics and other services.
As a result of a working session between the Vietnamese Embassy's trade office and ANIERM leaders on Feb. 8, a Mexican business delegation is scheduled to visit Vietnam in May to seek partnerships.
Vietnam and Mexico established diplomatic relations on May 19, 1975 and since then the politic-diplomatic relationship between the two countries has developed both bilaterally and multilaterally.
Two-way trade has seen strong growth with Mexico being Vietnam's second largest trade partner in South America, behind only Brazil. Meanwhile, Vietnam is Mexico's 12th largest trade partner in the Asian-Pacific region.-
SOEs to get soft loans without government guarantees
A conference is underway in Hanoi from March 15-18 to introduce soft loans from the French Development Agency (AFD) for state-owned enterprises (SOEs) that do not require government guarantees.
The event focuses on identifying ways to support feasible projects which are not able to get full funding from commercial loans.
In Vietnam, self-financed SOEs play a vital role in public services such as water supply, sanitation, power and public transportation. Therefore, they need support from financial institutions to get credit access without government guarantees, said Francoise Chalier, deputy director of the Asia department at AFD.
Chalier noted that eligible projects for AFD soft loans must be those that address sustainable development issues. They should be transparent and strictly follow the requirements of AFD's bidding and contracting processes.
Dang Quyet Tien, Deputy Director of the Ministry of Finance's Corporate Finance Department, presented the government's legal framework on project appraisals and the provision of non-guaranteed loans to state-owned enterprises.
He stressed the responsibility of enterprises to report project status and credit solvency accurately.
The AFD has provided funds for 81 projects worth more than 6.1 billion EUR since it was launched in Vietnam in 1994.
Thanks to AFD funding, about 5 million family-scale farms were supported, 250,000 hectares of farmland were developed, 6,000 kilometres of inland roads were built or upgraded, and 3 million people now have sustainable access to clean water.
From 2016-2020, AFD will continue its partnership with Vietnam in enhancing urban development, supporting modernisation of the production sectors with a high socio-environmental impact, and mitigating climate change.
HCMC announces consumer rights protection switchboard
The Ho Chi Minh City Department of Industry and Trade yesterday afternoon announced switchboard (08) 1081 and website www.quyennguoitieudunghcm.vn to answer queries by consumers on their rights.
The announcement was made at press conference on organization of a slew of events from March till the end of this year in respond to Vietnamese Consumer Rights Day, March 15.
Deputy director of the department Tran Vinh Nhung said that HCMC will host a ceremony to launch a campaign themed 'Consumers' right to be safe,' and announce the Prime Minister's decision to choose March 15 as Vietnamese Consumer Rights Day.
In addition, the city will organize the action month for consumer rights including the launch of the switchboard and website, seminars on consumers' safety right and their concerns over goods quality to their health.
On this occasion, the department and the HCMC Consumer Right Protection Association have opened an office to receive and solve complaints from consumers at 61 Ly Tu Trong, District 1. Consumers can call the office's phone number (08) 38241868 to talk to consultancy staff on problems related to their legitimate rights.
Vietnam's economy sees dual achievements in 2015: NFSC
Highlights of Vietnam's economy in 2015 included curbed inflation at 0.6% and a high economic growth rate, preparing the country for rapid and sustainable development in the future.
Chairman of the National Financial Supervisory Commission (NFSC) Vu Viet Ngoan made the remark in the NFSC report on Vietnam's 2015 financial market overview released in Hanoi on March 14.
The report pointed out negative impacts of the world economy in 2015 on Vietnam's economy including the economic slowdown; low circulation of goods; declining prices of goods, crude oil and agricultural products; and volatile monetary policies in many countries. Despite such disadvantages, Vietnam was among the economies with the highest economic growth rate at 6.68%, the report stated.
The NFSC noted that the national financial infrastructure was strengthened with the rearrangement, mergers and dissolution of a number of financial institutions in addition to the enhancement of transparency, risk management and positive handling of backlogs among others.
It also indicated many difficulties for the national economy including the dependence on the foreign direct investment (FDI) sector, the rapid increase in public debt, and large budget deficit, posing many challenges to the goal of macroeconomic stability.
The NFSC forecast that Vietnam would see an economic growth rate of 6.7% and consumer price index (CPI) of 3-3.5% in 2016 amid the continued difficulties in the world financial market and impacts of natural disasters.
Positive signs from rice exports
According to the Vietnam Food Association (VFA), the country's accumulative rice export volume reached 727,847 tonnes at the end of February, worth US$290.299 million in FOB (free on board) value and US$312.867 million in CIF (cost, insurance, freight) value, making rice export volume and value in the first two months of 2016 increase twofold compared to the same period last year.
Hikes in exports have also led domestic rice prices to rise again and the consumption market to become more vibrant. The current unhusked rice prices at granaries in the Mekong Delta region usually range between VND5,100 and VND5,200 per kilogramme.
The price of 5% broken rice products currently stands between VND7,550 and VND7,650 per kilogramme, 15% broken rice products at VND7,400-7,500 per kilogramme and 25% broken rice products at VND7,300-7,400 per kilogramme.
The flourish stems from a year-on-year surge of over 300,000 tonnes in the volume of rice contracted to be transferred in the first quarter of 2016. Meanwhile, last year's rice inventories were not as large as previous years, which encouraged enterprises to buy products to ensure the signed contracts, driving the rice market to be animated right from the beginning of the year. As such, the VFA suggested not purchasing rice for reserve in the winter-spring crop as annual, and predicted that there remains numerous opportunities for Vietnam's rice exports to increase in both volume and value throughout the whole year. El Nino is currently causing serious droughts and severely threatening food outputs in many countries, forcing them to soon sign rice import contracts to ensure the domestic supply.
Thus, after years with difficulties emerging in the initial months, the positive signs for Vietnam's rice exports soon came out in 2016. The rice market, however, always see unpredictable fluctuations at different periods of time. In order to move towards high rice export revenues for the whole year, local enterprises need to take advantage of opportunities and closely watch every movement from import partners. It is still necessary to boost trade promotion and expand to new markets in case of risks, even when import volumes are predicted to rise in traditional markets.
Although Vietnam saw hikes in both export volume and value in the first two months of the year, the country's average exported rice prices only stayed at US$443.5 per tonne, down 5.95% against 2015. Meanwhile, the prices of exported rice of the same type in Cambodia and Thailand are higher than Vietnam's thanks to more equal rice quality. Confronted with that reality, authorised agencies need to promptly promulgate a set of standards on rice quality for exports in order to easily control unqualified products, towards synchronously building the Vietnamese rice brand.
VFA: No rice storage plan in store
The Vietnam Food Association (VFA) has confirmed that it will not seek approval for a rice storage program for the spring-winter crop as in previous years because the domestic rice price is forecast to continue moving up.
Huynh The Nang, chairman of VFA, was quoted by the Vietnam New Agency as saying that in previous years the price of domestic rice dipped in early March when the harvest season of the winter-spring crop peaked, so stockpiling rice was needed to prop up the price.
When rice prices fell sharply in previous years, the Ministry of Agriculture and Rural Development in collaboration with relevant agencies and VFA sought Government approval to buy rice at a price that ensured profit for farmers. This policy allowed member enterprises of VFA to purchase rice for storage to help farmers sell their produce.
However, VFA has yet to have a rice storage plan in the winter-spring crop since farmers can earn profit now.
Explaining the price increase, Nang said paddy output in the winter-spring crop is projected to drop significantly as severe drought and seawater intrusion triggered by the El Nino phenomenon have exacted a heavy toll on rice production in the Mekong Delta, the country's key rice growing area.
In addition, enterprises have stepped up purchases to fulfill old and new export contracts, especially after the Lunar New Year holiday (Tet), which ended in mid-February.
Lam Anh Tuan, director of Thinh Phat Co Ltd in the Mekong Delta province of Ben Tre, said news about the effect of drought and salinity on rice output in the Mekong Delta has fueled a rice price surge despite the peak harvest season of the winter-spring crop.
Farmers have harvested around 700,000 hectares of rice out of 1.5 million hectares of the winter-spring crop, with an average yield of 6.8 tons a hectare.
Prices of paddy and unprocessed rice are continuing rising and are way beyond rice exporters' expectations. This is good for farmers but makes life tough for rice exporters who will have difficulty buying sufficient volume to fulfill their export contracts.
Tuan noted that with the current local rice price, the export price of Vietnamese rice has risen to US$380 a ton while Thailand's is US$360. This means Vietnamese rice will become less competitive on global markets.
Can Tho to host 10th Vietnam-France decentralised cooperation meeting
The 10th cooperation conference between Vietnamese and French localities will be held in the Mekong Delta city of Can Tho from September 14 to 16.
At a meeting with municipal officials on March 14, French Ambassador to Vietnam Jean-Noel Poirier said the conference will provide a platform for the two countries' businesses to seek cooperation in four key areas: economics and tourism; education and health care; environment, climate change, agriculture and fisheries; and urban development.
Numerous activities will also take place on the sidelines of the event, including a Vietnam – France culture week from September 12 to 18, a Vietnam – France trade fair from September 15 to 17, and a discussion on investment and trade promotion on September 15.
The French side is expected to comprise 200 participants, including State officials and entrepreneurs. Meanwhile, about 300 representatives of Vietnamese ministries, sectors and companies will attend the conference.
Cooperation between Vietnamese and French localities dates back to 1989, when Hanoi and the region of Ile-de-France set up a partnership. This form of cooperation has developed and contributed to the friendship and multifaceted cooperation between the two sides.
The conference, also known as the Vietnam – France decentralised cooperation conference, is held biennially or triennially on a rotational basis to review the cooperation effectiveness and set up collaboration directions in following years.
Vietnam, Russia foster cooperation in oil and gas
The long term cooperation and the highly mutual trust between Vietnam and Russia allow the two nations' oil and gas companies to strengthen cooperative ties, the Russian News Agency Ria Novosti quoted Foreign Ministry Spokeperson Maria Zakharova as saying on March 11.
She made the statement after the Rosneft Vietnam Company, an affiliate of Russia's Rosneft Group, started exploratory drilling offshore Vietnam's coast early this month.
Zakharova highlighted the many years of cooperation in fuel and energy between Vietnam and Russia as one of the pillars in their strategic and comprehensive partnership, which is becoming more intensive.
The two Governments have always paid due attention to collaboration in this field through the meetings of the Vietnam-Russia Inter-Government Committee on economics, trade, science and technology with the latest conference held during November-December 2015 in Hanoi, she added.
Russia has recently seen stable growth in its oil and gas exports to the Asia-Pacific region, especially last year, according to the Spokeperson.
VEF/VNA/VNS/VOV/SGT/SGGP/Dantri/VET/VIR