For almost two decades, Jerzy Kwapniewski has regularly been making the 1,000-mile trip from his home in Poland to a tucked-away corner of Worcestershire to help gather the apples and hops at harvest time.
"I love this place and I enjoy the job," he said. "The money is good and I can see that the farm appreciates me coming. I feel a link with this area. I feel part of the business, part of the team. I feel a connection with the countryside here and with English people."
The worry for Kwapniewski, 50, and the other Poles, Romanians and Bulgarians who work at Stocks farm close to the Malvern hills, is that Brexit may put their livelihoods at risk.
Those who employ seasonal workers are deeply concerned too, fearing that Brexit may lead to a labour shortage that could make it more difficult to harvest fruit and veg.
"I was shocked at the referendum result," Kwapniewski told the Guardian. "I thought everyone was united. I thought England was part of Europe. I couldn't believe the result. I am worried. I think it's going to affect me personally next year or the following one. I don't know how it's going to end for me."
Kwapniewski spends time in Worcestershire in the spring and autumn – around three months a year in all. "Sometimes when it's necessary you stay longer, sometimes shorter. If we plant more trees, the season is longer."
He speaks passionately about the gentleness with which the eating apples – Gala, Braeburn and Red Windsor – have to be picked. Any bruises and they will not make the supermarket shelves. He calls the drying of hops an art.
Kwapniewski's excellent English and longevity at Stocks farm means he acts as a supervisor. "There are others here who have been here 10 years. We go to the pubs, we are part of the community. We're all feeling very uncertain and I think the UK will lose out too."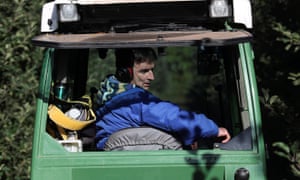 Ali Capper, who runs Stocks farm with her husband, Richard, is concerned that Brexit may make it harder to recruit and keep loyal workers like Kwapniewski. "We want simple flexible access to reliable competent workers," she said. "They need to be a mix of low-skilled and high-skilled. We don't mind where they come from. We want someone who can come in, pick seasonal fruit or veg and go home. It's not an immigration issue. They come in, they go home again. We feel we need some form of visa scheme that allows us to bring in seasonal workers."
There used to be such a system – the seasonal agricultural workers scheme (Saws), which for decades allowed workers from around the globe to work in the orchards and fields – but it was scrapped by the Tory/Lib Dem coalition in 2013.
"Saws was abolished because immigration had become too hot a potato," said Capper. "That scheme brought workers in and had a 98% return rate. It sent them home again."
Capper argued that since 2013 the industry had become more reliant on seasonal workers coming from EU countries. "The industry has become a stepping stone for people to come, arrive and work in our industry then jump into other jobs. Arguably [scrapping Saws] exacerbated the immigration issue – an own goal."
Capper, who is chair of the National Farmers' Union (NFU) horticulture and potatoes board, is often asked why British people do not want to pick apples. "It's not about pay," she said. "A good picker may be earning £8, £9, £15 an hour.
"The reason British people don't do this work is that they are seasonal jobs in rural locations that are hard to get to. You work in all weathers, often outside. We live in a first-world developed economy with a society that has an aspiration to have jobs that are inside, in town, that are permanent, year-round and allow them to have a mortgage, have a rental contract.
"Seasonal work means you need to move from farm to farm. Those jobs require you to live very close to or on the farm. For us to put perfect fruit on supermarket shelves, we are often picking at odd times of day.
"You have all sorts of cultural and social issues around why seasonal work doesn't suit the people that live in first-world developed economies. This is not just a UK problem. Australia, New Zealand, the US, the rest of western Europe all rely on workers generally from poorer countries who don't mind working outside."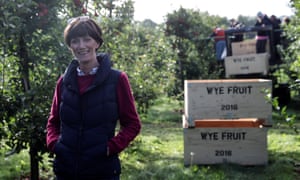 Capper said that even before Brexit it was getting more difficult to recruit from the EU because young Poles, Bulgarians and Romanians were also beginning to reject outdoor farm jobs. The youngest picker at Stocks farm is 21, but the average age is probably 40-something. "What the sector needs is some form of certainty quickly – before Christmas," said Capper.
This apple season is late but the fruit is expected to be full of flavour and juice and vibrant in colour because of the late summer sun.
Steven Munday, chief executive of the trade association English Apples and Pears, said he hoped Brexit might prompt people to think more about buying British. But he said the industry felt it was in limbo. "We are waiting with bated breath for what happens next."
According to the government there are about 70,000 seasonal and casual workers in agriculture. The UK apples and pears sector needs an estimated 12,000 seasonal workers a year, according to the trade association. "We're not fussy where they come from – anywhere in the world," said Munday.
In general, any shortage of seasonal workers will not affect cider producers as badly. Cider apples tends to be picked by machine rather than by hand because it does not matter if they are slightly damaged in the process.
But Julian Temperley, the owner of Somerset Cider Brandy, has another concern. After spending years campaigning for his product to be given EU protected geographical indication (PGI) status, he is worried that Brexit will lead to him losing that safeguard. "We're already seeing others producing what they call cider brandy. I'm worried the government won't be interested in safeguarding our business. It's very concerning."
The government said it could not yet give details on what was next for apple pickers and growers.
A spokesperson said: "Supporting our farmers and protecting the environment will form an important part of our exit from the EU. At every step of these negotiations we will work to ensure the best possible outcome for the British people – not least our farming community, who play a vital role in our country. We are about to begin these negotiations and it would be wrong to set out unilateral positions in advance."