Airlines on track to post record net earnings: IATA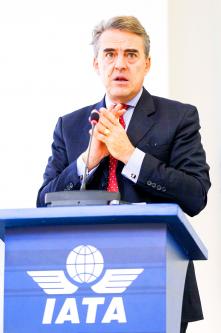 The aviation industry is set to post record net earnings this year and is expected to remain profitable next year, despite rising oil prices and global political turbulence, its trade association said on Thursday.
"Airlines continue to deliver strong results. This year we expect a record net profit of US$35.6 billion," International Air Transport Association (IATA) director-general and chief executive Alexandre de Juniac said.
However, that represents a decline from the US$39.4 billion forecast it made in June.
The group also said that global net profit was expected to slide to US$29.8 billion next year.
This projection is based on an expected average price per barrel of Brent oil of US$55 next year — US$10 more than this year.
"Even though conditions in 2017 will be more difficult with rising oil prices, we see … a very soft landing and safely in profitable territory," De Juniac said.
He added that with this year set to post the third consecutive year of net profits, "these three years are the best performance in the industry's history, irrespective of the many uncertainties we face."
While most businesses might expect to be profitable year after year, "three years of sustainable profits is a first for the airline industry," he said.
"Record profits for airlines means earning more than our cost of capital," he said.
IATA said that this year was expected to mark the highest absolute profit ever generated by the airline industry and, at 5.1 percent, the highest net profit margin.
However, De Juniac said that "risks are abundant — political, economic and security among them, and controlling costs is still a constant battle in our hypercompetitive industry."
IATA financial chief Brian Pearce cited large uncertainties linked to Britain's decision to leave the EU and the recent US elections, with president-elect Donald Trump expected to push US economic policy toward more protectionism and less reliance on taxes.
This year, the number of airline passengers hit 3.8 billion and is expected to close in on the 4 billion mark next year, IATA said, adding that it expected that number to swell to 7.2 billion by 2035.
"That growth will bring net economic benefits — but only if infrastructure development can keep pace," Pearce said.
"Unfortunately, I believe that we are headed for an infrastructure crisis," he said.
Pearce added that it was urgent to grow airport capacity, especially at hubs like New York, Bangkok, Mumbai, Mexico City and Sao Paolo.
He also mentioned the proposed third runway at London Heathrow.
"The decision to build is welcome, but the estimated cost of £17 billion [US$21.4 billion] is outrageous," he said.
"To put that into context, for that money, the UK could have built and hosted the 2012 Olympic Games twice over," Pearce said.