7 Chinese firms look to invest in Bangladesh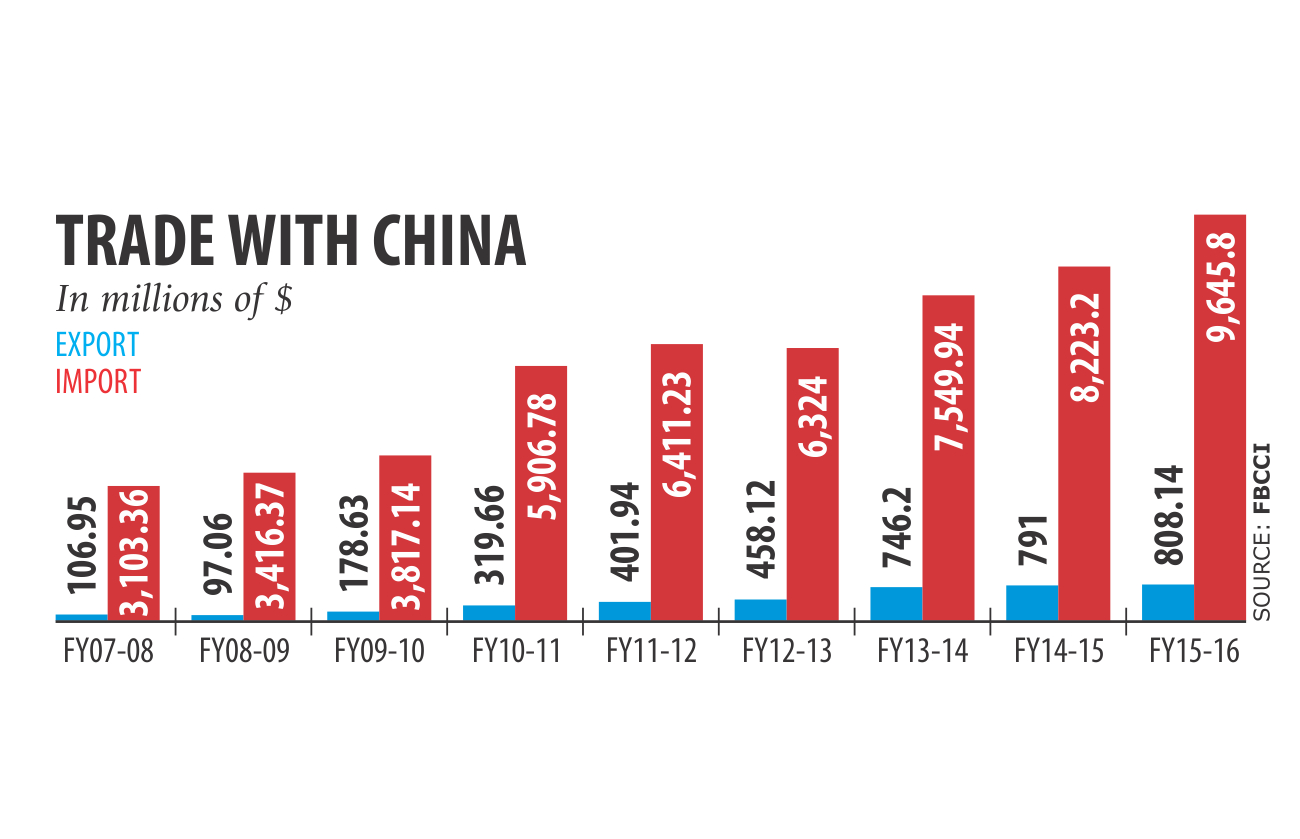 Seven Chinese state-owned companies signed investment and import agreements worth $186 million with 13 Bangladeshi companies yesterday, aiming to boost bilateral trade.
Of the Bangladeshi companies, 12 are from the private sector; the one state-owned company is Bangladesh Jute Mills Corporation, said Abdul Matlub Ahmad, president of the Federation of Bangladesh Chambers of Commerce and Industry, at the signing ceremony at Sonargaon Hotel in Dhaka.
Most of the Chinese investment will be made in the jute and jute goods, and leather sectors as Bangladesh has been putting efforts to revive these areas, Ahmad said.
The Chinese investors will also purchase jute and jute goods from different Bangladeshi companies under the agreements, he added. The investments will be made with their Bangladeshi partners, either in the form of joint ventures or through new companies or by expanding existing operations in Bangladesh, he said.
The companies did not reveal the details of their investment plans yet, he said.
"We want to see more Chinese private investment in Bangladesh, especially in the jute and jute goods sector," Ahmad said.
The Indian government has allowed a duty-free facility to all Bangladeshi goods, except 25 alcoholic and beverage items.
"We want a duty-free facility for all Bangladeshi goods to the Chinese markets as well," he said.
Mafruha Sultana, vice-chairman of the Export Promotion Bureau, has urged the Chinese businesses to invest more in the export processing zones or special economic zones as the government provides different benefits to investors of these areas.
Moreover, being a least developed country, Bangladesh enjoys duty benefits from developed countries like the US, the EU, Canada, China, Japan and Australia, she added. "If the Chinese businesses invest in Bangladesh, they will be eligible to enjoy the duty benefit to those countries," Sultana said.
Investors in the EPZs enjoy tax breaks for five years, duty-free import of raw materials and machinery, and avoidance of double taxation, she added. They can also fully repatriate their profit and capital from Bangladesh if they want, she said.
The Chinese government allows a duty-free facility to 5,054 products of Bangladesh bilaterally. Furthermore, China, being a developed country, gives a duty benefit to 97 percent Bangladesh-originated products as per the World Trade Organisation rules, she said. Liu Changyu, deputy director general of the department of foreign trade of the Chinese commerce ministry, said the Chinese and Bangladeshi economies complement each other.
Bangladesh is an important country in South Asia for China, he added.
China reduced its duty structure to 9.8 percent from 15.2 percent between 2002 and 2009, he added. Now, China provides the lowest tariff structure among the developed countries.
Li Guangium, economic and commercial counsellor of the Chinese embassy in Bangladesh, said since 2006, China has been the largest trading partner of Bangladesh as China is the main source of raw materials for Bangladeshi industries.